Against the Current, No. 83, November/December 1999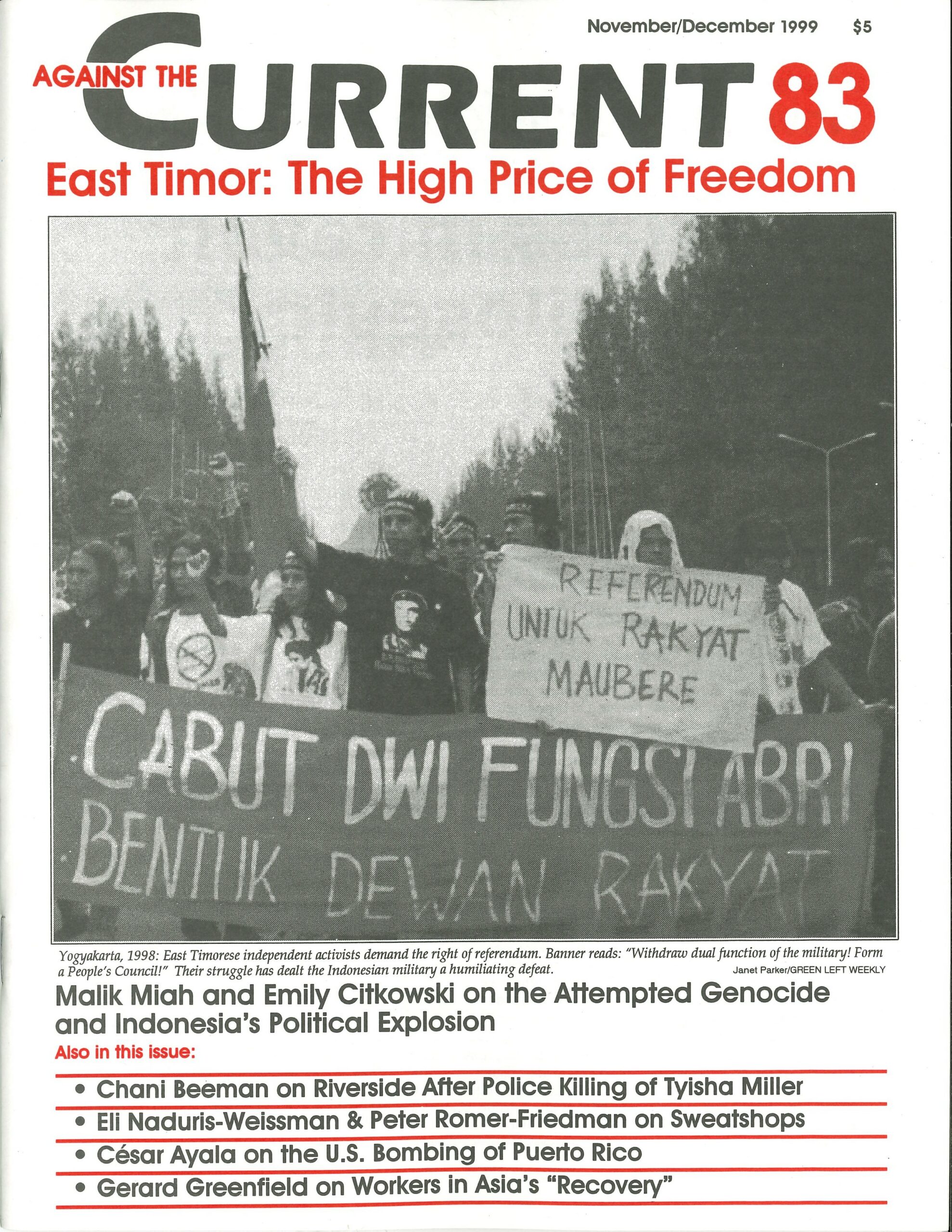 CHANI BEEMAN IS co-chair of the Riverside Coalition for Police Accountability, whose principles and mission statement can be found at their website (www.ucr. edu/ethnomus/rcpa/rcpa.html). A complete file of articles on the shooting of Tyisha Miller and subsequent coverup can be found on the website of the Riverside Press-Enterprise (www.inlandempire online.com/special-reports/tyishamiller). Dianne Feeley and David Finkel of the ATC editorial board interviewed Chani on September 28.
Against the Current: Please give the background for readers who may not be familiar with the police shooting of Tyisha Miller, a young African-American woman.

Chani Beeman: The shooting happened December 28, 1998. Tyisha Miller was in a locked car that was disabled at a gas station. She had been out with friends, one of whom had gone to get help from a family member just ten minutes away. Tyisha stayed with the car—this was about 2 am—and they had told the gas station folks that she would be out there.
Tyisha fell asleep in the car with the engine running, the radio on high volume, and a gun in her lap. When her family returned, they couldn't wake her up, and called 911 because they were concerned about her. The car was locked.
The 911 dispatched police instead of an ambulance, which is standard procedure when a gun is involved. The first officer who showed up was, according to his report, "frightened." He didn't consult with Tyisha's cousins at the scene, two young African-American women, but told them to stand to one side as he began banging on the window.
Over the next six and a half minutes three other officers arrived—the second about two minutes after the first, and the final one within about a minute before they shot and killed Tyisha. At one point she sat up and looked at her beeper before lying back down.
The officers said they devised a plan to break the window, reach in and get the gun. The first attempt didn't work. On the second try, when the window broke, one officer reached in. Later he said that's when he heard a shot. As we know now, this was probably one of the other officers shooting in response to the sound of the window breaking.
As the officer pulled back, they began shooting—between the four officers they shot twenty-five to thirty rounds, twelve of which struck Tyisha, killing her.
Now we come to the four officers' supervisor, who had arrived early enough in pull them off their window-breaking plan, but didn't. When asked why he hadn't stopped what they were doing, he said he had thought it would demoralize them. So when they began shooting, he simply shouted at them to "watch out for crossfire."
No one spoke to the family, who were standing to one side, and had already called for someone to bring a key. The officers just kept telling them to get away. According to family witnesses, right after the shooting the officers were high-fiving each other. They had also been using racial epithets like "black bitch" while trying to wake Tyisha up.
At this point the four officers left in the supervisor's car—people think they went off in order to get their story straight. Their original account was that Tyisha had fired at them. Later it was revealed that the gun was broken and couldn't be fired—then they changed the story to say they thought she had fired, that she had reached for the gun.
They all said they had seen this. But the coroner's report stated that the gun had fallen and wasn't reachable—probably it had been knocked to the floor when the first office reached in—so the feeling is that the whole story was an after-the-fact fabrication.
The Cover-up
Urine samples from the officers were not taken until seven or eight hours later. It had been one of the officers' birthday and they were out celebrating when the 911 call came in.(One officer couldn't produce a urine sample, so his blood sample was taken.) But by the time the samples were sent to Sacramento, one container was empty.
The first media reports stated that one of the four officers was Latino. That description to be used by the media until mid-to-late January, when in fact the department knew none of the four were. When this fact became public, the police chief responded to questions by saying it wasn't his job to correct misinformation.
Another officer arrived at the scene within a minute after the shooting: Rene Rodriguez, who is Puerto Rican. He was key to finding out what happened. He reported, first to the police department's internal affairs and, when nothing was done, he eventually went public with the outrageous comments the police officers made after the shooting. The supervisor compared the crying of family members to "a Kwanzaa festival," "Watts death wails" and "animals coming in by the busload."
Internal police communications also show that a call went out afterward reporting HNI, which means "No Humans Involved."
While Rodriguez reported these remarks back in February, when the police department handed in its findings to the county district attorney's office, they didn't include any information on these racist statements.
Once Rene Rodriguez's report became known, the police department's response was that the charges of racism were "so serious that we wanted to investigate thoroughly after we completed the Tyisha Miller investigation."
Rene Rodriguez was then threatened and told he "wouldn't be backed up." He requested a transfer and was this was denied. Fearing for his life, Rodriguez hasn't worked since March—he has been placed on unpaid administrative leave.
All four officers in the shooting, in contrast, were placed on paid administrative leave until mid-June, when they were finally dismissed. Their supervisor was back at work after two weeks. He too was eventually fired. Rodriguez's allegations were found to be true—yet he remains on unpaid leave.
ATC: Who decides whether administrative leave is paid or unpaid?

CB: The police chief. There's more to this story, too: This supervisor, named Gregory Preece was also Rene Rodriguez's supervisor. When Rodriguez said he could not come back to work, Preece personally hand-delivered a return-to-work order to his house at 10 pm on a Saturday night.
Preece was also the supervisor of four police officers, two years ago, who picked up a Latino man who was drunk on the street. They beat him up and threw him into the lake, although the man made it clear to the officers that he couldn't swim. Somehow he survived, and spent three months trying to tell his story. The officers were ultimately fired.
But Preece, with this very checkered history, had remained employed until Rodriguez's allegations of racist statements were substantiated.
ATC: As we understand it there were police, county and state investigations . . .

CB: There is currently a federal investigation through the Department of Justice civil rights division on racist pattern and practices. An investigator is interviewing people in the community and reviewing what few statistics are available. Agents from the Department of Justice have attended community meetings on the case —in fact, it was the observations of one of them that led to the Justice Department investigation. The state of California hasn't had a particularly high profile.
ATC: So what was the result of the county prosecutor's investigation?

CB: The DA's office said there was "no basis" for criminal charges against the police officers, that "mistakes were made" but not criminal conduct. That report came out in mid-May. Then the police department went through its administrative procedure and the police officers were dismissed, based on four findings of violating department policy—they had set up a situation that resulted in death or injury.
ATC: What was the community's response to the shooting?

CB: After the shooting, there were several community meetings called by the NAACP, Urban League, and most of Riverside's Black ministers. During these meetings there were several calls for the creation of a civilian review board. In mid-January a group of us went to the meeting of the Law Enforcement Policy Advisory Committee (LEPAC), a subcommittee of the city of Riverside's Human Relations Commission.
We'd been told that LEPAC was Riverside's police accountability mechanism. The Tyisha Miller shooting wasn't even on their agenda. When we brought the case up during public comment, they said their role was only to "review policy."
At the same time, members of the Miller family and Black clergy formed a Tyisha Miller Steering Committee, whose focus was on justice for Tyisha. Hence our focus became police accountability. We realized there had been other cases; in fact, the city just settled a lawsuit over police abuse resulting in a suspect's death.
The Riverside Coalition for Police Accountability (RCPA) has an executive committee—effectively our working body—of fifteen to twenty members, several of whom have been appointed by their endorsing organizations.
The Coalition is racially mixed, and has a number of women in leadership roles. Although there's less Latino than Black representation, there's an endorsement from one major Latino organization. A group of Latino activists have begun organizing to provide support for Rene Rodriguez and is working closely with RCPA, which originally organized the support fund. This is seen as a very positive development.
ATC: What has the Tyisha Miller Steering Committee done?

CB: They were responsible for bringing in Jesse Jackson and Al Sharpton for big protests, starting in late March and early April, very successful marches of maybe 1.000-2000 people. They continue to hold rallies each Monday morning in front of City Hall. These rallies attract forty to fifty people. The committee has worked closely with the state and federal investigators as well as having sent representatives to Washington to discuss the Miller case with Department of Justice staff.
Meanwhile, we got our Coalition going between January and April, developing our points of unity and a mission statement. In April we began opening up to larger meetings, attracting 75-100 people.
It was during that time that we started drafting what kind of Community Review Board we would want. We brought in as experts John Crew from the ACLU in San Francisco and Ilene Luna from the University of Arizona. Both have been extremely helpful in showing us what is the best kind of police accountability mechanism and politically how to work for it.
For every meeting we've had, the media has run articles both before and afterward.
Moving Forward
The city council has been absolutely silent this whole time. The only official action was that the mayor, in late February, appointed a fifteen-person panel to explore the Riverside Police Department's use-of-force policies. The appointees include some very good community people, "balanced" by establishment conservatives. The meetings were open to the public, but with no comment allowed from the floor; however, we are always present as observers.
We began to identify those panel members who sympathized with police accountability, trying to make contact with them. We were able to get John Crew and Ilene Luna on their list of presenters. Keep in mind that this panel was mandated to "review policy"—we had to argue that police accountability was in fact closely related to use-of-force policy.
Our effectiveness in making contacts, combined with the city's stonewalling, refusing to give the panel basic information that is readily available in other cities, made a big difference. The city's behavior particularly angered Jack Clark, Jr., an attorney who is African American and who chairs the panel.
Just before the panel was supposed to start preparing its report, the Coalition's two co-chairs, Ray Lewis and myself, were invited to address them. We wound up speaking with them for two and a half hours. The report they wrote couldn't have been better—largely the work of Jack Clark, and was approved unanimously.
The report made ten recommendations, including calling for police accountability. It noted that Riverside already had police review, but that it was ineffective—as shown by the city's refusal even to give the panel essential information. The report had a dramatic impact. In fact the panel decided not to disband but to remain active in order to monitor progress.
ATC: What were the major points you made in your presentation to the panel?

CB: Well, for one thing we talked about good government: We said the police department has a $45 million budget and that requires accountability. We also said that the community response to the Tyisha Miller shooting showed there was no community trust—and in fact, that the police response showed the need for community review. We focused on how police review supports good cops. Research showed that in the absence of accountability, bad cops control the department.
ATC: Do the settlements of police abuse lawsuits come from the police budget?

CB: No, they come from the city's general fund.
ATC: That's been changed in some places, for example in San Francisco. It comes right out of the police department budget. That financial accounting seems to have been effective in reducing abuse.
CB: That's an excellent point. We need to explore it.
ATC: What's Riverside's racial composition, and is this reflected in the police force?

CB: The city is 7% African American and 13% Latino. I don't have figures on Asians and Native Americans. The police force (350 sworn officers) doesn't reflect the Black proportion of the population to nearly the same extent that it does Latinos; women are practically absent.
The panel report called for a stronger form of community review. In response the city council formed a City Council Committee on Police Review Policy. This committee includes three city council members, including the chair; five members from the LEPAC and the Human Rights Commission; five from the mayor's use-of-force panel; and one each from the RCPA and the Police Officers Association.
This committee is supposed to research and investigate models of police review, and to submit a report to the city council the first week in January, recommending three to five options. Frankly, this is bullshit—there's really only about five models of police review, period. This process is about getting them past the November elections.
The city fathers just hope that people will get tired of the issue and go back to sleep. Meanwhile, we've kept working on public education about the effective forms of police review. We expect the city council to come up with the weakest possible method to try and pass as police accountability.
Even through the summer the Coalition remained very active. We've held major educational events, including an "officers' speakout" where Rene Rodriguez came and spoke with us. We got this set up through the state representative of the National Black Police Officers Association, which identified officers who had contacted them about racism within their departments.
This attracted a lot of attention, with the officers talking about what they encountered and the retaliation they suffered. We now have a Rene Rodriguez Support Fund—he teeters on loosing his house and is financially ruined. He can't collect unemployment or find another job because he is still on unpaid leave.
Meanwhile the Police Officers Association continues to collect contributions by payroll deduction for the four fired policemen and their supervisor.
We also brought a speaker from the Police Complaint Center, the folks who uncovered racial profiling in Long Beach.
ATC: What are the elements of a strong police review process?
CB: Police review must be independent of the police department; it must have investigative and subpoena power; it must be adequately funded, in proportion to the size of the police budget. It must represent the diversity of the community. There are other elements as well—these are all available on our website.
ATC: Does this exist anywhere in practice?
CB: Yes, in San Francisco. Both San Diego County and Berkeley also have a review process, but the police just come in and take the Fifth Amendment. No one has been able to effectively challenge them. In California the "Police Officers' Bill of Rights" is often held up as the big obstacle to police review. However, this bill of rights gives officers due process protection—not the right to operate in secrecy, or protection from accountability on the job. Officers can be compelled to testify and external review can happen. I think what is really happening in those areas is a failure of political will.
We also have a speakers' bureau with ten trained people. They have a standard presentation. We get two or three requests per month, and it's growing. Speaking before other groups is also a way of expanding our organizational endorsements—we currently have ten to fifteen.
ATC: What do you see as your strategic tasks between now and January?

CB: Our first priority is continuing community outreach. Second is participation in the city council committee, which I must say is not doing very well. The council member chairing it is very hostile to police review and makes public participation very difficult.
Routinely, Coalition members who come to observe outnumber the committee members present. We're treating that committee the way we treated the mayoral use-of-force-policy panel, making contacts with individual members.
Third, we are continuing our plans to put together a ballot initiative for the November 2000 election.
Really, getting police review is only forty percent of our challenge. The other sixty percent is getting it to function and remain in place. People tend to think you get it and then walk away, that the problem is solved.
The RCPA recognizes that the struggle is an ongoing one. For its part, the city knows there will be police review—but the Coalition realizes it will require continual monitoring both from within and from outside. We've had that hammered into our heads from all the research we've done. As I say, it's a matter of political will.
ATC: Would you say that this organizing has a politicizing impact on those involved?
CB: Through this campaign, two people from our Coalition have decided to run for city council, and a third is running for school board. Two are African-American women and one is a white male who was never politically active before.
Just last night, the news came down that Democratic Governor Gray Davis has vetoed the anti-racial profiling bill, which was in fact a very watered-down piece of legislation that merely required police to keep records of whom they were stopping.
People were in shock, asking how could he do this? Activists from the Greens and the Peace and Freedom Party had an explanation: Well, he's a Democrat. It's important that there are good activists to make those connections.
The Democratic Party is active in the Coalition, but it is split over the question of community review of the police. Clearly one of the Democrats on the council committee doesn't want police review. But the discussion over the nature of the Democratic Party really opens up when Gray Davis vetoes that racial profiling bill, as whitewashed as it was.
ATC: Are the November elections you mentioned officially non-partisan?
CB: Yes—and all kinds of other issues are starting to come up. Last night, the woman running for school board talked about a grant that the board has received for a "Safe Schools/Healthy Students Initiative." While other cities are using these grants for various after school programs, in Riverside it's used to pay for police, guns and bullets in the schools—it's incredible.
The Black community is outraged over the way the grant was designed. So the Coalition becomes a venue where people can discuss other aspects of racism in the city.
Let me mention one other revelation that shows how deep this question of police racism goes. The officer representing the Police Officers Association on the city council committee was actually under investigation himself for making racial comments. We demanded that he resign from the committee, and he did. It turns out that when he was employed by the Los Angeles Police Department he boasted of being the officer involved in the most shootings with "hits."
But this individual is also the regional representative for an organization calling itself "Peace Officers for Christ International." On their website (www. pofci.com) they talk about being "God's wrath on earth."
ATC: That's real nazi stuff.
CB: Yes, and it seems to be a very entrenched part of our police departments.
@ENDBOX <_>
ATC 83, November-December 1999