Against the Current, No. 82, September/October 1999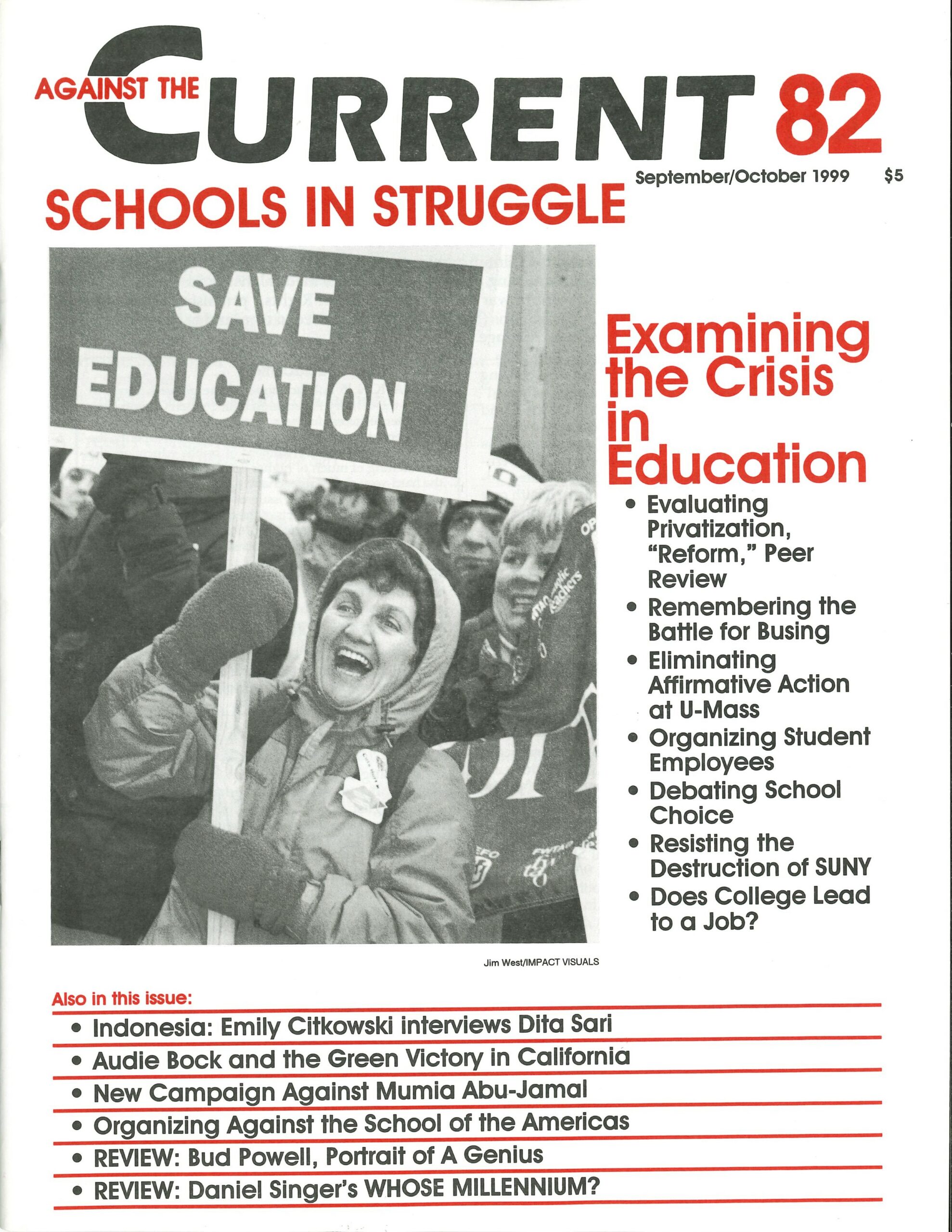 THE WEST WIND has blown east. The elimination of affirmative action in Texas, California, and Washington's public university systems seemed like a phenomenon isolated to highly competitive west-coast state universities&#8212until February 1999, when the University of Massachusetts announced that it too would eliminate the use of race-based admissions policies and scholarship programs.
There is however, something fundamentally different and suspicious with the occurrences that surround the decision to stop the use of affirmative action at the University of Massachusetts. They didn't have to.
That's right, there was no lawsuit against the university, no state referendum, no open forum debate with administrators and students, just a decision&#8212affirmative action had to go. The level of suspicion increases further when one considers that the University of Massachusetts does not have a highly competitive admissions process where only the state's top ten percent qualify for admission.
For example, the average entering first-year student at UMass has a mean high school grade point average of 2.85, while at the University of California, the average entering grade point average is 3.70 (Office of Institutional Research, UMass, 1996, Information Digest, Office of the President, University of California, 1999).
So, what do these numbers add up to? Well, for starters, the University of Massachusetts does not serve as an "elite" institution like some public schools such as UCLA or UC Berkeley. In other words, UMass is a representative example of what a public institution of higher learning should resemble&#8212a place where students from all socioeconomic backgrounds and ethnicities can receive a solid education with the hope of obtaining the right skills for entering the increasingly competitive job market.
Why Eliminate?
According to university officials, the policy changes are a result of the decision by the 1998 Massachusetts Supreme Court ruling on the Boston Latin Civil court case, where race was eliminated as a category in the admissions process.
Boston Latin Public High School is a competitive magnet school that actively implemented a race-based affirmative action system in their admissions policy. In 1998, a student sued the school for reverse-discrimination and lost, but later, won on appeal in the 1st U.S. Circuit Court of Appeals.
A week after Boston Latin decided not to challenge the decision, UMass announced its policy changes. There is however little resemblance between the admissions policy used at Boston Latin and that used by UMass.
At Boston Latin, the top half of the class was admitted strictly based on grades and scores from an entrance exam. The other half was admitted in proportion to the ethnic makeup of the bottom half of the applicant pool. In other words, if twenty percent of the remaining applicants were African American, then twenty percent of the remaining accepted students had to be African American as well (Information Packet for Affirmative Action Educators, March, 1999).
This is not the way UMass admissions procedures work, and it is therefore debatable whether the Boston Latin case would specifically affect UMass.
Following the annoucment of the new policy, both undergraduate and graduate students began organizing, forming the Task Force for Equal Opportunity and Access for All People. After a few rowdy rallies and marches to the admissions and administrative offices, UMass-Amherst Chancellor David Scott explained the reason for the change by referring to the Boston Latin decision.
"I don't think it would be right of me to ask the University [for] input" [on a decision made by the Supreme Court], Scott told a group of protesters. This was only the beginning of a long line of confusing announcements Chancellor Scott made.
Doublespeak
Chancellor Scott's creative discourse on the elimination of affirmative action catapulted the university debate into disarray. In a mid-March letter to the campus community, Chancellor Scott wrote that "the admissions policies of the campus have not changed" but that "the admissions practices have been modified."
That same week when the Chancellor spoke on WMUA, the UMass radio station, he proclaimed "we have not dropped affirmative action, we have just moved from a super aggressive approach to one that still takes race into account."
As race is no longer considered a priority in determining admission eligibility, the new policy includes categories such as "personal talents," "geographic location," and "compassion" that serve as alternative criterion for admissions.
Despite Scott's insistence that the admissions practices have only been "modified," the number of African-American acceptances dropped twenty-two percent, while the enrollment of white students rose by twenty-four percent (Office of Institutional Research, UMass, March 8, 1999).
This type of rhetoric should not be surprising to those of us who witnessed the strategy implemented by California demagogues who turned the affirmative action debate into an argument over "reverse discrimination," called for an end to preferential treatment, and then named Proposition 209 the California Civil Rights Initiative (CCRI).
Like others before him, Scott has successfully thrown the debate surrounding the elimination of affirmative action into the murky quagmire of doublespeak, where little can be accomplished when everyone is talking about different things. At a rally earlier this year, one student held up a sign, summing up the confusion, "Chancellor Scott on affirmative action: blah, blah, blah."
Pressure From on High?
Is Chancellor Scott really to blame for every policy decision made at UMass? Well, no. Underlying all major university-wide decisions is UMass President William Bulger, and his superior, Massachusetts Governor Paul Cellucci, who are not exactly recognized as supporters of affirmative action.Both kept relatively quite with regard to the debate, leaving Scott in the limelight.
Many people do believe, however, that Chancellor Scott is sincere when he suggests that shifting away from race-based affirmative action to a class-based policy will not have a deleterious effect on the number of minorities, and that increasing efforts to bring in a higher percentage of minority students who are accepted will maintain, if not increase, the number of minority students at UMass.
It appears that ever since the initial backlash against affirmative action, people have been anxious to admit oppression of the past in order to contrast it to the difference of the present. In other words, people have an easier time denouncing overt racism, while at the same time find it impossible to recognize covert racism.
A structural argument that implicates privilege (usually white privilege) threatens those in power who have systematically gained from the racial order. Therefore shifts in the racial order (gains by minorities) are seen as unfair attacks on their statuses. Thus, to secure their positions, they eliminate oppression as the crux of diversity, and downgrade it to "difference."
UMass Graduate Employee Organization President James Shaw describes this trend in the "understanding" of diversity. "People like the chancellor, who equate diversity with difference, not a history of oppression, are trying to obliterate traditional race categories&#8212indeed, no one wants to be a racist," says Shaw.
The language used in the affirmative action debate is coded in the in the ideology of meritocracy. At some abstract level, complete racial exclusion undermines people's beliefs in merit. Shaw suggests that "the successful non-whites help restore meritocratic beliefs because they become symbolic of how anyone can make it. Paradoxically perhaps, modest increases by some non-whites symbolically undermines larger attempts at reform based on race."
Diversity and difference are therefore often confused in policy making, or elimination; whereby a category like "personal talent" is synonymous with race.
What's Next?
Currently, faculty and student groups are planning a large teach-in during the early part of the fall semester, in order to gain support and educate students. Aside from complete restructuring of the system, there are a limited number of strategies that activists can take to keep the debate alive.
In maintaining the struggle, it is important to ask who it is we are really fighting against&#8212a doublespeak chancellor? A seemingly voiceless University President Bulger (whose forty-nine percent salary increase was announced the same week affirmative action was eliminated)? Or an ideology that appears to be the only consistent ominous force, driving the west winds toward the east?
ATC 82, September-October 1999