Against the Current, No. 81, July/August 1999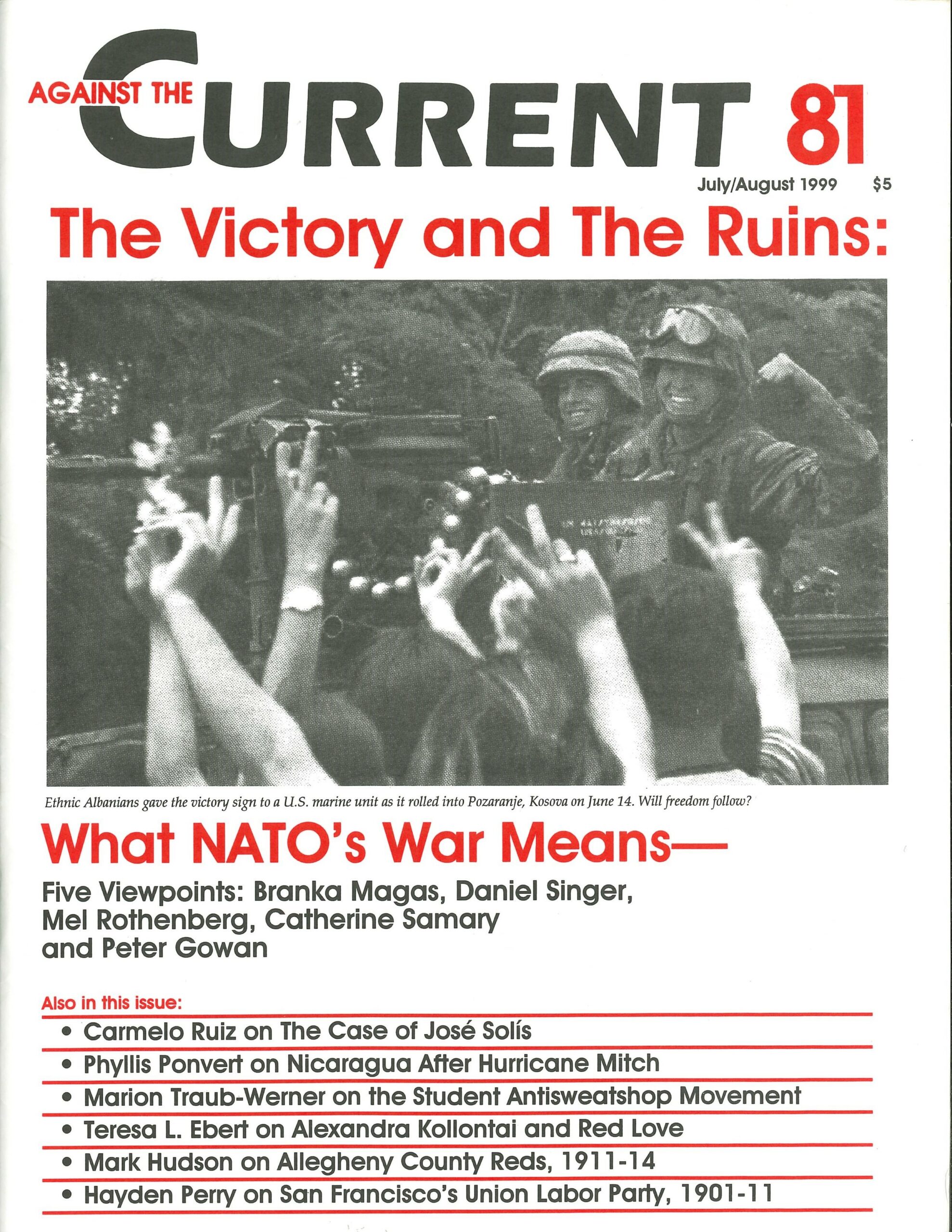 ON JUNE 11 the U.S. government agreed to a longstanding Italian request to allow political prisoner Silvia Baraldini to serve the rest of her term in her native country. The move, announced by U.S. Ambassador to Italy Thomas Foglietta, appeared to be an attempt to appease Italian public opinion about the U.S. army plane that sliced a gondola cable when flying too low and too fast in the Italian Alps on February 3, 1998, killing twenty people. The pilot, Marine Captain Richard Asby, was recently acquitted by a U.S. military tribunal. In that case Italy returned the pilots involved in the Cermis tragedy and allowed them to be tried in their country of origin.
In a recent interview with the Italian daily, La Repubblica, Italian Justice Minister Olivierto Diliberto reported that fruitful negotiations were underway between the Italian and U.S. governments concerning the case. Diliberto, the first Communist Minister of Justice in Italy pointed out "This is entirely a political case."
Although cautious in providing details of the evolving diplomatic talks, Diliberto revealed that U.S. Ambassador Foglietta had stated that in order to allow Silvia Baraldini to be moved to Italy, the U.S. government requested that she serve the entire duration of the sentence to which she has been convicted. Diliberto argued that it would be impossible for the Italian government to guarantee the fulfillment of this condition since Italian terrorists serve much shorter terms in jail.
Who Is Baraldini?
Silvia Baraldini is a 51-year old Italian citizen who came to the United States when she was eleven with her diplomat father. She studied at the University of Wisconsin, Madison where she became involved with revolutionary politics. In 1982 she was arrested for participating in organizing a 1981 Brinks robbery in New York (in which a guard and two policemen were killed) and for aiding in the escape of Assata Shakur, a Black revolutionary activist now living in Cuba.
In 1983 Silvia Baraldini was condemned to forty years in prison. Although the Black Liberation Army took responsibility for the bank robbery, Baraldini's attorney, Elizabeth Fink, says that her client was neither accused nor convicted for any crime involving injury to another person.
Baraldini also refused to testify before a grand jury investigating the Puerto Rican independence movement. Because of her refusal, three years were added to her sentence.
In 1989 the Italian government signed the Strasbourg Convention, which provides for the transfer of prisoners to their countries of origin to complete their sentences. Since then the Italian government has petitioned the U.S. government six times for Baraldini's transfer. Five requests had been turned down.
For more than ten years Italian and U.S. campaigns for the return of Baraldini to Italy had been actively promoting her cause. As an example of the interest that Silvia's predicament had elicited among a rather wide liberal—and not only radical —public, it will suffice to say that for many years Italian athletes participating in the New York marathon wore a jersey with the logo "I run for Silvia." Campaigners argued that if it had not been for her political beliefs, Baraldini would not have received such a long sentence and would have been released long ago.
Not only was Baraldini's conviction an exceptionally draconian one, but the way it was inflicted was extraordinary. During her first years of imprisonment she was sent to the Lexington, Kentucky sensory deprivation control unit, where she became ill with uterine cancer. Treatment for such a potentially fatal disease was delayed by prison officials. Only after the unit was closed—due to a suit brought against it by the American Civil Liberties Union and Amnesty International—did Baraldini receive medical care. She underwent two surgeries and radiation therapy.
U.S. political prisoners are often sent to "control units"—modelled after prisons in nazi Germany—and subjected to punishment designed to break their spirit.
Only after years of public campaigning was Baraldini transferred to from the Marianna Federal Control Unit in Florida to Danbury, Connecticut, where she could join the general population. Despite all the harsh treatment that she has endured, Baraldini has been a model prisoner, serving as prison librarian and providing AIDS prevention education for her fellow prisoners. She completed her bachelor's degree and had enrolled in a master's program. Even though she has expressed remorse for the violence implicit in her political actions, she has not recanted her principles. However, she has pointed out that prison authorities "could not care less about my behavior in prison or any personal changes I may have made."
Silvia's request to return to Italy was based on her own particular personal circumstances. Her younger sister, a key leader in the campaign for her release, was killed in a plane crash. Their ailing mother, now living in Rome, cannot count on other relatives' support. Deported to an Italian jail, she may be able to receive the same treatment as other political prisoners who have already served a reasonably long term. In this case, she may be allowed to work as her mother's caregiver during the daytime, while returning to jail at night.
As details of Baraldini's transfer were being worked out, there was speculation that another factor in the U.S. government's agreeing to transfer her was to "reward" the Italian government for its support of NATO during the Kosova conflict. U.S. Ambassador Foglietta called the gesture "important" for the American-Italian partnership: "I believe that today's agreement will strengthen that partnership."
ATC 81, July-August 1999