Against the Current, No. 81, July/August 1999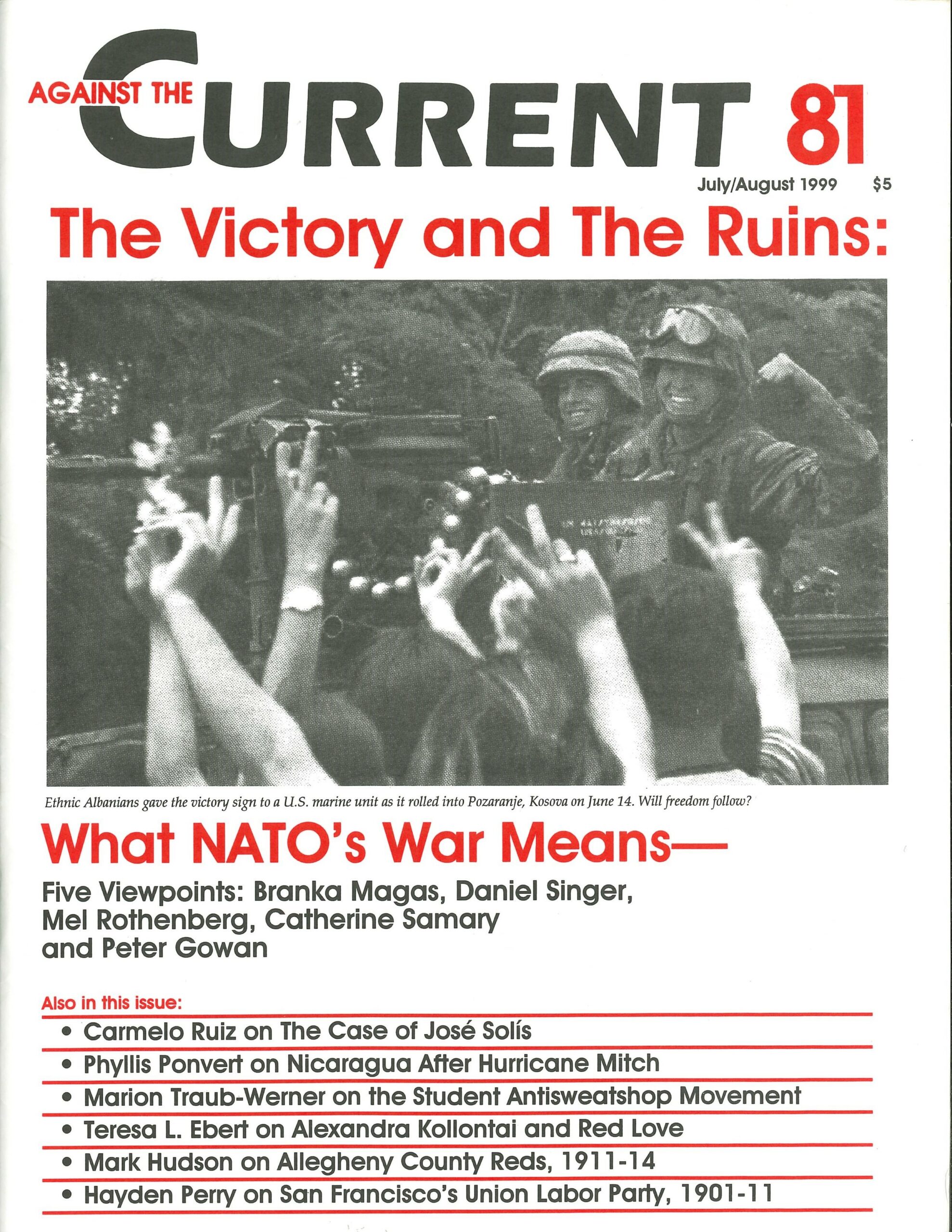 AT THE NATO summit, it was decided that the organization would not tolerate genocide if practiced by non-members who did not possess nuclear weapons and were within artillery range of Europe.
It was predicted a few years ago that only nine flags would fly over Europe—eight of them over the former Yugoslavia.
Those Russian threats to provide military aid to Serbia might be more credible if their troops had been able to cope with the Chechens.
The three released U.S. POWs collected six medals each for their brief captivity, but none of them were for map reading.
Leon Trotsky's classic The Balkan Wars has been reprinted by Pathfinder Press as a $32.95 paperback. Some might consider that war-profiteering.
A Peace to End All Peace, by David Fromkin (New York: Avon Books, 1989), is the best book I've seen about the breakup of the Turkish Empire and the shaping of the modern Middle East between 1914 and 1922. One expected the imperialist powers to be ruthless, greedy and treacherous, but it's always a surprise to see how stupid they could be.
On the Line
THE UAW USED to write a lot of grievances about foremen working on the line. This hasn't been a problem with the newer ones, who know nothing about building cars or anything else except coping with an ever-growing load of paperwork.
How do you pronounce DaimlerChrysler? The Chrysler is silent.
Healthy Life Styles
WHEN MEN GO shopping, they invariably choose the supermarket that gives free samples at the deli counter.
A Detroit pizzeria is offering a Breakfast Pizza. I don't know what the toppings are, but it should go well with Pepsi A.M. Of course, if you have to order it you forfeit the main advantage of leftover pizza for breakfast: instant availability.
A full-grown coyote was recently captured in Manhattan's Central Park. What we wonder is whether he arrived by way of the bridge or the tunnel.
The campaign to protect the Northwest salmon from Seattle's suburban sprawl is rapidly gaining strength. The spotted owl is expendable, but threatening our lox justifies massive retaliation.
Kampfer's Kulture Vulture
T-SHIRT OF THE Month: God was my co-pilot, but I crashed in the mountains and had to eat him.
Fabio, who has graced the covers of hundreds of Gothic Romances, suffered facial injuries when he collided with a bird while riding a roller coaster. There has to be some kind of lesson there.
"Eunuchs were preferred for high government office in the Byzantine Empire. They had more time to think."
—Will Cuppy, The Decline and Fall of Practically Everybody
A Red Cross team working with tornado victims in Oklahoma attempted to calm the stressed-out children by showing them some movies. Unfortunately the first film they screened was "The Wizard of Oz."
ATC 81, July-August 1999