Against the Current, No. 79, March/April 1999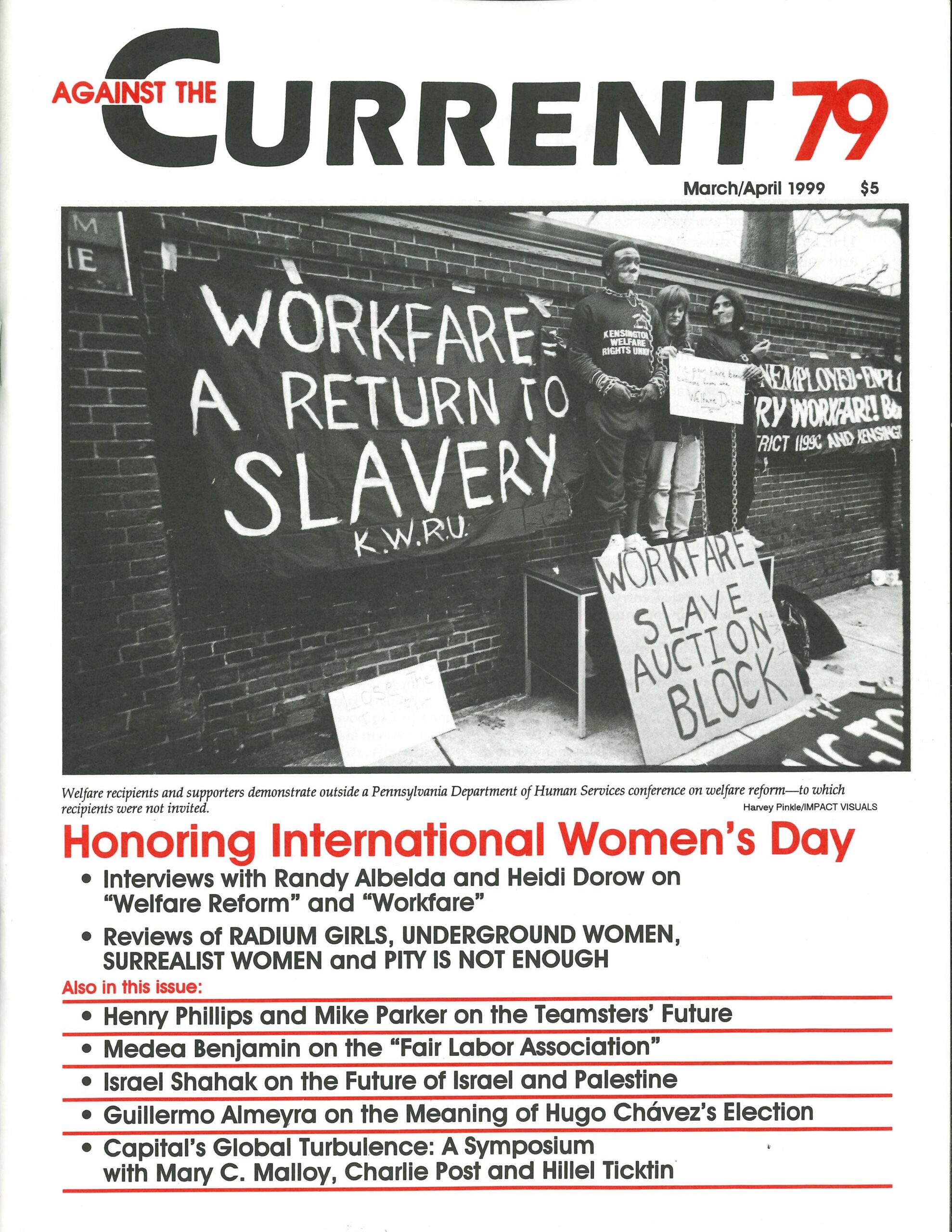 THE REPUBLICANS HAVE ended the impeachment with all the dignity of Elmer Fudd, failing once again to bag Bugs Bunny.
Linda Tripp now claims she betrayed Monica Lewinsky for her (Monica's) own good, to save her from an abusive relationship. Right: Should do her a world of good to be saddled for life with a nickname that won't be "Monica the architect."
With "intern" having taken on a salacious meaning, it might be better to go back to the old job-title of "gopher."
Rep. Henry Hyde revealed his age when he described censure as the political equivalent of Air-Wick.
Not about Clinton: "My friend," he said, "you are an incorrigible liar." "The word you want," I replied, "is professional." —Len Deighton
Vegging Out
JOHN THE BAPTIST is described as being a strict vegetarian (Josephus, The Jewish War, Slavonic manuscript), but he apparently had no hangups about wearing fur.
Bumper Sticker of the Month: I'm A Vegetarian/ I don't love animals/ I just hate plants.
News From Motor City
WITH JANUARY'S TWO-foot blizzard, it was a good month for Detroiters to curl up in front of a video of "Stalingrad," from the producers of "Das Boot."
Downtown construction is booming, though. When Tiger Stadium is replaced next year by the new Comerica (Bank) Park, the team name will be changed to the Detroit Tellers.
And the casinos are going up too. If and when mayor Dennis Archer takes over the Detroit public schools, he plans to make them self-supporting by putting slot machines in all the lunch rooms.
Kulterkampfer
A TATTOOED BARBIE doll is going on sale soon. Next, we assume, she'll get into piercing.
Movie critic Roger Ebert points out that Hollywood now has even the most inconsiderate terrorists equip their bombs with a red LED display to inform us how many seconds will elapse before the bang.
In the original "Mighty Joe Young," we get a rare sight of actor-wrestler Tor Johnson before he got fat, but not before he got bald.
Politically Erect
THAT WASHINGTON, D.C. municipal official who got fired over the misinterpretation of "niggardly" says that if he had it to do over again, he would have used "parsimonious." Let's hope that no Parsees (a Zoroastrian sect in India, actually) get offended.
If it's true that Viagra increases the risk of heart attack, most men couldn't think of a better way to go.
A sincere reader writes: "America could be a blessed nation if it heeded the advice of the ancient philosophers: Raise your leaders from infancy. That way you will have intelligent, empathetic, ethical leaders . . ." Excuse me, wasn't that how we got George Bush?
Don't Choke—Dump the Boss
KAMPFER WOULDN'T KNOW Latrell Sprewell if "Spree" tried to choke him on the street, but we're grateful to reader Emily C., recently transplanted to New York, who sent us comments in a NY paper from folks who were asked to comment on Sprewell's trade to the Knicks. One 36-year old male responded as follows when asked "What's the worst fight you ever had with a boss?":
"A while ago I threw a boss into a dumpster. It was for years and years of frustration. But it's one thing I really regretted. I found out later some of the other people who worked there threw him into the same dumpster."
ATC 79, March-April 1999