Against the Current, No. 77, November/December 1998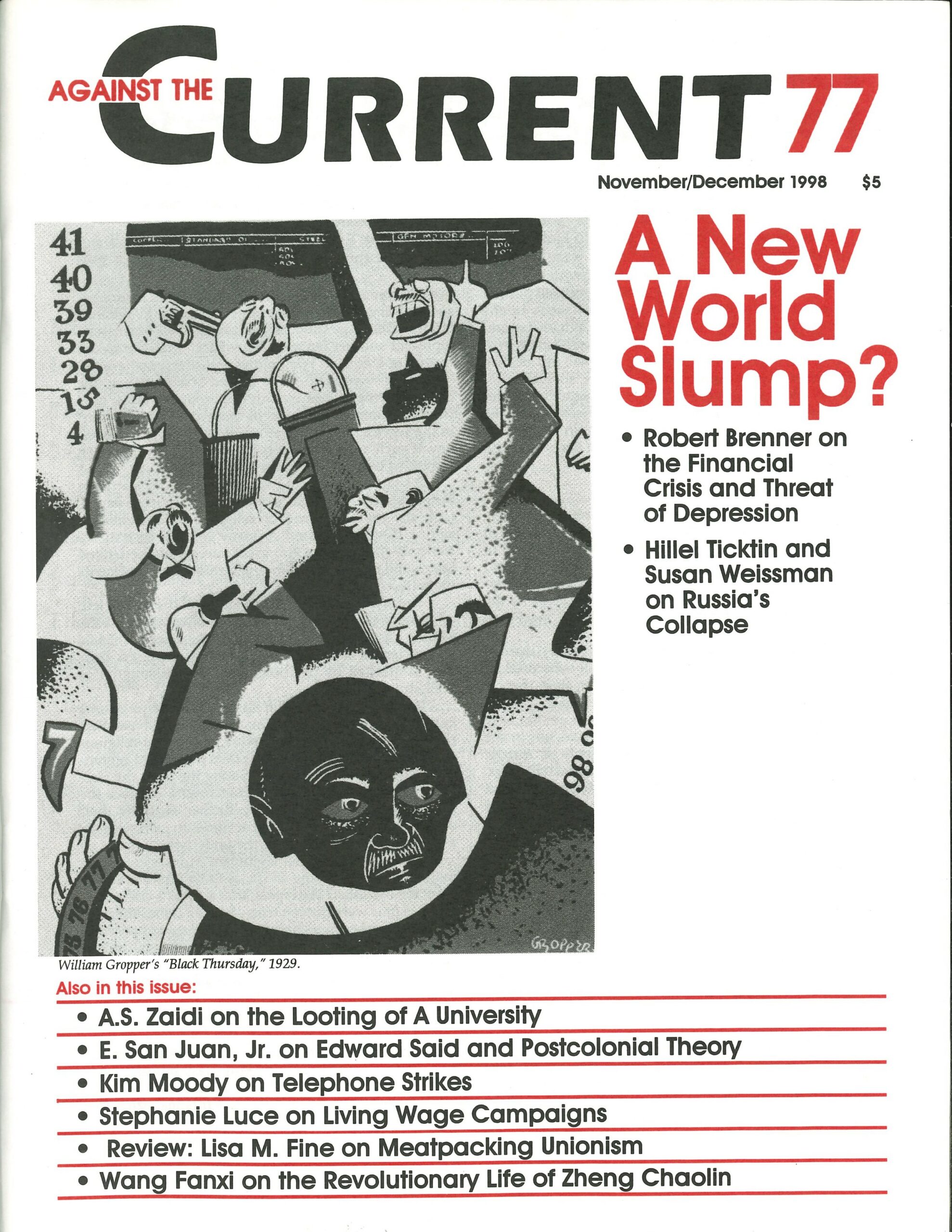 AT PRESS TIME internationally renowned author and activist Mumia Abu-Jamal still waits on Pennsylvania's death row for the state Supreme Court to issue a verdict on his appeal for a new trial. There are at least five ways the court can rule:
It can declare Mumia exonerated and have him released from prison.
It can order a new trial.
It can set aside the death sentence and order a new sentencing hearing.
It can sustain the original trial.
It can send the appeal itself back to the lower state courts for further review.
Only the first two of these possibilities would be a victory. In particular, the ordering of a new sentencing hearing would not represent a positive outcome-despite the fact that the major media might trumpet such a decision with headlines like: "Mumia Abu-Jamal Wins a New Sentencing Hearing." This would mean that the court has upheld Mumia's conviction, and the only issue would be whether he should be executed or spend the rest of his life in prison.
In the event of an unfavorable verdict, activists are planning demonstrations the day after it is handed down in cities across the United States. In addition, a national protest will be held in Philadelphia on the following weekend.
Although Mumia would still be able to appeal through the federal court system, this has become much more difficult recently as a result of legislation passed by Congress and signed into law by President Clinton, which puts a much greater burden of proof on prisoners in death penalty cases.
In the meantime, a number of other initiatives have been launched by Concerned Family and Friends of Mumia Abu-Jamal, which is coordinating the national defense effort, in coordination with local defense committees. These include circulating, and asking activists to sign, a "pledge of conscience" (see text below).
There is also a campaign designed to flood one of the court's justices, Ronald Castille, with postcards demanding that he remove himself from considering the case due to a strong conflict of interest.
When Castille worked in the Philadelphia District Attorney's office he was the prosecutor who actually filed the brief against Mumia's original appeal. Clearly it is impossible for him to rule impartially now, as a Supreme Court Justice. He is the only one who can actually remove himself from the case, and so far he has failed to do so despite the fact that Mumia's appeal was filed in September 1995.
Activists are also planning to respond to a vicious attack on Mumia that was published as a full-page ad in the June 14 New York Times. Parroting the police account of events the Times ad simply ignored the fact that much of the testimony it cited from the original trial has now been completely discredited.
A detailed response is scheduled to appear soon as a counter-ad in the Times. Scores of prominent supporters have signed on, including Philip Berrigan, Ossie Davis, E.L. Doctorow, Mike Farrel, Bishop Thomas Gumbleton, Rev. Jesse Jackson, Jonathon Kozol, Kim Moody, Alice Walker, Cornel West, and others. The cost of this ad is being borne by the signers, who each paid $250 or more to help with the expense.
A legal victory was won in August. The U.S. Court of Appeals ruled favorably in connection with a civil suit Mumia had initiated against prison authorities, who had opened and read his legal correspondence with his attorneys. Some of the letters, containing critical information about legal strategies, found their way to the Pennsylvania Governor's office in 1995. The court found that this was a clear violation of Mumia's 6th amendment right to counsel.
That court ruling, however, has not stopped Pennsylvania authorities from continuing their campaign of harassment against Mumia. In early September prison officials froze all funds in his account, making it impossible for him to purchase items at the prison commissary, mail letters, or send funds to his family. The action was taken in retaliation for Mumia's refusal to sign a legal waiver giving up his right to sue the prison over a previous abuse. A vigorous protest campaign was organized, and the funds were restored later the same month.
For copies of the "Pledge of Conscience" or postcards in the Castille campaign, or to get information on other activities, contact Concerned Family and Friends of Mumia Abu-Jamal: 215-476-8812, or email to mumia@aol.com. Materials are also available by downloading them from the website at www.mumia.org. (There are many websites devoted to Mumia's case, but this is the only one which is officially sponsored by Concerned Family and Friends of Mumia Abu-Jamal.) Financial contributions are urgently needed and can be sent to: Black United Front/Mumia Abu-Jamal Legal Defense, 227 N. Broad St., Philadelphia, PA 19132.
---
Steve Bloom is a member of SOLIDARITY in the New York City and is active in prisoner support work.
---
ATC 77, November-December 1998