Against the Current, No. 76, September/October 1998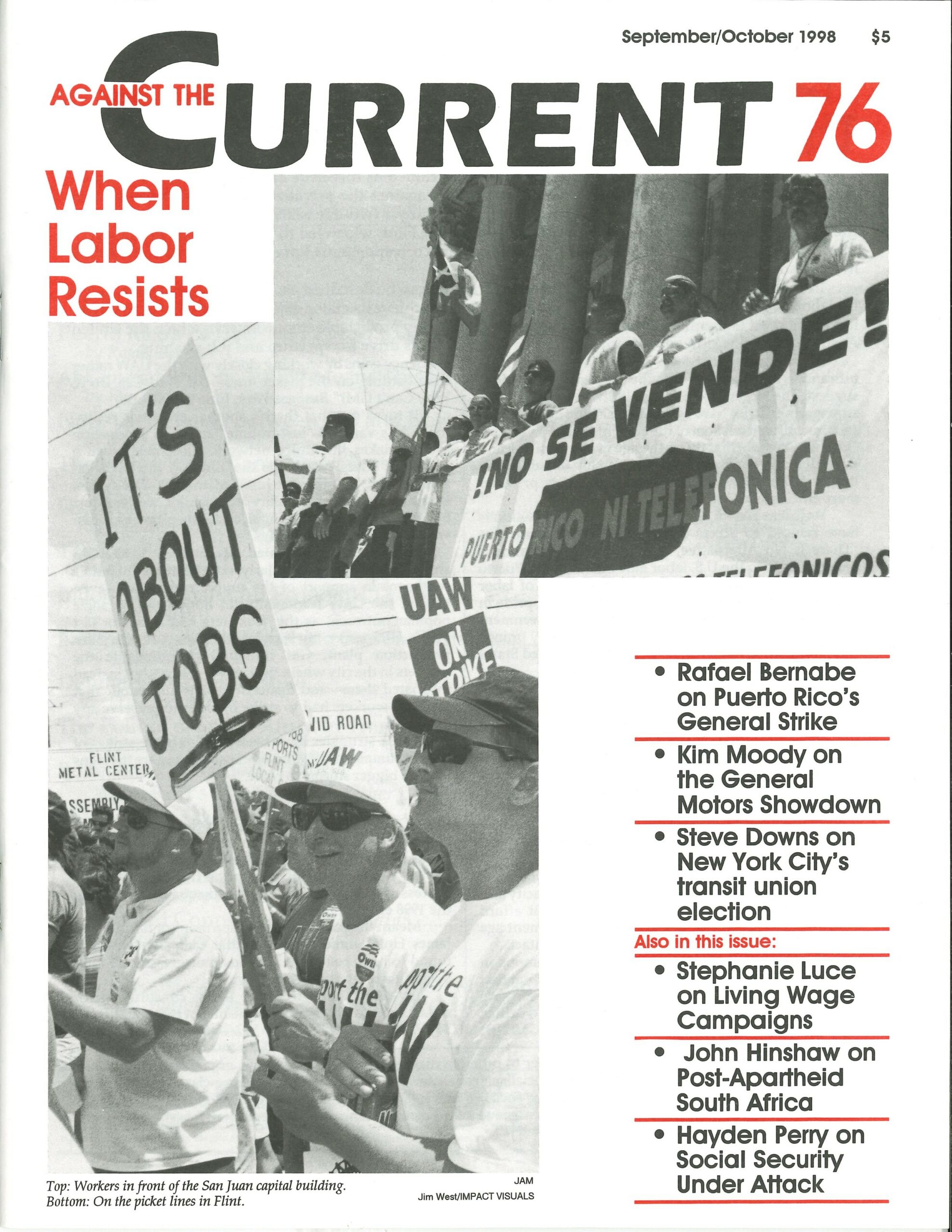 ROBERT KUTTNER WROTE in a recent Washington Post op-ed that living wage campaigns are "the most interesting (and under-reported) grassroots enterprise to emerge since the civil rights movement."1
Campaigns have been waged or are currently underway in more than forty cities, counties, school boards and states, and student groups are now pursuing living wage ordinances on college campuses. Not only are campaigns happening all over; they are winning at an overwhelming rate. A few campaigns have been defeated in ballot initiatives, but so far, only one city council—Chicago—has voted an ordinance down.
Many living wage advocates believe that the campaigns are among the most promising developments of the decade. An editorial in the San Francisco Chronicle notes that the country "stands at a crossroads,"and the living wage movement is emerging to offer the road that "holds the promise of economic prosperity shared by all."2
Labor leaders hailed the first living wage victory as "potentially a seminal event for a new labor movement."3 The movement has strong support from the religious community as well. Dick Gillett, an Episcopal priest in Southern California, states: "We pray for the poor, the unemployed, the oppressed. But pushing for implementation of the Living Wage Ordinance is a way to do something."4
Little attention, however, has been given to the variations in the laws and in the organizing efforts themselves. In fact, the campaigns and their outcomes are quite varied, and proponents would benefit by examining the impact of the ordinances, in order to evaluate their worth as organizing tools and as working class reforms.
This article is the first in a two-part series designed to do just that. The first article will review the background of living wage campaigns, focusing on the actors who are involved and the goals they hope to achieve; and then analyze some of the successes of the living wage movement. The second will discuss some of the challenges living wage activists may face in the campaigns and after the laws are passed.
The Background
Living wage initiatives take many forms, particularly after debate and negotiation in city councils. In general, most of the ordinances follow a basic guideline of requiring firms that receive public money from a municipality or state to pay their employees a "decent"wage.
The idea is not a new one: Similar laws which require federal, state or local contractors to pay a "prevailing wage"have existed in the United States for most of this century (including Davis-Bacon laws and the Federal Service Contract Act). Rather than require the prevailing local market wage, living wage ordinances set a particular rate floor to bring a family up to the poverty level for a family of three or four.
The first "Living Wage"campaign was waged and won in Baltimore, Maryland in 1994. As of this writing, ordinances have also been passed in various forms by city councils in Milwaukee, Wisconsin; Boston, Massachusetts; Jersey City, New Jersey; New Haven, Connecticut; Portland, Oregon; Los Angeles, West Hollywood, Pasadena and Oakland, California; Duluth, Minneapolis and St. Paul, Minnesota; Dayton, Ohio; and Durham, North Carolina. County boards have passed versions of living wage ordinances in Milwaukee County, Wisconsin; Multnomah County, Oregon; and Los Angeles County, California.
Other municipalities have extended their existing prevailing wage laws to cover service contractors and/or subsidy recipients.
Recently, some campaigns have been expanded to raise the minimum wage level for all workers within a particular jurisdiction. These efforts have been less successful. Ballot initiatives to raise the wage for all workers within city borders in Denver and Houston lost in 1995 and 1996.
In 1995, state "Livable Wage"measures failed in Idaho, Montana and Missouri, but passed in California and Oregon.
Who is Involved?
The campaigns are being run by various groups and coalitions of community, labor and religious organizations, though the impetus and funding has generally come from a few specific groups. The community organizations supporting many of the campaigns include the Association of Community Organizations for Reform Now (ACORN); the New Party; and the Industrial Areas Foundation (IAF), a network of neighborhood congregation-based groups founded by community organizer Saul Alinsky.
The labor unions most involved are the Service Employees International Union (SEIU); the Association of Federal State County and Municipal Employees (AFSCME); and the Hotel Employees and Restaurant Employees union (HERE).
The AFL-CIO has endorsed the "Living Wage"idea as part of their "America Needs a Raise"campaign, and has sponsored national conferences for activists to share information about their campaigns. In many areas, the state labor federations and local AFL-CIO Labor Councils are heavily involved in the campaigns, and have even begun to initiate some of the campaigns themselves.
What Are the Goals?
The goals of the groups involved in the campaigns are varied. As support for curbing corporate welfare rises, some see living wage campaigns as a way to place limitations on public money given to business.
Others, such as AFSCME members, see these reforms as a way to discourage the outsourcing of government jobs, which has become more prevalent in the face of declining tax bases and tighter municipal budgets as well as in the ideological era of privatization (neoliberalism).
Since public sector unions were one of the only areas of labor that saw growth in the 1970s and early 1980s, this attack on public sector employment was particularly painful for organized labor. Legislation that discourages such outsourcing might help rebuild the public sector unions.
Other labor activists hope the living wage can be a tool for organizing workers in those non-union service jobs that were once done by public employees. For example, many city contracts now go to low-wage janitorial firms. Organizing these workers to fight for a "Living Wage"can be a first step to organizing them into a union.
Chris Owens of the Worker Options Resource Center remarked: "Living wage campaigns are important both for raising the wage floor of the most vulnerable workers and for providing a new model of labor/community collaboration that extends organized labor's relations with non-unionized workers."5
In fact, connecting with these workers is one reason why service sector unions such as SEIU and HERE are leading the campaigns for a living wage in many cities. According to Dennis Houlihan, researcher for AFSCME, "a lot of unions are looking at these like Davis-Bacon laws—legislation to help with organizing . . . the unions want legal representation for these workers in the end."6
Religious and community groups such as ACORN have been involved in the campaigns as an attempt to address extreme poverty and economic inequality among their constituents. Many supporters from these groups have become increasingly convinced that a more effective means of addressing poverty and other social problems is through job creation, at family-sustaining wages.
While the "Living Wage"ordinances will only help a small fraction of the urban poor, it may help to set higher wage standards for other employers. For example, ACORN organizer Brian Kettenring acknowledged that the Oakland ordinance would affect only a small number of workers, but that it was "a step in the right direction that helps to address poverty at the local level."7
Another goal of some activists has been to change the entire framework of discussion about economic policy. The New Party sees "Living Wage"ordinances as only one step in a long series of much-needed reforms to change the way in which business is conducted in the United States—notably the flow of benefits to wealthy firms, in the form of city contracts and public subsidies.
Living wage legislation is one attempt to place restrictions on the receipt of public money. Thus according to Twin Cities New Party member Mary Jo Maynes, "Living wage policies are part of a larger effort to rebuild our urban communities and create sustainable regional economies."New Party chair Joel Rogers adds, "These campaigns raise simple, powerful questions about economic governance in our country."8
The Campaigns' Impact
Living wage campaigns have achieved success in at least some areas, in particular, in affecting the ideology about the right of workers to "living wage"jobs; in building strong and lasting coalitions; and in spurring the creation of new organizations and contributing to the growth of existing worker organizations.
Many advocates believe that one of their greatest successes has been in getting the concept of "living wages"adopted in other arenas. Some activists have noted that the campaigns have made politicians accept and promote the idea of raising wages.
According to Christie Nordstrom of the Campaign for a Sustainable Milwaukee, "politicians are coming out left and right in support of living wage jobs. For example, when Ameritech was cutting 400 jobs, there were city, county and state politicians speaking to preserve family-supporting jobs."9
In signing the Boston ordinance, Mayor Thomas M. Menino said, "In these prosperous times for our city, our state and our nation, it is incumbent upon us to ensure that the rising tide does in fact raise all boats, not just the yachts." 10
When signing the Baltimore ordinance, Mayor Kurt Schmoke stated "I want to underscore the point that this is an important step, but just the first step. Wages have to be increased in this country."11
Even some legislators who opposed the ordinance made comments supporting the concept of living wage jobs. Tammy Johnson, who worked as the organizer for Progressive Milwaukee, believes that the success of the living wage campaigns contributed to pressuring national legislators to raise the minimum wage in 1995: "Legislators saw these going on around the country, and saw that people supported the idea, and realized they should pass it or they might not get re-elected in 1996."12
Furthermore, some groups are taking up the living wage idea as one of their demands. In Los Angeles, clergy members active in the living wage campaign have now introduced living wage resolutions in their churches and religious conferences. The sixteen-denomination Southern California Ecumenical Council adopted a resolution urging congregations, schools and other religious institutions to pay employees a living wage.
The LA Episcopal church contingent took a living wage resolution to the national convention last summer, where it passed without much debate. It appears that the idea has spread beyond the campaigns themselves.
Tammy Johnson states, "I think the phrase `living wage job' is in the vocabulary now in a way that it wasn't two or three years ago. When jobs are being created, people will ask, `is it a livable wage job?'"
Coalition Building
In addition to changing ideological debates around the right to living wage jobs, some living wage campaigns have been successful in creating diverse and lasting coalitions. These coalitions have managed to stay together after the passage of the ordinance and continue working toward new legislation by supporting campaigns in surrounding areas.
The Boston campaign, for example, strengthened ties between ACORN and the state AFL-CIO, and the two groups went on to support a campaign in neighboring Somerville. The Milwaukee Living Wage Task Force passed first a city ordinance, then a school board ordinance and a county ordinance. They then went on to create "Worker Rights Boards"to hold public hearings and organize around crucial labor issues, such as welfare reform and privatization.
The coalition built between the religious and labor community in Los Angeles is particularly strong. The group Clergy and Laity United for Economic Justice (CLUE) worked as part of the Coalition to pass the Living Wage ordinance, and continues to work closely with labor unions in Los Angeles to continue to raise awareness around the issues of low-wage work and the right of workers to a living wage.
Thus in April 1998, over sixty priests, rabbis and ministers held services in a Beverly Hills hotel, asking management to negotiate a contract with HERE Local 11. CLUE has also started a "Java for Justice"campaign, where members eat meals in luxury hotel dining rooms and then stand and deliver sermons, asking diners to ask management to sign contracts with the union.
New and Stronger Organization
In some cities, living wage coalitions have resulted in the formation of new worker organizations. In Baltimore, the Industrial Areas Foundation sponsored group BUILD (Baltimoreans United in Leadership Development) joined forces with AFSCME to sponsor the living wage campaign and to create a new organization for low-wage workers, called the Solidarity Sponsoring Committee (SSC).
Low-wage workers can join SSC and for $10 a month receive benefits such as life and health insurance. Earlier this year, SSC won the right to payroll deduction from the School Board, allowing approximately 2,000 service contractor employees the option of automatic deduction each month to purchase the SSC insurance.
Finally, living wage organizing has helped some existing organizations to grow. Perhaps most notably are the efforts of Los Angeles unions to organize workers in conjunction with living wage organizing. After the city ordinance was passed, the Living Wage Coalition met with union representatives to work out the details of how to translate living wage organizing into union organizing.
The Coalition hired a researcher to monitor all contracts coming up for bid, and to notify the unions about the companies making bids. The unions can then approach employers and offer them assistance in lobbying for their bid in exchange for card-check neutrality in an organizing drive.
In one case, the Living Wage Coalition and HERE were successful in getting the City Council to hold up the approval of a concession contract for Host Marriott until the company wrote a letter to the Department of Airports, assuring that they would comply with the living wage ordinance and not harass union organizers who talked to workers. This was a victory for the coalition, as the company is known to be very anti-union, and had tried to have organizers arrested in the past.
The unions have also built a campaign to get airlines at city-owned airports to adopt the ordinance, which would make all the ground crews eligible for the living wage. In March, over 500 union members marched to the United Airlines terminal at LAX to present their demands.
Whether these actions can be converted into union victories remains to be seen, but it appears that the efforts are at least raising the visibility of the unions at certain worksites in Los Angeles.
Serious Difficulties
As I will show in the next article, the picture is not all positive. There are serious threats to the effectiveness of the laws and campaigns, such as narrow coverage, implementation failures, legal challenges, changes brought about by welfare reform, and the requirements of building grassroots, democratic organizations.
I will also point out the ways in which some of the living wage proponents are working to combat these challenges, and to preserve the victories of the living wage movement.
Notes
1.Robert Kuttner, "Boston's `Living Wage' Law Highlights New Grassroots Efforts to Fight Poverty,"The Washington Post, August 18, 1997.
2.Arthalia Ray, "'Living Wage' Gives Hope to the Poor,"San Francisco Chronicle, April 9, 1998.
3.Craig S. Ey and Joanna Sullivan, Baltimore Business Journal, October 6, 1995.
4.Haight, Gretchen. "Now that the Living Wage Ordinance has passed, what happens next?"The Episcopal News, May/June 1997.
5.As cited in Joe Peschek, "A Living Wage? Campaigns Attach Strings to Public Contracts."Dollars and Sense, March/April 1997.
6.Interview with the author, October 1997.
7."Oakland Considers Forcing Businesses to Raise Pay,"The Daily Record(Baltimore, MD), March 24, 1998.
8.Both cited in Peschek, op. cit.
9.Interview with the author, April 1998.
10."Boston Enacts Living-Wage Rule."Times-Union (Albany, New York), August 14, 1997.
11.Eric Siegel, "Commission urges new wage rates,"Baltimore Sun, December 14, 1994.
12.Interview with the author, April 1997.
ATC 76, September-October 1998