Against the Current, No. 75, July/August 1998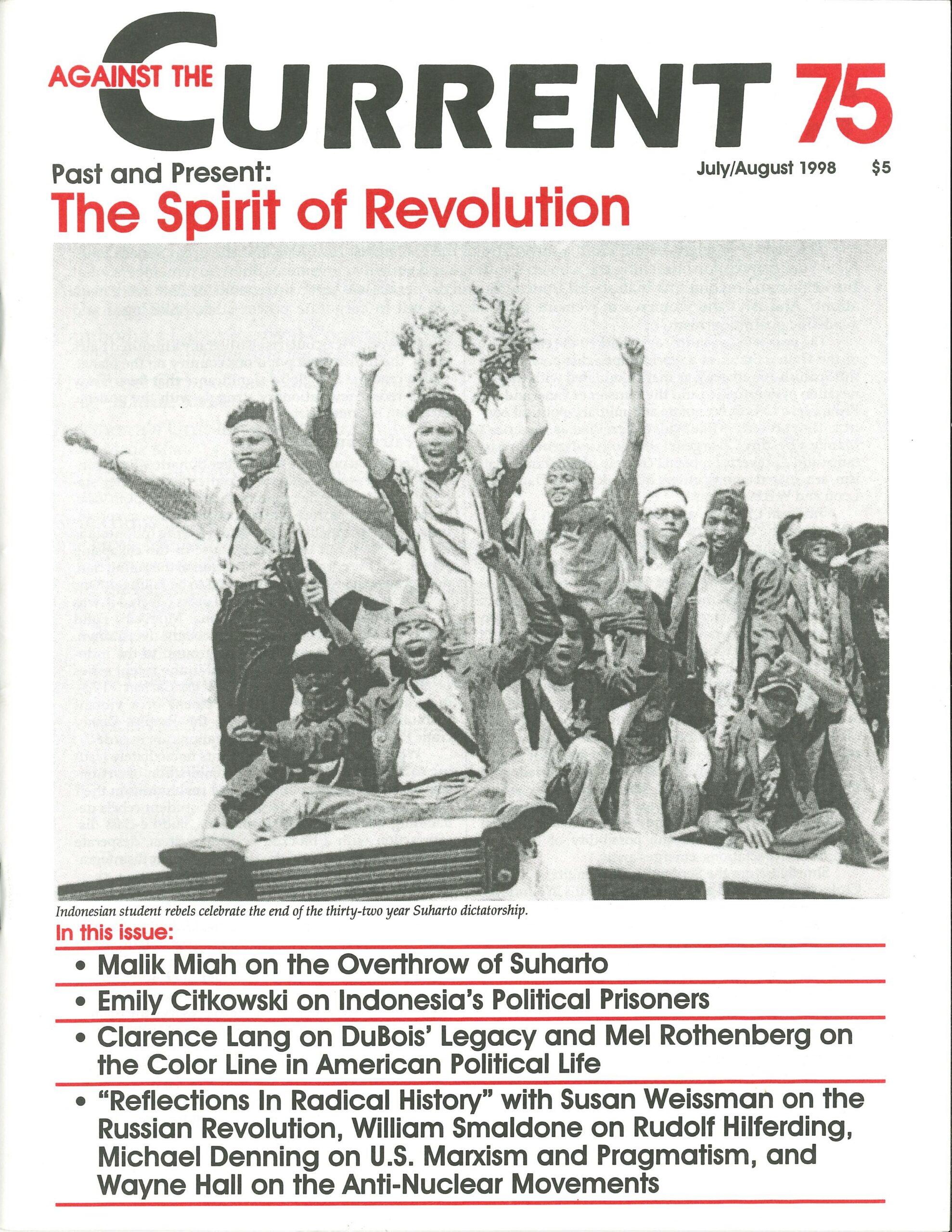 AS INDONESIAN POLITICAL prisoners are released, evidence continues to surface that the United States CIA knew about the "disappearances" and tortures.
In response to the mass protests that forced Suharto to step down, Indonesian trade union leader Muchtar Pakpahan and former Member of Parliament Sri Bintang were released from prison May 25. The new president Habibie has promised to review the anti-subversion law under which many of the political prisoners-including the Peoples Democratic Party (PRD) prisoners-were jailed.
It is likely that many of the more than 200 imprisoned dissidents will be released. On June 9 three PRD prisoners-Nezar Patria, Aan Rusidanto and Robbie Hartono-were released on conditional bond.
However, Habibie has said that he will not release East Timor Resistance leader Xanana Gusmao, or any of the other fifty-three East Timorese prisoners. Nor will he release the thirteen PKI [Communist] members imprisoned during the events of 1965-66.
Dita Sari, a PRD leader and president of the Indonesian Center of Labor Struggle, has been transferred from Malang to Tangerang prison, which she describes as an improvement over her previous conditions of isolation. All of her correspondence remains censored, however, according to a report in the Australian weekly Green Left (May 27, 1998).
New Forms of Terror
Political repression took a nasty turn at the beginning of this year as dissidents began to disappear-snatched from the street at gunpoint by plainclothes military intelligence. The New Order Regime had been successful in quashing any political opposition; imprisoning activists and political renegades was one of the main ways. Suharto retained power. But before this year, disappearances-as witnessed in Latin America in the 1970s and `80s-were not something political activists worried about.
Amost fifty people have "disappeared." Some turned up later to tell accounts of being interrogated in torture centers. Others have been found dead, the evidence of torture on their bodies.
Pro-democracy activist Pius Lustrilanang was kidnapped at gunpoint and held for two months in a torture center. He never saw the faces of his kidnappers. He was always blindfolded, or they were hooded.
Because of international pressure, Lustrilanang was released. He was warned that if he wants to stay alive, he must remain silent. Instead he testifed on May 7 before the U.S. House of Representatives Committee on International Relations:
The first three days were the worst. They gave me electric shocks, kicked and hit me all over my body. I was put in a tub of water and my head was pushed down over and over again. At that time I thought I would never survive. I was in the hands of professionals, they did everything as part of a routine.
Washington's Complicity
The sections of the Indonesian Armed Forces (ABRI) responsible for the disappearances are supported economically and politically by the United States. The military intelligence units BIA and BAKIN both have had a long history of ties with the CIA. KOPASSUS Group Four, the plainclothes intelligence unit of the KOPASSUS commando units, have been trained by the Pentagon's joint Combined Exchange Program [JCET].
The U.S. Congress claimed not to know that the Pentagon was training the Indonesian military. Thus when evidence surfaced, Congress temporarily suspended JCET. But this was on May 8, less than two weeks before Suharto was overthrown. The ABRI were already trained and ready for war.
These units of the Indonesian military are the most brutal toward political activists. BIA abducted and tortured nine people who were agitating for a raise in the minimum wage. The units have a history of raiding the office of labor, women's and students' organizations.
In January, Defense Secretary William Cohen praised KOPASSUS for its "very impressive discipline." The KOPASSUS Group 4 was run by Lieut. Gen. Prabowo Subianto-Suharto's son-in- law. An East Timorese man told journalist Alan Nairn that Prabowo personally kicked in his teeth and broke his leg.
Prabowo was widely considered to be responsible for the disappearances and tortures, although Wiranto, as head of ABRI and personally responsible for BIA, was equally implicated. It is not surprising that Cohen considers this kind of abuse by Prabowo and KOPPASSUS "impressive," considering who trained them.
Following the May uprising, General Wiranto-the head of ABRI-demoted Prabowo. The two men have a long history of power struggles. Prabowo attempted a coup during the uprising. Wiranto demoted Prabowo as a chance to deflect blame from himself, but also to lessen the threat that he could take power.
In an article in the May 21 Washington Post, U.S. officials expressed "shock and anger" over General Prabowo's involvement in the disappearances.
The U.S. embassy in Jakarta claimed to be working for the release of the disappeared, but in an article titled "Our Man in Jakarta" in the June 15-22 issue of The Nation, journalist Nairn reveals that U.S. military officials knew that Prabowo was responsible yet continued to support KOPASSUS.
Nairn writes: "In fact, it was Prabowo's units that participated in the disappearances-particularly KOPASSUS Group Four, which U.S. officials singled out for blame in the Post-were, from the start of the abductions, in close and friendly liaison with U.S. intelligence."
The U.S. military and CIA have had a history of involvement in the political affairs of other countries: propping up dictators, providing military supplies and training to squelch popular movements. So it comes as no surprise that Washington has been intimately involved with the torturers and dictators in Indonesia.
The May uprising has created the opportunity for a more free and democratic political system. The Indonesian people now have the chance to take power away from the military. In the United States, we must speak out against U.S. complicity with the Indonesian military, and support the campaigns to free all of the political prisoners.
To support the struggle to free the Political Prisoners, send checks to: Political Prisoners Fighting Fund, 702-D Eagle Heights, Madison WI 53705.
---
For up to date on the spot coverage of Indonesia, subscribe to IndonesiaAlert! Four issues for $12regular $8student/low income.
Order your "Free the Political Prisoners" T-Shirts for $12, specify M, L, XL, or XXL. Send checks to: IndonesiaAlert! P.O. Box 267, Oakland CA 94604-0267.
---
Emily Citkowski recently attended the Asia Pacific Solidarity Conference in Sydney, Australia, sponsored by Action in Solidarity with Indonesia and East Timor (ASIET). She works in the Solidarity National Office.
---
ATC 75, July-August 1998