Against the Current, No. 75, July/August 1998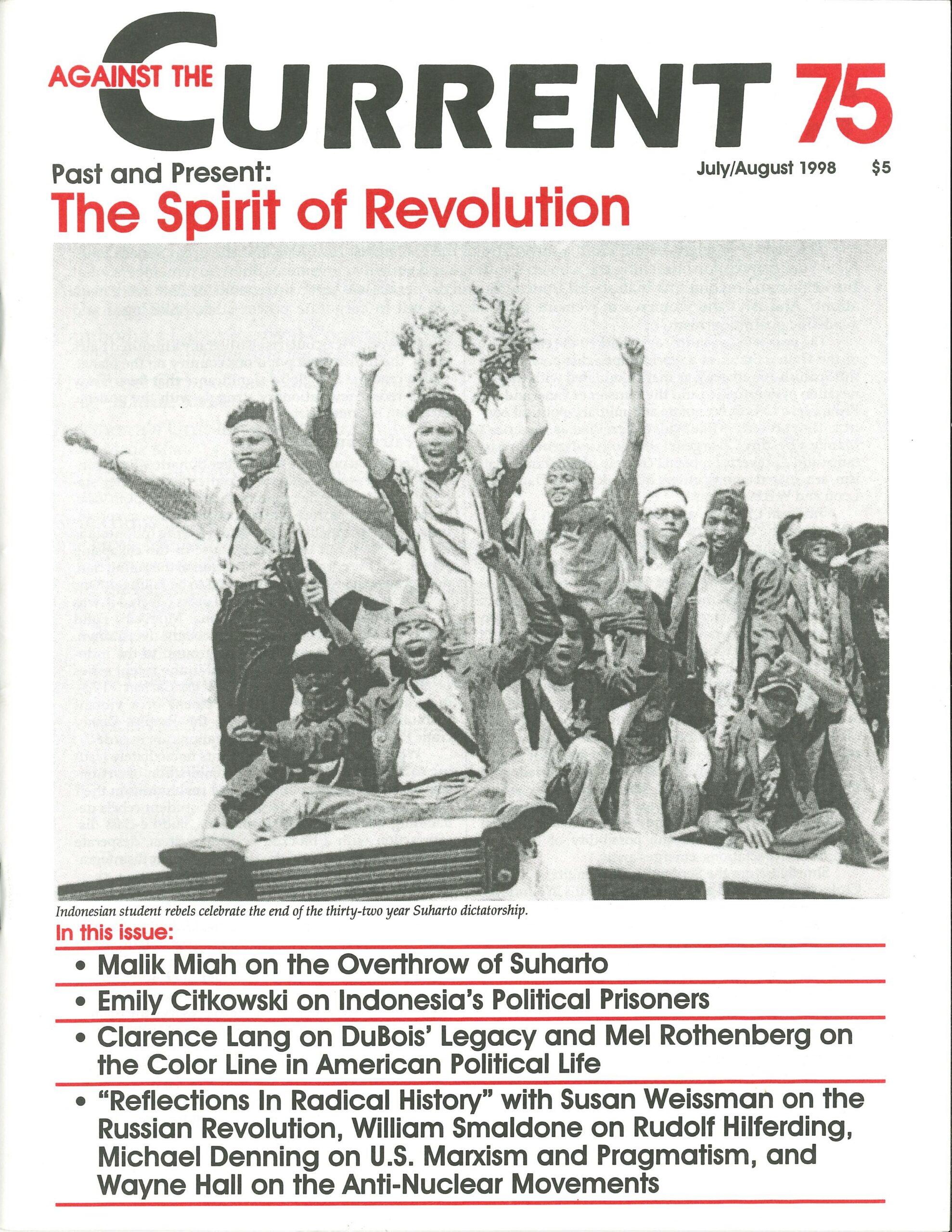 FRANK LOVELL, A long-time labor and socialist activist, died at his home in New York City May 1 of a heart attack at the age of 84.
Attracted to a revolutionary and democratic socialism often associated with the Socialist Party of Eugene V. Debs and the Industrial Workers of the World (IWW) and the idealism of the early Communist movement, Lovell became part of the small international movement led by Leon Trotsky known as the Fourth International.
His political commitment and analytical insight were widely appreciated–as were his, warmth, avid intellectual curiosity, rich sense of humor and engaging interest in persons of all ages and backgrounds.
Frank Lovell was born on July 24, 1913 in Ipava, Illinois, a farming town where his father was a local entrepreneur. In the early 1930s Lovell attended the University of California's radical Berkeley campus, earning a bachelor's degree in philosophy.
Drawn into the socialist movement just after the San Francisco general strike, he joined the Workers Party of the United States, led by James P. Cannon and A.J. Muste, in 1935. He consequently became a seaman and an organizer for the Sailors' Union of the Pacific.
In 1938, Lovell was a founding member of the Socialist Workers Party, and for years played a leading role in that organization. For a number of years he served on national leadership bodies of the SWP, writing extensively for socialist publications on labor issues and other matters.
Under the pen-name Frederick Lang he authored a classic–Maritime! (New York: Pioneer Publishers, 1943). In Portland, Oregon in the late 1940s he edited The Defender, a rank-and-file paper opposing the conservatism and anti-left purges triumphing throughout the maritime industry and unions.
In the early 1950s Frank moved to Detroit with his wife Sarah and their infant daughter Joan. There he became an auto worker and a member of the United Auto Workers. With close friends George and Dorothea Breitman, Frank and Sarah played a significant role in the Detroit labor and socialist movements of the 1950s and 1960s.
They initiated and maintained for many years the influential Friday Night Socialist Forum (later called the Militant Forum), a weekly series that drew a broad range of prominent trade unionists and working-class militants, civil rights and Black liberation activists, scholars, intellectuals, students and others.
They also ran openly socialist electoral campaigns–such as Frank's campaigns for Governor of Michigan on the SWP ticket in 1954, 1958 and 1964. In the late 1960s they moved to New York City, where Frank served as the Socialist Workers Party's trade union director.
In the early 1980s, Frank and Sarah Lovell were among the hundreds expelled from the SWP, when the group was taken over by newer leaders intent on replacing the historic Trotskyist program with a closer alignment to the orientation of Cuban Communist Fidel Castro.
In December, 1983 Lovell initiated publication of Bulletin in Defense of Marxism, serving as first editor of this magazine, and later continued on its Editorial Board. Before her death in 1994, Sarah served as the magazine's treasurer and chief copy editor.
Frank and Sarah were also part of a small group known as the Fourth Internationalist Tendency, which from 1983 to 1992 sought to bring about unification of all U.S. supporters of the Fourth International while at the same time defending the proud traditions of American Trotskyism and seeking to apply revolutionary Marxist ideas to contemporary realities and struggles.
After the group's dissolution, some of its members–including Sarah and Frank–joined Solidarity (although eventually Frank allowed his membership to lapse). Impressed by the conferences of Labor Notes, he felt that forces around this publication, as well as such currents as Teamsters for a Democratic Union, represented important trends in the class struggle.
He was also active in and hopeful about the prospects of the Labor Party–present at its founding convention in 1996, he planned to attend its second national convention this autumn.
In Frank's final years he gave attention to creating and administering the Thomas Giunta Living Trust, named after a veteran Trotskyist seaman. This fund has provided financial support to the Ernest Mandel Institute in Brussels, Belgium, to the Leon Trotsky Museum at Coyoacan in Mexico City, as well as to the Tamiment Library for the processing of its collection of the late George Breitman's papers.
The newly-expanded Breitman-Lovell Collection at Tamiment promises to be a valuable source on the history of the U.S. Trotskyist movement for scholars and activists.
Frank Lovell is survived by his companion, Miriam Braverman, of Manhattan; his daughter, Joan Lovell, and son-in-law Mark Weiss, of Detroit. He will be fondly remembered by those he touched with his generous spirit. A memorial meeting is planned at Tamiment Library, New York University, Sunday, September 20, 12:30 p.m.
Paul Le Blanc is co-author of Trotskyism in the United States (Humanities Press, 1996) and was a friend and comrade of Frank Lovell.
ATC 75, July-August 1998