Against the Current, No. 72, January/February 1998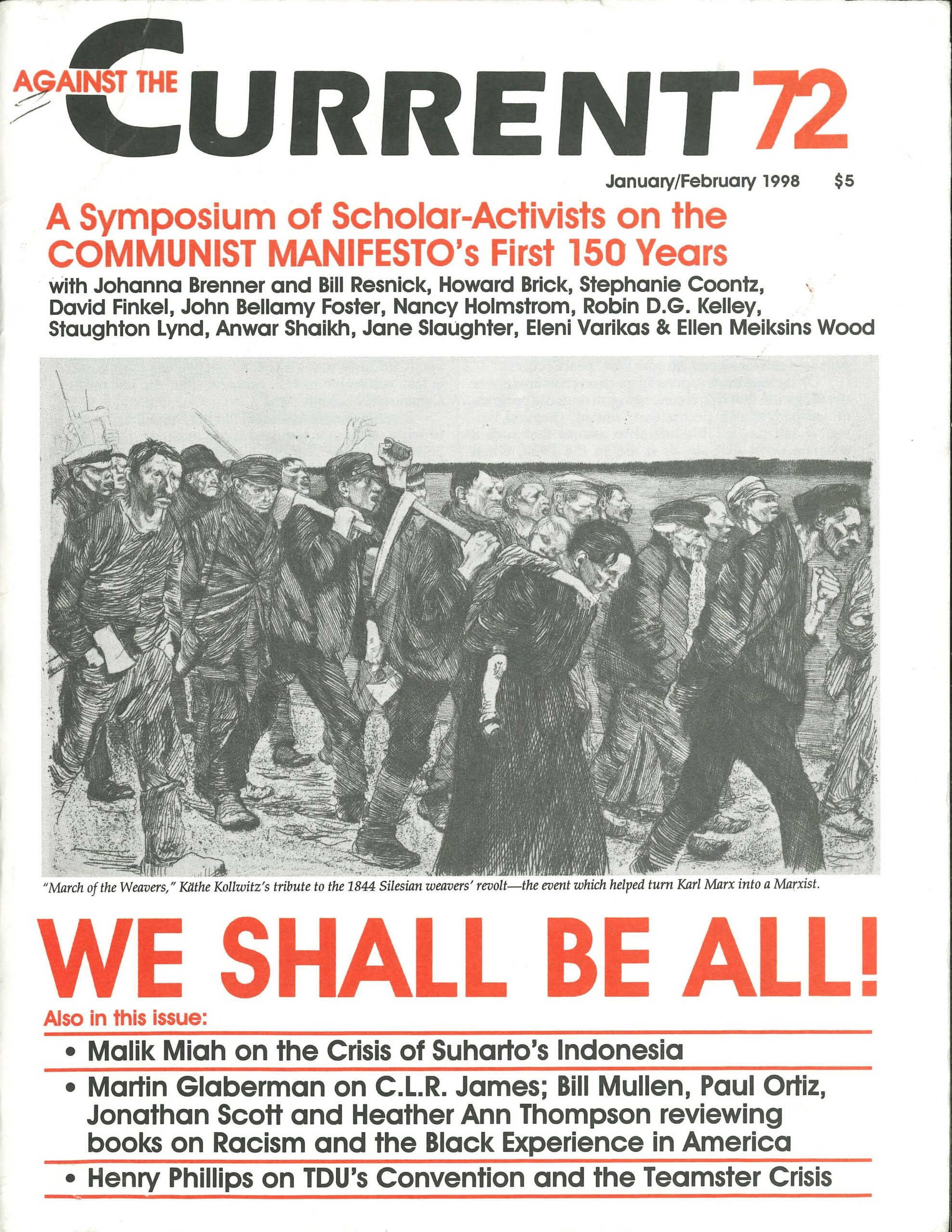 The Gulf Crisis, Again and Again
— The Editors
Teamster Rank and Filers Look Forward
— Henry Phillips
A View of the Teamster Tragedy
— Robert Brenner, Samuel Farber, Christopher Phelps and Susan Weissman
Carol Miller for Congress: New Mexico Greens Play for Keeps
— Rick Lass, Tammy Davis & Cris Moore
The Rebel Girl: Choice, Access and Our Lives
— Catherine Sameh
Why Southeast Asia Burned
— Dianne Feeley
Random Shots: Kampfer's Armageddon Now
— R.F. Kampfer
Letters to the Editors
— Justin O'Hagan, Markar Melkonian, Laurence G. Wolf and Paul Lowinger, M.D.
Symposium: The 150th Anniversary of the Communist Manifesto
Revisiting the Communist Manifesto
— Christopher Phelps
Politics and the Communist Manifesto--Part 1
— Ellen Meiksins Wood
Politics of the Communist Manifesto--Part 2
— Johanna Brenner and Bill Resnick
Politics and the Communist Manifesto--Part 3
— David Finkel
Politics and the Communist Manifesto--Part 4
— Nancy Holmstrom
History, Culture & the Communist Manifesto--Part 1
— Staughton Lynd
History, Culture and the Communist Manifesto--Part 2
— Eleni Varikas
History, Culture and the Communist Manifesto--Part 3
— Howard Brick
Economics and the Communist Manifesto--Part 1
— Anwar Shaikh
Economics and the Communist Manifesto--Part 2
— Jane Slaughter
Gender and the Communist Manifesto
— Stephanie Coontz
Nature and the Communist Manifesto
— John Bellamy Foster
Race and the Communist Manifesto
— Robin D.G. Kelley
Reviews on Racism and the African-American Struggle
Convict Labor in America
— Paul Ortiz
Before the White Race Was Invented
— Jonathan Scott
Remembering C.L.R. James
— Martin Glaberman
On Dudley Randall, The Black Unicorn
— Bill Mullen
In Memoriam
Ernie Goodman, Fighter for Justice
— Elissa Karg
JANUARY 22, 1998 marks the 25th anniversary of Roe v. Wade, the landmark Supreme Court decision that legalized abortion. Like many victories of the feminist "second wave," the formal legal right to safe abortion remains essentially intact.
But only three years after the Roe v. Wade decision, a steady erosion of abortion rights began that continues to this day. By 1976, the Hyde Amendment paved the way for state after state to pass laws prohibiting state funding of abortions.
It was in refusing to veto Hyde that President Jimmy ("human rights") Carter delivered his notorious message, "Life is Unfair." Today, fewer than fifteen states fund abortion services for poor women.
By the late 1970s, parental consent and notification laws began springing up, marking the beginning of massive attempts to restrict young women's access to safe abortions. These attempts have been largely successful, with over thirty states now enforcing these laws.
By the 1980s fewer and fewer medical students and residents were being trained to do first and second trimester abortions, a trend that continues. And a ten-year wave of violence leveled at clinics, health workers and physicians providing abortion care has made pro-choice work a risky endeavor.
In the last decade women's health centers in close to twenty states were bombed, and doctors in Kansas and Florida were shot. Two health care receptionists in Massachusetts were murdered. In Canada, gunmen have stalked three doctors who perform abortions and shot them inside their homes—in British Columbia, Ontario and just weeks ago in Winnipeg, Manitoba.
In the last five years, anti-choice politicians have focused their attacks on the least common and most controversial abortion procedures—second- and third-trimester abortions. Harnessing public ambivalence about later abortions, right-wingers tried to outlaw a very rare third-trimester abortion procedure—usually performed when the woman's life is endangered.
Fortunately, President Clinton—who initially announced support for the ban—was persuaded by dramatic testimony and political pressure from women's rights organizations to veto the law.
With abortion rights on such permanently shaky ground, it's easy to forget that Roe v. Wade was essentially, for feminists, a compromise. Before the 1973 decision a broad-based reproductive rights movement was mobilizing around a range of issues, including but not limited to abortion.
A wing of the feminist movement, many of them working class, lesbian and/or women of color, were addressing the need for women's sexual, political and economic autonomy. What would it take, they asked, for every woman to be able to control her destiny?
Decent jobs, health and child care, safety from domestic violence, access to birth control and abortions, and freedom to determine one's sexuality were all deemed critical to full liberation. We got Roe v. Wade, but not the rest.
Since then, some women have been able to achieve social, economic and political autonomy. In the majority they are white and middle-to-upper class. But vastly more women still struggle in daily life to make ends meet, let alone find the time and energy to pursue the benefits of being liberated—whether those be higher education, better jobs, free time, time with and time away from family and children, sexual intimacy with women, etc.
The right to safe and legal abortion is necessary for all women, but it may not be every woman's central concern.
I'd like to be optimistic about the potential for a revitalized reproductive rights movement that would put as much energy into defending women on welfare as it did defending abortion. Truthfully, however, it's still difficult to generate middle-class concern for low-income women's issues, like welfare. But perhaps Gramsci's advice applies once again: pessimism of the intellect, optimism of the will.
ATC 72, January-February 1998