Against the Current, No. 71, November/December 1997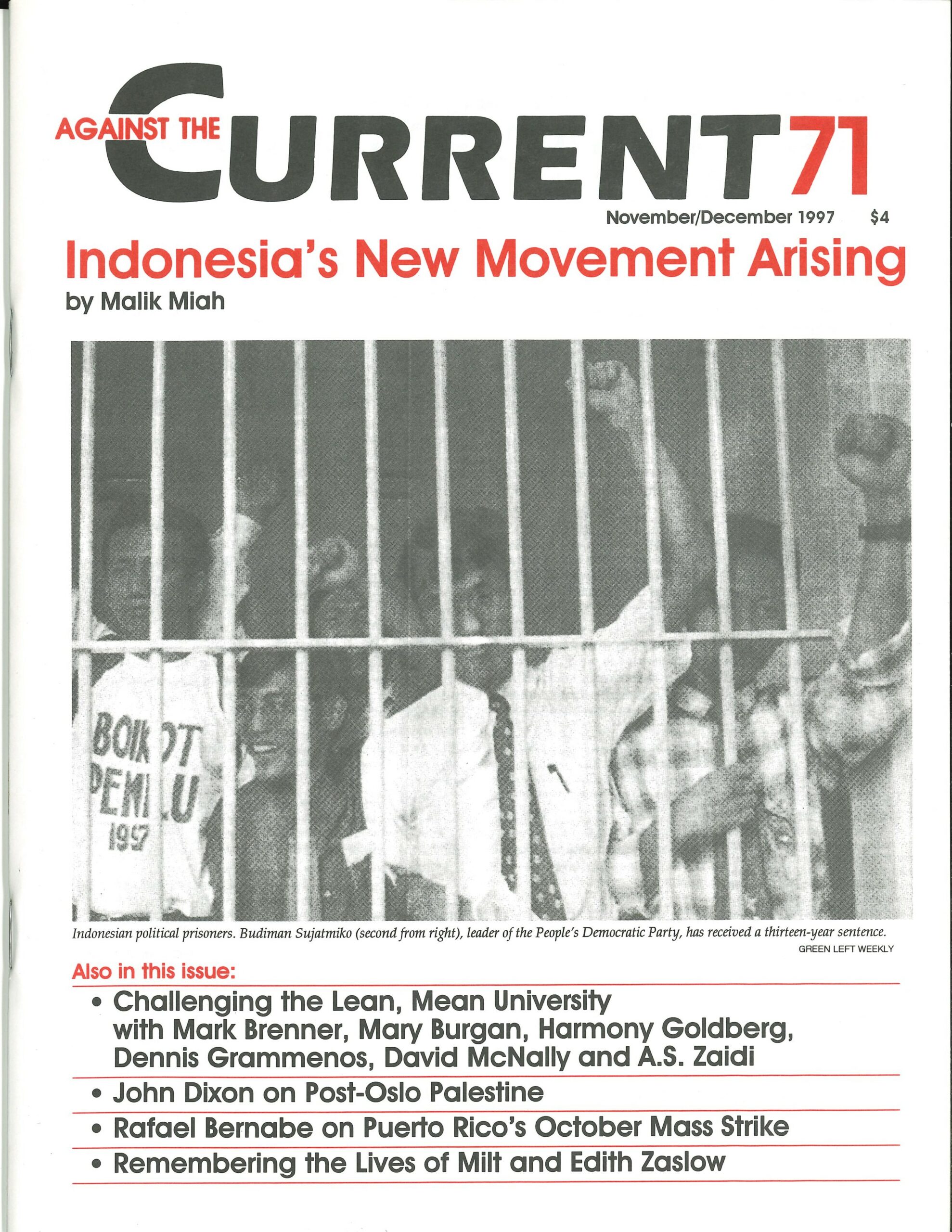 A Hell Raiser and A Choir Boy
FELA ANIKULAPO RANSOME KUTI and Nusrat Fateh Ali Khan: In a little over a week we lost two major musicians on the international or "world" music scene.
Both died young of infectious diseases that are currently ravaging the developing world and the Third World that resides in the United States. Fela, from Nigeria, died at age 58 from complications of AIDS. Nusrat Fateh Ali Khan contracted hepatitis from dialysis undertaken in his native Pakistan. He was 48.
Both musicians were driven by quite different non-musical forces to create exceedingly passionate recordings and performances. Those forces are representative of their respective years in the limelight.
Khan was an utterly devout Muslim who worked to popularize Islam through his music, Fela a freedom fighter who suffered great loss in his battles against colonialism and its grim aftermath.
Fela was the scourge of corruption and neo-colonialism. He made his career with songs like "Zombie" ("Zombie no breathe unless you tell them: Go, breathe") a sarcastic rant against soldiers who blindly follow orders and ITT (International Thief Thief).
It seemed his every act was one of defiance, and coming from a world where defiance is met with naked repression he became the stuff of legend. His mere survival of numerous beatings, attacks and jailing by successive Nigerian regimes made him seem invincible.
When soldiers killed his mother he is said to have walked several miles to dump her body at their headquarters and demand that they bury her. When soldiers burned his home, raped his wives and killed friends and family he continued to record and publicly perform only most the incendiary music.
Unfortunately, it was perhaps that same spirit of defiance that caused him to contract HIV and refuse treatment when it developed into AIDS.
Fela's spirit and his music represent some of the best and the worst of West Africa. His lyrics were as preachy and didactic as they were uncompromising and true. While he advocated freedom and exposed corruption, he paraded his many wives on stage—all gyrating and half-naked–to act as his backdrop.
To his credit he divorced his 28 wives in 1986 saying "no man has the right to own a woman's vagina. (We can only hope that he also realized women's sovereignty over other parts of their anatomy and humanity as well.)
Fela was among the first to realize the commercial possibilities of blending African and African American music. The resultant "Afro-Beat" he created influenced a generation of musicians on both sides of the ocean–this in the early 70's, a time when Bob Marley was virtually unknown outside of Jamaica.
There was no marketing mechanism to get Fela's music out of Nigeria. On top of that, his shortest songs were over seven minutes. But Fela's rants against oppression struck a chord with common people and political prisoners worldwide, especially Africans and the African Nationalist community in the Americas.
Fortunately, Fela did get some minimal air play from as yet unformatted FM rock stations who often played 20 minute songs. "Zombie" became a cult classic, and his career reached a peak in the mid 70's. The '80s saw Fela on the rebound though he never broke big the way Marley did.
Ironically, for all of his pioneering, popularity and influence Fela's music was less than exemplary. Musician friends of mine cringed when I or anyone referred to Fela as Nigeria's James Brown. They complained that Fela's rudimentary musicianship bears little comparison to the notorious rigor that JB exercises over his bands.
In fact, during one collaboration, drummer Ginger Baker begged Fela to only sing and not play sax. Fela couldn't stay in key, and Baker, like many of Fela's fans, wanted to separate the wheat from the chaff. But the same fire and egotism that kept Fela defiant through myriad attacks also drove him to make no compromises in his musical style–for better or worse.
A Life of Devotion
Nusrat Fateh Ali Khan was driven as well, not by social, political outrage but by religious devotion. While Nusrat initially rose to fame singing music that is at least six centuries old, he also did extensive work in modern popular music with all of its attendant gadgetry.
Like Miles Davis, who in his later years was surrounded by electronics, Nusrat's basic sound remained clean and piercing. But unlike Miles, Nusrat always returned to the basic form that he began with.
Nusrat initially drew criticism for altering the ancient qwaali, a form of Islamic devotional music from the mystical Sufi sect. It was through that alteration that he succeeded in popularizing the original form with young Muslims in Asia.
He also became a staple on the international dance club circuit. Yet despite the secular groove that record producers and DJs mixed with his voice, Nusrat's concerts and the bulk of his recordings remained traditional and devotional.
Those who knew him only by his collaborations with producer Michael Brooke ("Mustt Mustt"), rocker Eddie Vedder ("Dead Man Walking" Soundtrack) and the countless dance floor remixes may have been surprised by Nusrat concerts. These were pure qwaali hand claps, one harmonium, a couple of tablas or drums and the soaring voices of the "party" or group led by Nusrat.
The qwaali is used to induce religious ecstasy in the faithful. The leader of a qwaali party concentrates on his audience. If he finds a word or phrase that strikes a chord with a listener, the singer repeats the phrase until the listener is dancing ecstatically.
The relative sterility of Western style auditoriums and small number of practicing Sufis in the United States kept us from getting a real dose of Nusrat live.
The first time I heard him was on a WOMAD compilation record. The track fades upon a qwaali in progress. The rolling thrust of the tabla is in full effect. But the most striking feature is the high-driving voice of Khan. I kept thinking this guy could have a serious career in soul music; he's got the rhythm and the passion down pat.
That particular hybrid never came about. It may be just as well: Nusrat Fateh Ali Khan will be remembered as a standard bearer who indulged us with crossover work only to help remind us what he was really about. May his loyalty to his roots–and Fela's loyalty to the powerless–serve as examples for engaged musicians and artists world wide.
ATC 72, January-February 1998