Against the Current, No. 70, September/October 1997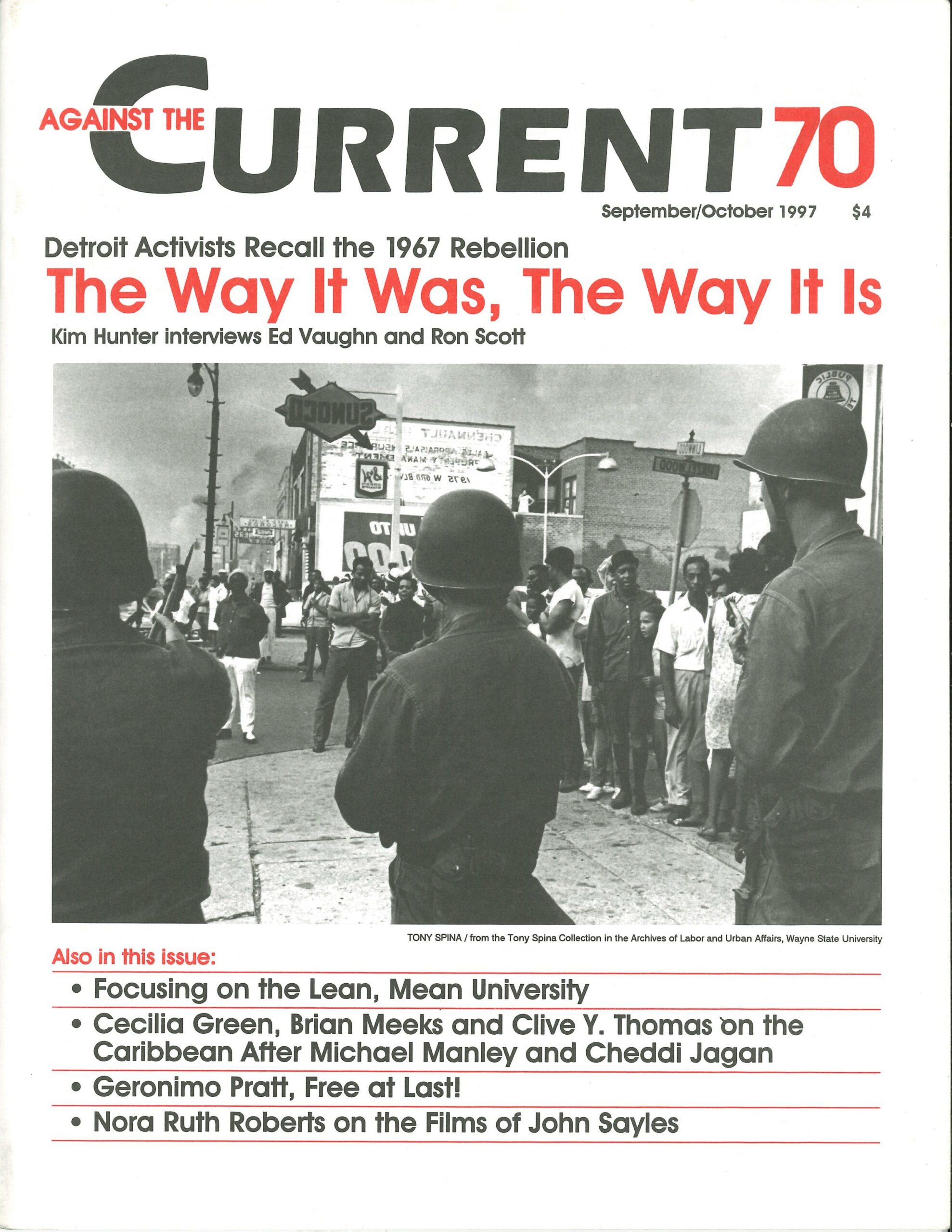 ORANGE COUNTY'S SUPERIOR Court building shook June 10 with the shouts of triumph raised by supporters of geronimo pratt. Superior Court Judge Everett Dickey, speaking before a packed courtroom, had just pronounced: "Get this man out of here. Go on and get him a bailbond!"
With the courtroom packed, there were at least twice as many people in the hallways and outside the building. Pauline Furth, a longtime supporter who was present, described the crowd as oldtime radicals, noting the presence of American Indian Movement members who are still working for the freedom of Leonard Peltier.
A number of former Black Panther Leaders were there as well, including Eldridge Cleaver, Kathleen Cleaver and David Hilliard. Furth was convinced that the Orange County Superior Court had never witnessed such crowds and such jubilation as when Geronimo was released.
It was 25 years since Pratt was convicted of the murder of Caroline Olsen in a Santa Monica robbery that netted the assailant(s) of Olsen and her husband $18. Pratt has been incarcerated for all this time, in solitary confinement for the first eight years.
Pratt's trial was part of the FBI COINTELPRO campaign to "neutralize" the Black Panthers. Since his conviction, more and more evidence pointing to his innocence has been uncovered. Of this, the most significant has been information that the prosecution's star witness lied about his status as an informant for the FBI, the Los Angeles Police Department, and the Los Angeles District Attorney's office.
The jury was not told that Caroline Olsen's husband, who fingered geronimo as the killer, had earlier identified someone else as the man who gunned down his wife.
Support for geronimo's alibi also turned up after the trial, when several Black Panthers signed affidavits stating that he had been in Oakland at the time of the murder. They had not come forward earlier because of a split in the Panthers. Members from the faction opposed to Pratt's were directed not to testify on his behalf.
Late last year, Judge Dickey, the same who set bail, granted geronimo's attorneys' request for an evidentiary hearing. Their fifth attempt to get a hearing, this was seen by some as geronimo's last hope. After hearing the evidence presented, Dickey, a Ronald Reagan appointee described by a former Orange County prosecutor as "a very conservative, law enforcement judge" reversed the conviction.
Judge Dickey ruled that "prosecutors had suppressed 'substantial material evidence' favorable to Pratt" and asserted that "Butler lied on the witness stand when he said he was not a law enforcement informant." (LA Times, June 11, 1997)
The Los Angeles District Attorney continues to contend that after an "'exhaustive' review of the case" they "did not discover any new evidence pointing to Pratt's innocence" (LA Times, June 11, 1997). In fact, Los Angeles DA Gil Garcetti has appealed Judge Dickey's ruling.
Given the extremely small chance that the ruling would be overturned, Garcetti's appeal shows at best an inability to give up gracefully, and can also be seen as a further chance for harassment. DA Garcetti could also move for a retrial; Dickey's ruling is not an official statement of geronimo's innocence, but just an assertion that his trial was flawed.
All agree, however, that a retrial could not be successfully prosecuted. Kenneth Olsen, an eyewitness, has since died, and of course, the credibility of the star prosecution witness, Julius Butler, has been destroyed. No one, even those who believe there once was a case, see a possibility for building one now.
At least one person, however, still wants to see the question of who murdered Caroline Olsen resolved. Upon his release geronimo stated that Olsen, an antiVietnam War demonstrator with progressive politics, "was like a comrade of ours. No one has championed her cause. She was just forgotten." (ibid.)
Indeed, geronimo has stated that efforts to prove who actually killed Olsen may soon be successful. Pauline Furth points out that many believe that two men, who confessed to their families, committed the crime. These men have since died.
Pratt's long overdue release was a joyous moment for his supporters, who gathered at the court house and held rallies in Los Angeles and San Francisco. In spite of the drawn out hardships and horrible injustice of his situation, geronimo has kept his belief in carrying on the fight. He's also kept a positive attitude, saying he is not bitter about his time in jail.
Eldridge Cleaver "marveled at Pratt's ability to stay mentally sharp" after his long ordeal, including the eight years in solitary confinement (San Diego UnionTribune, June 11, 1997). Pratt said the time he spent in Vietnam before joining the Panthers prepared him for the "tortuous situation" in prison (LA Times, June 11, 1997).
But now, in the words of supporters outside the courthouse, geronimo pratt is "free at last." May he continue to be strong after all his various trials, and finally live the full life he deserves!
ATC 70, September-October 1997