Against the Current, No. 66, January/February 1997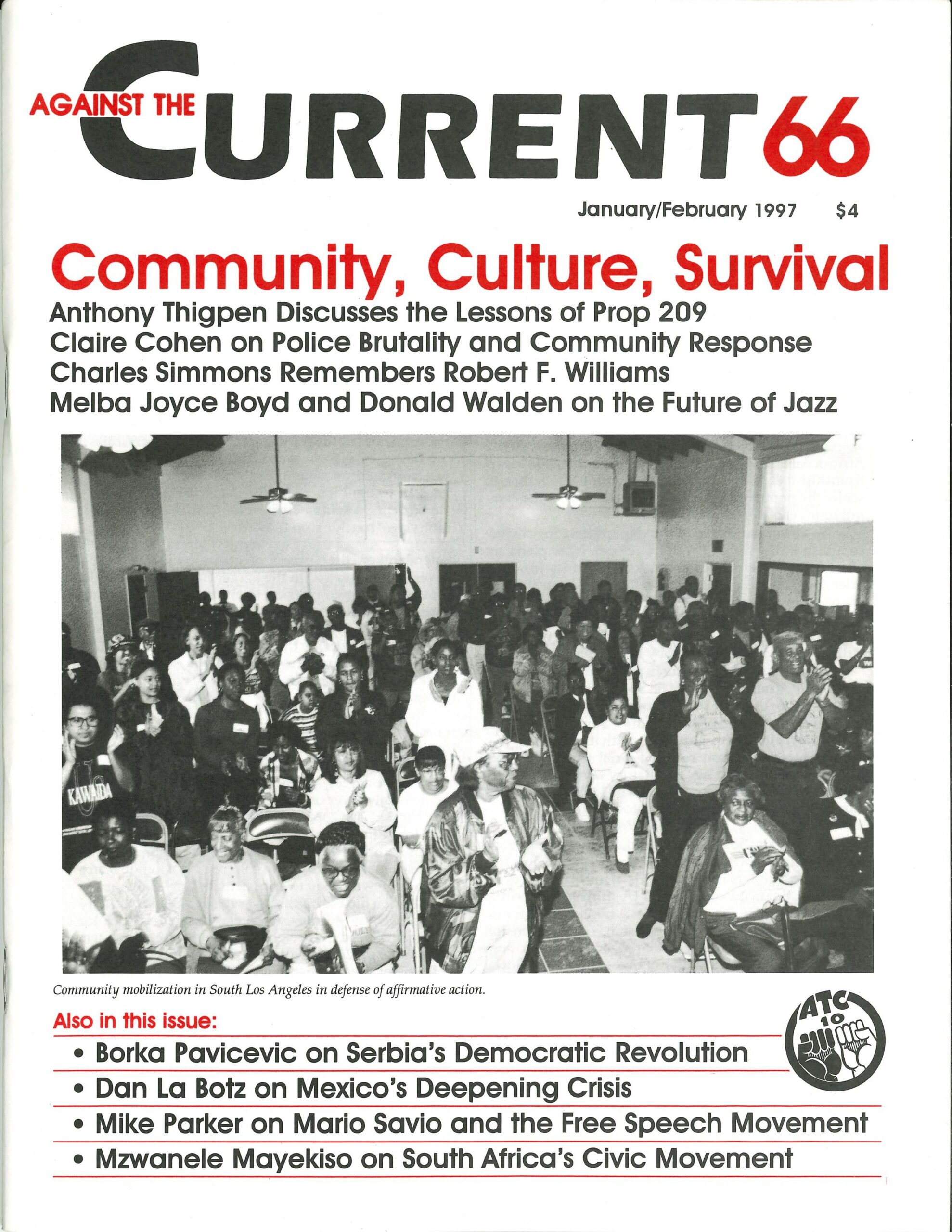 AT LEAST TWO factors have hindered the acceptance of jazz as art music in the hearts and minds of many white American academicians, critics and marketers who make "the rules" and sell the music. The most obvious stumbling block is racism: The music's originators, all of its major innovators and the majority of its significant players have been African American.
The other chief factor is a cultural bias that was exploited and promoted by those who marketed European classical music to the upper classes at the start of the century. That still-present bias says that art music cannot be party music. Straussian waltzes aside, to those with that bias the fact that people danced to Louis Armstrong and the Hot Five's or Fletcher Henderson was more proof that jazz was not (and to some, still is) not art.
While there has always been plenty of jazz that is more contemplative and/or simply meant for listening (from Ellington's sacred concerts to the "free" improvisations of the '60s), the music has also spun off rock and roll and blended with rock and funk, all the while shifting in and out (but mostly out) of American popular consciousness. In short, there has always been a strong populoist butt-shakin' element to the music.
Now hip-hop is in the mix. Like pop music from the '60s, this is as much as anything a product of the technology of production. Hip-hop's technology–sampling, mutantly heavy bass sounds and scratching (moving a record forward and backward by hand while playing)–has made its way into jazz.
There is "acid" jazz, tending more towards a youthful hip-hop sound, and "smooth" jazz, which is one step above muzak even though it uses much of the hip-hop technology. But these are marketing terms that don't address questions of originality, creativity and improvisation that are essential to the music.
Rapping and scratching raise questions about "non-musical" forms and sources being used in a musical context. (It is not generally acknowledged that John Cage, a most unfunky if adventurous white avant-garde musician, addressed these questions and used samples twenty years before hip-hop was created.)
Enter African British sax prodigy Courtney Pine, whose 1996 release "Modern Day Jazz Stories" addresses those questions while posing some new ones. This is a record that could slip through the "smooth jazz" program filter, attract the dancing public or be played on the most adventurous avant-garde jazz program.
Pine is not the first to blend hip-hop and serious jazz. Ornette Coleman and Branford Marsalis beat him to it: Indeed Marsalis, under the pseudonym of Buckshot LeFonque, has set a high standard for blending hip-hop and seriously funky improvisation out of the Cannonball Adderley/Lee Morgan school.
While Pine plays obvious homage to Adderley and Morgan, his unique contribution is to have put the avant-garde blowing styles of John Coltrane and Pharoah Sanders on a disc where the DJ is an integral part of the music. Pine is a gifted player steeped in the uncompromising technique that allowed Coltrane to unleash harmonics and "showers" of notes from the horn, extending the envelope of a single-line (one note at a time) instrument.
Courtney Pine is also a young man who came of age listening and dancing to hip-hop and its funky derivatives. That shows up in his ability to nearly blend it with free jazz. While Pine is thoroughly at home with both forms, they don't make as organic a whole as the hip-hop and funky jazz. No surprises there. But he must be given a great deal of credit for trying.
"Jazz Stories" finds Pine in the company of a stellar cast of musician, including trumpeter Eddie Henderson who has many jazz/rock/funk fusion recordings under his belt. Keyboard player Geri Allen, drummer Ronnie Burrage and bassist Charnett Moffett make up the rhythm section. Cassandra Wilson with her usual sultry vocals, the aforementioned Henderson and guitarist Mark Whitfield are on the front line.
Burrage and Moffett really dig into every aspect of the record, churning the rhythm in wilder moments and serving up as greasy a late of funk as you can stomach on the dance numbers. Trumpeter Henderson turns in a great performance; you'd never guess how far down the commercial slope he'd slid in the '70s.
Amidst all these serious jazz improvisers is DJ Pogo, whose work on the disc is a great part of what makes the record "modern." He cuts, scratches and samples voices and beats in a great sound montage that lends the record the feel of De La Soul meets Pharoah Sanders during his funky '70s period. Again, this is not as truly an organic mix as, say, Sanders' blending of African percussion with his wild and powerful horn lines.
Speaking of sampling, nowhere in the liner notes are the names of Coltrane, Cannonball Adderley or Lee Morgan mentioned, though their styles of playing and composition are blatantly reproduced here. Not that the playing is slavish–Pine et al pay fine tribute to their musical forebears–the problem is that a record such as this, which blends current and historical elements and has potentially great appeal to youth, owes it to those youth to cite its influences.
More disturbing than that is the absence of credit to keyboardist/composer Joe Zawinul and poet Langston Hughes. A chunk of Zawinul's "Mercy Mercy Mercy," a classic fusion of jazz and r&b, is an essential element of "The 37th Chamber" on Pine's record. On "I've Known Rivers" Wilson turns in a fine musical rendition of Hughes' "The Negro Speaks of Rivers," but Hughes' name appears nowhere as the word smith.
Such glaring omissions may be the fault of ignorant or slothful record company marketers; I hope that Pine knows better.
I also hope he has better luck on his next tour finding musicians that are up to the challenge. Pine was opening act for Cassandra Wilson this summer. I was far more curious as to what he was going to do: Would he blend the hip hop and wilder improvisations into a more organic whole than we get on the record? Alas, the only musician from the disc who toured with him was DJ Pogo. The other alleged musicians on the tour deserve anonymity.
In any event, Pogo was involved in one of the evening's moments that I am tempted to call watershed. Pine and Pogo traded riffs, with the DJ scratching to create "pure" noise, no recognizable vocal or music, while Pine went off the scale but kept the beat.
The live mixture seemed to distill (or perhaps just reduce) the essence of what the record attempts to do. It was also a moment that has caused me to reflect continually on the future of jazz and dance music, what it means to produce "live" music and the DJ's relationship to the means of production. Stay tuned.
ATC 66, January-February 1997