Against the Current, No. 65, November/December 1996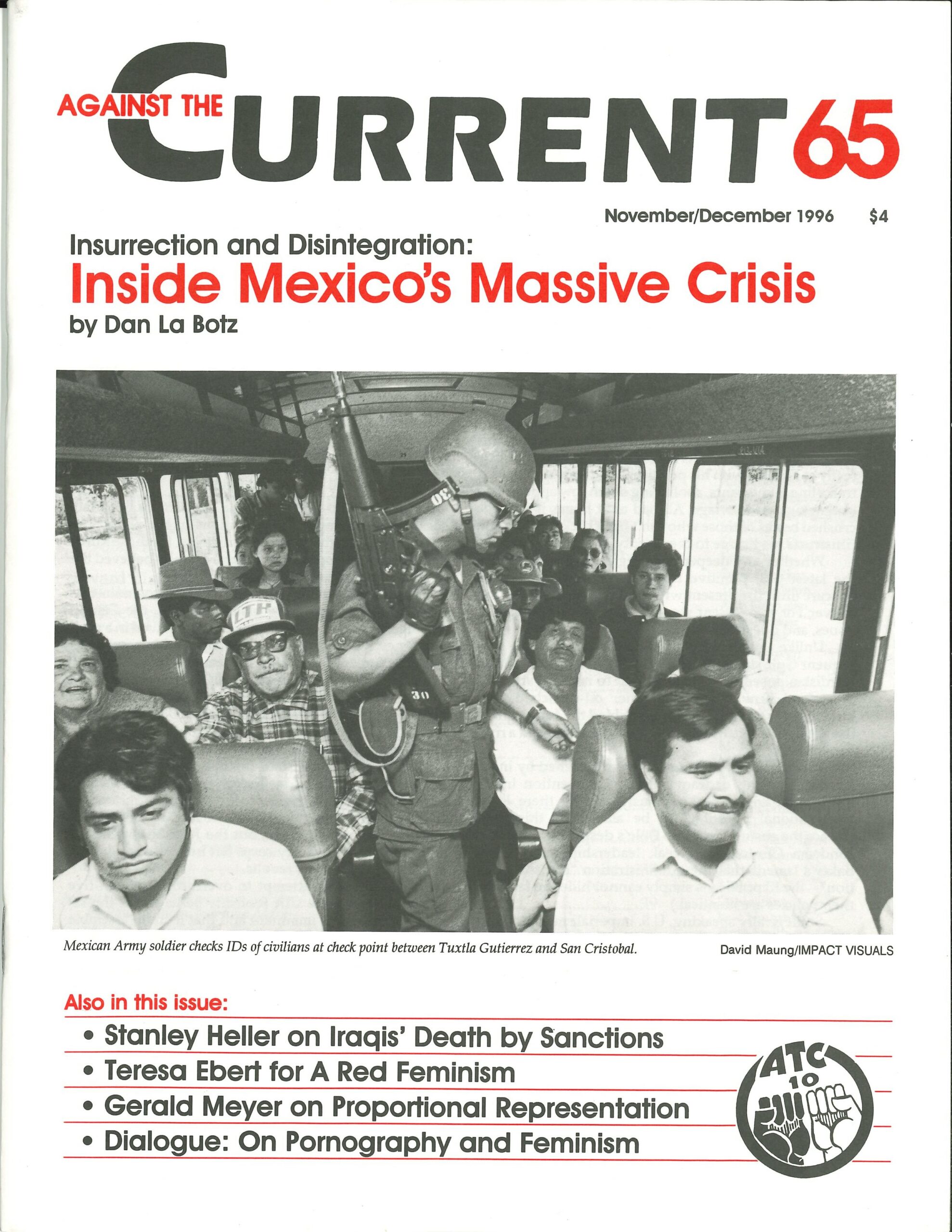 MICHEL MILL, A longtime central leader of the Trotskyist movement in Quebec and Canada, died of a heart attack at the age of 51 on October 6, 1996 in East Lansing, Michigan.
Michel was a remarkable person who left an indelible impression on all those who met him, not only because of his astute political acumen and his forceful personality but because he was so genuinely likeable if occasionally irascible.
His major theoretical contribution to the revolutionary socialist movement was his pathbreaking analysis of the relationship between the working class and the specific features of capitalism in Quebec. He cogently argued that the density of the working class in Quebec required that the struggle for Quebec's independence be, in essence, a class struggle that transcended narrow nationalism.
Many of his analytical articles appeared under the pen name, Michel La Fitte. (One of these, "Quebec's Referendum and After," appeared in "ATC" 60, January-February 1996.)
Michel was, in a very real sense, to the revolutionary socialist movement born. Both his father and his uncle had been Trotskyists and while still a teenager Michel joined the LSA/LSO (League for Socialist Action/Ligue Socialist Ouvriere), Canadian section of the Fourth International, at the beginning of the l960s.
Moving from Toronto to Montreal in order to build a branch of the organization in Quebec, Michel was soon an active participant in working-class struggles in Montreal, including those in the trade union sector.
Michel also became an active participant in the Montreal movement against the U.S. War in Viet Nam. The LSO slated him as their candidate for mayor of Montreal. He wrote for and edited the organization's newspaper.
In 1972 he played a critical role in the general strike in Quebec, developing worker actions that led to the occupations of radio stations and other media that greatly contributed to the militant character of the strike.
Michel broke with the LSA/LSO in l972 and played a key role in founding the GMR (Group Marxiste Revolutionaire) which merged with the RMG (Revolutionary Marxist Group) in English Canada in l973 to form the RMG/GMR, of which Michel became a central leader. In l976 the RMG/GMR fused with the LSA/LSO to form the RWL/LOR (Revolutionary Workers League/Ligue Ouvriere Revolutionaire), a fusion that Michel had serious reservations about.
Shortly thereafter he left the organization and eventually became a founding member of GS (Gauche Socialiste), which merged with SC (Socialist Challenge) in the mid-l980s to form the section of the Fourth International in the Canadian state. At his death Michel was deeply involved in encouraging efforts to bring about a fusion of SC/GS and the NSG (New Socialist Group).
In addition to his significant theoretical contributions, Michel was a tireless activist in myriad struggles in Montreal and elsewhere in Quebec for progressive economic, social, political and cultural change. He was especially involved in Third World solidarity activities including, most recently, with the Quebec solidarity organization, Alternatives.
If one were to attempt to locate the essence of Michel Mill, two facets come immediately to mind. Michel was at his core an internationalist and a humanist. As an internationalist he was not only a veteran leading member of the Fourth International but an extremely knowledgeable student of the political situation globally.
While his specialty was the Third World, he understood the social formation of the United States better than most U.S. residents. He was particularly well versed in the history and traditions of indigenous peoples in Quebec, Canada and elsewhere.
His political acumen notwithstanding, it is Michel Mill, the human being, that all who knew him will never forget. Michel was an autodidact who read voraciously and acquired an encyclopedic knowledge of such a broad range of subjects that it virtually defies description.
Michel loved to talk, he loved to engage in discussion. He loved to hold forth spinning yarns from his three-plus decades of participation in the revolutionary socialist movement, accounts that of course became increasingly embellished with the passing of the years.
He loved good beer and good food, good literature and good music, good friends and travel. He loved life itself. His life was that of a fiercely committed, passionately devoted revolutionary socialist militant with a vision of the untrammeled possibilities that a socialist society could offer. He was especially gifted at imparting this vision to younger comrades.
He has left us far too soon. His death leaves a great void and all of us who knew him are the lesser. He leaves behind his companion and comrade Katherine Beeman and all of us who loved him. He will be deeply missed.
---
Patrick Quinn is a member of Solidarity in Chicago and a long-time friend of Michel Mill.
ATC 65, November-December 1996>