Against the Current, No. 65, November/December 1996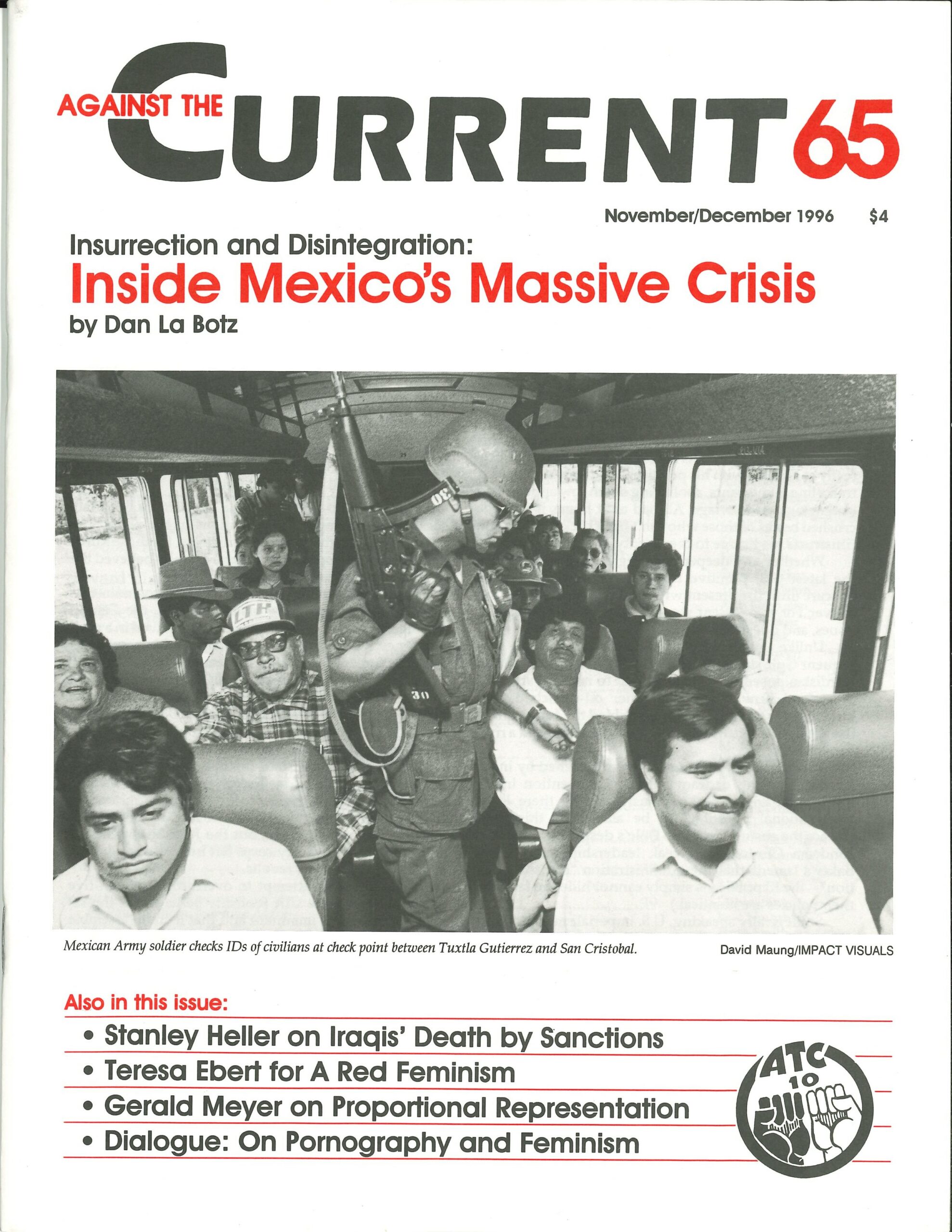 "JERUSALEM: AN OCCUPATION Set In Stone?" has made an unusual mark for a video documentary. The film represents a pioneering effort of this medium by a grassroots movement in the Occupied Territories to present its own story.
An uncompromising examination of the destruction of Palestinian housing in "Greater Jerusalem," the film is gaining widespread air play internationally and in some U.S. public television outlets. It won an award at the Berkeley Jewish Video Film Festival and high praise when screened at the San Francisco Jewish Film Festival.
Such recognition is particularly remarkable for a film produced by the Palestine Housing Rights Movement, a coalition that includes the Palestine Human Rights Information Center, Al-Haq (a West Bank legal rights center), the Alternative Information Center, and the Mennonite Central Committee along with other church groups.
Marty Rosenbluth, the film's editor and director, is a U.S. filmmaker who previously worked for the PBS "Frontline" documentary "Journey to the Lands." Early in October he toured several Michigan cities where he presented the video to diverse audiences on campuses and to church, mosque and synagogues.
After an extremely lively session at Michigan State University, co-sponsored by the campus Hillel and Arab student organizations-possibly an all-time first in itself-Rosenbluth was astonished when the head of the Jewish Studies Department told the campus paper that every student should see the film.
It's ironic, Rosenbluth stated in a conversation with "Against the Current", that much of the attention and reception the film is receiving results from the heightened uncertainty that has followed the election of the right-wing Likud government of Binyamin Netanyahu. "In fact, everything that happens in this film occurred during the previous Labor government in Israel," Rosenbluth commented.
"The important thing about this video is that it shows why the recent social explosion took place. It wasn't about an archaeological tunnel-any more than the Intifada, which began in 1987 when an Israeli truck killed Palestinian workers in car at a Gaza checkpoint, was about traffic safety.
"Since 1967 the Israelis have insisted on maintaining complete control of Jerusalem, and doing anything they want without consulting the Palestinians or negotiating with anyone. Mayor Ehud Olmert said exactly that just two days before the demonstrations began. The opening of the tunnel entrance was the last straw, but it could have been anything.
"It's important to stress that the Palestinians want a compromise on Jerusalem. It needs to be a city under shared sovereignty-the capital of both an Israeli and a Palestinian state. Israeli says no, we are in control, you have no say.
"As the film shows, the part of Jerusalem where Palestinians are allowed to build is only fourteen percent-the areas where they are already overcrowded. There is no room to accommodate the natural population increase. That's why people build without permits and their homes are bulldozed, as we show in the film-or homes are torn down for new roads for Jewish settlers.
"Everything is being done to force people to leave. If a Jerusalemite who marries someone from Ramallah, five miles away, they can't live in Jerusalem. But if I-an American who happens to be Jewish-want to live anywhere in Jerusalem, I could just put my family on a plane and go there. I wouldn't even have to take Israeli citizenship.
"Even worse, with the closure of Jerusalem to the West Bank, hundreds and thousands of people cannot get to their jobs in East Jerusalem, which has always been an Arab city. The economic effect is devastating. Making compromise impossible is what makes confrontation inevitable."
Watching "Jerusalem: An Occupation Set In Stone?" is a deeply sobering experience, because you are watching an apartheid system under construction. On the other hand, the reception for this powerful documentary suggests that international conscience at the grassroots level is not dead-one of the few hopeful signs in an appalling situation.
Copies of the video can be ordered for $20 apiece plus $3.45 s/h from NACC, 1747 Connecticut Avenue NW, Washington 20009, tel. (202) 319-0757. Email nacc@igc.apc.org
ATC 65, November-December 1996>