Against the Current, No. 65, November/December 1996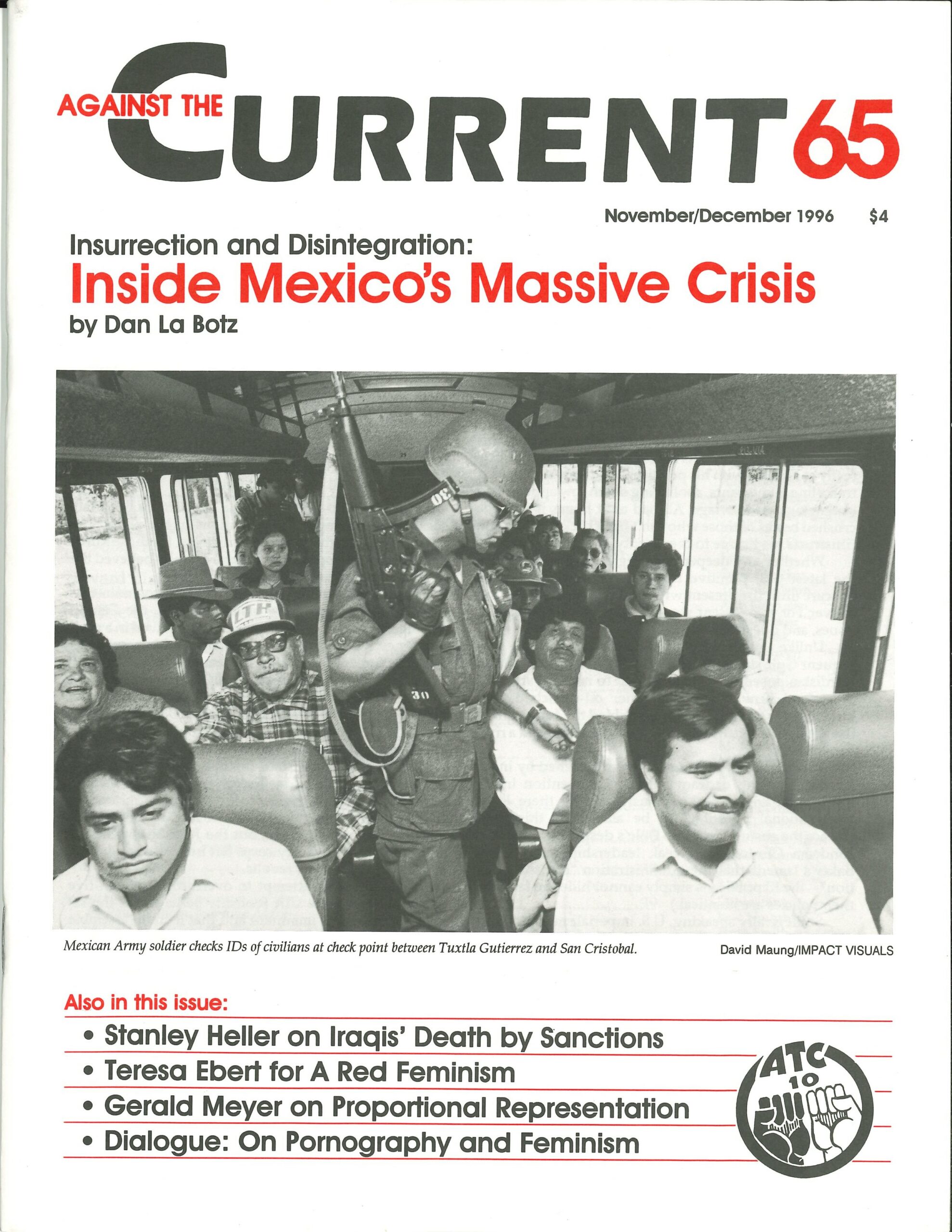 FACING THEIR SECOND consecutive holiday season on the picket lines, two thousand striking Detroit newspaper workers continue a bitter war of attrition against the Detroit Newspaper Agency (DNA) and its two scab papers, the Detroit Free Press and Detroit News.
Between March, 1995 (pre-strike) and March 1996, figures from the Audit Bureau of Circulation show, Detroit News circulation dropped by 38.2% in Wayne County, 31.9% in Oakland County and a whopping 43.9% in Macomb County. For the Free Press the respective declines are 39.6%, 28.4% and 41.1%.
For both papers combined, the three-county circulation dropped from 723,000 to 454,000. Not surprisingly, circulation losses are largest in working-class and union communities; the only zip code showing a circulation increase is 48226, Detroit's downtown district.
Protected by anti-picketing injunctions and police, however, and the bottomless pockets of their parent corporations Gannett and Knight-Ridder, the scab papers continue to publish. Many strikers now believe one of the papers will close for good whenever the strike ends.
The unions have mobilized several hundred members to further invigorate the advertising boycott, visiting the remaining advertisers to urge them to withdraw their business or face picketing.
In recent weeks, twenty-seven picketers were arrested for blocking the Port Huron, Michigan print shop, where Gannett's USA Today regional edition is printed. The morning paper was not on newsstands until Monday afternoon. That night Gannett switched printing the edition to Toledo and tightened security.
Susan Watson, a long-time popular Detroit Free Press columnist and a strike stalwart, received a letter from the paper stating her employment was terminated in September for participating in a sitdown at the Detroit Free Press building. The action was led by John Sweeney, AFL-CIO President, and Rich Trumka, AFL-CIO Secretary-Treasurer.
Dick Gregory led a twenty-four-hour fast and vigil with many local religious leaders. Striking unions have filed new National Labor Relations Board charges, charging heavy-handed DNA tactics to intimidate workers from exercising constitutional rights. (For example, the papers have initiated a federal "racketeering" suit against the unions for non-violent civil disobedience tactics.)
NLRB administrative hearings on earlier charges were concluded the first week in October, six months after they began. No decision will be given until after January 1997. After that, the newspapers have already promised, they will appeal, quite possibly dragging this stalemated labor war into a third year.
ATC 65, November-December 1996