Against the Current, No. 65, November/December 1996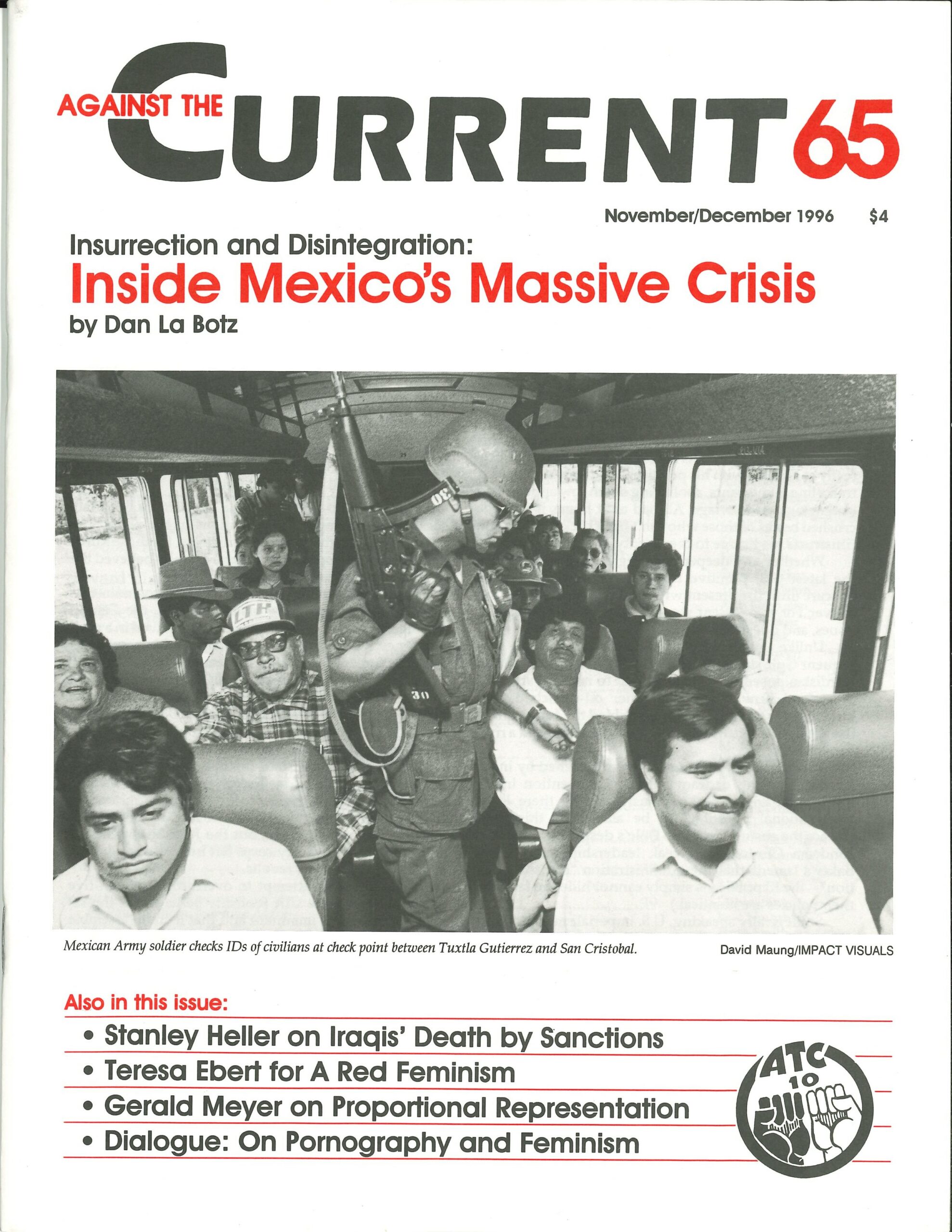 RECENTLY, WHILE GOING through old pamphlets on my bookshelf, I came across Toward Teacher Power, a pamphlet written by Steve Zeluck in 1973, when Steve was a member of the International Socialists. As I read through his pamphlet I recognized that Steve's ideas are as significant today as when it was written. Thinking back, I realize the importance of Steve's legacy and how his ideas can be of use to us today.
On March 1, 1985, Steve died as a result of a Mesothelioma, a form of lung cancer developed in his work in the Philadelphia shipyards during World War II. In the introduction to the In Memoriam article in the Winter, 1985 edition of Against The Current (original series), Steve was described as "founder and editor of this journal and lifelong revolutionary" and "as political thinker, organizer and teacher, and as personal friend and comrade."
I was asked to write a short memory piece about Steve since I had worked with him in the anti-war and teacher movements for the two decades preceding his death. As a young activist during the `60s, I found Steve an intimidating presence because of his extensive knowledge and his thinking and speaking abilities.
However, whenever I needed support as a bewildered and frustrated first year teacher, I turned to Steve, who was always willing to aid developing teachers and revolutionaries. He advised me, "It takes five years to become a teacher." Steve was correct although I think five years was somewhat optimistic.
In the Spring of 1967, United Federation of Teachers President Al Shanker (now the president of the American Federation of Teachers) planned to call teachers out on strike, using "mass resignations" as a subterfuge to avoid anti-strike penalties in what was to be a major UFT strike in New York City.
Again I called on Steve, discussed my discomfort with the UFT's ruse and he put me in touch with UFT activists with whom I began working to oppose the mass resignation tactic. Steve was the president of the AFT local in New Rochelle, New York at that time, but he recognized the pivotal role played by the New York City local in setting national policy for all teachers' unions.
He involved himself in the organization of numerous rank and file union groups in our city throughout the '60s, '70s and '80s. He was tireless in meeting with us, writing leaflets and newsletters, and raising the crucial political questions. He helped organize caucuses on the city, state and national levels and gave so much of his time and energy to creating democratic organizations of teachers.
An important experience that highlights Steve's organizing ability is still a vivid memory for me. I attended a national convention of the American Federation of Teachers as an observer from New York City representing a rank and file group–the Coalition of NYC School Workers.
Steve was there representing his New Rochelle local. It was New Rochelle along with the Plainview, Long Island local that consistently presented countless progressive resolutions at conventions during the `70s. Steve and his colleagues would force the Shankerites to face important questions of the day: Vietnam, racism, union democracy and support for working class struggles. He was despised by the AFT leadership.
During the convention, I was looking for work to do and I wandered into the office of the United Action Caucus, a national rank-and-file caucus that Steve had helped to organize, but had left due to political differences. A UAC leader entered the office and demanded, "Anyone not working, get out! We have lots of work to do!"
I walked up to a hotel room of the New Rochelle/Plainview delegates. Steve entered the room and seeing me sitting on a bed said, "Lew, do you know how to type or run a mimeo? We have a leaflet to put out. We need your help."
That incident brought me a lot closer to Steve, eventually leading me to join Workers Power (one of the groups that formed Solidarity), Steve playing no small part.
When I returned from a tour of China in the summer of 1974, Steve questioned me at every opportunity about what I had seen and learned, pointing out the contradictions in Maoism, leading me to realize that our politics were very similar.
In her memorial for Steve, Dot Peters, a long-time comrade of Steve's and a member of Chalk Dust (a rank-and-file group in the UFT that Steve had helped to initiate), remembered in ATC:
"I read everything he put into my hands. He patiently listened to my stupid questions, to my tentative positions. He never polemicized against me in a way that would have pushed me to defend a position I only half held and would otherwise modify.
"The idea for him was not to win the argument, but to educate. He listened in a respectful, thoughtful way and discussed quietly. Never have I encountered such a mind like his–not only did he understand easily those ideas I could only grasp the edges of, not only could he stand off and critique them but he could also pose alternatives . . .
Alan Shapiro, who worked with Steve in New Rochelle, echoed Dot's memory:
"Steve was a teacher of teachers. He taught us strategy as well as tactics. In our meetings we discussed issues and sometimes argued for hours. But despite our strong differences at times, Steve helped to promote a working atmosphere that created respect for varying points of view and a comradeship that saw us through some difficult
times."
Most of us had the same reaction to Steve. He was rather fond of using a devil's advocate technique to sharpen the discussion in Chalk Dust, another teacher reform group that Steve helped to found, and in Workers Power. Those of us in Chalk Dust never found Steve's techniques patronizing; perhaps because we were teachers, we found Steve's methods to be those of a real teacher.
Just as he was instrumental in bringing many forces together to develop what later became Solidarity and the new series of Against the Current, he always called on those of us who were breaking away from a teachers' group with which we were developing differences to stay in to fight for our politics.
For teacher activists Steve wrote Toward Teacher Power, and it is as relevant today as it was two decades ago. In it, he analyzes business unionism, the philosophy of the U.S. labor movement, and shows how teachers' unions have been rendered ineffective by that philosophy.
He goes on to propose a program and strategy for those unions which could virtually be used today in our struggles in education, particularly strategic actions to overcome the limitations of isolated, local strikes.
These included building powerful coalitions with other public employee unions, union democracy, and a broader political program for working class rights and a labor party. [See Bill Balderston's article on the Oakland teachers' strike in in ATC's September-October issue for an example of how teacher-organized community/labor coalitions can achieve victory–ed.]
Finally, Steve saw that teacher unions will no longer work effectively for us. He finished Toward Teacher Power saying, ". . . this movement is in danger of having reached the limits of its effectiveess unless it takes a second giant step–a break with the conservative philosophy and practices of business unionism
and the capitalist system which breeds it."
So many said at this 1985 memorial, "Don't Mourn, Organize." Steve's writings would be a fitting memorial for him. A timely reprinting of Toward Teacher Power would bring Steve's ideas back into the struggle for democratic and effective unionism.
ATC 65, November-December 1996