Against the Current, No. 64, September/October 1996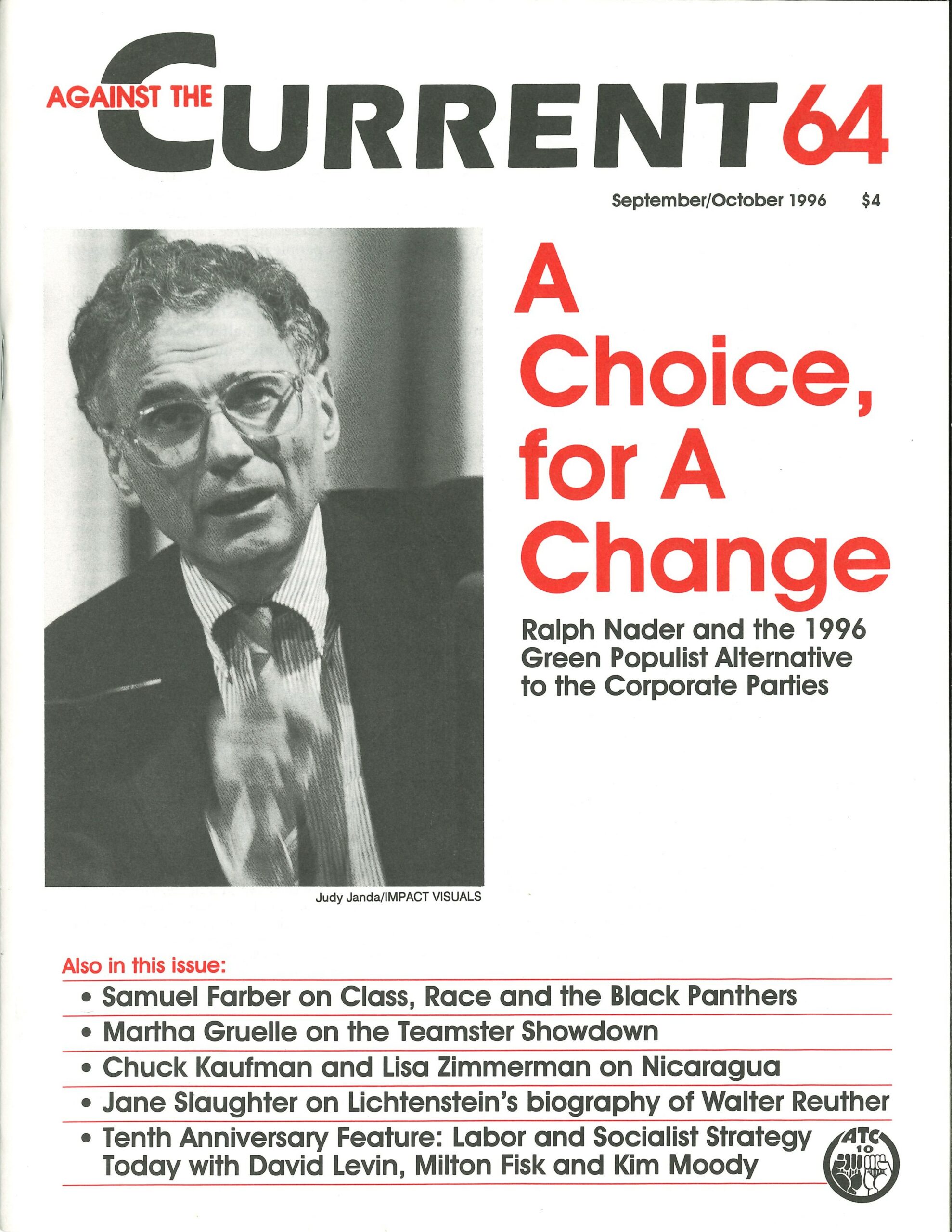 THE BATTLE FOR leadership of the Teamsters is not just about cleaning up the union, though one side is clearly more tolerant of certain unsavory officials: "I vote we just let these guys run their locals like they want to!" shouted an old-guard supporter as the Teamsters convention was considering appeals of officers who'd been kicked out for wrong-doing. "They were elected by their members!"
More importantly, the Teamsters election this fall will present union members with the clearest choice in recent memory between two opposing views of union power that are under debate in the fading labor movement.
The Teamsters Union under Carey really is something new, a union that recognizes the challenges of the global economy and–so far as can be done from Washington headquarters–involves its members in meeting those challenges.
The earliest changes were implementation of Carey's campaign promises: Union-owned jets and limos were sold, the French chef from IBT headquarters was fired, a new policy denied an International salary to any appointee who received pay from another union body. Another source of multiple salaries, the four U.S. regional conferences, were abolished in 1994.
On major contracts, the Teamsters under Carey took a new and harder line, striking all three of the national employer groups (freight, carhaul and for one day UPS). They've also helped organizer corporate campaigns and community outreach for local contracts like Diamond Walnut in California or Brach's Candy in Chicago–an activity the Old Guard opposition finds wasteful of resources–and for the first time in decades there's a viable organizing campaign going on at a major trucking company, Overnite.
Jimmy Hoffa Junior, running for Teamsters president, promises to bring back the glory of this father's reign. Hoffa Senior is credited with raising living standards for truck drivers, especially in the long-distance freight industry. He ran the union from 1958-67 and was presumably killed in an intramural mob dispute soon after his release from federal prison in 1975.
Junior promises to make use of the negotiating skills he "learned well at my father's hand." Thus one of his frequent campaign promises is to reopen the master freight contract–asking the listener to believe that the weak portions of the current contract exist simply because of the current president's "incompetence" at the bargaining table, not because of a bigger balance of power between the union and employers.
A desire to turn over one's union to some tough guy who will pound the table and single-handedly scare the boss into a good contract–that's as American as Harley-Davidson. Not just Junior but his rank and file supporters too like to talk about "bringing back Jimmy Hoffa." To many Teamsters, Hoffa's name is much more than a name.
Ron Carey was elected, with the backing of Teamsters for a Democratic Union (TDU), on a platform that combined cleaning up corruption with encouraging members' participation–occasionally going around their local officers to do so. The battles over these changes has taken many forms in the last four and a half years; at the union's convention it became a shouting match.
"Point of Order!"
As the first day of the Teamsters convention opened in Philadelphia this summer, Hoffa's supporters chanted his (dad's?) name as they rallied outside the meeting hall and then marched in. They were outfitted in matching red vests. They weren't going to give elected president Ron Carey an inch.
When Carey took the podium the booing and heckling started. It didn't stop for hours. As the reading clerk droned through the official convention call, Hoffa floor whips in head sets directed ten or so delegates to line up at each of eight floor mikes, positions that red vests would hold all week.
The head-setted whips continued to direct their crowd's very vocal expressions. Carey's keynote speech was drowned out by boos, including his presentations of six rank and file activists who had contributed time and energy to their union.
"These people up here, this is the Teamster Union," Carey told those delegates who would listen. Two newly-organized Teamsters who also spoke briefly were warmly greeted–by about half the convention.
Hoffa-ites wanted none of it. Their first order of business was an attempt to unseat about 110 constitutionally-mandated appointed delegates (out of 1880 total), and when they didn't get their way–on Carey's questionable ruling on a voice vote–no other order was of business could be heard.
"I was up there on the podium [the first day] and I had a good view," recalled Diana Kilmury, a long-time leader of the reform caucus Teamsters for a Democratic Union whose "day job" is international vice president. "You could imagine them storming the podium. That's dangerous stuff to let loose."
(The media, seated between Hoffa delegates and verbally abusive Hoffa-supporting guests, were not comfortable. While one writer chuckled at the "testosterone level" in the Hoffa crowd, a photographer looked around nervously. "I don't see how this can end without violence," he observed.)
Carey supporters had reported that Hoffa told a Sunday night rally, "Don't bring your spouses and children because it's going to get rough. By Wednesday, we are going to force Ron Carey to shut this convention down!" The Hoffa camp denied the statement but on Monday, orchestrated disruption looked like the plan.
So moved the counter-revolution against the reform forces that brought Carey's slate to Teamster offices in 1991's rank and file voting. In five July days of wrangling over convention rules and procedures–which had been written and defended by Hoffa's own Old Guard allies in previous years–only a handful of substantial decisions were made.
After Hoffa forces proved to have a slight majority, Carey decided to allow their frequent interruptions and demands for time-consuming hand-counts of votes to slow proceedings. (Over five days of proceedings, 89 "points of order" were raised, mostly by Hoffa supporters, and many of them simply an excuse to grab a mike and make a political point.)
Local Union Autonomy
Yet occasionally real debate about the future of the union leaked through, even if not much was resolved. Delegates discussed a proposal on "local union autonomy"–first in a series of amendments proposed by Hoffa supporters that would have transferred most of the international union's role to the hands of local and regional officials.
The local autonomy amendments would have limited the Teamster president's ability to place corrupt locals in trusteeship–they would have to be notified first! This amendment was seconded by Anthony Rumore, who inherited a New York local after his father was kicked out for mob ties.
Extending local autonomy would also have undermined coordination of contract bargaining and thus raised the specter of local unions facing global corporations on their own.
"I come from a small local in a small city," reported an Oregon local officer. "We represent some 20 Aramark Laundry drivers. I flew into Philadelphia [for this convention], I see a huge skyscraper with `Aramark' on the top of it. It's not just their national headquarters, it's their international headquarters."
The local autonomy proposal lost on a parliamentary maneuver.
For the first time, appeals of union discipline that are traditionally handled by a committee were heard on the convention floor. One appellant, Frank Wsol (pronounced "sole") of Chicago, had a regular campaign including a banner and buttons saying "Free Frank Wsol."
Wsol, who had been on Hoffa's slate, was banned from the union for colluding with UPS to fire a worker who had criticized the local union leadership. Wsol, who said he made $220,000 from the union in 1995, maintains he shouldn't have been charged since the driver got his job back with back pay 11 months later: "What harm was done to the member?" he asks.
Delegates voted along caucus lines to free Frank Wsol, which got Carey supporters "mentally composing campaign flyers aimed at UPS workers," according to one activist.
The convention also voted–or was ruled to have so voted–to incorporate into the constitution a code of ethics for benefit fund trustees. The code parallels federal law and was included to make it easier for the union to "clean up" pension and health funds "ourselves."
Democracy In Action?
Carey's ruling on the voice vote on that amendment was like the others that broke along caucus lines: His side won unless a hand-count was called.
For those who remember this union and its conventions before the victory of the reform forces, using the power of the chair to protect the democratic gains of the past four years from Old Guard delegates–many representing locals where no contested elections occurred–was completely justifiable.
For the Hoffa people, on the other hand, Carey's use of the power of the chair became the convention issue; though they called for debating the strike fund (a Hoffa campaign priority), most of their talking points were on how poorly they thought Carey handled the fractious house.
After all, they reasoned, with a majority of votes, if slight, buttressed by very clear discipline they should have been able to overrule the union constitution on delegate credentials, rewrite ages-old convention rules in a stroke, take over the president's constitutional power to set the order of business, and close debate on any issue that wasn't a campaign priority.
In other words, Hoffa's team thought their margin of about 3% meant the constitution would be theirs to rewrite. And some 60 pages of proposed amendments showed the intended outcome: a much-reduced International, with all powers over national bargaining, organizing, and strategic campaigns transferred to local union officers.
Besides insurance against a Carey win, this could reflect a lack of confidence in Hoffa's leadership among his local officer allies. Hoffa, after all, is a lawyer not a Teamster. He's never bargained a major contract and argued few grievances under the major master agreements. He became eligible to run in this election because a political ally in Detroit hired him as "assistant" two years ago.
No one argues that Junior is qualified to head one of the biggest North American unions; his supporters simply compare the Teamsters' strength today with its standing in the '60s. Hoffa the candidate, says Diana Kilmury, is "like a very shiny 1/100th inch veneer" over a rather crude and powerful old guard.
These local officers still have wide influence in their unions, built on years of carrots and sticks–jobs and appointments for friends (being on the slate of convention delegates, for instance, usually means a fairly nice vacation and a good reward for loyalty), combined with the threat of isolation and black-balling–if not physical violence–for those who speak out against them (a la Frank Wsol).
That kind of power in the larger local unions used to ensure a stream of perks from the International; cushy jobs and figure-head appointments were the main glue that held together a rather decentralized union power structure.
But those days will surely be gone if Carey and reformers stay in office. As Carey puts it, "These folks don't want to give up the cookie jar."
Hoffa's campaign does enjoy rank and file support, especially in the midwest where the trucking sector is largest; the lure of the Teamster tough-guy image is strong. But still Junior's delegate strength does not reflect the leanings of the ranks
For the 1996 convention most delegate elections went uncontested. Rank and file Carey backers won about half they contested against old guard officers. "Running against your local union officers is a risky, difficult, and expensive thing for a working Teamster to do," says TDU organizer Ken Paff.
Carey's backers like Paff point out that Carey had only 15% of the delegates at the 1991 convention, preceding his election by 48% of the vote in a three-way race. And a June poll commissioned by the Carey campaign put him ahead 47% to 28% among likely voters this year. (Hoffa did not release the results of his own polling.)
"It's very scary to me that people will seek to destroy the whole union," she says. "It's like someone shooting their wife because she's leaving them."
Or as one delegate said of Hoffa's proposals, "they were trying to sink the ship because the don't like the captain that is on that ship at the present time."
'Wake-Up Call'
During the convention the Teamster executive board called for a special convention to be held next spring, after the ballots are counted this December and international officers installed in February. Says Paff, "Whoever wins the election will be able to control that convention," even though the same individuals are to serve as delegates.
And who will win is the big question this fall. Carey sent a letter to supporters shortly after the convention calling it a "wake up call" for reformers, and vowing to "caravan across North America" to campaign among the members.
Hoffa's campaign meanwhile left the Philadelphia convention with a core group of dedicated activists–members, many rank and filers, who truly believe in the Hoffa name and the power of the past–and who are galvanized by the convention experience.
A core of rank-and-file believers was a serious lack for the old guard campaigns of 1991. This year, Hoffa's campaign manager Thomas Pazzi says that Hoffa may be behind but he's gaining ground.
Ballots will be mailed November 12 and counted in mid-December. Then finally the members will decide the questions debated at the 1996 Teamsters convention.
ATC 64, September-October 1996