Against the Current, No. 63, July/August 1996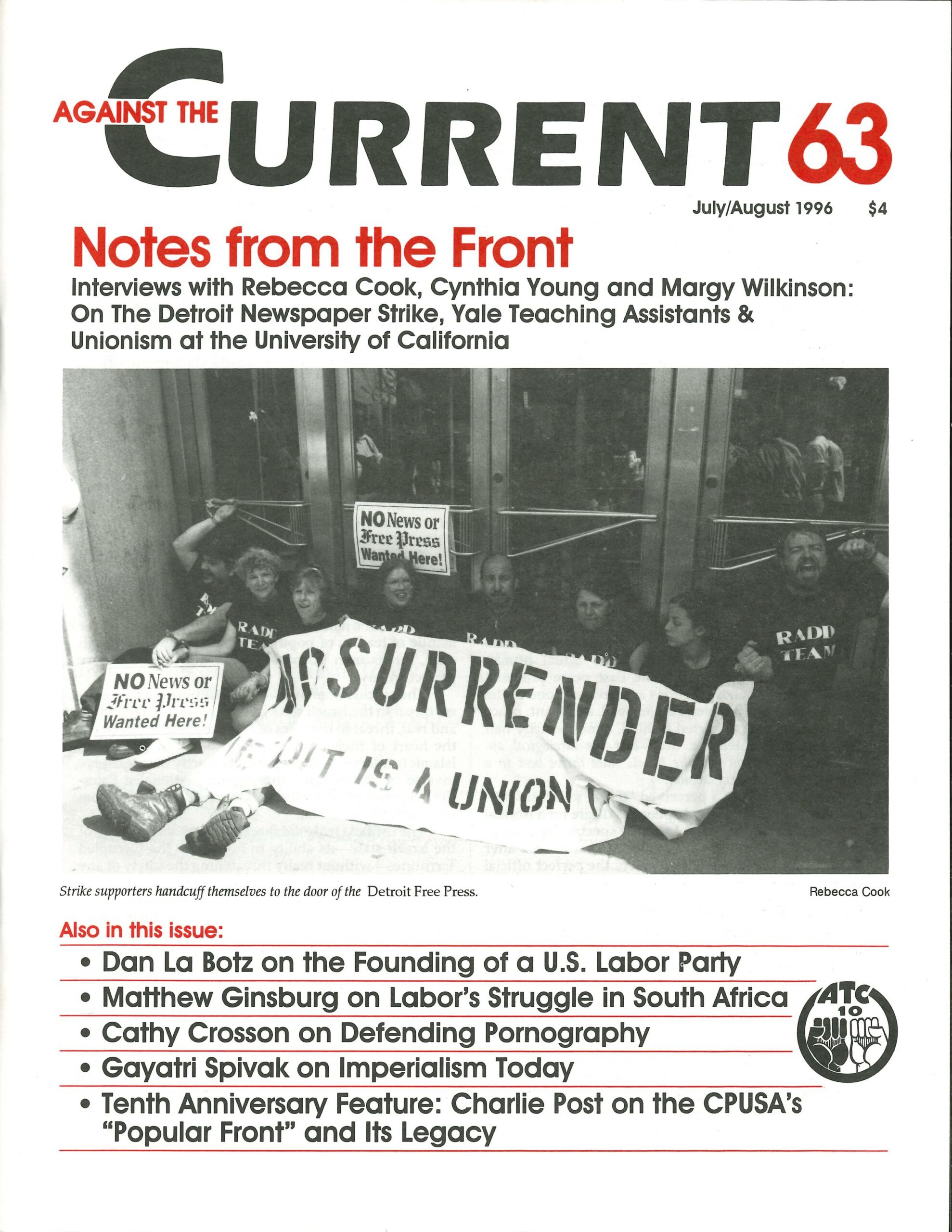 INTO THE FIELD of myriad and ever increasing world music box sets has come a most interesting entry from Rounder Records that benefits the United Nations Development Fund for Women (UNIFEM), which works to empower women and women's projects in developing countries. "Global Divas" is a three-CD set that features over seventy female artists from more than thirty different countries and cultures.
Even with all of those artists, the CD is packaged with the right amount of information and pictures to help contextualize the artists — though sometimes I wish they'd given a bit more information about the songs. J. Nakamura's dark blue cover art is gorgeous. The entire design of the record is arty, yet easy to read and navigate.
The musical and aesthetic quality are relatively high throughout, no mean feat given the diverse genres represented. Some of the selections, like Cedella Booker Marley's (Bob's mom) "Listen Up Ladies," reflect the album's overall goal of supporting women's liberation.
This unique, perhaps even strange compilation features some of the usual world music suspects, the hot young acts like Tiddas, the Australian trio, and the Finnish group, Varttina, as well as such established legends as Edith Piaf, the French torch singer, and Cuba's Celia Cruz. But it also includes artists I had never heard, such as the wonderful Sudanese vocalist Idjah Hadidjah and U.S. musicians not usually included on such anthologies, like Marian Anderson and Patsy Cline. It's good to see some record producers place the United States in the context of the global community and not above it.
One of the most pleasant surprises was the Mauritanian artist Dimi Mint Abba. I had heard Ms. Abba briefly before on a release of her own, but I had not made the sonic connections between her and Sun Ra. Her music has the same sort of edgy kinetic feeling that Ra's music often had, as well as, of course, serious African polyrhythms.
This project also wins high marks in my book for including the work of the great Lebanese singer Fairuz and the Egyptian Oum Kalsoum (also transliterated Umm Kalthoum). The latter occupies a place in Arabic culture just this side of God and the prophets. Egyptian President Abdel Gamel Nasser wisely scheduled his speeches not to conflict with her concert broadcasts. Her deep voice was utterly controlled yet steeped in the drama and melancholy of Arabic classical music. Her performances went on for hours with audiences of thousands in the palm of her hand. Literally millions attended her funeral in 1975. She is, of course, revered by Arab Americans but is not exactly a household name in the United States. I have not seen either Fairuz or Oum Kalsoum on any other anthology of world music.
The massive influence of Africa and the African Diaspora can be seen in the number of representatives present on the record. Indeed it would be hard to ignore such artists as Aretha Franklin, Marian Makeba and Maria Bethania in an anthology such as this. It would be hard to limit such musically influential countries as Cuba and Brazil to one representative. So we get Celia Cruz, the undisputed queen of salsa, and Celina Gonzalez with a rootsier, more rural Cuban style and Gal Costa, Maria Bethania and the silky Elis Regina with Brazilian samba.
Not surprisingly, Cruz and Gonzalez give us two of the record's best dance numbers, "Quimbara" and "Que Viva Chango" respectively. But the hottest dance track, "Ju Ju Warrior," is contributed by another Caribbean singer, the one woman bacchanal known as Calypso Rose. This woman not only won the Calypso Queen title five straight years at Trinidad-Tobago carnival, but she went on to win the title of Carnival Monarch in 1978, the first and only woman to do so.
Latin Roots
Lucha Reyes and Lydia Mendoza were both divas of Mexican roots music but that, along with the fact that they are both on this record, may be all they had in common.
Lydia Mendoza was one of the most important and influential singer/songwriters of the Texas Mexican tradition. Her image, style and songs had class. Her songs were sentimental but they are part of the canon of the tradition. The performance chosen for this recording is a live one from the latter part of her career. The very slight flaws in her voice are more than compensated for with poignancy and control that can only come from years of musical experience. Those qualities allow her to transcend the sentimentality of the traditional song "Cielito Lindo." She makes it her own truly heart-rendering ballad.
Reyes' selection, on the other hand, has an energetic abandon typical of her short life as the party animal with both ends burning. Born in 1906 and dead at 38 from an overdose of tequila and nebutal, Reyes lived the rock-and-roll life style before it had a name. Her life was the stuff of legend: It included formal opera training, seven films, European travel and stardom on two continents along with much alcohol abuse and marital discord. None of that is as remarkable as her voice. Opera training was not wasted on Lucia Reyes. Passion is evident.
Among the many renderings on "Global Divas" that sends shivers down my spine and the one I return to most often is that of the Portuguese singer Amilia Rodrigues. She is considered the greatest singer of the fado or "fate" songs. As you might imagine, these are dripping in passion and angst. Like grand opera, fado requires almost as much theatrical skill as vocal talent. Rodrigues has both to spare and nails "Povo Que lavas No Rio" with a performance that grips from the first note to the last.
Asian Choices
With this many artists, there are bound to be some clunkers. While the Pakistani and the aforementioned Idjah hadidjah are great, some of the other Asian selections are disappointing.
If anyone had asked me, I would have chosen Najma, whose work blends jazz with traditional ghazals (love songs), and classical giant Shoba Gurtu to show a range of Indian music. But nobody asked me.
The folks at Rounder chose the most recorded artist in the world to represent India, Lata Mangeshkar. Her recorded history is in the Guinness book: 30,000 solo, duet and chorus records in more than 2,000 films. She also had a record four soundtrack recordings at the top of the charts in India in 1995. Mangeshkar's voice is as high and youthful at age 65 as it was at age 16, and though her rather campy style is not a personal favorite, who am I to argue with the second most populous nation on earth?
Speaking of camp, the Japanese representative must have been selected with tongue firmly in cheek. Misora Hibari sings the sort of Western pop music that could have (and perhaps still could) make her very popular with the Las Vegas Lounge set. While her talents are undeniable, her song is useless as anything but ironic accompaniment to Godzilla.
Given Hibari's entry, it is hard to say if Asia's economic giant faired any better than its most populous country. Incredibly there is no Chinese representative on this record. This is all the more conspicuous given the number of European countries represented. While it may be difficult to represent every nation on earth, I think the planet's oldest continuous civilization deserves more attention. I hope this omission will be cause to compile another great tonic for the scourges of sexism and misogyny "Global Divas 2." No doubt the music world, to say nothing of the UNIFEM project, stand to benefit.
ATC 63, July-August 1996