Against the Current, No. 63, July/August 1996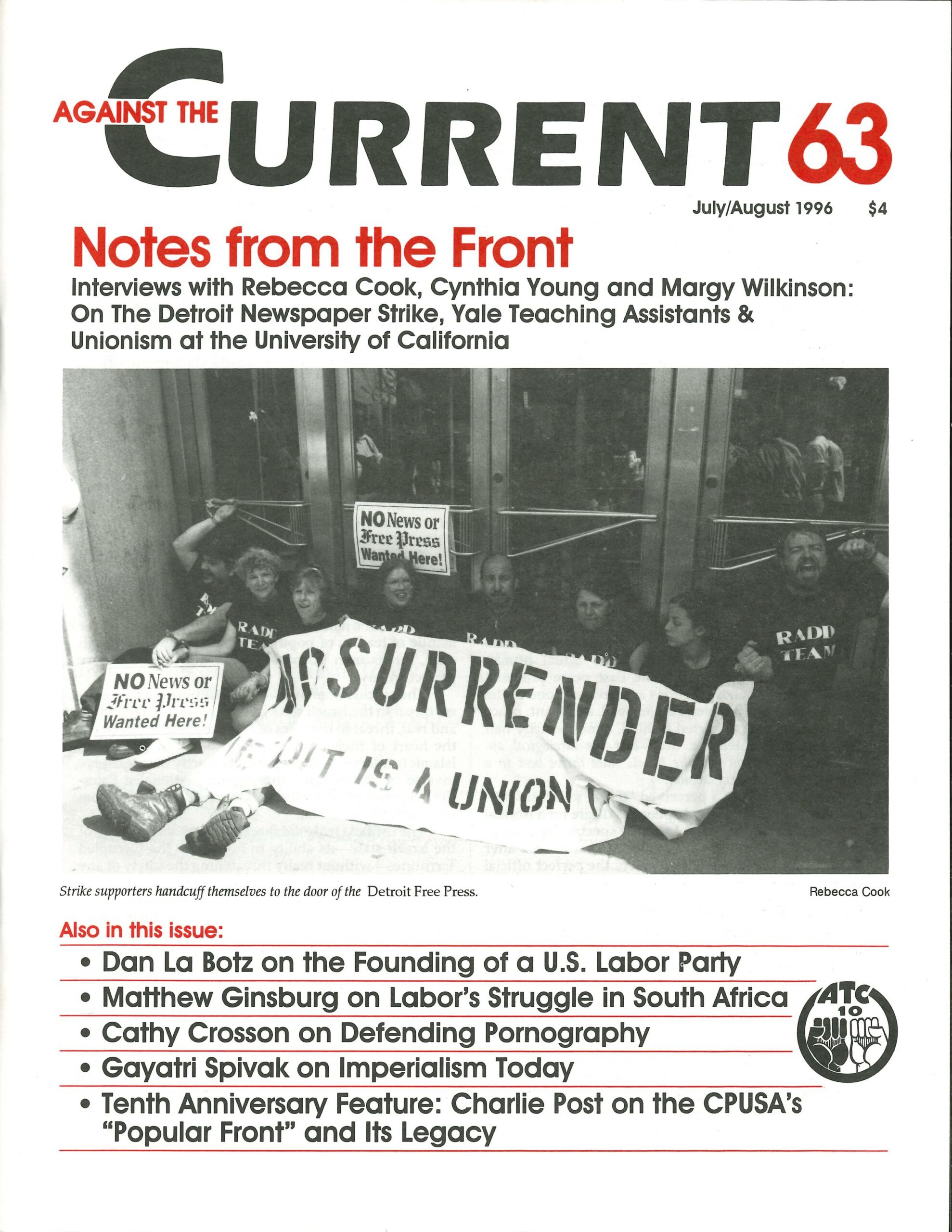 Last October 15, clerical workers at the University of California formed a union, the Coalition of University Employees (CUE). What makes this unusual is that the University's 19,000 clerical workers are already represented by a large union, AFSCME (the American Federation of State, County, and Municipal Employees). AFSCME also represents smaller units of service and patient care/technical workers. Most of CUE's members are former AFSCME members and officers, many of whom worked unsuccessfully for years inside AFSCME to organize clericals at UC.
Facing attacks by UC Regents and administrators on affirmative action, salaries, and working conditions, and following a statewide survey that revealed wide support for organizing an effective and democratic union, a number of activists decided to leave AFSCME and begin organizing a new union. CUE is completely independent, funded only by its own members, and is entirely rank and file, with no paid staff.
Margy Wilkinson graduated from UC with a BA in history in June, 1966. After a very brief sojourn in the corporate world, she came to work at UC Berkeley in December, 1966 and has been there ever since. Claudia Horning works at UC Los Angeles and has been actively organizing CUE there. She conducted the interview for ATC.
ATC: How was AFSCME initially elected exclusive representative for Clericals at the UC system?
Margy Wilkinson: In early 1967 I was part of the effort to organize a local union to represent clerical, technical and professional staff. In April, 1967 we affiliated with AFSCME (the custodial/service workers had been in an AFSCME local since 1948). For the next several years we functioned essentially as an organizing committee–we had no access to collective bargaining elections or bargaining.
In 1980 a collective bargaining law was passed that included UC and in 1983 AFSCME won the right to represent 30,000 UC employees in the clerical, service and patient care/technical units, including the 19,000 employees in the clerical bargaining unit.
ATC: After AFSCME won recognition, what kind of problems did clerical activists face in trying to organize? Some say that clerical workers present particular challenges to organizing. Do you think this is true, or are there more likely explanations for the low level of membership?
MW: In the clerical unit we have faced many problems in organizing–first I do think clericals present particular challenges to organizing. They tend to work alone or in small groups. They often identify with the employer or with their specific boss. There is still not a culture of unionism among clericals. In other groups (service workers for example) people often come to UC having worked in a union situation elsewhere.
In addition AFSCME tried to do just about everything wrong. It is illustrative that when we won the bargaining election in 1983 we had over 2,000 UC clericals in AFSCME system-wide.
Today there are probably less than 1,000 (maybe less than 900). The first thing that AFSCME did was immediately after the election. Instead of helping us to move quickly to consolidate the election victory and dramatically build membership, AFSCME embroiled us in a huge, internal fight about structure. We had one local on each campus for clerical, service and PC/T workers–except for Berkeley where there was a local of custodians–and the national union wanted to divide us up into in one local per unit, per campus.
It was a completely unnecessary fight–except that I think it reflected the national union's primary agenda which was control first and organizing second.
Over the years many things happened which discouraged rank-and-file participation and prevented membership growth. The national union and eventually the council with which we were affiliated did not give us the support to carry out the kind of organizing which was necessary to go from 2,000 plus clerical members to 20,000 clerical members (or at least 10,000).
As a result we were too weak for UC to take us seriously and we were unable to negotiate an effective contract. In bargaining we were unable to get support from the national union's research department and were prevented from organizing a public campaign around contract negotiations. Our pleas for help, our suggestions about how it might be carried out, our efforts to at least get the national union to sit down with us and talk about what to do, all met with stony silence at best and vilification at the worst.
ATC: Why did you leave AFSCME?
MW: We left AFSCME because we came to the conclusion that the situation was hopeless — we had written letters, asked for help and continued to be ignored and worse. It began to seem like an abusive relationship. So many of our experiences in AFSCME had the same characteristic–lack of democracy.
We were allowed to vote on things that didn't really matter and excluded from important decisions. We were allowed to vote and then the vote was overturned from above. Information was withheld and union staff worked at sowing dissension among the members. Many bad things happened and they all seemed to flow from the union's top leadership's need to control us.
ATC: Some labor activists have criticized CUE for leaving AFSCME, instead of remaining in and fighting to make it more democratic and more supportive of organizing. How would you answer that argument?
MW: We talked a lot about whether we should stay in AFSCME and fight or leave. Both choices presented us with many problems. We finally opted to leave because it seemed to us that we had to fight the employer in the first place, that AFSCME had done a poor job in helping us do that, and that working from the outside we could focus on what was wrong with the Regents.
Working inside AFSCME for change looked like it would take all our energy, and we needed all that we could muster to fight UC's programs like the so-called Human Resources Management Initiative (HRMI) which threatens to do away with pay increases and diminish working conditions. [HRMI is UC's version of total quality management, which would dramatically effect salaries and working conditions for UC workers. If implemented, it will replace cost-of-living increases with one-time "awards." Competition for these bonuses would pit UC staff against each other, leading to much increased workloads and demoralization.]
ATC: Can you walk us through the process by which CUE will try to replace AFSCME? Will CUE have to remain an independent union?
MW: As I understand it the process for getting CUE to replace AFSCME as the exclusive representative goes something like this. Starting in March, 1996, we began to collect signatures on interest cards (the date is determined by the current contract's end date which is June, 1997). These cards need to be signed by at least thirty percent of the members of the clerical bargaining unit statewide or about 6,000-7,000 clerical workers. Once the cards are filed with the Public Employee-Employer Relations Board (known affectionately as the PERB) and they have certified them, a "re-certification" election is scheduled.
This means that on a secret ballot employees have the opportunity to 1) select AFSCME to continue representing them; 2) select no union to represent them; or 3) replace AFSCME with CUE. According to the bylaws of the AFL-CIO, CUE has to be an independent union for several years–unless AFSCME relinquishes its claim to the unit. After that, we will have to decide when and if we want to affiliate with an AFL-CIO union or an independent union or no union. That's all down the road.
ATC: What happens if CUE loses the election, either to AFSCME or "no representation"? What happens if CUE wins?
MW: If CUE loses one of two things happen. Either AFSCME wins and all remains the same–although those of us who were involved in CUE will probably be barred from rejoining AFSCME. If "no union" wins things will change a little–I say a little because although AFSCME has been our representative, the union has been so weak that the University has in effect been making all the decisions. If CUE wins, we become the new exclusive rep, re-negotiate the contract and begin again.
ATC: What's been happening since the beginning of CUE's organizing drive?
MW: In March we launched our card gathering campaign. With a group of hardworking, dedicated volunteers at Berkeley and at most other campuses we have been very successful to date–gathering cards and signing up new members for CUE. Most of the UC employees we have approached have been friendly–almost none have defended AFSCME and few have been hostile.
A surprisingly large number have indicated that they had NO idea that they were represented by a union. We are confident at this point that we will be able to achieve our goal of having a new representation election for clericals in the UC system. And we think CUE will be elected to represent us.
It's a big job but it has gone well so far and we think it will only get easier.
ATC: You don't often read about re-certification in the newspaper. Is it particularly rare?
MW: Re-certification is in fact a rather common process [see box]. We hope to win this effort without turning UC workers off to the idea of unions in general.
ATC: What kind of union do you hope to build at UC?
MW: I hope to build a big, effective, strong, completely democratic, member-run union at UC. I think UC workers deserve no less!
CUE can be reached at: P.O. Box 618, Berkeley, CA 94701; by phone at (510) 845-3447; or over email at clericals@igc.apc.org. Their web page address is http://www.labornet.org/cue/.
Statistics on re-certifications for 1991-92:
* 30.7 percent of all PERB elections (153) in California were
re-certification elections, where one union sought to replace another.
* AFSCME faced 88 re-certification elections nationally from independent unions — more than any other major public sector union and won only 11.4 percent of these elections.
* In California, only 4.4 percent of these elections resulted in "no union."
(All figures are from the latest period available, and are published in Bronfenbrenner & Juravich, Union Organizing in the Public Sector, Cornell: Industrial Relations Press, 1995.)
ATC 63, July-August 1996