Against the Current, No. 61, March/April 1996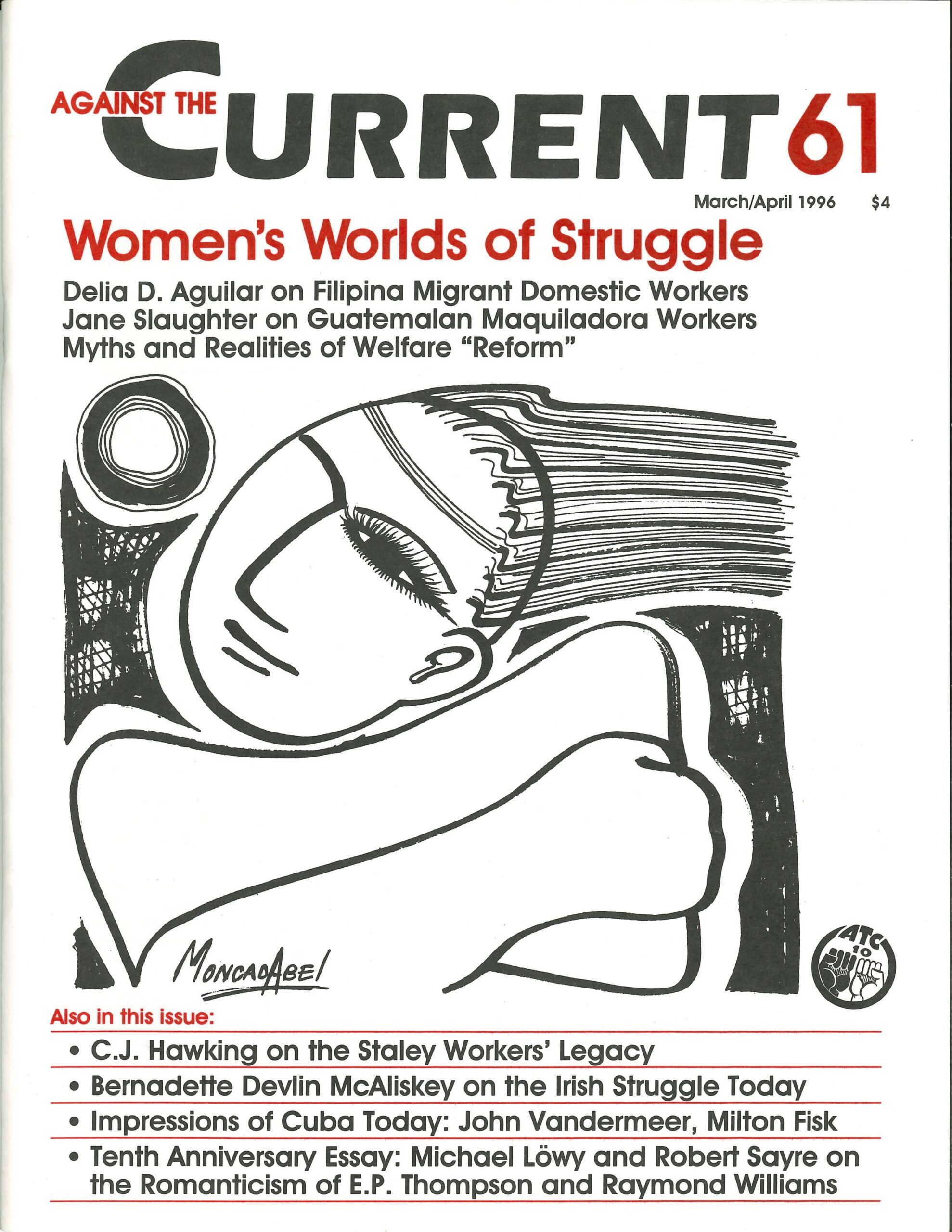 Robin D.G. Kelley
MY FIRST AND only personal encounter with Chris Alston occurred in March of 1993. I had the good fortune of sharing the podium at Wayne State University to discuss the role of African Americans in the Congress of Industrial Organizations (CIO) during the 1930s.
Meeting Mr. Alston was certainly a highlight for me. After all, given his history of community and labor activism, the historian in me felt as if I had known him my whole adult life.
I first came across Mr. Alston in the archives while doing research for my dissertation on the Communist Party in Alabama. He appeared in newspaper accounts and correspondence as a young, militant Communist barely in his twenties, who had temporarily left his post as a UAW organizer in Detroit in 1936 to help build a radical movement of Black youth in the South.
Like most Northern urban African Americans, he had Southern roots, but his family left Defuniak Springs, Florida, in 1916, not long after his third birthday. Going South for Alston was hardly the story of a native son returning home. He was one of those dangerous Northern Negro radicals coming down to foment revolution.
In 1937, soon after arriving in Richmond, Virginia, the site of the First All-Southern Negro Youth Congress (SNYC) and home of his co-organizer James E. Jackson, Alston's labor organizing skills were put to the test.
No sooner had the conference concluded when Alston and Jackson were approached by local tobacco workers to help organize a union. They were pretty desperate, especially since the AFL Tobacco Workers' International Union refused to support their strike.
Their efforts bore fruit. Before the year was up Alston had organized an independent union made up primarily of Black female tobacco stemmers, which subsequently became the Tobacco Stemmers' and Laborers' Industrial Union.
A successful sit-down strike in Richmond's British American Tobacco Company resulted in wage increases ranging from twenty to thirty-three percent, union recognition, and a forty hour week. Within months the union established seven locals and claimed a membership of several thousand Richmond tobacco workers.
Given what I knew about the lives and struggles of Black workers in the Depression South, Alston's example was nothing short of astounding–a sentiment all of his colleagues shared.
Indeed, when I interviewed James Jackson half a century after the strike, the mere mention of Chris Alston brought a sparkle to his eye. "Christopher Columbus Alston! A remarkable young man in those days! He was a true radical."
Although I knew very little about Alston, he nonetheless found a place among my personal pantheon of heroes. And the more I learned about him, the more heroic he became.
For example, a month shy of his nineteenth birthday, Alston faced down armed thugs in the Ford Hunger March in 1932 and watched in horror as they killed five of his comrades. This formative experience only steeled his commitment to struggles for social justice.
A member of the Coopers' Union as well as the Communist Party, Alston made his way to New York City in the mid-1930s and helped organize the Young People's Protective League in Harlem. In fact, it was because of his outstanding youth work that he was asked to help build the SNYC.
When he returned to Detroit, he quickly emerged as one of the leading Black union organizers in the region. He helped build support for the United Auto Workers at the Ford River Rouge Plant in Dearborn and edited an African-American edition of the union paper, Ford Facts.
His pamphlet Henry Ford and the Negro People, which he co-authored with his first wife Sylvia Alston, was an instant success among Black Ford workers. It exposed Ford's racism and the sham paternalism he employed to convince African-American workers not to join the union.
The Communist Party's "no-strike" pledge did not stop Alston from continuing to fight tirelessly on behalf of organized labor and Black workers. As an employee at Packard Motor Co., he pushed the company to hire Black women–an activity for which he was drafted into the Army despite being over draft age–and he played a crucial role in the organization of the Fair Employment Practices Committee.
A few years later, Alston was elected president of UAW Local 429 and led a successful campaign to improve benefits for foundry workers at the New Haven, Michigan plant.
By the middle to late 1960s, Alston turned his attention to the problems of urban poverty, perhaps anticipating the issues that would plague Black working-class communities in the coming decades. He helped develop the Total Action Against Poverty (TAAP) program and consistently worked as a pro<->gressive in the areas of antipoverty and urban redevelopment.
As a leader of the Forest Park Citizens District in Detroit, Alston was one of the major forces behind the construction of decent public housing in the area for low-income families and senior citizens.
When I finally met Chris Alston face-to-face, however, he never mentioned this work. He didn't talk about labor organizing or antipoverty work; he said nothing about the Southern Negro Youth Congress or his experiences at Ford.
Instead, as soon as we shook hands, he modestly brushed aside my attempt to pay him personal tribute and mentioned that he, too, was a bit of a historian. A "bit" indeed: he told me how he had studied with Carter G. Woodson (dubbed the "father of Black History") and Lorenzo Greene, and that he had been working on a book about a radical group of African Americans who sought reparations from the U.S. government for slavery during the turn-of-the-century.
He told their story with such care and passion that he reminded me of a new graduate student let loose in the archives for the first time. It became very clear that this unfinished project (unfinished in part because a major federal archive had apparently "misplaced" records he had seen decades ago) was important to Chris–a life's work, so to speak, that would never see completion.
Exactly two years later, on March 12, 1995, Mr Alston passed. Our meeting, although much too brief, introduced me to a side of Mr. Alston I would have never known. In his own modest way, he gave me a lesson in history. And after having spent several years writing about him and the movements of which he was a part, I became a student all over again–wide-eyed, enthusiastic, and full of hope.
[Chis Alston was survived by his wife of twenty-one years, Marti Alston.
In recent years, he was also a founder and organizer of the Michigan Committee for a Democratic Haiti and was strongly committed to building it as an interracial organization.]
ATC 61, March-April 1996