Against the Current, No. 61, March/April 1996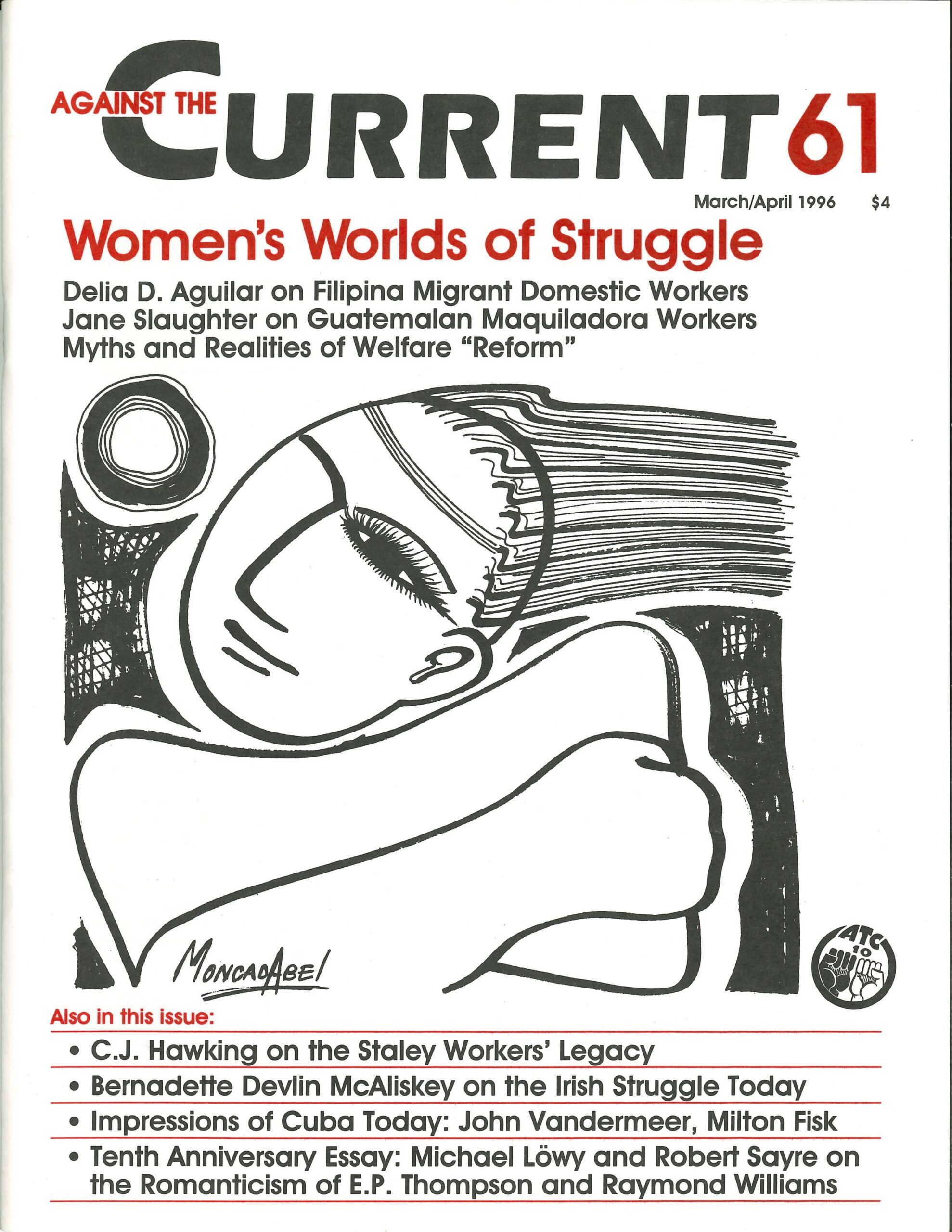 HISTORICALLY, THE MAJORITY of peripheral nations never exercised much control over the direction of their economic development, consigned as they have been to the role of supplying raw materials, mineral resources and cheap labor for core nations. But in the `90s, the restructuring of the world economic order with its increased mobility of capital and resulting global concentration of wealth has placed developing countries in an even more vulnerable position.
The process further intensifies these countries' service function in the international division of labor. Perhaps no case encapsulates this particular location in the global allocation of tasks more aptly than that of Filipino women, who are being deployed as domestic servants in ever increasing numbers to different parts of the world.
Take the case of Dominga Gamboa, a 54-year-old overseas contract worker (OCW), who left her hometown in the Philippines for Hong Kong twenty-one years ago.(1) Hers is, in the context of other narratives in this category, a success story. With her earnings as a domestic helper, she was able to purchase a house for her family in Pozzorubio, a rural town in Pangasinan, the home province of Philippine President Fidel Ramos.
Gamboa also saved enough to send her daughter to college for training as a registered nurse; that daughter recently left her husband and four young children to take up employment with a family that her mother had found for her in Hong Kong. Indeed, the occupation of overseas domestic servant for Filipino women, now generational, has come of age.
The benefits from remittances that accrue from OCWs like Dominga Gamboa and her daughter have not been lost on the town mayor who, seven years ago, organized the "United Pozzorubians of Hong Kong." Since then this group has donated money for hospital equipment and waiting sheds, and even built a garden called "Hong Kong Park" in the town center. This is not to speak of the mini-construction boom that has altered the face of the town, if not its basically semi-feudal economic structure.
Unfortunately, while one out of every ten Filipinos is seeking employment overseas, a study has shown that only one out of ten who return is able to maintain one's raised living standards without having to rejoin the diaspora.
The state of affairs we are witnessing in this town is replicated all over the Philippines. In 1995, 4.5 million out of a population of 68 million Filipinos were migrant workers in 130 different countries, an increase from 12,502 in seventy countries in 1975. Marking a departure from previous decades, the proportion of women, mostly unskilled domestic workers, has risen to 60%.
Not surprisingly, given their socialization in filial piety and maternal altruism, women contribute 71% more remittance than men. With remittances totalling an estimated $6 billion–the size of the government budget–OCWs constitute the single largest source of foreign exchange today.
In a "basket case" economy whose debt service payments to the International Monetary Fund and World Bank (IMF/WB) have, since the Marcos regime, forced austerity measures on the majority, the amount earned by OCWs has given a new twist to a concealed truth progressives have always known: that it is the poor who subsidize the rich. Its corollary, yet more hidden, is that the bulk of this burden is shouldered by women.(2)
When the United States lifted its immigration quota and established preference for professionals with the Immigration Act of 1965, thousands of doctors, nurses, engineers and other highly trained Filipinos headed for this country. The exodus was enough to cause government officials concern over an imminent "brain drain," leading to measures designed to keep doctors, in particular, in local practice for at least a few years after graduation.
But in the `70s this position was reversed when IMF/WB took command. The Marcos-imposed martial rule simply served to facilitate the export-oriented production scheme imposed by IMF/WB, where light to medium manufacturing in export-processing zones, alongside tourism, were upheld as beacons to development.
This export orientation extended to labor power, with the Philippine Labor Code of 1974 claiming the goal of human capital investment as a pretext for the institutionalization of labor migration–what is now popularly known as the "warm body export"–in order to ease the unemployment problem.
Subsequent administrations have not been able to alter this economic policy. Nor has it been possible for either President Fidel Ramos, or President Corazon Aquino before him, to ignore the vital part played by migrant workers in paying the national debt. In 1987, Cory Aquino declared the last week of March of each year as "Overseas Filipino Contract Workers Week;" in 1988 in a speech before OCWs in Hong Kong, she lauded domestic workers as "the new heroines of the country."(3)
In 1993 Ramos sought assurances from Beijing that domestic workers in Hong Kong should not be repatriated in 1997 when the British protectorate is turned over to China. More recently, even as he launched his ambitious development plan to convert the Philippines into an NIC (newly industrialized country, following the model of the "four tigers"–Singapore, Hong Kong, South Korea, Taiwan) in the year 2000, he was compelled to acknowledge migrant workers as "the Philippines' contribution to other countries' development."(4)
Kanlungan Center Foundation, a center for migrant workers, criticized this stance as "a mendicant diplomacy . . . [which] cannot repair the abject image and dignity of the Philippines."(5) In truth, Dominga Gamboa, her daughter, and the over 4 million migrant workers stationed overseas–not to speak of the estimated 1.8 million who are undocumented–are not unaware of this larger picture.
No doubt, although reports of ill fortune and ill treatment have been rife in the media both in the Philippines and outside, only these workers can know in their fullness the stark details of their daily predicament as Filipino workers in the privacy of households in Singapore, Hong Kong, Italy, Spain, Greece, the United Kingdom, the Middle East, etc.
A perfunctory glance at the pages of The Philippine News, a California-based newsweekly, reveals the following news headings in its "Worldscope" section: "52 Runaway Maids Flown Home from Kuwait;" "Singapore Woman Pours Hot Soup on Filipino Maid;" "Domestic Helper Blinded by Singaporean Employer;" "Maid Dies Due to Severe Beatings By Female Employer;" "Worker Jailed for Illegal Pregnancy;" "Maid in Hong Kong Leaps to her Death After Learning of Impending Prosecution."
These are items culled from no more than four months' worth of issues in 1995. In comparison to the hanging of Flor Contemplacion in Singapore in March 1995 and the death sentence for 16-year-old Sarah Balabagan in the United Arab Emirates later in the year, these stories, though horrid, have acquired a routine, ordinary character.
Widespread protest over the Contemplacion case caused Ramos to appoint the Gancayco Commission to investigate the status of overseas domestic helpers. It recommended a ban to be conducted in a five-year phaseout. Responding to the Commission, International Labor Organization (ILO) representative Richard Szal reiterated the necessity for the economy of OCWs' remittances, and asserted that a ban would merely exacerbate risks for workers since the practice would simply be driven underground.(6)
In fact, the Commission had no recommendations about alternative sources of employment within the country. Nor did the ILO official have much to recommend that made sense, suggesting, for instance, that the government offer technical and vocational training to develop more skilled workers. What of the 150,000 registered nurses in 1989, 90,000 of whom were abroad?(7)
Thus it is that which Philippine Senator Blas Ople labelled "modest dreams" (owning a house and sending children to college) continue to propel Filipinos beyond Philippine shores despite inevitable loneliness at best and the possibility of meeting tragic circumstances at worst. The reality is that in the Philippines the mandated monthly wage for domestic helpers is P4,350; in Hong Kong it is US$485, which translates to P12,125 in Philippine currency.(8)
Under these conditions, Filipino women are willing to exercise their remarkable ability to "make do," giving and drawing from compatriots what they can by way of emotional and material sustenance. In Hong Kong where the Chinese term for servant, "amah," has become a synonym for Filipina, women extract what wages they can even if this means engaging in illegal part-time, hourly-wage jobs ("multiple aerobics" is the code word they have good-humoredly devised)(9) aside from their work as domestics.
In Rome on Sundays, the train station is filled with Filipino women and men spending their social hour recouping spent psychic and physical energies servicing the needs of others while their own families are left thousands of miles away in the care of extended kin. When college degrees are forsaken for demeaning but better-paying housework, a dose of self-mockery helps, as in the following quip from a chemical engineer: "Anyway, I'm still able to mix chemicals–I work with vinegar, soy sauce and other condiments."(10)
To assuage their self-esteem, they labor hard and take pride in being the "preferred domestic," chosen over Cape Verdeans, Salvadorans, Mauritians, and even Italians themselves, even as they hear their female employers declare proprietorship in the query: "Do you have your Filipina yet?"
Tales of cruel and inhumane treatment circulate among OCWs, and these, too, have induced mutual support mechanisms. The case of young Sarah Balabagan, who killed her 85-year-old employer who raped her (her death sentence was later commuted in the face of international outrage and the vigilance of various organizations in Europe), angers and frightens them. Still, they refuse to be thwarted from taking steps toward the fulfillment of their modest dreams because, in the words of Dominga Gamboa who has spent twenty-one years in the Crown Colony: "I'm tired, but life is hard in the Philippines."(11)
It is, then, primarily pragmatic considerations that fuel the flight of Filipinos from their country. The threat of physical and emotional abuse in a strange land becomes less ominous when hopes of a materially improved life loom large and prospects of fulfilling these fail to exist at home.
The long-term cost to Philippine society itself is not a matter that has been seriously taken into account, in view of the government's instrumental reckoning of the bottom line: remittances pay the $1.8 million annual interest on the foreign debt. In a neocolonial formation defined by a state of perpetual economic crisis to which labor migration is indissolubly connected, there is no reason to expect more.
The phenomenon in which decolonizing nations export cheap migrant labor power in the context of the internationalization of the labor market is by no means new. In an overview of the history of labor migration into Western Europe since 1945, Robert Miles underscores its utility for maintaining the conditions favorable for capital accumulation in dominant countries.(12)
What is new, however, are some specific features of the Philippine case that so far have escaped attention and analysis. Many important questions have not been raised. For example, until women began to exceed men in the migrant pool, little fuss was raised over the fate of families left behind. Now pundits worry about the well-being of children left at home, on the assumption that biological maternal care brooks no substitute.
Within a perspective that presupposes women's traditional responsibility for childrearing, what sort of future lies in wait for migrant worker families? One would imagine that this depends on the country of employment; for example, the 130,000 OCWs in Hong Kong would in all likelihood be subject to repatriation after 1997, with China harboring its own latent reserve army of labor.
On the other hand, Chinese domestic helpers, more than Filipinos, can probably afford more intractability, possessing citizen's rights that Filipinos do not. How will Hong Kong housewives respond to a less colonized breed that cannot be racialized as readily?
In Italy, unlike the Middle East, the prospect of settling families in permanent residence is higher. What does this bode for the next generation, and the potential for their integration into work in the public sphere? What about exclusionary practices on the part of employers and other major institutions?
While demographic and other pertinent characteristics of Filipino migrant workers have been studied, their employers have not. Who are these women, now wielding authority over the positions in the domestic sphere that they themselves vacated? What has the assumption of household work and childcare by women of a presumably inferior race and class freed them to do?
This brings to mind a parallel worst-case scenario in recent times: pre-Mandela South Africa, where Black women servants raised white children while their own stayed in Bantustans. The Black women's situation at least allowed a periodic return home where, in contrast, many Filipino women's accounts reveal virtual entrapment in the prisons of employers' homes. But in both cases the benefits enjoyed by the women they liberated from "invisible labor" remain shielded from scrutiny.
To conclude, the dilemma of Filipino overseas contract workers is perfectly comprehensible within the broad framework of a speeded-up globalization in which the United States' only former colony has been impeded from breaking the chains of dependency. As yet, however, mid-level analyses involving inquiry into migrant workers' placement in specific employing countries, as well as the interplay of race, class, and gender on the micro-level, remain to be developed.
Notes
3 Jo-ann Q. Maglipon, The Filipino Migrant: Braving the Exile, Hong Kong: Mission for Filipino Migrant Workers, 1990,
ATC 61, March-April 1996