Against the Current, No. 60, January/February 1996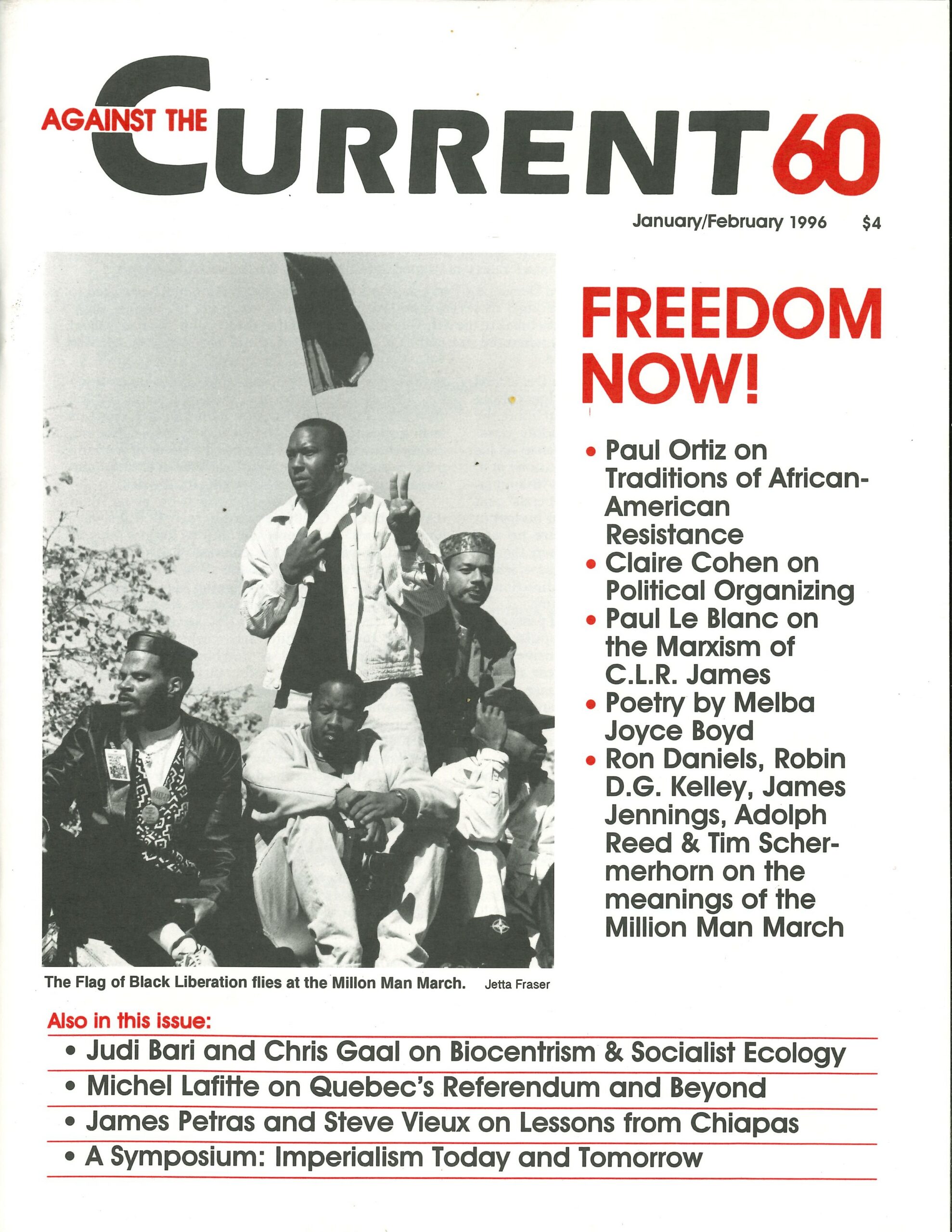 THE HOLIDAYS ARE over, and if you're lucky, someone bought you at least one fantastic book. You open it, delighting in being the first to crack its spine. Its new smell comes wafting up from cream-colored pages. You pore over the details–the cover, the acknowledgements, the bibliography. Then, with great anticipation, you settle into the meat of your new book and begin to devour.
I have a deep love and an endless lust for books. It's not surprising, then, that I've found myself in the bookselling profession. Today, the industry is undergoing tremendous changes, changes that may not bode well for independent and specialty bookstores.
As the codirector of a women's bookstore, I am worried not about the end of books as we know them (i.e. from the paper page to computer page), but rather what many independents perceive to be an immediate threat: our extinction at the hands of chains and their superstores.
Since at least the early 1990s, chain stores have been moving into communities with well-established independent stores, often within the same neighborhood. With inflated advertising resources, offers of bigger discounts and big-name author appearances, they actively target the customer base of independents.
According to Carol Seajay, president of the Feminist Bookstore Network, in a May/June 1995 Ms. magazine article, "By 1993 chain store sales had caught up to those of independent bookstores, and the corporations that own the chains expect their stores to become the dominant channel of book distribution within two to three years." Many feminist and independent stores have reported marked drops in sales, while some long-established independents have already closed.
Many people don't realize that the sixteen leading chains, Barnes & Noble and Borders among them, are owned by four parent companies: Barnes & Noble, Books-a-Million, Crown Books and K-Mart. As Seajay says, "The domination of chains centralizes the decision-making about what bookstores will stock–and what books people will (and won't) find when they shop in these stores–in the hands of a very small number of people."
The most disturbing fallout of this trend is that the chains are cashing in on the success of authors that feminist and independent stores helped build. While feminist and other independent bookstores have always invested in women writers, writers of color, queer authors and small press authors, chains are, for now, riding the wave of say, queer chic or the popular culture craze. But fads pass, and when these writers are no longer marketable, you can be sure the chains will dispose of them as hastily as they acquired them.
Feminist and independent bookstores, on the other hand, will always be committed to a range and depth of ideas. We will always be more than market driven, guided instead by a mission to educate and inform, to expose readers to new ideas and experiences–guided by a love of books as tools, not commodities.
But we can't do what we do without consistent financial support and long-term commitment from our communities. That kind of investment will preserve not only a diversity of ideas, but longstanding public institutions that serve not just as bookstores, but as resource centers, community schools, and central gathering places for debate and dialogue. As places that are in the business, first and foremost, of changing lives.
ATC 60, January-February 1996