Against the Current, No. 59, November/December 1995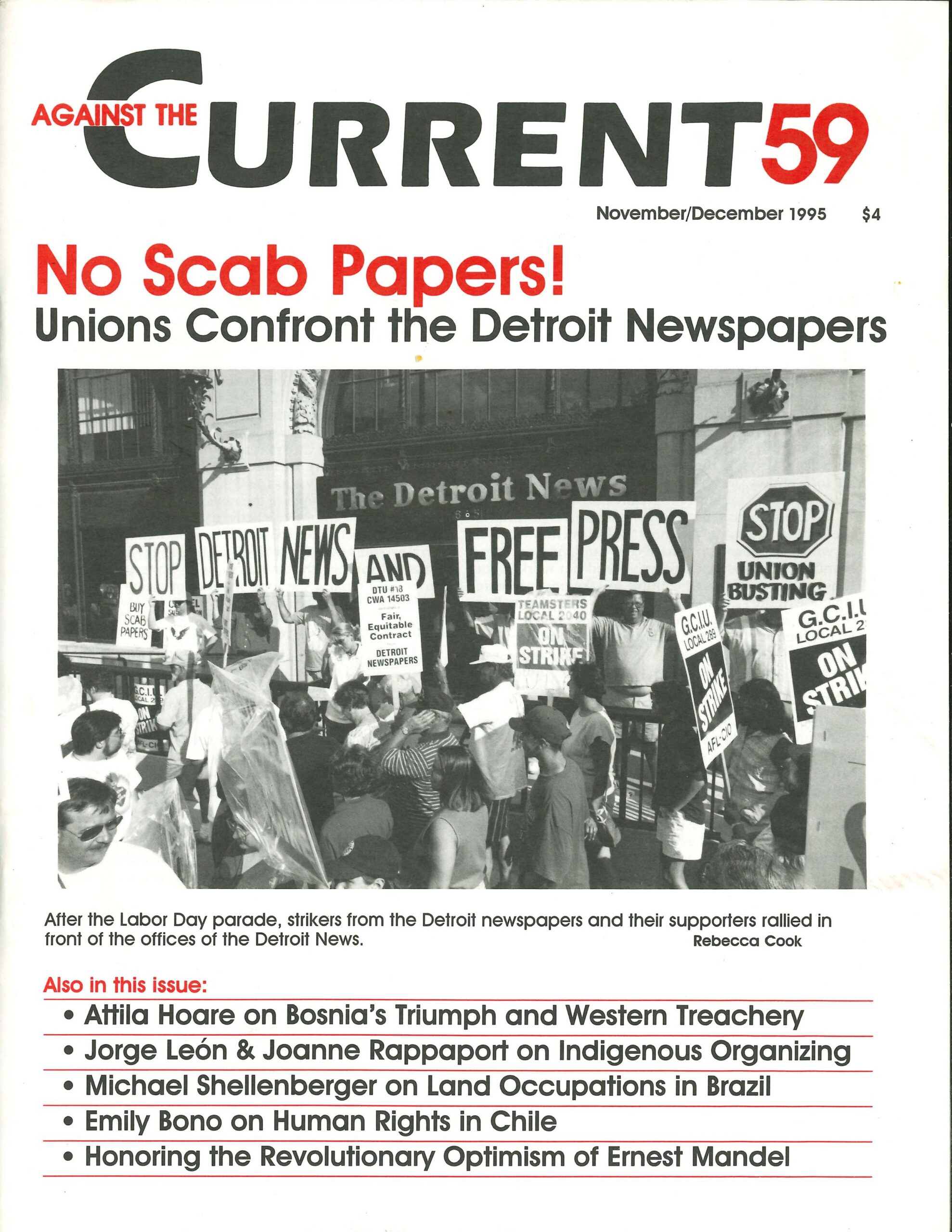 WE WERE SADDENED to learn of the death August 23 of longtime socialist activist Hedda Garza. Hedda died of cancer at the age of 66 in Glen Falls Hospital near her home in Friends Lake, New York.
Born Hedda Axelrod on July 24, 1929, she began her long political life while a teenager in New York's Washington Heights neighborhood during World War II by joining the Communist Party's youth group, the Labor Youth League. In l958, in the wake of the Hungarian Revolution and the Khrushchev revelations she joined the Socialist Workers Party and quickly became a well-known, dynamic, and charismatic activist in the New York branch of the SWP.
She frequently ran on the SWP ticket in elections and was especially known for her impassioned public speeches on behalf of socialism and for her effectiveness in winning young people to socialist ideas. She also became a widely known leader of the anti-Vietnam war movement and an activist in the civil rights and abortion rights movements in New York.
Along with over a hundred other members she was expelled from the SWP in 1974 for advocating the political positions of the majority tendency of the Fourth International. She later joined Workers Power, one of the three organizations that merged to form Solidarity in March 1986, but left Workers Power before the fusion.
Hedda worked as a free-lance author, editor, and indexer. Among her best known publications was the massive Watergate Investigation Index: Senate Select Committee Hearings and Reports on Presidential Campaign Activities, which in 1982 received Choice magazine's Outstanding Academic Book Award. In 1984, a companion volume, The Watergate Investigation Index: House Judiciary Committee Hearings and Report on Impeachment, was published.
More recently, Hedda wrote social history books for young adults, including Without Regard to Race (1995) and Women in Medicine (1994). Several were award-winning editions. She also wrote biographies of Leon Trotsky, Francisco Franco, Salvador Allende, Joan Baez, Pablo Casals and Frida Kahlo.
Her most recent book, African Americans and Jewish Americans, is soon to be published. Five additional books were in progress at the time of her death and agents were marketing two novels and two television screenplays.
Hedda remained an ardent socialist all her life. Just last year she was engaged in gathering signatures for the full-page advertisement that ran in the New York Times calling upon the United States to drop its economic embargo of Cuba.
She is survived by her three children, Dan, Paul and Tonia, two grandchildren and her long-time companion, James Cockroft.
Hedda's passionate opinions sometimes caused controversy among her comrades. We will remember her as a warm, outgoing, engaging champion of humanity and a socialist activist of the finest calibre.
November/December 1995