Against the Current, No. 59, November/December 1995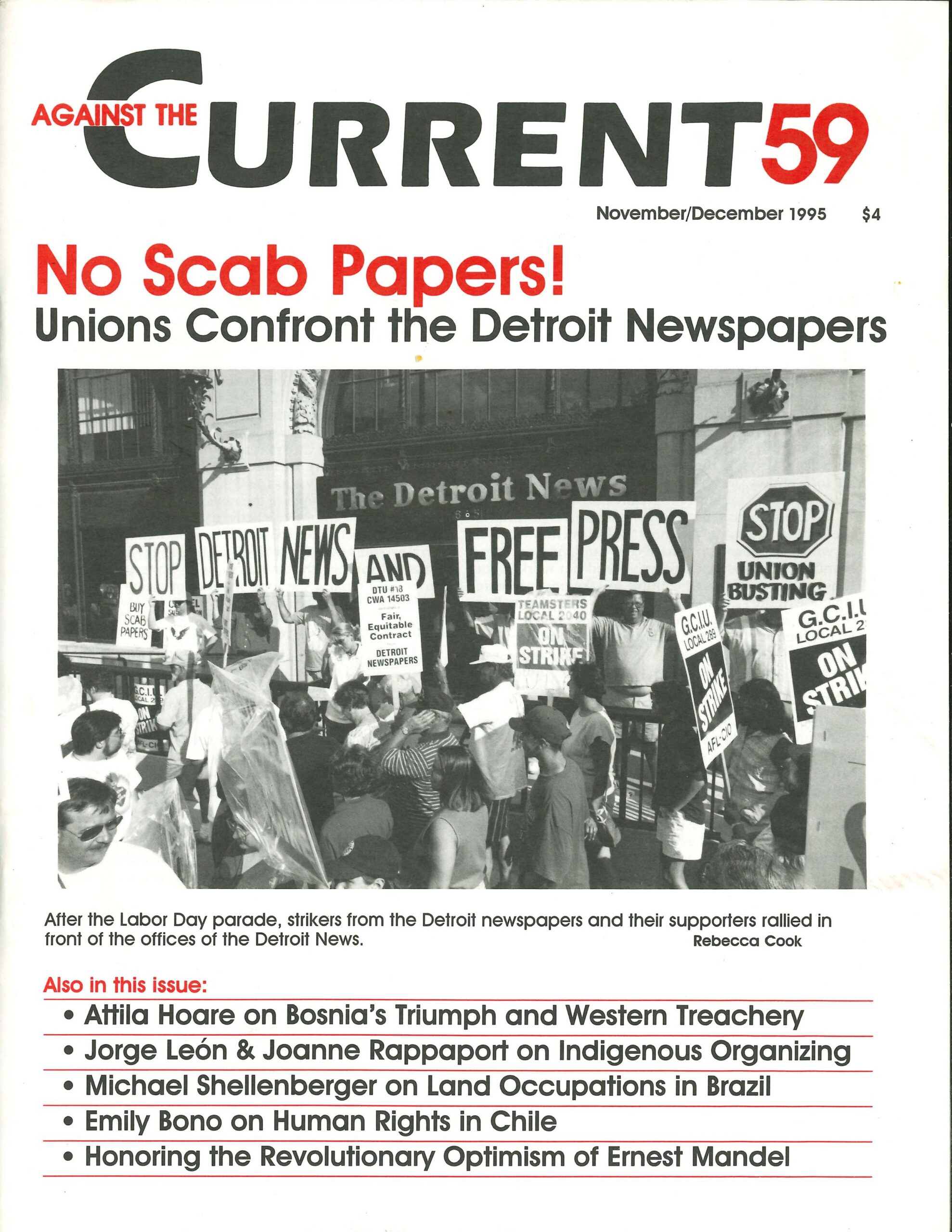 IN 1946–HE was only 23–Ernest Mandel wrote a stirring introduction to the Marxist Interpretation of the Jewish Question of Abram Leon, his friend and mentor.
Ernest's closest friends and comrades, leading members of the Trotskyist movement under the Nazi occupation in Europe, had been killed: Marcel Hic in France; Martin Monat (his pseudonym was Widelin), in charge of the movement's propaganda among German soldiers, arrested by the French militia which collaborated with the German Gestapo, tortured and killed; Abram Leon, who tried to resume contact with the Belgian miners of Charleroi, the first ones who dared to strike in spite of the Nazi occupation, arrested, transferred to Auschwitz and gassed.
Ernest was arrested in March 1944, when he distributed leaflets to the workers of the Cockerill factory in Liege and deported to Germany as a political prisoner. In April, 1945 he succeeded in escaping from a forced labor camp near Cologne (after impressing prison guards through political discussion). In his introduction to Leon's book, his memories went back to the desperate year 1940:
"This situation seemed to justify only resignation and watchful waiting. Any other attitude appeared like a manifestation of desperate and impotent revolt. What was lacking was not so much courage to act as courage to think correctly. Marxist analysis enabled one to penetrate through the totalitarian lid pressing on Europe and to discover there gestating forces which would in the end throw off this lid."
The resistance of the partisan movement in Europe and the social struggles in the postwar period justified the position of Ernest (as against some of his older and experienced comrades who were convinced that the war and Nazi reign of terror had caused a degeneration of the whole society). He had adopted the pseudonym "Germain," which obviously meant he had not lost his confidence in the German working class . . . .
Ernest was also a gifted journalist and under his pen name Pierre Gousset wrote for the left press in many countries. He wrote eyewitness accounts for metall, the paper of the (West German) Metal Workers Union with a circulation of two million.
Of course, there he had to use a special pen name, "Kipp." But the payment had to be sent to Ernest Mandel. So the trade union leader responsible for the press knew very well who had written these articles.
November/December 1995