Against the Current, No. 59, November/December 1995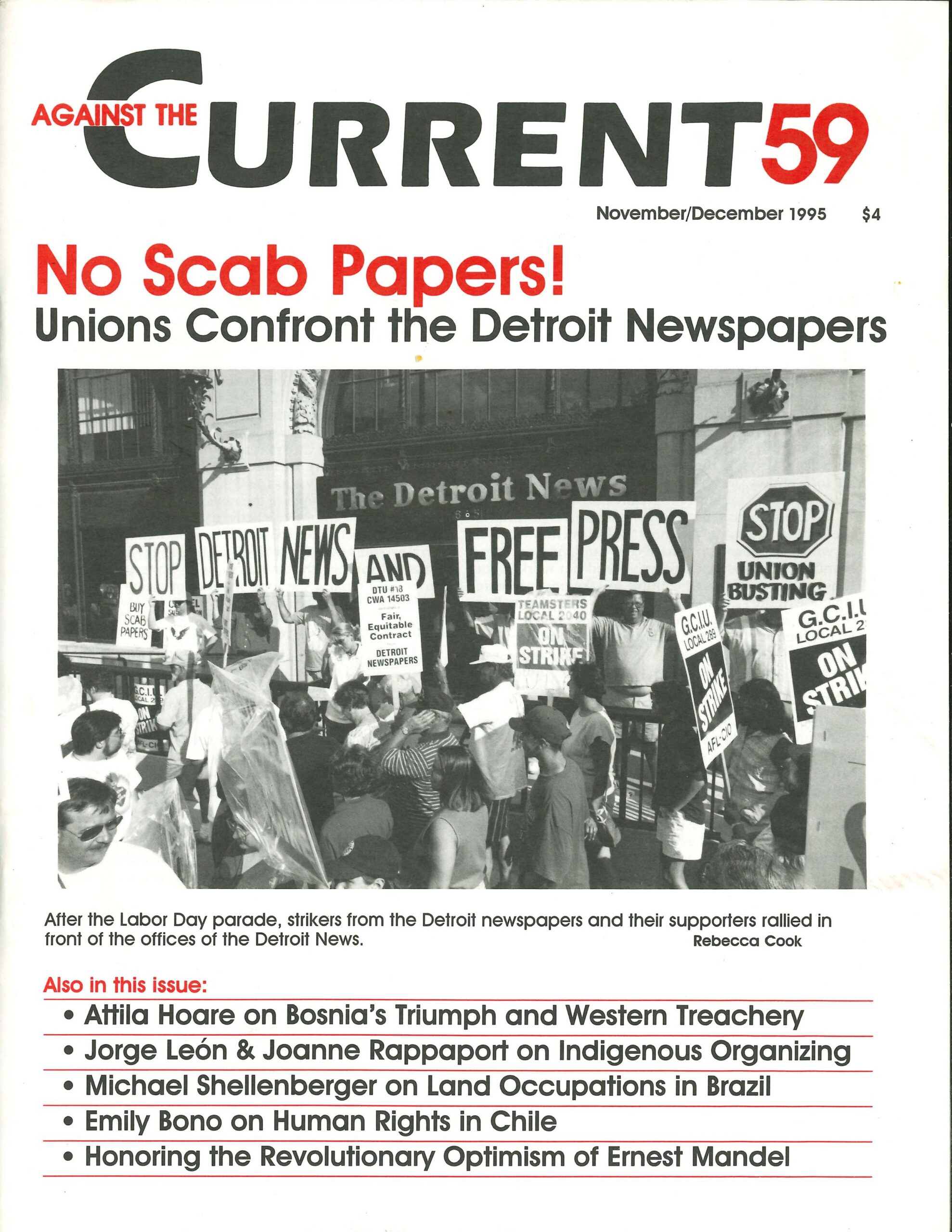 SEVERAL ACTIVITIES PREVENT me from being with you to pay homage to our beloved Ernest. I shall be in the northern state of Chihuahua, to commemorate the thirtieth anniversary of one of the first modern Mexican political-military movements, which under the leadership of Arturo Gamiz stormed the military headquarters of Madera.
In the 1970s, when my political activity started, in search of dozens of companeros detained/disappeared by the repressive organs of the Mexican state, many democratic and leftist political currents lent a hand to our group of mothers, wives and sisters united by the pain of the absence of our children, husbands and brothers.
Among those political currents there is one which has never abandoned its place in our struggle: I am referring to the compañeros from the Fourth International, those who are militants in Mexican territory as well as those from other places.
This connection allowed me to meet Ernest and to continue my relationship with him each time he travelled to Mexico, or when I was able to see him on European soil. I remember dearly each one of these encounters, all of them immersed in the gentle treatment which Ernest afforded his comrades in struggle (among whom I allow myself to be counted) . . . I received the news of his death with pain for I thought that Ernest might keep company with us a few more years.
Through mutual friends and compañeros, I knew of Ernest's interest in the new political situation which emerged as a result of the Zapatista uprising of January, 1994. I would have liked to be able to chat with him about the advances of our situation. I would have liked to share with him the lessons I am learning from the Zapatista brothers, to have his opinions.
After the deterioration of the correlation of forces at a world level, unfavorable to the exploited and the oppressed, Ernest told us in one of his writings: Let us foster the rebirth of hope. I want to conclude this message by saying that mandelian hope is today reborn in the Zapatista brothers and sisters, in Marcos, in Tacho, in Ramona, in Heriberto, in David–and in all those other Zapatista brothers who have begun to organize their forces beyond the indigenous communities of Chiapas, and beyond Mexican borders.
We never wanted Ernest to die, but facing the inevitable, we must say that his optimism and revolutionary hope have remained in good hands, in our hands, in the hands of the Zapatistas of Mexico and of the whole world.
November/December 1995