Against the Current, No. 59, November/December 1995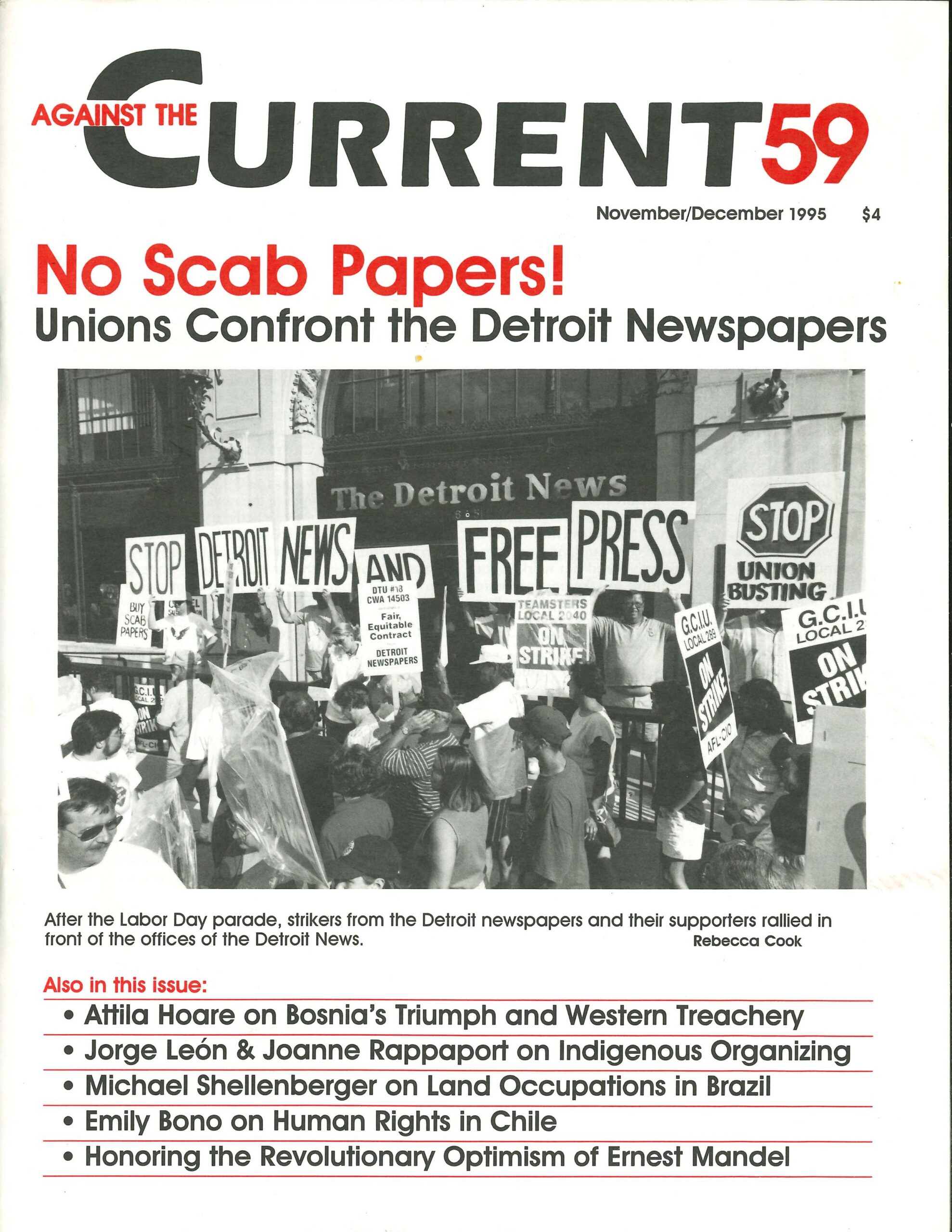 AT DAWN, AUGUST 9, 1995, 200 Military Police rushed a land occupation of 300 peasant families in the Amazonian state of Rondônia. In the fray that ensued, two Military Police and ten of the occupiers were killed.
Though the camp was subdued almost immediately, the PM sought revenge for their two comrades and commenced a killing spree where twenty-five peasants were shot or tortured, ten others were executed (beaten or shot to death) and nineteen are disappeared (likely dead). It was Brazil's worst peasant massacre in thirty years.
[The Weekly News Update on the Americas reports at least 32 dead and that "Leaders of the Rondônia Rural Workers Federation say the death toll is more likely to be around 70;" more than 200 wounded peasants were being treated in nearby hospitals and many others lost in the bush –ed.]
In addition to the executions and torture, a whole mess of laws were broken by the PM. For instance, the police arrived in the dark at 4:00 a.m., whereas the Constitution says that arrest warrants can only be carried out during the daytime. In addition, the transportation of the police from the capital Porto Velho to the occupation, over 180 miles, was paid for by the rancher whose land was being occupied.
Despite the obvious violations of civil and human rights, it is unlikely any of the officers will be convicted. The PM are investigated and tried by military courts that almost never convict for killing anybody. Their virtual judicial immunity allows soldiers to work as gunmen for local landowners without fear of prosecution. In contrast, the investigation of landless occupiers will likely result in prosecutions. Already 115 peasants have been interviewed.
After the massacre, Brazil's television news media repeated the official police version as fact, referring to the landless peasants — not the Military Police — as "invaders." Days later, when it was learned that the soldiers had gone on a rampage, killing an eight-year-old girl and executing others with gunshots to the head and back, the TV media dropped the story.
The Rondônia occupation was organized by peasant leaders who broke from the MST and the Rural Workers Union in 1992, arguing that the MST was too slow in responding to the needs of the landless and advocated armed confrontation as an appropriate strategy. Nonetheless the MST and Workers Party (PT) have been the most active in pushing for a full investigation, the prosecution of the killers, an end to impunity and, of course, agrarian reform.
Letters of protest can be sent to the Honorable Ambassador Paulo-Tarso Flecha de Lima, Brazilian Embassy, 3005 Massachusetts Ave, NW, Washington, DC 20008.
November/December 1995