Against the Current, No. 57, July/August 1995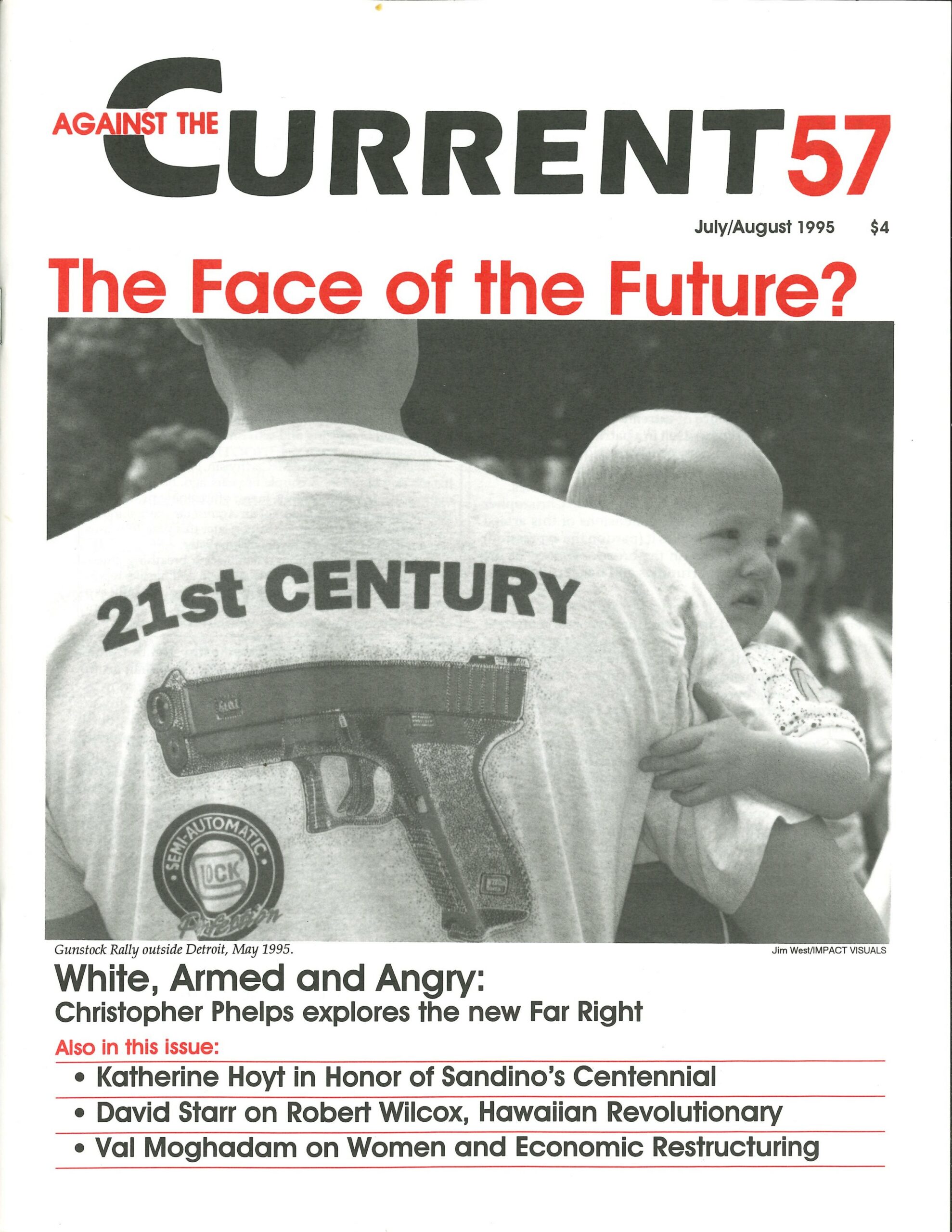 THIS YEAR IN Hawai'i marks the 100th anniversary of the attempted revolution co-led by Robert Wilcox in 1895. This action was prompted by the January 17, 1893 overthrow of the Hawaiian monarchy, which has now been recognized as a crime against the Native Hawaiian people by legal standards internationally and through U.S. Public Law 103-150 (or the "Apology Bill." This bill, however, contains a disclaimer stating that no reparations will be made to Hawaiians to redress the crime).
As a bold attempt to regain Hawaiian independence, the revolution was characterized by a justifiable nationalist sentiment that opposed the ultra-nationalist and imperial expansion of the United States. Robert Wilcox was one of the few Hawaiian leaders who possessed a fiery militancy and took up armed struggle as an option.
Actually a part-Hawaiian, Wilcox was born on the island of Maui in 1855 to a U.S. sea captain named William Slocum Wilcox and Kalua Makoleokalani, a Hawaiian descended from Maui Ali'i (Royal Chiefs). Despite a 1993 ceremony recognizing him as a national hero and revolutionary, Wilcox still remains a mystery today due to years of systematic distortions and overt condemnation by the status quo in Hawai'i.
A Revolutionary Finally Recognized
On September 11, 1993 about 350 people gathered in downtown Honolulu for a ceremony and the unveiling of a statue honoring Robert William Kalanihiapo Wilcox. The ceremony was alive with Hawaiian cultural tradition. Tributes were made to Wilcox through na mele ku'auhau (chants), na mele hula (dances), and the blowing of the sacred pu (conch shell).
Various speakers made their own respective tributes. City Council Chairperson Gary Gill, who originally proposed the idea for the statue, declared:
". . . today for me is a triumph. For after a hundred years, a great figure in Hawaiian history is finally receiving the recognition that he's due. Robert Wilcox was a patriot. Robert Wilcox stood for truth, independence, nationhood, and sovereignty in a day when American imperialism was conquering the Pacific."
Mayor Frank F. Fasi (a part of the status quo, oddly enough) proclaimed September 11, 1993 as Robert Wilcox Day. After his speech, Fasi led in the unveiling of the Wilcox statue. When revealed, one could see a bronze-like figure of Wilcox in his uniform of an Italian cavalry officer standing boldly, or defiantly, while holding his sword. Fasi then made a ho'okupu (offering) to the statue.
Resuming with the speakers' tributes, Monsignor Charles Kekumano defined Wilcox as "irrepressible." Kekumano emphasized that if Wilcox "didn't like the way things were, he just could not sit back and do nothing. He was not the type to merely talk about things. He was an activist, a man of zeal and determination, and at times of exaggerated vigor."
Martha Webb, a translator of the Hawaiian language and a poet, mentioned that while Wilcox was in Italy studying, he met Italian revolutionary Guiseppe Garabaldi, "a successful military leader whose accomplishments in the face of seemingly impossible odds made
him an appropriate and inspiring role model to a man of Wilcox's position."
Webb added that she translated an 1889 biography of Wilcox, written in Hawaiian by Thomas Nakanaela, for Wilcox's descendents in the Salazar family.
Owana Kaohelelani Salazar, Wilcox's great-granddaughter, was among the various descendents who spoke. She declared that "This is a momentous day for all Kanaka Maoli (Native Hawaiians), to give honor to this man who gave his life for his people. We do right to honor this Hawaiian hero, this freedom fighter, this patriot, this Ali'i o Hawai'i nei (Chief of Hawai'i).
"Let us all remember too the hundreds of men who marched with him here upon the very ground this park and statue stand on today, who fought beside him against all the dreaded odds, whose ultimate goal was to free the Hawaiian people; free them from the clutches
of a few greedy American business men and to return the dignity to the throne of Hawai'i."
When all the speakers were finished honoring Wilcox, there was a final ho'okupu from his descendents. They proceeded to cover the statue with na lei pua (flower leis) to show love and respect. After more cultural tributes, the ceremony reached its conclusion.
Root Causes of Revolution
While this ceremony finally gave Wilcox his due, it is nevertheless contrasted by opinions over the years from writers, academicians, politicians, etc., that condemn Wilcox as a "troublemaker." I am thus obliged to write the following historical summary detailing the events that prompted Wilcox's attempts at revolution in 1889 and 1895.
Missionaries, descendents of missionaries, and businessmen — acquiring wealth and land in Hawai'i as enterprising capitalists — were responsible for the following events: the 1887 "Bayonet" Constitution enforced by an all-white cabinet, which made King David Kalakaua a figurehead ruler, and the 1893 coup d'etat, or illegal overthrow, led by annexationists Lorrin Thurston and Sanford Dole in dethroning Kalakaua's sister, Queen Lili'uokalani, thereby causing Native Hawaiians to lose independence.
In the 1880s, Kalakaua was subsidizing the schooling of Robert Wilcox and two other Hawaiians who were sent to Europe. Wilcox himself studied military science in Turin, Italy. During his stay he met an aristocratic young woman named Gina Sobrero and soon married her.
After the 1887 "Bayonet" Constitution was imposed, all three Hawaiians were forced to return because the white cabinet cut their subsidies. Wilcox brought his new bride with him.
Upon his return, Wilcox saw the governmental changes and immediately planned to overthrow the 1887 constitution with other Hawaiians and sympathetic haoles (whites). But due to the cabinet's anger over his activities, which made it impossible for him to land a government position, Wilcox and Gina moved to California.
Financial troubles and incompatibility soon caused a rupture in the marriage. With their newborn son, Gina promptly boarded a ship headed for Italy. But the boy was to die from an illness acquired during the trip. Gina reached Italy and eventually got the marriage annulled.
Wilcox himself returned to Hawai'i and began carrying out the plans to overthrow the constitution. At 3 am on July 30, 1889, Wilcox led a group of 150 armed men, mostly Hawaiians, through downtown. Along the way, they were joined by Hawaiian policemen and other individuals.
By the time they reached their location, Iolani Palace, the number was increased to about 300. The plan was to occupy Iolani Palace and have Kalakaua sign a new constitution.
But two problems arose: The King's Household Guards didn't allow the revolutionaries to occupy the palace. Instead, they could occupy the palace grounds. Further, Kalakaua "coincidentally" wound up staying at his boathouse on that morning. The king was never to show despite being contacted twice.
When government officials found out about the occupation, volunteer militias and troops were strategically positioned in buildings around Iolani Palace. Finance Minister Samuel Damon was sent out to talk with Wilcox. But during the conversation, a shot rang out and gunfire was then rapidly exchanged. Damon rushed to the office of U.S. Minister to Hawai'i George Merrill and appealed for help.
Eventually, 80 troops were dispatched from the U.S.S. Adams in case the revolution got out of hand. The battle lasted throughout the day until Wilcox was forced to surrender due to lack of men, heavy gunfire, and poor cover on the palace grounds. Seven revolutionaries were killed, 12 wounded and 60 captured.
Wilcox was tried for conspiracy to commit treason. But in pleading that he acted with Kalakaua's consent, Wilcox was acquitted by a Native Hawaiian jury.
Kalakaua denied any involvement, but either way it didn't matter: He had been involved in activities that eventually tarnished his reputation, and helped to give the cabinet endless pretexts to gradually take governmental power. For example, Kalakaua drained the government treasury, fell heavily into debt with foreign creditors, and aligned himself with sugar monopolies to gain political advantages.
In what was called the Aki-Opium Scandal, Kalakaua promised a Chinese businessman a license to sell opium for $74,000 only to sell the license to someone else. Kalakaua never returned the $74,000 because he spent it.
To Kalakaua's credit, though, he did revitalize some aspects of Hawaiian culture that were condemned in earlier years as "pagan" and "savage" by most missionaries and other foreigners.
Coup and Annexation
Meanwhile, Wilcox rose in popularity as a national hero for the attempted revolution that reflected the anger and frustration in many Hawaiians. In the aftermath, the U.S. military presence in Hawai'i threatened to intervene in future conflicts.
Rear Admiral George Brown, Commander of the Pacific Squadron, wrote the following: "…prominent leaders in the attempted revolution of July, 1889 will not cease their revolutionary discussions and movements either in the legislature or in public meetings on the streets. Their efforts are now being made in favor of a constitutional convention, with a review of revising the present constitution, which was adopted in 1887…"
Brown added that those "who stand ready to oppose the revolutionists have every confidence in their ability to do so successfully, and take great comfort in the knowledge of an adequate naval force being present…"
The U.S. military was indeed around when the 1893 coup occurred. Annexationists like Lorrin Thurston understood that Queen Lili'uokalani, unlike Kalakaua, was strong-willed and therefore would more likely attempt to dissolve the 1887 Constitution. But she, like Kalakaua, was a figurehead ruler under it when she signed the oath to the throne.
Nevertheless, Lili'uokalani pressed on to enact a new constitution. The annexationists then reacted, appealing for help from the new U.S. Minister to Hawai'i John L. Stevens, a fervent supporter of annexation. In a letter to the Minister they concluded the following:
"We are unable to protect ourselves without aid, and therefore pray for protection of the United States forces."
On January 17, 1893 the annexationists acted quickly and quietly in carrying out their coup. With the monarchy overthrown, Captain Gilbert Wiltse of the warship U.S.S. Boston dispatched 162 heavily armed U.S. marines who took up positions near Iolani Palace "to protect American lives and property," none of which were anywhere in the area.
Under protest, Lili'uokalani surrendered to the United States in the hopes that justice would prevail over the crime that was perpetrated. But fate was not to be so kind. She was soon arrested when a number of guns and bombs were allegedly found in her backyard.
Released after eight months, Lili'uokalani continued to protest against the coup, until she died in 1917.
Desiring to quickly annex Hawai'i to the United States, the annexationists pulled a propaganda ploy by establishing their Republic of Hawai'i on the fourth of July, 1894. Official Annexation was another matter that would be fiercely debated in the U.S. Congress for the next few years, but was finally granted in 1898 by U.S. President William McKinley (a Republican).
The 1895 Insurrection
Two years after the 1893 Coup, the second revolution was scheduled to begin in the early morning on January 7, 1895. It was to be co-led by Robert Wilcox and other revolutionaries (or "Royalists" as they were called), both Hawaiian and haole.
On the fifth, preparations began: Two groups set up strategic positions in outlying areas around Honolulu. A cache of weapons was unloaded from a ship in the Kahala district (about eight miles from Honolulu) on the sixth. Wilcox himself was to lead a group of about 100 men from Kahala to Iolani Palace and unite with the other groups to overthrow the annexationists' regime on the seventh.
But the revolution didn't start off as planned. On the seventh, Wilcox's group had organizational problems and could only reach the Moiliili district (about 5 miles from Honolulu). Regime President Sanford Dole declared martial law on that very same day. The regime's police and militias reacted immediately after being tipped off by spies.
Gunfire erupted and continued in various districts like Waikiki, Palolo, Manoa, Diamond Head crater, Pauoa, and Punchbowl. Despite their resistance, the revolutionaries were forced to gradually retreat as the regime's militias maintained control with superior firepower.
The number of revolutionaries surrendering increased, causing those not caught to further retreat into Manoa Valley, including Robert Wilcox. The revolution officially ended on January 20 when Wilcox and other leaders finally surrendered.
A total of 191 were arrested. Military tribunals sentenced Wilcox and other leaders to death. He was originally to be hanged, but members in the U.S. Congress intervened. In an interview with Kalahumoku Miller, Wilcox's grandson, he told me their response: "They told the Dole regime that if he were executed, they'd be very, very angry about it."
Wilcox's sentence was commuted to thirty-five years of hard labor, but that was dropped and he was eventually pardoned.
Along with armed struggle, Robert Wilcox used legislative means to try and dissolve the 1887 constitution while with the National Reform Party and later the Liberal Party. After Wilcox's attempts at armed struggle ended, the legislative struggle continued.
While with the Home Rule Party in 1901, Wilcox and other members protested annexation in Hawai'i's first Territorial Legislature by delaying or rejecting bills proposed for enactment, and repeatedly calling for the impeachment of Governor Sanford Dole for incompetence.
From 1900 to 1902 Robert Wilcox served as Hawai'i's first Territorial Delegate to the U.S. Congress. He lost a reelection bid to Prince Jonah Kuhio Kalanianaole of the Republican Party, "the very party that had overthrown the Hawaiians," says Kalahumoku Miller.
Wilcox passed away in 1903, and with that a prominent defender of Hawaiian independence.
Deciphering the Distortions
Subsequently Hawaiians were forced to adapt to an imposed anglo-dominated culture that created further alienation, division and decimation of their population. Miller told me that many Hawaiians "don't know [the full truth] because they've been cut off from their history."
Regarding their knowledge of Wilcox, Miller added, "What he did is not too well-known. A missionary version of him is well-known. How can you believe everything that is written when it is all written by his foes?"
Lorrin Thurston, Wilcox's biggest foe, wrote the following in his inaccurately entitled Memoirs of the Hawaiian Revolution (the 1893 coup certainly wasn't Hawaiian-inspired, and was more a case of reaction than "revolution"):
"Wilcox was spectacular, a soldier of fortune, ready to take part in any head-breaking, but representing no principles. He was usually a harbinger of trouble. Which side he took seemed to make little difference; his principal concern appeared to be that he should participate in whatever military movement that was in progress."
For Thurston then, Wilcox (or any Hawaiian for that matter) couldn't correctly perceive threats or was incapable of acting on principles when risking death to defend the very independence violated by the annexationists.
Wilcox allegedly supported annexation in 1891, possibly because of his disillusionment with Lili'uokalani's government, and because he favored a republic. He firmly declared, "Ignorant fools are conducting the government . . . and [influencing] the Queen…It is a standing disgrace to the Hawaiian nation…We must all be loyal Hawaiians, and tell the Queen that her present government is an injustice and disgrace to the nation. We must not flatter her."
Wilcox nonetheless remained attentive to his people's wishes, as he did when he eventually supported Lili'uokalani by attempting the 1895 revolution.
In July of 1891 when Robert Wilcox was visiting San Francisco, a reporter from the San Francisco Examiner interviewed him. Wilcox was quoted as saying, "The sentiment for a republic is growing, but we don't care to upset our monarchial institutions so long as the crown is faithful to the majority of the people."
Miller remarked that "…he would go the way he felt the people wanted to or what was best for the people; whichever way, republic or monarchy."
In a confusing and sometimes bizarre political environment, Robert Wilcox did behave erratically sometimes, moving from one type of strategy to another and back again. But other Hawaiians were just as erratic, as illustrated by some of the Ali'i. This can probably best be understood as the consequence of a paralyzing culture shock, resulting in a besieged society's inability to cope with the pressures of constant foreign intervention.
Nevertheless, in risking his life for independence Robert Wilcox revealed his ultimate concern to defend Native Hawaiians' rights. The ceremony honoring him as a national hero and revolutionary was therefore long overdue.
ATC 57, July-August 1995