Against the Current, No. 57, July/August 1995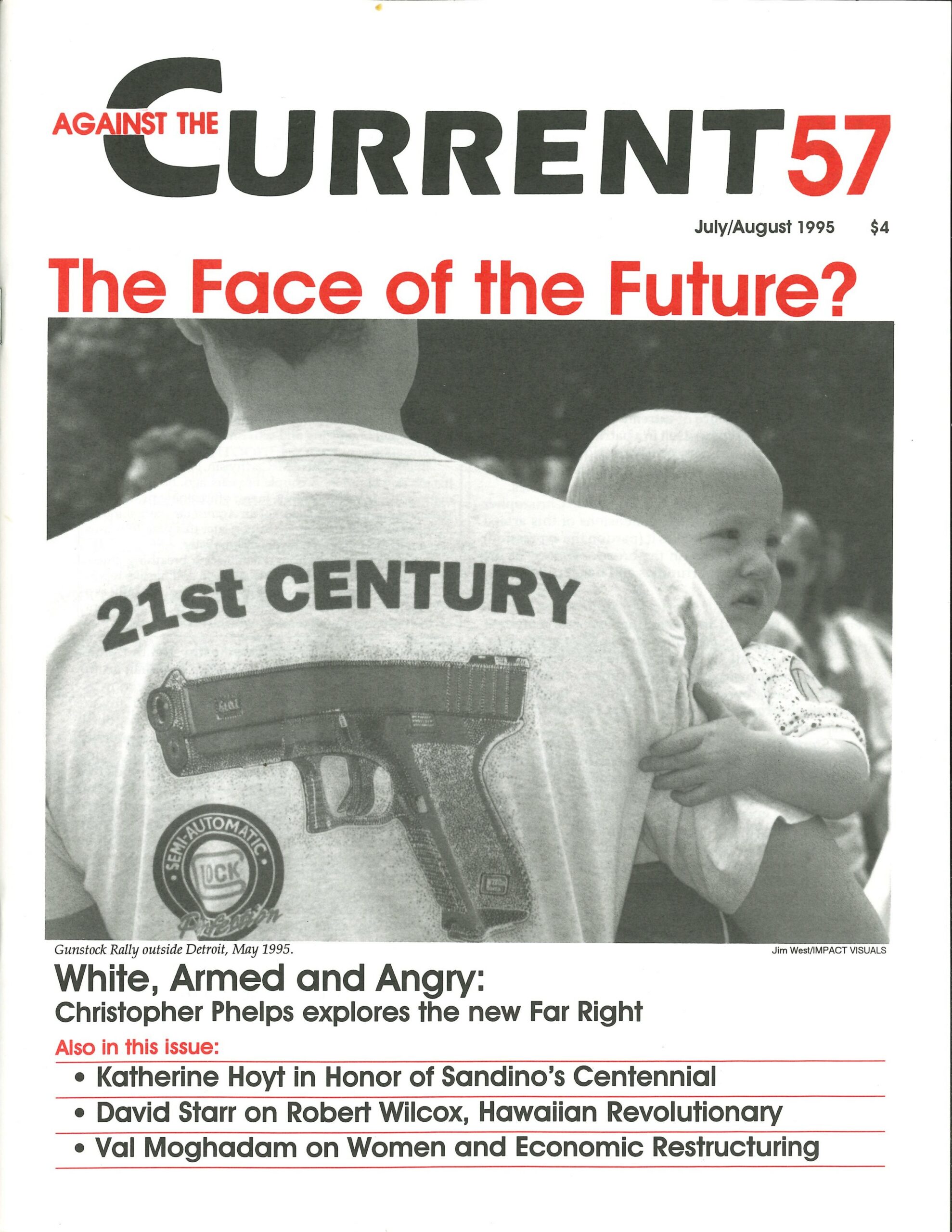 THE FIRST TIME I heard alto saxophonist Julius Hemphill was in the mid-seventies. He had released two of his best works: "Dogon AD" and "Coon Bidness." Both contained long (over 20 minute) compositions that were the centerpieces of the albums. Both records fused African and African American root musics with jazz.
"The Hard Blues" from the Coon Bidness album is the most potent of these. Its slow funky swing groove is punctuated at just the right moments by the dissonant blues melody of the horns. It is the kind of self-conscious work that is completely modern, but so rooted in the blues that it sounds like it could have been written at the turn of the century.
Pianist Don Pullen was yet another one of those players whom I am always touting: one whose musical palette reflects the belief that Dixieland, R&B, Bop, gospel and the avant-garde are all pointed toward the same goal. They just take different paths to get there.
I will always think of Pullen as one of the last graduates of the Charles Mingus inside-outside-last-orgy-before-the-apocalypse school of jazz improvisation. When the "regular" musical scale is too small and staid to express the volcanic emotions that sometimes well up inside, you just take as many steps beyond as you need to express yourself, all the time paying lavish praise to Ellington, Stravinsky and every storefront church band that ever broke a tambourine.
Full Spectrum Innovators
Within weeks of one another, Julius Hemphill and Don Pullen recently died, of kidney-related illness and lymphoma respectively. The sad coincidence of these untimely deaths makes comparisons inevitable.
Hemphill and Pullen did have some things in common — besides dying before age sixty, and being two more reminders of the short average life span of African- American males. (I am reminded of a great work by poet Kofi Natambu that calls the roll of Black jazz giants who left here early: Eric Dolphy, Charlie Parker, Clifford Brown, John Coltrane, Albert Ayler, Charlie Christian, Cannonball Adderley; all dead before fifty, and that's a partial list.)
Hemphill and Pullen also held parallel positions in the artistic world, as innovators who worked diligently to play the full spectrum of jazz, from the most traditional to the avant-garde.
Hemphill, a Texan who more than shouldered the mantle of the Southwest horn player, was born to the blues. His tone was big and he could swing a funky beat as well as any who drew breath. Indeed part of his career included "chitlin circuit" tours with Ike and Tina Turner.
But it was in St. Louis, where he joined the Black Artists Group, that he began to expand his vision and the jazz repertoire all at once. It was there that Hemphill encountered fellow alto player Oliver Lake. The two of them became long-term collaborators, and two-fourths of the seminal and often-imitated World Saxophone Quartet (with David Murray and Hammiett Bluiett).
The World Saxophone Quartet at once accepted and transcended the model of the European String quartet, in the same way that a jazz big band, even when playing highly orchestrated material, is different in fundamental ways from a symphony orchestra.
In the days before the Quartet, Hemphill and Lake toured as a sax duet. During a Q&A session before one of these concerts, many remarked on Hemphill's room-filling tone and how they had never heard the blend of two horns we experienced with the duet.
Hemphill and Lake took care to express themselves in a down-to-earth manner, to be responsive — and they came across as very regular people. It was easy to picture these cats playing at one of the local bars in my old neighborhood, even if their playing might have led some patrons to wonder what had been slipped into their drinks.
The last period of Julius Hemphill's life saw him finally beginning to get his due as a composer. This was due mostly to the efforts of Chicagoan Tim Berne, a younger alto player.
Berne released albums of mostly Hemphill work and was instrumental to the Julius Hemphill Quintet, which played Hemphill's music and was directed by Hemphill, who was by this time too ill to play himself. May his spirit continue to guide them.
Music of Love and Necessity
Though Don Pullen could swing with the best of them, he was not afraid to roll his fist and wrists on the keyboard, spilling clusters of notes on the floor like musical superballs. Pullen's career, like Hemphill's, reflects a diversity of playing styles brought on by love and necessity.
As a young player he took up the musics of the classic Art Tatum and Ornette Coleman, perhaps the pivotal figure in post-bop avant-garde. Pullen's early gigs were with Muhal Richard Abrams' Experimental Band out of Chicago, and with R&B giants Big Maybelle and Ruth Brown.
But while going through the list of his various bands — astounding duet work with percussionist Milford Graves, his years with Mingus, the stunning quartet he co-led with yet another prematurely departed artist, tenor saxophonist George Adams — will indicate Pullen's diversity, it can't really give you the sense of how great his playing really was, or even how big his ears were.
Give a listen to his live Montreux jazz recording, particularly the track "Malcolm (X) and Betty (Shabazz)." In that work we get the clusters of notes; we get the blues and the rhythm; we get the wonderful delicate sense of melody associated with Mingus and Tatum. You may also get some sense of that from his last recordings, also live at Montreux.
In his last days Don Pullen led the African Brazilian Connection. This band played fairly straight melodies with African-based rhythms. The presence of West African percussionist Mor Thiam was a great boon to the rhythm section. Clearly, though, Pullen was bringing all his talent to bear in leading that band.
The blues/jazz gospel melodies of all his previous experience flow and surge over and under the African rhythms, and are right at home with Thiam's vocals. In what was to be his last work, Don Pullen brought together the elements of all his homes, physical and spiritual. We hear culminations of much of what Pullen had created and absorbed but also, no doubt, new beginnings as well — never, tragically, to be consummated.
ATC 57, July-August 1995