Against the Current, No. 56, May/June 1995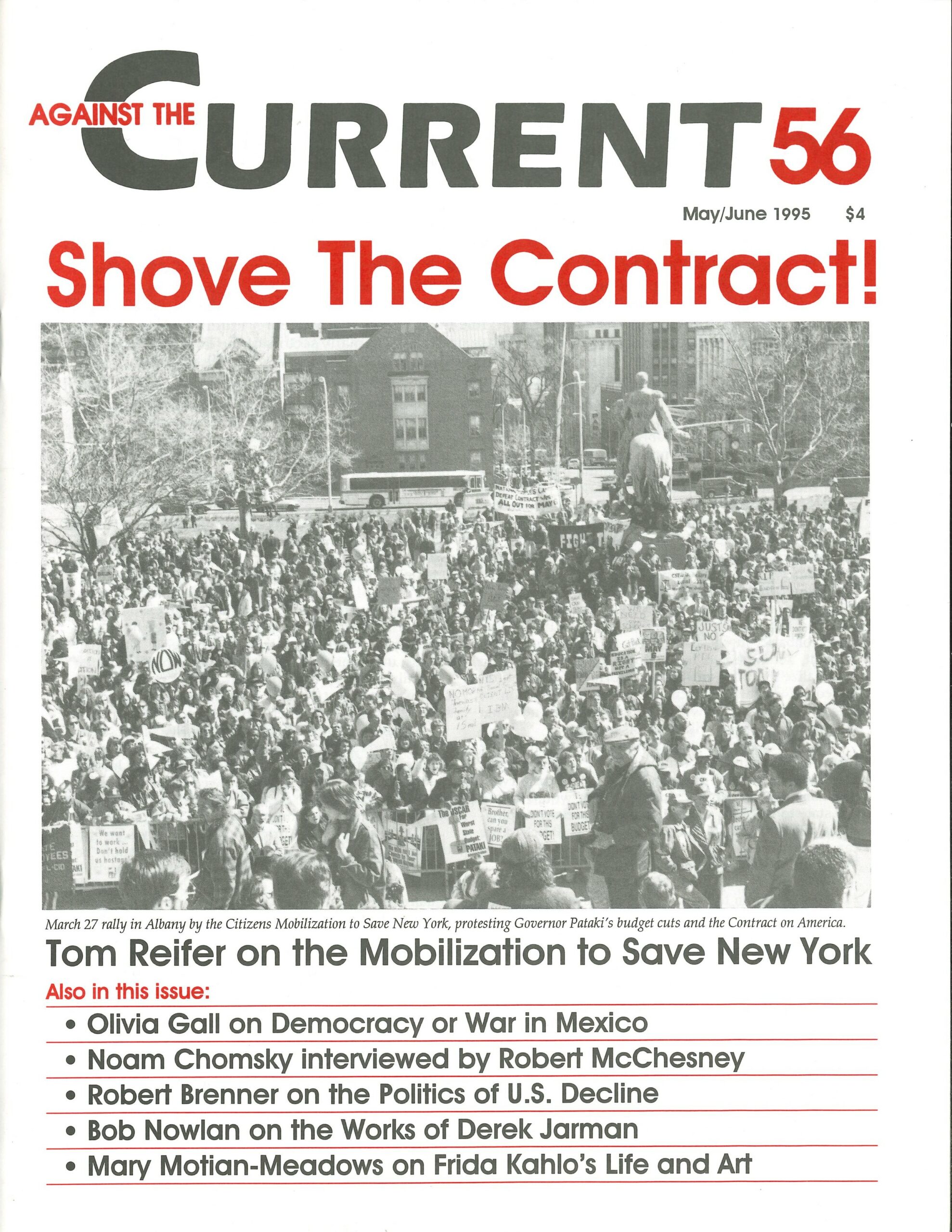 I remember Daddy praying
For a better way of life,
But I don't recall a change
Of any size.
Just a little loss of courage,
As their age began to show,
And more sadness
In my mama's hungry eyes.
–Merle Haggard, "Mama's Hungry Eyes"
I LIKE COUNTRY music. In radical circles, this isn't always easy to admit. Despite country's huge record sales and radio market share, nobody I know ever says they like country music. Scarcely anyone on the left writes about it. Call it fear of a redneck planet.
Granted, much of what's on the country charts sucks, sounding more like James Taylor and the Eagles than Hank and Loretta. A lot of today's country sounds like `70s style soft rock. Country music is by nature conservative and traditional, both musically and lyrically.
But like blues and rap, country is a music that's rooted in life as it is lived. In country music, folks don't always win or do what's best. Country music is speaking to a lot of people out there (Garth Brooks alone has sold upwards of 20 million records in the last couple of years), and it behooves us to pay attention to it.
A good place to start is with Merle Haggard. Infamous for his anti-hippie anthems "Okie from Muskogee" and "The Fightin' Side of Me," Haggard has also written some of the most bittersweet ballads and most tearful drinking songs this side of Hank Williams. In his early days, his honest and blunt songs about common people led some critics to compare him to Woody Guthrie — an exaggeration, for sure, but not without merit.
Haggard's songs are populated with working men who "can't get nowhere today," and folks who are proudly independent and skeptical of government intervention. "Give me all I got coming to me," says the narrator of "Big City." "You can keep your retirement and your so-called `social security,' Big City turn me loose and set me free."
Haggard also shows compassion for those who work hard but don't succeed. In "They're Tearing the Labor Camps Down," he laments the loss of a safety net for the unemployed. In "Sing Me Back Home," he grants a prisoner on death row a last request for a song.
From Dust Bowl to Tulare Dust
Haggard wrote his songs the hard way — he lived them. His family moved to Bakersfield, California in 1934 as Dust Bowl refugees from eastern Oklahoma. His mother was a devout churchgoer who discouraged her husband's fiddling and sought to raise her son a Christian. As he put it in "Mama Tried," "Despite all my Sunday learning, towards the bad I kept on turning, till Mama couldn't hold me anymore."
At 14, Haggard was sent to a juvenile home. He escaped the next day and over the next nine years he married, fathered four children and was in and out of jail for bad checks, armed robbery, auto theft and burglary. In 1957, he was caught trying to rob a Bakersfield bar while drunk and ended up doing nearly three years in San Quentin.
On release he worked as a laborer and sang at the numerous honky tonks that had made Bakersfield the Nashville of the West. He rose to fame with the song "All My Friends Are Going to Be Strangers" in 1964 but it wasn't until 1967 "I'm a Lonesome Fugitive" that he hit his stride as an artist and found his niche as spokesperson for the marginalized and the "silent majority."
Two recent tribute albums to Merle Haggard offer insight into both Haggard's music and to the state of today's country. The better of the two, "Tulare Dust: A Songwriter's Tribute to Merle Haggard" (Hightone Records) features fifteen of the best contemporary singer-songwriters performing some of Haggard's more working-class oriented songs. The album is produced by Tom Russell and Dave Alvin, two roots-rockers who have written a considerable body of songs dealing with work (check out Russell's "Road to Bayamon" and "Poor Man's Dream" and everything by Alvin and his former band, the Blasters).
Wistful-voiced Iris DeMent turns in a defiant "Big City," Lucinda Williams (another of our greatest songwriters) turns in a wrenching "You Won't Have Very Far to Go," and popster Marshall Crenshaw does a poignant "Silver Wings." In one of the album's many pleasant surprises, Barrence Whitfield, best known as a R&B screamer in the tradition of Little Richard, does a remarkably subdued but moving version of "Irma Jackson," Haggard's tale of interracial love (Haggard intended the song to be his follow-up to "Okie from Muskogee," but it was nixed by Capitol Records as a bad career move).
Unlike most tribute albums, where artists either try too hard to sound like the singer they are covering or else deconstruct the songs to the point of parody, there's not a bad song on "Tulare Dust." It features the best of country's outsiders, artists who (with the exception of Dwight Yoakam) don't work out of Nashville and don't make hit records for the line dance crowd or The Nashville Network.
By contrast, "Mama's Hungry Eyes: A Tribute to Merle Haggard" features some of the biggest names in country. A benefit for Second Harvest, a nationwide network of foodbanks, the disc features some fine songs but suffers from the country/rock crossover that plagues today's Nashville. Vince Gill seems more appropriate on a Dan Fogelberg tribute album, while Diamond Rio and Brooks and Dunn do refried southern rock thangs lifted from beer commercials.
On the other hand, Lorrie Morgan, normally a country-popster, does an uncharacteristically twangy "I Threw Away the Rose," and Alan Jackson, behind only Garth and Reba in popularity, does a soulful "Trying Not to Love You." The album's real gems come from two "old school" country performers, Willie Nelson and Emmylou Harris. Willie, who's shared some memorable duets and IRS woes with Haggard, does a perfect "Today I Started Loving You Again." Harris, who like Haggard has remained true to traditional country, provides the best song on the album with the title track, "Mama's Hungry Eyes."
"Mama's Hungry Eyes," probably Haggard's most class-conscious song — "As kids we were just too young to realize that another class of people put us somewhere just below" — tells the story of a family growing up in a labor camp where the hard life is reflected in mama's eyes.
Haggard captured the heartache and the struggle of the Depression-era camps; Harris' haunting voice gives the song a totally appropriate contemporary reading.
This spring, Razor and Tie Records will be releasing a "best of" Haggard compilation. Hopefully his late '60s albums, long out of print, will be reissued in the near future. In the meantime, "Tulare Dust" is the best introduction to Merle Haggard's songs and to some of the best singer-songwriters today, and Emmylou Harris and Willie Nelson shine on "Mama's Hungry Eyes."
ATC 56, May-June 1995