Against the Current, No. 55, March/April 1995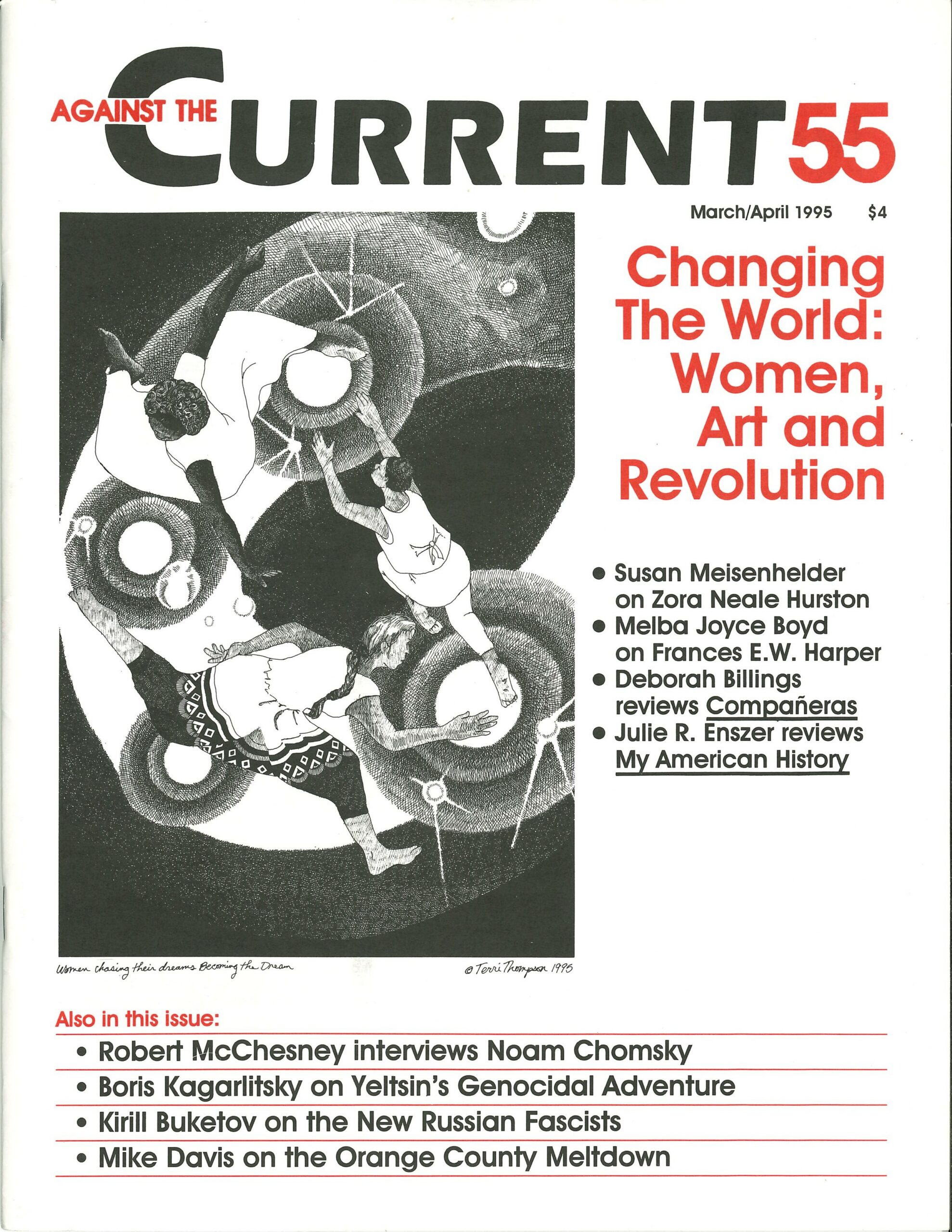 IN RESPONSE TO requests — well, expected requests — pouring in after that teasing biographical note inserted by the editor in our previous column, Random Shots presents the official recipe for Kampferian Pate du Bambi:
2 1/2 lbs. ground venison
1/2 ground deer liver
1 ground deer heart
1 lb. ground pork
6 cloves garlic, chopped
3 eggs
1/2 teaspoon ground allspice
1/3 cup cognac
1 tablespoon basil
3 tablespoons capers
1/2 cup stuffed green olives
salt & pepper to taste
Mix well and place in a good-sized, deep baking dish (preferably non-metallic), lined with strips of bacon. Lay more bacon on top. Bake at 325 for two hours. Cover with tin foil for first hour.Drain off most of the fat.Chill and slice thin. Serve with a good mustard.
If you don't have a deer in the freezer you can substitute veal, but it won't taste as good or gross out the timid.
Ultimate Sacrifices
HOW LONG WILL it be before Bill Clinton ditches Hilary to appease the reactionaries?
If they are going to have students pray in class, there's no way to prevent that Florida sect from sacrificing a chicken before finals.
They should move Lent to January, when everybody needs to lose weight anyway. (Kampfer usually gives up vegetables for Lent.)
Post-Christmas Flash
Israeli archaeologists have reconstructed fragments of a letter from Mary of Nazareth to her mother, which reads: "Joseph is pretty dumb, but nobody else is ever going to buy that story."
Houses of Newt
NEWT GINGRICH (WHO says that becoming Speaker of the House was his proudest moment since his parents' wedding) responded to criticism of his proposal for bringing back orphanages by suggesting that Hilary rent a video of "Boys' Town." How about "Oliver Twist," or even better, "The Boys of St. Vincent"?
Military Musings
GIVEN THE WAY NATO has performed in Bosnia, Marshall Zhukov must be sorry that he didn't take Europe in 1948. (Then again, considering the Soviet performance in Afghanistan and the Russians in Chechnya…)
In the former Yugoslavia, a cease-fire translates as "Time out to re-load."
Intergenerational Culture Wars
THEY SAY THAT more teenagers are smoking marijuana these days. So how come they can come with the price of a lid when we can't?
Back when disco patrons would open a conversation with "What's your sign?" we would say "What faction are you in?"
The Rolling Stones classic "You Can't Always Get What You Want" is a good song for a funeral, but not for a wedding.
A sequel to "Free Willy" is coming out next summer in which the Orca will be captured by the Mrs. Paul people. It will, inevitably, be called "Fry Willy."
The new H.R. Giger
NECRONOMICON calendar has some excellent art-work, but it's hard to make notes on black paper.
ATC 55, March-April 1995