Against the Current, No. 55, March/April 1995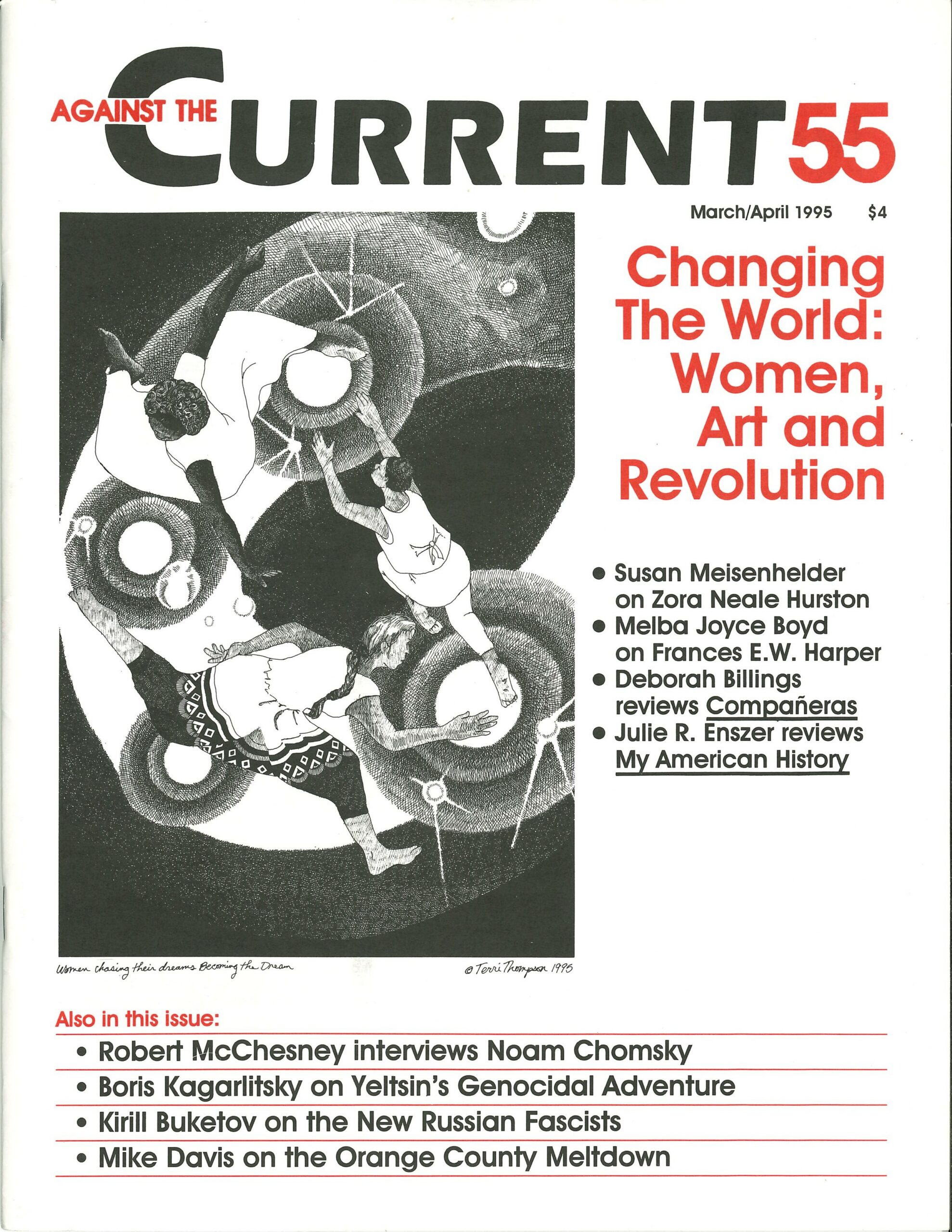 IF YOU DIDN'T know saxophonist James Carter, and you saw his young face beaming confidently, almost smugly, from the cover of his album, "J.C. on the Set" (DIW-Columbia, 1994), you might be inclined to believe he is yet another "young lion" hype of a faceless technician mouthing endless homilies to Charlie Parker's dirty drawers, playing music that was new fifty years ago while bringing nothing of his own voice to the instrument.
You would be wrong. We in Detroit have known for over a decade that there is something special in James Carter. He was one of the stars of instructor Donald Washington's truly amazing group of jazz musicians at Remus Robinson Middle School, "Bird-Trane-Sco-Now." Washington stressed the fundamentals, but also had the kids playing Sun Ra charts and exposed them to the likes of Roscoe Mitchell ("Sco") and other jazz explorers.
As the name of his old group suggests, one of the most important things about Carter's playing is that it provides yet more proof of the links between jazz old and new. That is evident with the first startling honk that opens the relentlessly swinging title tune of "J.C. on the Set."
This is not a young musician merely playing all the right notes to let everyone know that he reveres the classics. James Carter has his own voice, and it jumps off the record with the verve that made jazz the most popular dance music of the early-to-mid twentieth century.
Throughout, Carter moves effortlessly and unabashedly between the honking, jumping-good-time swing of Arnett Cobb or Gene Ammons and the sustained drive towards ecstasy of John Coltrane's last years. Check out his handling of Juan Tizol's African-Latin chestnut "Caravan."
This track is an object lesson in how to handle a classic. It begins slowly as an evocative a-rhythmical gathering of the instruments. Drummer Tani Tabbal caresses his cymbals as his long-time cohort, bassist Jaribu Shahid, plays with a bow. Carter's sax is sometimes barely audible, drifting, whining on the edge of a scream amid the tinkling of pianist Craig Taborn.
But soon the rhythm kicks in and Carter leads the quartet into one of the most rollicking versions of the song ever put to record. He uses to full capacity the big foggy sound of the baritone sax — yes, he overblows, and with gusto. He plays off the scale and all over the polyrhythms so ably provided by drummer Tabbal until there is not much left.
He is not afraid to stretch this tune to the limit, because he knows it has been around for years and he won't break it.
Are We Losing Our Voice?
The ability to take risks, especially in the search for individual voice, is something sorely missing in too many of today's so-called "young artists." It was once the hallmark of jazz, the most protean art music of this century.
But that was back in the days of jam or cutting sessions, where the young Miles Davis or the bebop creator Charlie Parker learned and burned and found themselves. That was before the advent of drum machines and record executives who were originally accountants and insurance people, who only want what sounds like the last and smoothest David Sanborn hit<197>and before the coronation of Wynton Marsalis.
While Marsalis rails against one form of the debasement and commercialization of jazz, he doesn't seem to mind all the "young lions play old music" packaging that has brought us more than a few hours of forgettable listening. Marsalis also wants the collective head of the already marginalized and belittled jazz avant-garde.
All jazz, of course, is maligned and belittled here in its country of birth. Jazz artists, like many other serious artists, are forced to compete — and to compete for crumbs. That is why it is so very important that all of the music, from Congo Square to the Art Ensemble of Chicago, be celebrated and encouraged.
His sizable (but not unique) talent has afforded Marsalis some great record deals, from which flow his sizable clout. He is a wise young man who has done much to promote certain types of relatively high quality, but very safe, playing. The saga of his Lincoln Center Jazz Orchestra (which must be told in its totality another time) perhaps epitomizes the best and worst of Marsalis' impact.
While The Lincoln Center project recognizes the contributions of some of this century's greats (Ellington, Parker, Monk and very select slices of Mingus and Coltrane), it also represents the high point of a long, anal-retentive march toward the pedigreed fossilization of jazz.
No purple wailing blues dissonance and strange melodies a la Ornette Coleman here; no screaming showers of notes or searches for transcendence a la late period Coltrane. Everyone is supposed to spend so much time worshipping a selective past that no one creates a future for this music that is built on change, on improvising in the moment.
I have already put too much on James Carter's shoulders, but I believe he could effect real change away from all that. Carter could represent the beginning of the end of the fierce battle being waged for the soul of this music.
On the one hand are the neoconservatives, jazz Republicans led by Wynton Marsalis and the vituperative critic Stanley Crouch. On the other are the likes of Julius Hemphill, one of the founding members of the trendsetting World Saxophone Quartet.
Carter has played with both and is likely to do so again. He is also a Detroiter who grew up with Tabbal, Shahid and guitarist A. Spencer Barefield. One of the things he has learned from them is how to find his own voice, in the full spectrum of what Joseph Jarman and the Art Ensemble of Chicago call "great Black music, ancient to the future."
ATC 55, March-April 1995