Against the Current, No. 55, March/April 1995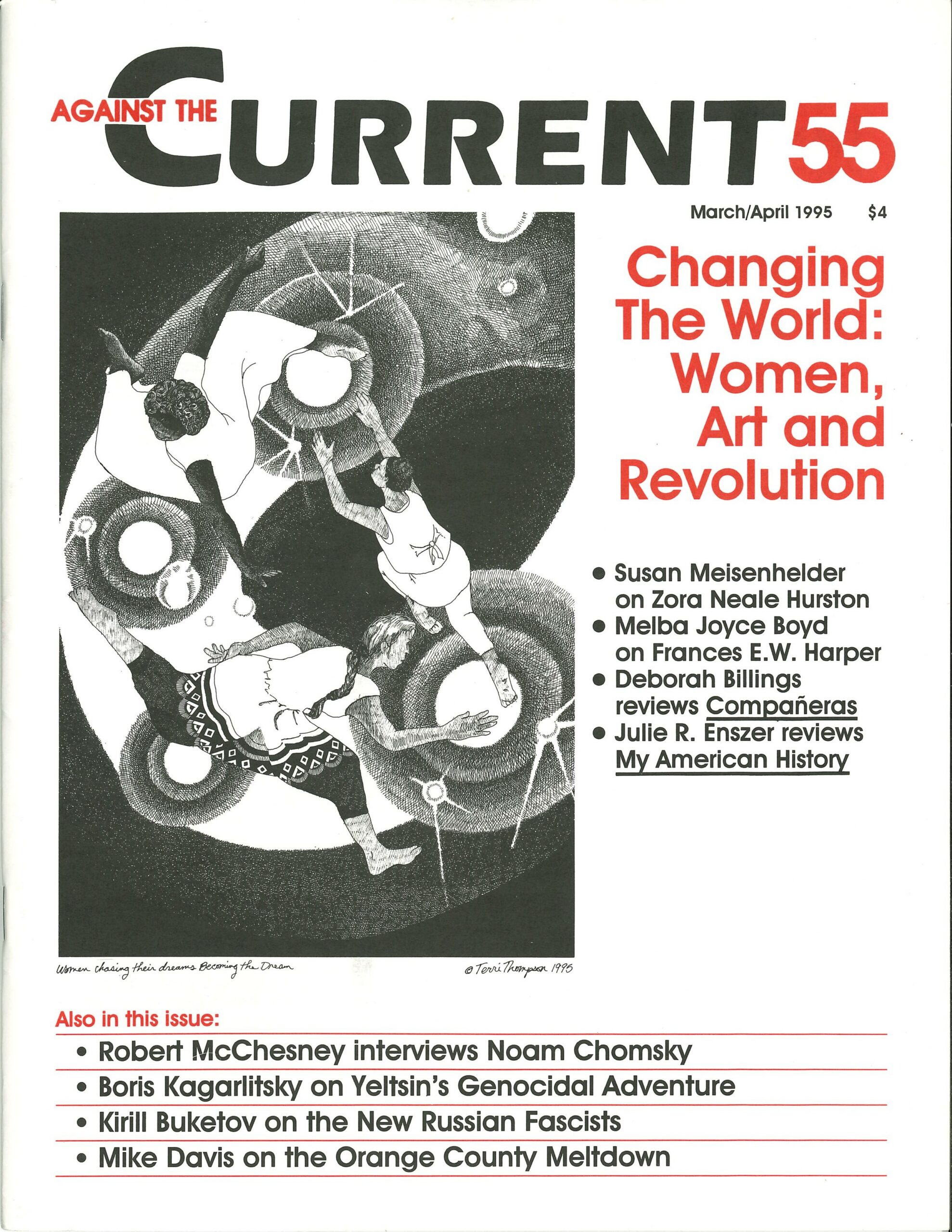 WITH FINANCIAL WRECKAGE strewn across 187 municipalities and school districts, the collapse of Orange County's mad investment pyramid may yet prove to be the most socially destabilizing of Southern California's recent chain of human and natural disasters. Yet the bond debacle — now estimated at $3 billion (or 40% of the principal) — might have been averted if county and federal officials had paid heed to earlier warnings from local Latino leaders.
According to Art Montez — state director of urban affairs for the League of United Latin-American Citizens (LULAC) — his organization had alerted the Orange County Grand Jury in early 1993 to sweeping abuses by the Board of Supervisors, including systematic violations of the Brown Act (prohibiting secret meetings) and the 1967 Voting Rights Act.
LULAC charged that minorities were routinely excluded from key ommissions and judicial appointments, while an "invisible government" of billionaire developers and Republican contributors enjoyed unlimited behind-the-scenes access to the county executive. In the absence of effective public oversight, they warned that supervisorial power was careening out-of-control toward inevitable disaster.
When the Grand Jury chose to ignore these allegations (preferring, instead, to launch a scurrilous inquisition into the "costs of immigration"), LULAC appealed to the Clinton administration. The 25-count complaint to the U.S. Commission on Civil Rights, which it filed in July 1993 (and amended in October), reiterated charges that the supervisors were refusing to appoint Latinos — nearly a quarter of the local population — to the boards of the Orange County Transportation Authority and other influential commissions.
LULAC also protested the widespread misuse of state and federal funds. Orange County cities, for example, zealously accumulated federal housing subsidies but refused to spend them, as mandated, upon low-cost units. Instead they imposed housing-occupancy limits to restrict their rapidly growing minority populations.
Although LULAC's complaints did not focus specifically on the County's spiraling bond portfolio of Treasurer-Tax Collector Robert Citron's addiction to playing Russian roulette with interest rates, Montez insists that "lifting the veil of secrecy from county government, as we demanded successively of the Grand Jury and the Justice Department, inevitably would have exposed the supervisor's shell game with the investment pool. Perhaps we could have driven the money-changers from the temple, before they brought the temple crashing down on ordinary citizens' heads."
For its part, the Commission on Civil Rights continues to procrastinate on the LULAC complaints.
The Golden Triangle
Meanwhile, the self-righteous caterwauling of the supervisors can probably be heard on the moon. Even as they begin to viciously slash county services, they continue the lament that they are the principal victims of the catastrophe: good-hearted bumpkins who just couldn't tell a derivative from a donut.
Aside from hanging Citron, the most profound proposal to come from the board is the "reform" of making the county treasurer a non-elected office. In tribute to their good judgment, in other words, the supervisors want the right to appoint Citron's successors.
It is becoming clearer, however, that Citron was merely the indispensable technician in a largely secretive triangle of power that linked Wall street (above all, Merrill Lynch) with Orange County's visible and invisible governments. To mutilate a metaphor, the triangle was based on Citron's almost occult skill in squaring an impossible circle.
The five supervisors, despite their virtually feudal powers, face relentless pressure to appease contradictory fiscal demands from two core constituencies.
On the one hand, the major land developers and theme-park operators — like the Irvine Company and Disney — are demanding higher levels of public investment to leverage their expansion projects as well as to reduce the freeway gridlock that currently threatens to suffocate all growth in the county.
This regional corporate agenda translates into billions of dollars of bonds for an expensive facelift of the Disneyland periphery as well as additional parking structures for the Magic Kingdom, plus a new Rams' stadium (now minus the Rams), three landscape-devouring tollways, and conversion of the former Marine Air Station at El Toro into a second commercial airport.
On the other hand, thousands of wealthy homeowners and Republican voters — especially in the gilded suburbs and beachtowns south of the Costa Mesa Freeway — still have portraits of Howard Jarvis hanging over their mantels. In this conservative utopia, it would be instant political suicide for supervisors to attempt to raise property or business taxes.
In the past, some of the funds for infrastructure expansion have been smuggled in from Washington, or diverted, as LULAC has alleged, from setasides for the poor. But the most effective strategy for increasing capital spending without taxing the rich has been Citron's government-by-Ponzi scheme.
Since the late 1980s he regularly gambled and won as much as $800 million each year for pool participants. Moreover, as recession eroded county-wide property values for the first time in a generation, Citron's earnings from speculative repurchase agreements became indispensable to the county's operation.
Between 1982-83 and 1983-84, the income from interest-bearing investments soared from 3% to 35% of the budget, while property tax percentage fell from 60% to 25%. To his many admirers, the Treasurer-Tax Collector — king of the highrollers — seemed able to walk on water.
His exploits, however, strictly depended upon his synchronized political support in Sacramento and Santa Ana. To gamble in the derivative markets, for example, Citron needed a path cleared through the thicket of state laws governing municipal investment.
Accordingly, State Senator Marian Bergeson of Newport Beach (now County Supervisor elect) — supported by other Orange County legislators — steered one deregulatory bill after another through her Local Government Committee. When auditors expressed qualms (in 1986 and 1993) about the dangerous accumulation of loans on top of loans, their reports were promptly suppressed by county officials.
Likewise, when Citron's opponent in the 1994 primary explicitly warned that the over-leveraged county portfolio was headed for a crash, he was immediately denounced by supervisors and other pool participants. District Attorney Michael Caprizzi stubbornly buried his head in the and.
As long as it lasted, Citron's pyramid scheme kept the champagne glasses full: Disney and the mega-developers got their bond issues, wealthy suburbanites kept their tax breaks, the supervisors waxed in power, while Wall Street savored the fat fees and commissions.
The FBI and SEC have yet to determine if Citron committed fraud or whether the special relationship between the county and Merrill Lynch — lubricated by the steady flow of campaign contributions and personal gifts — was technically a criminal conspiracy. It is unclear, moreover, whether state or federal authorities actually have the political courage to fully unmask the secret life of the Board of Supervisors. As Montez and other critics point out, the Clinton administration has shown surprisingly little interest in exposing a potential Republican "Whitewater" in Orange County.
Shifting the Burden
In the meantime, dozens of mortally wounded cities, school districts and water agencies are on the brink of following county government into open bankruptcy. It is far too early to tell how many dominoes may ultimately fall, or what the medium-term impact will be upon Orange County's sputtering economy.
Governor Wilson, however, has made it icily clear that the state will not rescue floundering municipalities or bail out supervisors' big-ticket projects. The county, in other words, is being ordered to amputate its damaged limbs, without any anaesthetic from Sacramento.
For some right-wing ideologues, this is a millennial opportunity to literally privatize government out of existence. The ultra-conservative Orange County Register, for example, wants "to reinvent county government" by contracting-out jails and fire protection, as well as drastically slashing traditional services. The influential local chapter of Perot's United We Stand America insists upon a 20% cut in county operations to prevent any hike in fees or taxes. Many homeowner associations have avidly embraced this no-tax increase, minimum-service position.
It is interesting, however, that the Register, while advocating the virtual abolition of local government, has refrained from attacking the huge capital programs deemed essential by the county growth machine.
This suggests the possibility of a sinister united front between developers, homeowners and erstwhile libertarians. In this scenario, infrastructure spending and low taxes would be reconciled, not by financial alchemy, but by a comprehensive attack on public employees, whose job would be privatized, downgraded, or totally eliminated.
Simultaneously, county recreation, library, welfare, jail and health-care budgets would be drastically reduced, with most of the impact falling upon the working poor in north county, especially in the huge Anaheim- Santa Ana "super-barrio."
Supervisor-elect Bergeson — Orange County's Margaret Thatcher — has already expressed her enthusiasm for contracting out major county mandates, while conservative Jarvis and Perot populists might provide the electoral majority for draconian service cuts.
Forcing public education to absorb staggering losses, on the other hand, would be far less popular, since wealthy school districts in Irvine, Newport Beach and Saddleback Valley have the most exposed portfolios. Conservative school boards are ironically looking to the Democrats in Sacramento as their chief allies (against Governor Wilson) in organizing a financial bailout for county schools.
The Orange County's ultimate survival strategy, therefore, may be a ruthless triage that lets the state rescue the schools and the supervisors save their capital programs, while public employees and low-income neighborhoods are allowed to drown in the red ink. This, at least, is how it looks to LULAC's Art Montez, who sees "a concerted effort to shift the burden of the crisis onto county workers and their service constituents, while the secretive, autocratic power structure that created the fiasco is allowed to remain in place."
Montez openly worries, moreover, that, as Orange County begins to feel the brutal impact of its financial losses, it could turn into a crab-grass Weimar. He predicts that the same bigots from Yorba Linda and Costa Mesa who crafted Proposition 187 will now make Latinos the scapegoats for the crash.
"This county is like a miniature version of Germany in the 1920s and we are the Jews. Last year the Grand Jury blamed immigrants for traffic congestion and smog. The next, almost inevitable, step is to advocate deportations and full-scale ethnic cleansing."
His alternative is a populist uprising, led by unions and community groups, that focuses grassroots wrath on the real culprits. LULAC wants a clean sweep of county government: resignation of the supervisors, an end to government-in-secret, full compliance with the Voting Rights Act, a critical review of the county's capital budget, a thorough federal probe into the Citron scandal and RICO (racketeering) indictments against possible conspirators. "Let's begin by admitting the truth: Orange County — the Republican showcase — is a moral and political disaster area."
ATC 55, March-April 1995