Against the Current, No. 54, January/February 1995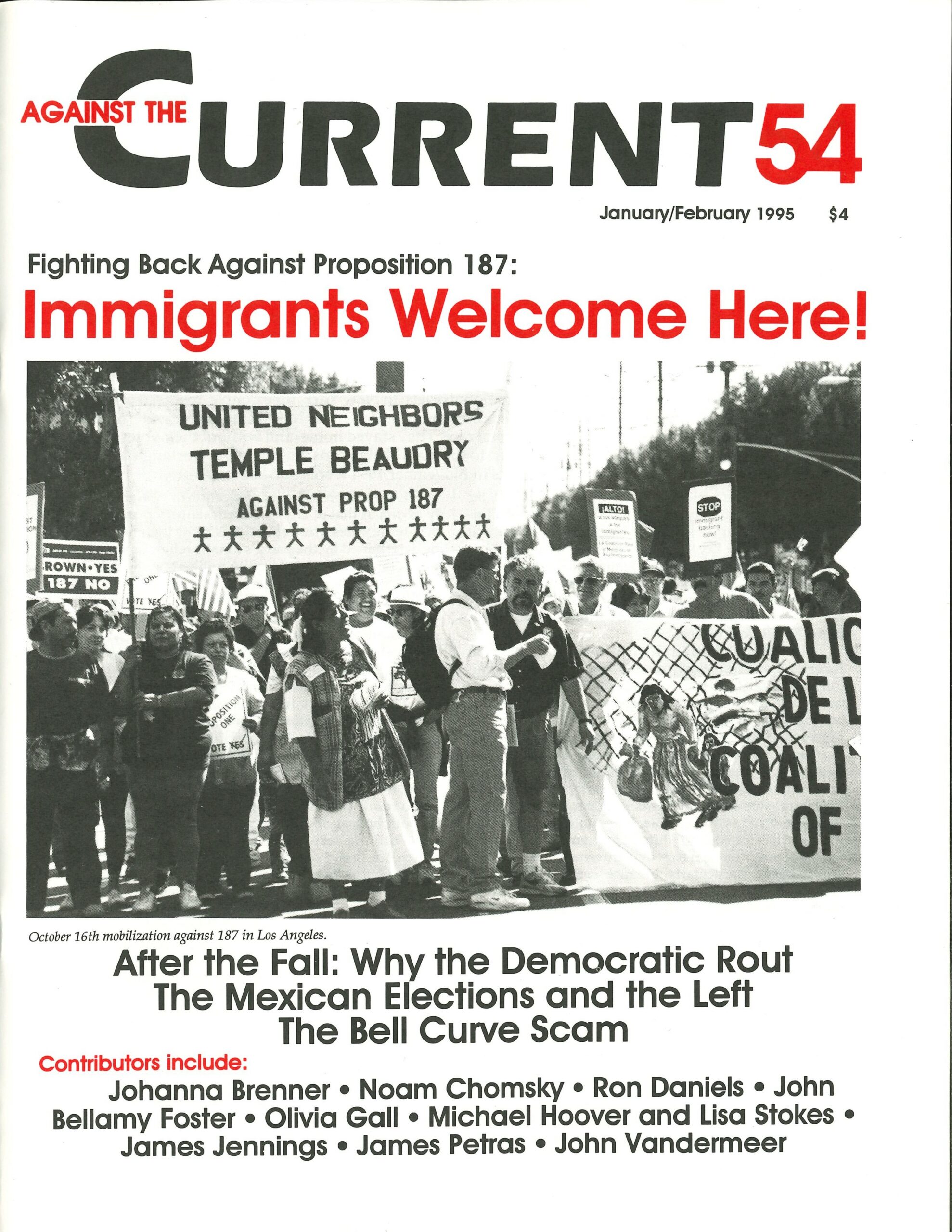 WHILE IN THE Czech Republic in January 1994, Bill Clinton visited a Prague nightclub with Vaclav Havel. Havel, a fan of the late Frank Zappa, presented Clinton with a gift saxophone. Clinton climbed on stage and jammed with the band, running through the standards "Summertime" and "My Funny Valentine."
This Czech jam session was released on CD as The Pres Blows. How's it sound? The Daybreak Mailorder catalog describes it as coming from the Lester Young (the real "Prez") school of saxophone: "He tosses in a Sonny Rollins lick here and there, reaches for some high notes, slurs a few blue notes, and when his ideas run out he resorts to machine-gun tonguing." Substitute George Bush for Sonny Rollins and you have a decent characterization of both Clinton's playing and his presidential style.
Clinton's campaign theme song contained the line "Yesterday's gone, yesterday's gone," but his presidency has failed to produce anything new politically or musically. So far, the Clinton years have lacked the musical opposition that flourished during the Reagan-Bush years.
The polemics of peace movement folksingers and womyn's musicians have failed to break out of their niches. The revolutionary potential of rap and reggae has been largely blunted by the misdirected rage and misogyny of gangsta rap and gun songs. Hardcore, which produced such important groups as the Minutemen, Millions of Dead Cops and the Dead Kennedys, has gone out of style. Its trappings — loud, thrashy noise and mosh pits — have been usurped by reactionary metal bands and the much hyped grunge sound.
Despite producing some great bands — Nirvana, Mudhoney, Hole — grunge never produced the revolutionary or iconoclastic movement that punk was in the late `70s. As Daniel Clowes writes in his comic Eightball (Issue 15, April 1994):
"It is a culture of contrived contrariness…. We have directed our rebellion inward,seeking to provoke pity, disgust and regret in our parents rather than the fear of patricidal upheaval sought by previous 'counter-cultures'…. Unlike those previous counter-cultures, we are not a rejection of what came before, but a toothless hybrid, removing the basically serious intent from the movements of the late `60s and late `70s and emerging with what amounts to little more than a fashion trend."
Politics and Music in the '90s
But here I'll present a few bands and artists whose work is hardly toothless. Since much has already been written about the politics of rap and the "Riot Grrrl" movement in alternative rock, for this article I'll leave out these genres.
Consolidated is a trio that describes itself as "he hardest, liberal, vegetarian, pro-choice, lesbian- and gay-supporting motherfuckers from San Francisco." Their recordings are collages of TV news samples, hip hop beats, harsh industrial noise and raps that are more rhyming text than lyrics. Consolidated makes music which confronts the contradiction of rock and roll as rebellion and commodity, the oppression of women, and the politics of meat. The band doesn't make apologies for being privileged white male heterosexuals; they acknowledge their position and offer their support to those who are oppressed.
Their latest release, Business of Punishment, is solidly in the Andrea Dworkin camp of sexual politics, but unlike many campers, Consolidated makes it clear they don't have all the answers. A feature of their live shows is an open mike session where the audience can criticize the band and make political points. Some of the more outrageous attacks on the band appear on their CDs.
While Consolidated makes music about the politics of sex, the punk-pop band Pansy Division make music about sex itself. Their album deflowered gives new meaning to the term "cock rock." A celebration of gay sex, with songs like "Groovy Underwear" and "Rachbottomoff," Pansy Division make music that both rocks and subverts the new puritanism. Like the Ramones or the Buzzcocks, the music is fast, catchy and funny — exactly what rock and roll is all about.
North Carolina guitar maniac Eugene Chadbourne is another artist making political music and having a good time doing it. Since the `70s, Chadbourne has released dozens of self-produced records and cassettes and appeared on scores of albums. Like Frank Zappa, he has a goofy sense of humor, distrust of authority and a hatred of censorship.
Unlike Zappa, he's pro-pot, highly unpredictable, and assails U.S. foreign and domestic policy in songs like "Desert Storm Chewing Gum" and "10 Most Wanted List." He also plays the electric lawn rake.
Michael Hill's Blues Mob plays Chicago-style blues for the nineties — loud, with a rock edge and social consciousness. Like Donald Kinsey and the Kinsey Report and Living Colour, the Blues Mob tackle issues like racism (as on "Evil in the Air," about Howard Beach) and war ("Soldier's Blues" — "the American Dream is just hoping you make it out alive") while not forgetting goodtime grooves like "Righteous Love." At times the Blues Mob gets a little preachy, but overall they succeed at returning the blues to the experiences that spawned it.
Ani Difranco's constant touring in the United States and Canada makes her one of the hardest-working performers in music these days. Not really falling into any of the labels of modern folk music — fast folk, singer/songwriter/anti-folk, womyn's music — Difranco is an uncompromising writer whose autobiographical work borrows from punk attitude and feminist consciousness. Her lyrics are blunt and funny, taking on love, conformity and the business world as she does in the song "Blood in the Boardroom" – "these businessmen got the money/they got the instruments of death /but I can make life I can make breath."
North American/Latin American ensembles like Sabia, Huayucaltia and Flor de Caña played an important part in entertaining and raising consciousness and money for Central American solidarity activists during the 1980s. Rosi and Brian Amador of Flor de Caña have a new band Sol y Canto, which continues to make music blending Latin American and Caribbean rhythms with the political music known as neuva canción. Their debut release, Sancocho, features music from Spain, Columbia, Venezuela and Mexico as well as their own compositions.
In her poem "My IQ," Ani Difranco writes that she sings "sometimes for the war that I fight cause every tool is a weapon if you hold it right." The music of these artists provides us with tools for education and entertainment as we struggle through the Clinton years.
Selected Discography
Consolidated: friendly fa$cism (Nettwerk); Business of Punishment (London)
Pansy Division: deflowered (Lookout! Records)
Michael Hill's Blues Mob: Bloodlines (Alligator)
Ani Difranco: Out of Range and Puddle Dive (Righteous Babe Records; available from the label at P.O. Box 95, Ellicott Station, Buffalo, NY 14205)
Sol y Canto: Sancocho (Rounder)
ATC 54, January-February 1995