Against the Current, No. 54, January/February 1995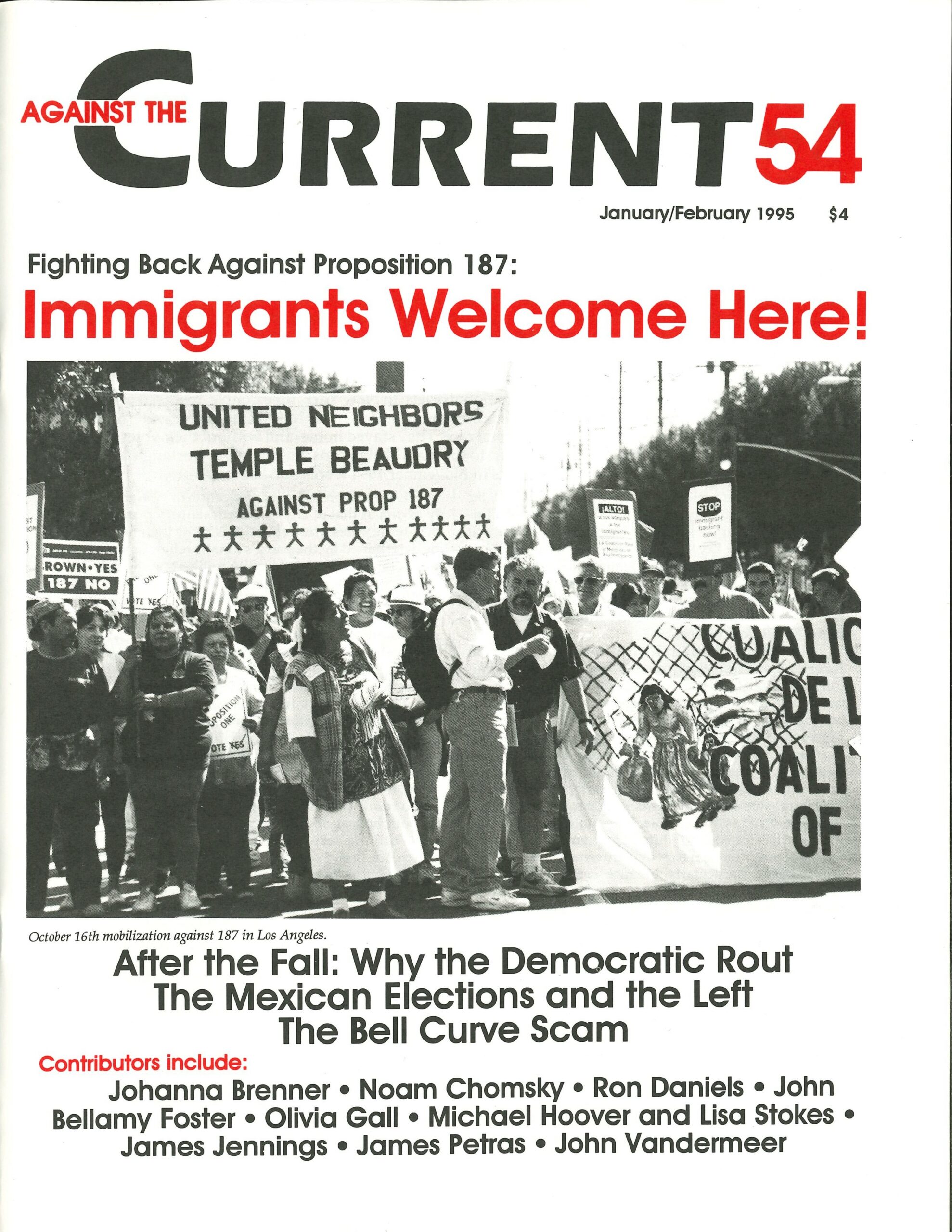 ONCE UPON A time, in a land far away, Orlando, Florida city limits signs read "Orlando: The City Beautiful." More recently, the signs described Orlando as a "water conscious community." In 1992, the signs were changed again to proclaim, "Orlando: America's First City of Light."(1)
In a 1991 visit to Walt Disney World, George Bush issued a challenge for communities to become "points of light." Orlando accepted the challenge. As former Orlando City of Light director Jacob Stuart tells it, "No other city can claim it, because we claimed it. Another city could have done it, but they didn't do it. We did it.(2)
On June 11, 1992, City of Light Incorporated, co-chaired by then Orlando Mayor Bill Frederick and Walt Disney Attractions Chairman Dick Nunis, held its first City of Light Celebration. Fifteen hundred people paid $150.00 each to spend the day learning how to volunteer. Said participant Lorraine Lax, "It's a Woodstock of the '90s, drug free."
Dislando is a formless post-urban mass in Central Florida that stretches from Cape Kennedy to Disney World — a lifespace of theme parks and shopping malls. Dislando has no clear boundaries; a collage of contending rural, urban and suburban elements, it includes Disney World and other theme parks; Ron Jon's Surf Shop, a space coast landmark; the exclusive Heathrow development; Flea World, a large open-air market and fair; and Kissimmee Olde Towne, a weekend gathering spot for `50s car parades and shopping.
Further defying boundaries is the information highway, so far defined by Time Warner's interactive cable test market and AAA's computerized smart cars, which provide immediate traffic and navigation information to drivers.
Dislando is an abstract mosaic of corporate-sponsored, commercial projects. Consequently, it lacks any recognizable center to give meaning to the whole. Major civic institutions are scattered at random over an undifferentiated space. As Robert Fishman notes, "Even planned developments can be no more than fragments in a fragmented environment."(3)
Dislando's beginnings date back to November, 1965 when Walt Disney announced the purchase of 27,433 acres in Central Florida, larger than the island of Manhattan. Today Disney World has become the most popular tourist attraction in the world, drawing over 30 million people a year; and metropolitan Orlando, with over 80,000 hotel rooms, exemplifies what Sharon Zukin calls "hotel civilization" — "an imaginary landscape, a prototype design for a collective life based on domestic consumption."(4)
"Come to Orange County, it's no place like home" — where the Mystery Fun House meets Terror on Church Street at the Florida Mall. In this environment, residents are indistinguishable from tourists. Both assume a tourist gaze, temporary and superficial, in an ongoing series of visual and commercial consumption.
While travelers drove their cars to Disneyland in the 1950s and 1960s, today they fly to Disney World. The Orlando International Airport allows visitors to begin their Disney vacation at the moment their plane touches the ground.
Like Disney, the airport is based upon state of the art technologies and relies upon technocratic solutions to problems. A system of monorails and people movers imitates the Disney mode of transportation. Underground tunnels with sound effects and wall murals depicting Florida scenes link the main terminal with parking garages.
Much as the Disney theme park recreates landscapes from other places and times, the airport copies Florida's environment — sunlight, palm trees, hotel rooms, and malls. The new Delta Airlines terminal combines a large skylit atrium with a Hyatt Hotel and shopping mall with national retail chains.
Like Disney, the Delta terminal provides not simply accommodations and shopping, but a social experience for (in Alladi Venkatesh's phrase) the "metaconsumer" who is an "active participant in participant in the shopping spectacle."(5)
According to Carolyn Fennell, spokesperson for the Greater Orlando Aviation Authority, "the desire was that the airport would serve as a gateway to a community." But community has become a commercial venture. And if a proposed high-tech bullet train linking the airport to Disney is realized, visitors will never see the actual city of Orlando.
Disneyfication is a term that describes the attempt to make an urban environment like Disney — clean, safe, entertaining, and distracting. As David Harvey suggests, "Cities desire to create a positive and high quality image of place as a means to attract capital and people of the right sort."(6) Commercial developments like Harbor Place in Baltimore, Riverwalk in San Antonio and Southport in New York City, among others, all show the influence of Disneyfication.
Orlando, Florida appears to be a city replicating Disney. A Time cover story reported, "This is a city where they vacuum the streets at night and disinfect the public telephones with lysol, where the airport has a moat with live alligators in it, where you can buy your hubcaps at Hubcap World"(7)
Poverty Amidst Glitter
This accelerated commercial city has emerged as islands of glittering structures in the midst of decaying public services and deteriorating living conditions for the poor. Construction of first-class office complexes, luxury housing, and tourist attractions shortchanges affordable housing, small business, and community-based industries. Policy makers and developers insure the development of two cities — one for the haves and one for the have-nots.
A downtown feature is Church Street Station, a turn of the twentieth century Orlando that never was. A renovated warehouse district, Church Street has become a gallery of shops, theme bars, and licensed street vendors and performers. For amusement visitors and downtown patrons can select from a Western saloon, an Irish pub, a riverboat restaurant or a dixieland ragtime emporium.
Collapsing space and time, this is a social environment of surfaces that can be purchased. Cultural complexity is reduced to appearances similar to the equi-important images that move across television screens. Interweaving different worlds of commodities packages marginal differences while concealing any traces of origin.
Also downtown, the Lake Eola Park fountain has served as the city's most prominent landmark since the 1950s. In the past several years, the park has been disneyfied. In 1988 the Disney Company offered the city a deal — to build a homeless shelter or a bandshell. The city opted for a bandshell, a decision that reflects the city's interest in image-building.
In the process Lake Eola Park, long a resting place for transients, has been transformed into a disney environment, without people sleeping on the benches or begging for food. Instead there are sculptures of squirrels and birds that sit atop iron planters and piped-in music.
A recently completed multi-million dollar expansion project includes a bridge with international food court spanning a portion of the lake. The city has now opened a homeless shelter called the "campus" in a less frequented section of town. Even homelessness has been disneyfied.
"Disney sets the tone for everything in Orlando," according to Pat Williams, general manager of the Orlando Magic, the city's professional basketball franchise. The Magic play their home games in a facility that was built before the team existed and whose construction required the relocation of almost 200 households and the displacement of principally African-American residents of an established neighborhood.
This "conversion of the city's undervalued margins into leisure-time places,"(8) Orlando Arena was a personal project of former mayor Bill Frederick, financed with public monies, and designed to put Orlando on the map. Sometimes dreams really do come true.
Edifice and Artifice
Consider the Sun Bank building, the tallest structure in downtown Orlando. Its design symbolizes the new power and self-confidence of the city. An integral part of the local power structure, the bank played a significant role in bringing military contractor Martin Marietta and the Disney Corporation to Central Florida.
Following Disney World's opening, Sun Bank had to hire thirty extra people simply to count the money Disney deposited each day. Built upon the site of a popular city park, Sun Bank agreed to maintain public space. The result was a people-unfriendly lawn occasionally used by a hired croquet team. Most of the time, the space remains empty: "The architectural privatization of physical public activities disciplines their spontaneity."(9)
City Hall is another new building downtown (the old city hall was imploded in the film Lethal Weapon 3). In dedicating the new $36 million dollar facility, then mayor Bill Frederick remarked to the gathered crowd, "It's your house…(It's a) symbolic statement. It stands as a statement of what our community is about."
And what is this statement? Business and spectacle. Looking like the spaceship in "Close Encounters of the Third Kind," City Hall reflects the surface power of public authority that has appropriated the private sector's commercialization of everything. The city plans to recoup building costs by collecting monies through renting space at a planned office tower on city land near the site.
At City Hall a $2-million plaza includes an arched fountain intended to resemble a rainstorm. Plans to install a putting green and a back porch at City Hall have been postponed, but the bronzed-domed roof was made to look like a soccer ball for the World Cup matches that came to town in 1994.
Another feature of the City Hall plaza is its 460 thousand dollar 60 foot glass and steel structure called the Tower of Light. "It looks like it belongs at Disney," observed one downtown employee. The plaque at its base reflects the sanitized and selective version of history that Stephen Fjellman calls "distory:" a sanitized and selective version of history.(10) It reads: "Tower of Light/April 25, 1992/This tower is dedicated to the citizens of Orlando whose volunteerism inspired President Bush to designate Orlando as America's First City of Light. This structure stands as a symbol of a community that cares for one another."
Although the former president made his "points of light" speech at Disney World, he never selected Orlando as the first-city of light. And despite claims that City Hall will serve as a gathering place and a rallying point for citizens, the edifice is an artifice. Absence of shade and the expanse of concrete is uninviting in the hot Florida sun, and the smoked glass windows and the authoritarian facade of the building work to keep the inside in and the outside out.
Dislando presents a decontextualized post-urban space, which — together with a mixture of elite paternalism and aggressive boosterism in local government — attempts to efface contradictions. Like television and advertising, Dislando tries to sell itself while blurring the real and the imaginary. As Mark Poster suggests, this promises a "new level of self-constitution, one beyond the rigidities and restraints of fixed identities, but also makes possible the subordination of the individual to manipulative communications practices."(11)
If Dislando is indicative of future directions, the possibilities for self construction are many but superficial, defined by corporate constraints and conformity. A disneyfied world of commodities works to hide labor processes and social relations of production, further deepening the alienation of individuals and the undermining of community values. With its smiling faces and programmed format, Dislando resembles what Bertram Gross first called "friendly fascism."
Notes
ATC 54, January-February 1995