Against the Current, No. 51, July/August 1994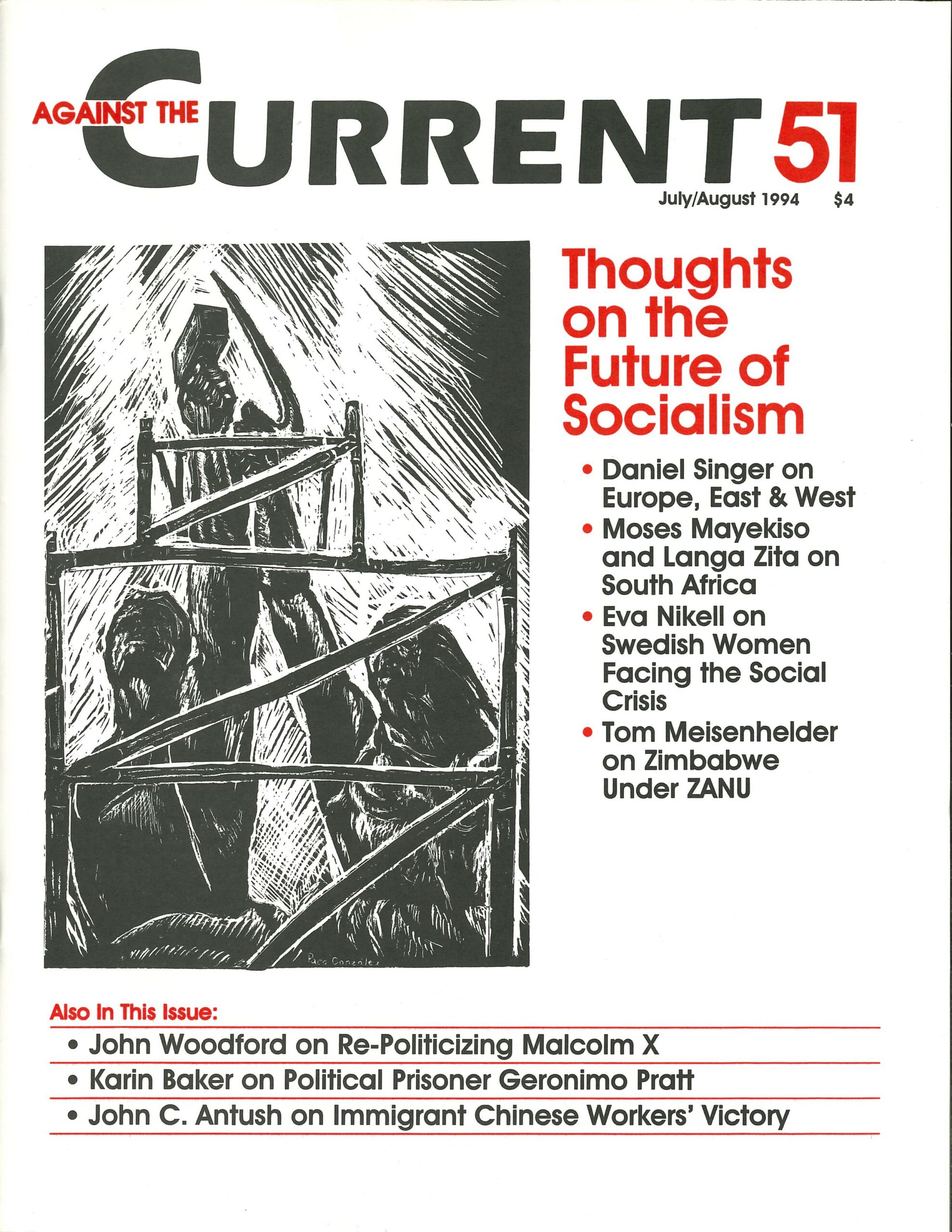 GERONIMO JIJAGA PRATT has been in jail since 1971. Jurors from his trial for murder in 1972 now say Pratt would not have been convicted if critical evidence had not been withheld from them. An ex-FBI agent, who was with the Bureau for twenty-five years, has said, "Pratt was set up." A prison psychologist repeatedly described him as a principled individual, not a danger to society, yet he has been denied parole twelve times. What is the story?
"A Revolutionary Man"
Pratt, a former Black Panther Party (BPP) leader, remains in jail because of his politics. Although convicted of theft and murder, at one of his many parole hearings it was stated that in Pratt "we still have a revolutionary man." He is also undoubtedly being held because those who run the "justice" system can't bring themselves to admit that Geronimo Ji Jaga Pratt has been incarcerated for twenty-three years for his political beliefs. The United States does not have political prisoners.
Amnesty International has expressed concern that Pratt's trial was not fair, due to prosecutorial misconduct, and regards him as a political prisoner.
Geronimo is alleged to have murdered a woman on a Santa Monica tennis court in 1968. The murder was perpetrated by two Black men who demanded $18 from Caroline and Kenneth Olsen as they were about to play tennis. According to Kenneth Olsen, who survived, the couple was then forced to lie down on the court where the attackers shot them. Caroline Olsen died from her wounds.
Trial Orchestrated by the FBI
Pratt was arrested two years after the murder; his trial and conviction followed more than a year and a half later. The prosecution's case was based on the testimony of two witnesses. Julius Butler, their star witness, was also responsible for Pratt's arrest A former Black Panther Party member, Butler testified that Geronimo told him he was one of the murderers, information Butler first revealed to the Los Angeles Police Department in the form of a letter in 1970 (almost two years after the crime). During the trial Butler denied that he had ever worked for the FBI, a relationship that was also denied by the Bureau. However, with the release of COINTELPRO documents in 1979, the relationship was established. It dated back to 1%9, shortly after Butler had been expelled from the Panthers (by Geronimo, for being a police informant!).
The other key witness was Kenneth Olsen, the surviving victim. Olsen identified Pratt as the shorter, lighter-skinned of the two assailants, but his prior identification of a different man as the lighter-skinned, shorter killer was not brought up at the trial. This information would certainly have damaged Olsen's credibility and was concealed by his attorneys.
Nor was it revealed by the LA Police Department, which was doubtless also aware of the proceedings. In fact, Geronimo's attorney had no way of knowing about Olsen's prior identification because the lineup card had been "lost," an unprecedented occurrence in the LA Police Department, according to another lawyer.
The FBI interfered in the trial in many ways, including withholding FBI wiretaps that proved Geronimo was in Oakland on the day of the crime. Just as the FBI infiltrated the BPP, they infiltrated Geronimo's defense team. Unfortunately, BPP members who could have provided an alibi for Pratt did not come forward because of a split in the Party provoked by the FBI. As a result, Huey Newton, the leader of one of the factions, threatened expulsion to any member who testified for Geronimo, who was in the other faction.
But the most important fact withheld from the trial was the very existence of COINTELPRO. In the words of Geronimo's lawyer of the time, Johnnie L. Cochran Jr., I didn't realize I was fighting the entire federal government." (Fox News, Los Angeles) It was not until four years after his conviction that Geronimo learned that he had been a special target of the FBI program.
Key Blacks Targeted
COINTELPRO, the acronym for the FBI Counterintelligence Program, was an attempt to covertly disrupt and create dissension within radical groups. By 1969 the Black Panther Party was a key target FBI Director J. Edgar Hoover believed that the Panthers were "the greatest threat to the internal security of the country" (Church Committee Report, III, 187-8). "The purpose of counterintelligence action is to disrupt the BPP, and it is immaterial whether facts exist to substantiate the charge" (Pratt V. McCarthy, petition to U.S. Court of Appeals for Ninth Circuit, 1987-7). Information obtained by Pratt's lawyers after filing under the Freedom of Information Act revealed that, due to his role as Deputy Minister of Defense of the Southern California chapter of the BPP, Pratt was labeled a "Key Black Extremist."
A Los Angeles FBI memo from early 1970 stated: "Operation Number One is designed to challenge the legitimacy of the authority exercised by Elmer Geronimo Pratt," (Pratt. v. McCarthy, 213); other documents state that Pratt was to be "neutralized." Later that year the Los Angeles FBI released a fake story and cartoon about Pratt, as well as a fake letter criticizing him. These led to Geronimo's expulsion from the party a year later. According to an activist who has known Geronimo since 1968, "Geronimo was a very serious, responsible and dedicated leader. That's why he was singled out to be prosecuted and victimized."
Geronimo Pratt's conviction was set up by the FBI in great part through their work with Julius Butler, the man who became the prosecution's chief witness. Butler was first contacted by the FBI in 1%9, months before he submitted the letter incriminating Pratt.
In the period before Geronimo's trial, Butler met with the FBI more than once a month. Charges Butler faced on possession of a machine gun were dropped one month before the date Geronimo was indicted. On other occasions Butler received light sentences on convictions he faced, including four felony counts for which he received three years' probation. Butler is now an attorney and lay minister at the Los Angeles African Methodist Episcopal Church, and there is evidence that his way to the bar was cleared by connections in the court system.
Another BPP member who was arrested before Geronimo's trial has said he told detectives that two men said to him that they had committed the "tennis court murder," but he was told "not to discuss [this] with anyone if I knew what was good for me" (San Francisco Examiner, June 3, 1991, A-5).
Four out of five of the jurors in Pratt's trial contacted by Fox News said knowledge of Butler's role as an FBI informant and of the campaign to neutralize Pratt would have prevented Geronimo's conviction.
COINTELPRO Continues Into the '90s
The campaign against Geronimo Pratt has continued right up until today. After being interviewed for a Fox News special series on his case, Geronimo was abruptly transferred to a different prison much further from Los Angeles and his work schedule changed to coincide with visiting hours. In addition, he was put in a two-man cell although medical orders require him to be in a single-man cell due to conditions he suffers as a result of being a Vietnam veteran. These actions have been ruled to be retaliatory; Pratt has been returned to his former status pending another hearing.
Geronimo Pratt has received unfair treatment from the start According to sources, Geronimo is "the only U.S. citizen alive on record" to have spent eight continuous years in solitary confinement, the first two before he was even tried.
Following Pratt's conviction, an FBI agent notified Folsom Prison, where he was being held, that he had an escape planned which included kidnapping children. This unsubstantiated accusation was used to keep Pratt in isolation until his 1978 court-ordered release. During most of the time he was allowed no more than a dictionary and paper.
Other, equally false accusations have since been placed in his file, resulting in subsequent times in "the Hole," as well as repeated denial of parole. Papers in his file state that Pratt is an escape risk, has violent tendencies, uses heroin, and ties him to a variety of prison gangs. A lawsuit recently required a notice to be put in his file that these accusations were unsubstantiated, but the papers themselves have not been removed.
In contrast, Pratt's former prison psychologist has said Geronimo is "correctly oriented in all spheres and reveals no disorder of thought or affect. He presents as a principled individual with a high degree of integrity. Mr. Pratt is believed to have an excellent chance at making a constructive adjustment to the free world."
Of the accusations, Geronimo himself made a statement saying "This is similar and very much in line with the way COINTELPRO acted in the '60s and '70s to discredit and criminalize the people who were actively involved in the struggle for human rights. I see it as a continuation of the COINTELPRO campaign against me which illegally put me in prison in the first place and now wants to keep me here for life."
Interestingly enough, the psychologist who wrote several favorable reports about Geronimo, including recommendations for his release, was demoted to the position of guard for refusing to change her statements. Her lawsuit fighting this resulted in a settlement of $100,000 in return for her resignation, according to Fox News in Los Angeles.
New Evidence, New Hope
A number of recent developments bring some hope to Geronimo's case. In 1991 his lawyers revealed that they had more new evidence. This included the testimony of two San Francisco private investigators who say they saw the wiretap records showing that Geronimo was in Oakland at the time of the murder, records which have been mysteriously deleted from FBI files.
Six former BPP members, including Bobby Seale and David Hilliard, have come forward and said they are willing to testify that they saw Geronimo in Oakland on the day of the crime, admitting that they did not step forward when he was on trial because of Huey Newton's directive. In addition, a retired Los Angeles Police Department captain has said that Julius Butler was a police informant since 1966.
More recently, four men have come forward to say they were told by two men that they had committed the robbery and murder. The two who confessed are the same two accused by the individual who gave this information to the L.A. police in 1970.
Also significant is the attention being given Geronimo Pratt's case by Centurion Ministries, a group that conducts investigations into death penalty and life sentence cases in which there is a doubt as to the guilt of the individual convicted. They have been credited with freeing ten other people imprisoned in the United States. Jim McCloskey, the organization's head, has established a reputation for credibility, and his intervention is thought to be instrumental in the new review of Pratt's case begun by the L.A. County District Attorney's office after years of unsuccessful requests to grant Pratt a new hearing.
The new review was announced in January of this year. Pratt's representatives met with the D.A.'s office on April 25 and were told that the review was expected to last another two months.
But evidence uncovered since Pratt's trial has been presented to the court system before and deemed not significant enough to warrant a new hearing or trial. The magistrate was not impressed by the fact that the FBI infiltrated Pratt's defense team and asserted that Butler was not exactly an "informant" but merely a "contact."
No Justice for Geronimo
Why has the judicial establishment so adamantly refused to grant Pratt a new trial in spite of all the pertinent new evidence? Why has the state denied him release on parole after so many years? An ordinary criminal convicted of a similar crime would have been released long ago.
The answer is that Geronimo Pratt was not an ordinary criminal—or any kind of criminal. He was framed and removed from society for life because of his political views and activities. This was openly recognized at one of the many parole hearings by a Los Angeles Deputy District Attorney: "I think we still have a revolutionary man. He does have this network out there. If he chooses to set up a revolutionary organization upon release from prison it would certainly be easy for him to do so." In short, Geronimo Pratt is a political prisoner who cannot be permitted to "stir up trouble."
The state has another reason for refusing a new trial. It would lay bare the anatomy of a frameup, involving the police, the DA's office and the FBI—perjured testimony traded for leniency, concealed documents, destroyed evidence, and much more. According to one Pratt supporter, "they hope to take care of it by just keeping it under wraps until he finally dies or it blows over, or until people get too tired to carry on the fight."
The only thing more astounding than the size of the injustice against Geronimo is the strength of character of a man who can maintain such perseverance for justice and lack of bitterness after twenty-three years in jail, more than eight in solitary confinement. Simply retaining his sanity under this prolonged mental torture is testimony to Geronimo's will.
Parole boards have suggested to Pratt that if he were to express remorse he would be let go. For Pratt this is out of the question—his priorities are clearing his name and fighting for justice. As far as his politics, those who know him say he is the same man, with the same beliefs and principles. The years in prison have not changed him.
According to a member of the Los Angeles Chapter of the International Campaign to Free Geronimo Ji Jaga Pratt, Oakland and Los Angeles are the two main bases of organizational support for Geronimo. The Campaign asks those who wish to help to do the following:
1) Write to Gil Garcetti, LA District Attorney's Office, 210 West Temple St., Room 18-1000, Los Angeles, CA 90012, or phone 213-974-3501 demanding Pratt's release, or a new trial, based on newly obtained evidence.
2) Write your local papers saying what you think about the case, and/or ask them to cover the case. Donations can be sent to P0 Box 781328, Los Angeles, CA 90016. For more information, or to request signature petitions to D.A. Garcetti, call (310) 516=1758 or (213) 564-6982.
July-August 1994, ATC 51