Against the Current, No. 51, July/August 1994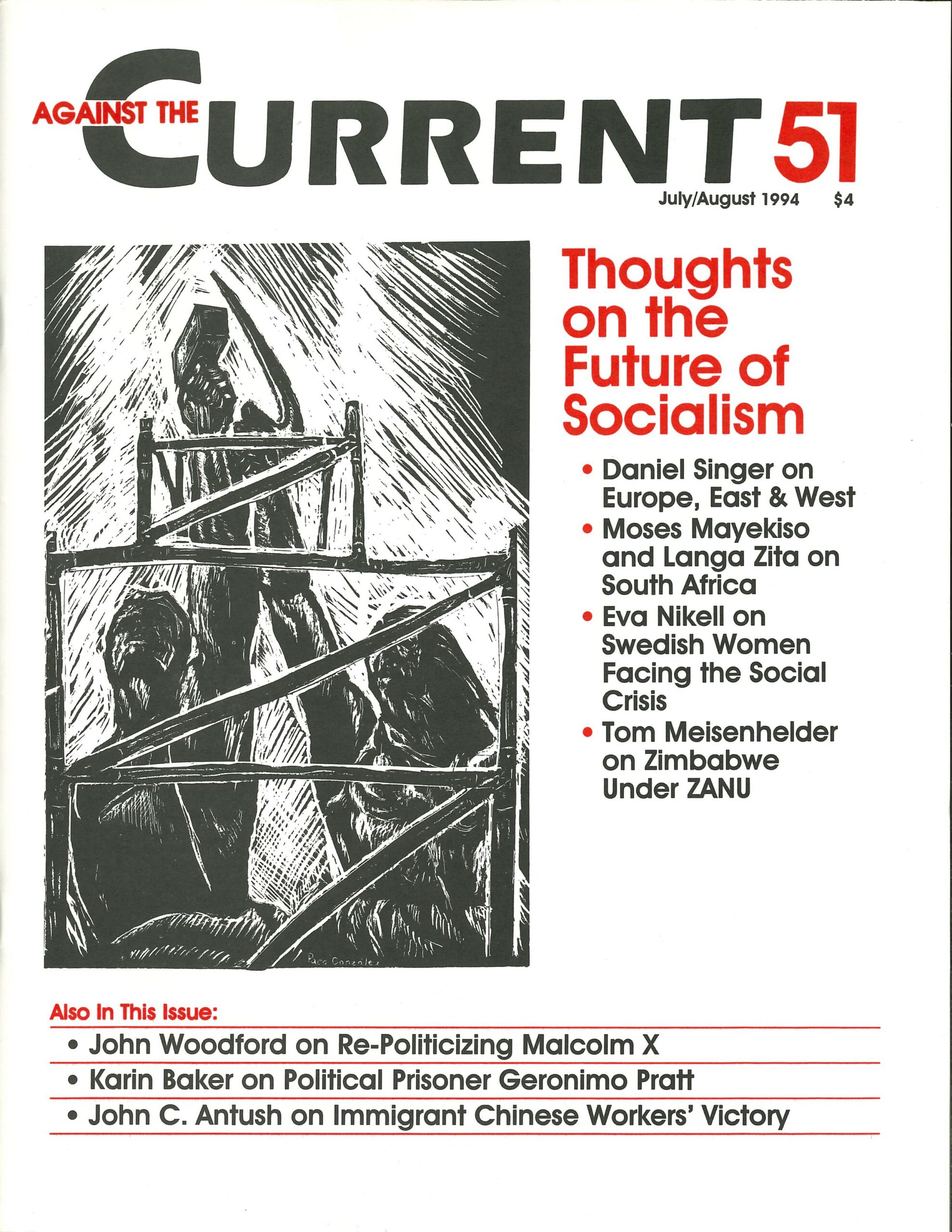 SINCE ITS BEEN revealed that a large tub of "buttered" popcorn contains as much cholesterol as eight Big Macs, think of the good news: You can take six or seven Big Macs to the show and still be ahead of the game.
Most people don't have to be led into temptation, just pointed in the right general direction.
A self-disciplined person is who can pop just one bubble-wrap cell.
Political Commentary
ALEXANDER COCKBURN TELLS us in a recent syndicated column (Detroit Free Press, May 11): "We have been witnessing, over the past three months, one of the most astonishing displays of high-minded warmongering since the cream of Europe's left intelligentsia cheered their respective nations into the carnage of the First World War" Apparently, the decade of 1935-1945 has slipped his mind—a time when, except for the unfortunate interval of 193941, the entire Communist establishment was feverishly exhorting every warm body in the world to join a multi-class crusade against Germany.
Back in the old British Navy, Michael Fay would have gotten two dozen lashes for spitting on the deck.
The worst thing about capital punishment under capitalism is that while innocent people might be executed, Dow Chemical executives won't be.
These constant postage hikes wouldn't be so annoying if they would just eliminate the odd pennies.
From Generation to Generation
ONE OF THE unspoken assumptions we grew up with in the 1950s was that women put up with sex so they could have children, and men put up with children so they could have sex.
Grandparents and grandchildren get along so well together because they have a common enemy.
One thing that makes middle age tolerable is that our disgust with the world situation is tempered by the realization that there's a new generation available to deal with it.
Life Style Notes
THE TERM "ASSAULT weapon" is like "sports car," using deliberately vague adjectives that tell you more about appearance than about performance….
Timid fans of body modification canal-ways compromise by having their pets pierced. There is precedent for this: Egyptian cats wore earrings.
Quotable Quips
BUMPER STICKER OF the month: I didn't claw my way to the top of the food chain to eat vegetables.
An actual quote from the magazine WIRED, April 1994: "The development and deployment of a new weapons system is rarely based solely on issues of safety and human concern."
July-August 1994, ATC 51