Against the Current, No. 50, May/June 1994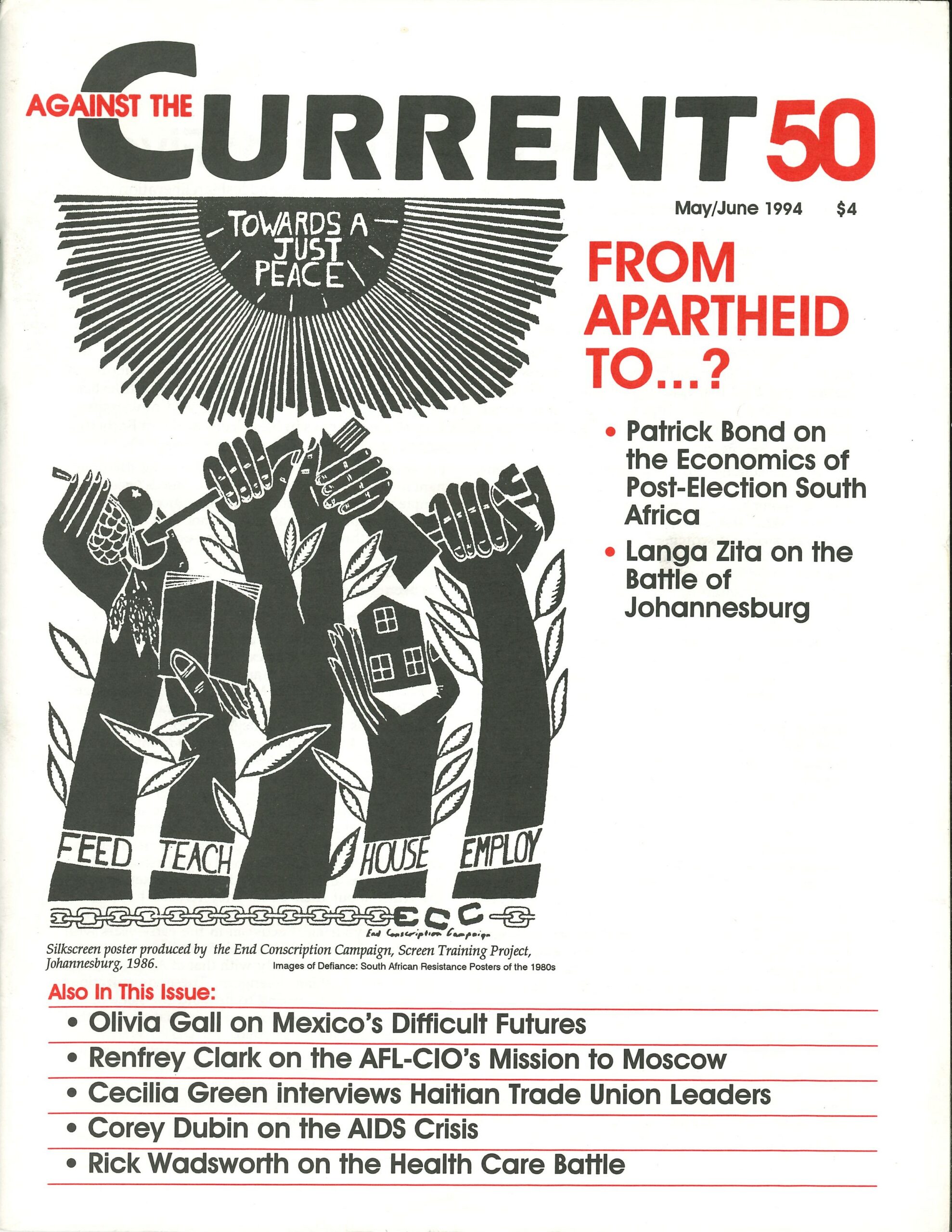 Moscow — Many people in the international left and labor movements were impressed last year to see and read a new English-language publication from Moscow — Russian Labour Review (RLR). Sponsored by the Labour Information Centre KAS-KOR, >Russian Labour Review was published by an editorial group that included both Russians and foreigners. Two issues appeared during 1993, with a long series of articles examining the Russian labor scene from a democratic left perspective.
Early in 1994 the scheduled third issue failed to appear. The key problem was a deep crisis within KAS-KOR. Like all independent organizations in the Russian labor movement, KAS-KOR had found itself under acute financial pressure during 1993. Trade unions were less and less able to pay for the information that KAS-KOR collected and distributed. Hard currency income gained from research work for Western organizations bought less and less, as the Russian government pursued "strong ruble" policies. By early 1994 all of KAS-KOR's projects, not simply RLR, were under threat.
KAS-KOR's financial difficulties were compounded by growing political problems within the organization as the needs of the Russian labor movement changed and new tasks presented themselves. When KAS-KOR was founded in 1990, one of the critical needs of labor activists was for reliable, detailed information on the struggles of other workers — the kind of information the still-censored official press was denying.
By 1993, this situation had changed radically. A good deal of information on labor struggles could now be had from mass media sources. The key need of worker activists was no longer simply for information, but also for analysis — for explanations of where the interests of workers really lay in the swiftly changing battles of Russian politics.
From being an information agency, KAS-KOR needed to develop swiftly into a sophisticated labor movement "think tank." This was a tall order for the center's young activists, brought together by their shared commitment to the labor movement, but lacking a developed basis of political agreement, and with only limited experience.
Dissensions multiplied, and at the beginning of 1994 KAS-KOR suffered a number of splits. An ominous development at this time was an effort by the Russian-American Foundation for Trade Union Research and Education, an agency set up and funded by the AFL-CIO, to draw the KAS-KOR structures under its umbrella.
By mid-February this effort had been successful. Three of KAS-KOR's ten or so original activists had set up a new information agency funded by the AFL-CIO and including the former KAS-KOR radio program. The Russian Labour Review editorial group, a number of whose members had resigned from KAS-KOR during January, was left with one computer, some video equipment, and the journal.
But if the group's resources were slight, its members were nevertheless determined to press ahead. A third issue of Russian Labour Review is now approaching the layout stage. A new association — as yet unnamed — is being formed to act as the journal's official sponsor.
The new association will try to answer the political needs of workers by creating an independent forum for analysis and debate on issues affecting the Russian labor movement. On the international plane, this work will be carried out by Russian Labour Review. Within Russia, it will be the task of a soon-to-be-founded Russian-language journal of labor movement news and commentary, from a broad range of contributors.
KAS-KOR may have passed from the scene, but its best activists are back in action and facing up to new challenges.
Subscriptions to RLR are $30 for four issues. Send checks to P.O. Box 8461, Berkeley, CA 94707. For more information, call 510-489-8554, fax 510-471-4454 or E-mail: rlrsf@igc.apc.org.
ATC 50, May-June 1994