Against the Current, No. 49, March/April 1994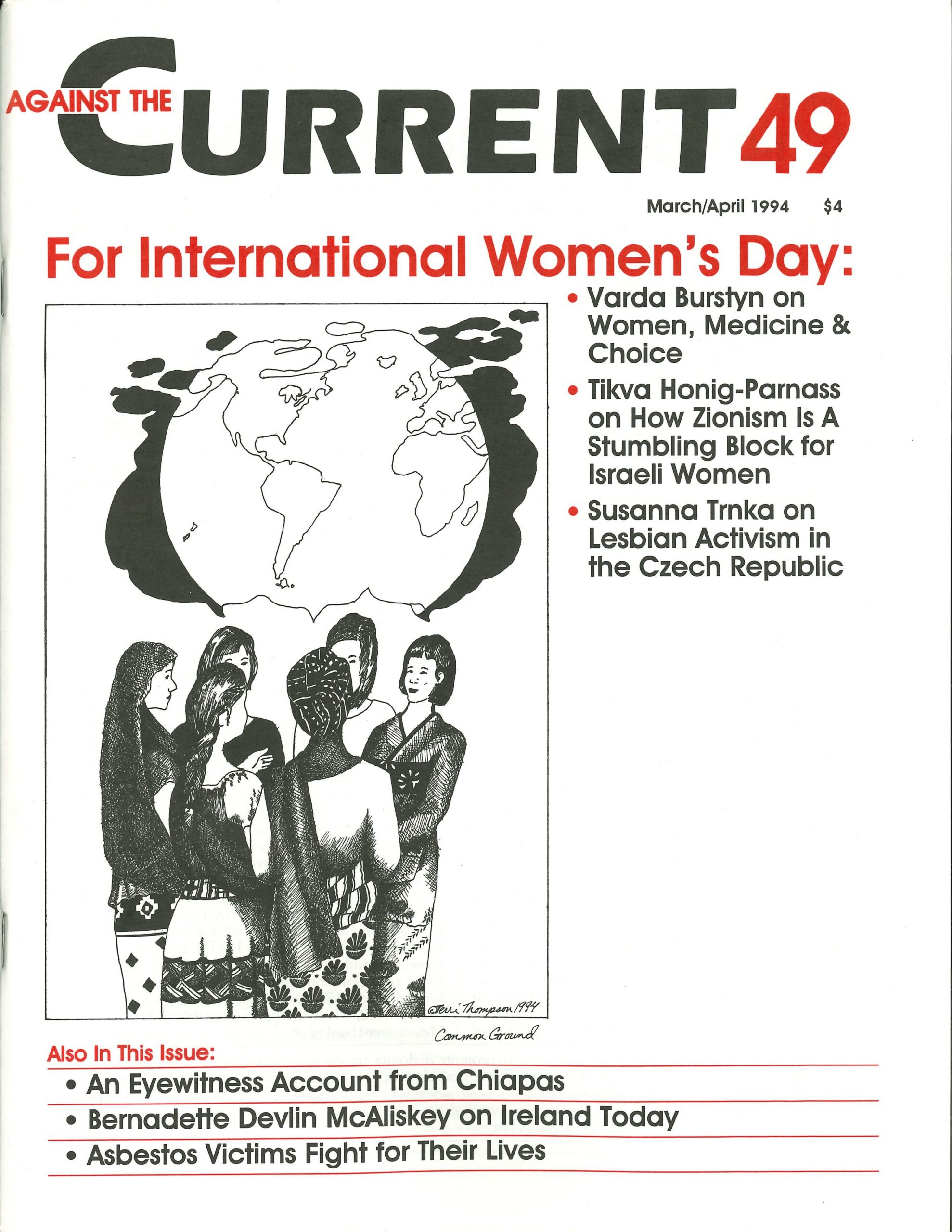 AS A SAMPLE of the documentation of the Mexican Army's war against the people of Chiapas, we offer these excerpts from Communique 8 issued January 17 by the Coordinating Body of the Non-Governmental Organizations for Peace of San Cristobal de las Casas, translated by our correspondent.
The current situation in Altamirano:
The population is receiving food rations. In order to receive food the Army demands that both heads of family (husband and wife) be present, in order to ensure that the man is there. When only the woman comes in, the army assumes the man is with the guerillas and does not give her food.
Caralampio Santos, resident of Altamirano in the neighborhood "Guadalupe," has been used by the Army as an informant to point out persons who have not participated in the CNC (government-controlled peasant organization) or PR! (ruling party). The people pointed out have been apprehended by the Army with extreme violence. A number of them have been beaten and taken in a military helicopter with an unknown destination.
A worker at the Hospital de San Carlos, named Juan Diego Hernandez Garcia, approximately 25 years old, was held at his home late at night by a group of military personnel who burst into his house, breaking the door, striking him and taking him off in a helicopter on January 6. At no time did this person receive specific accusations against him. A few days earlier he had donated blood at the hospital for wounded security policemen.
Mr. Javier Gomez Lopez, 34, was detained in the same manner. There is information that many more were detained in the same way.
Currently in San Carlos Hospital is an injured civilian, whose name can't be obtained, wounded when his family was fired upon with machine guns as they went to wash clothes. One of his children, approximately five years old, died.
Workers at the hospital have been taken hostage to such a degree that personnel has begun to quit work or not show up, for fear of what might happen to them.
Tzibaquil (Jalisco), four kilometers from Altamirano, has been bombed and the residents aren't allowed to leave their homes. This community doesn't have food, water or medical attention. The people from Tzibaquil who have taken refuge in Altamirano have been accused of being guerillas and denied food.
The population notes that they cannot leave to gather firewood in the countryside because they are fired upon.
The communique gives a number of specific testimonies and eyewitness accounts, including:
Marcos Lopez Santis, 35 years old. When he went to buy food on Tuesday the 11th, they took him, tied him up and beat him. They put him on television in Oxhuc. The community authorities held him. Since then we haven't heard anything of him.
Against the Current's correspondent adds the following note:
'This man was apparently one of the four in a particularly gruesome media blitz by the government, to show how the community of Oxhuc supposedly apprehended these 'guerillas,' taking justice into their own hands. The four men were shown hog-tied, lying on the ground in Oxhuc, severely beaten, one man in a huge pool of blood around his battered head.
"This was in the first days, and shown in a short video segment that ran repeatedly on several TV stations and in the news. What about medical attention? What about prisoners of war? This was very graphic and upsetting, and used in the context of what good patriots the men from Oxhuc were who beat the hell out of these four men and held them prisoner for the Army. There has also been some protest of another image shown on television of a Zapatista who had been killed, with his hands tied behind his back."
March/April 1994, ATC 49