Against the Current, No. 46, September/October 1993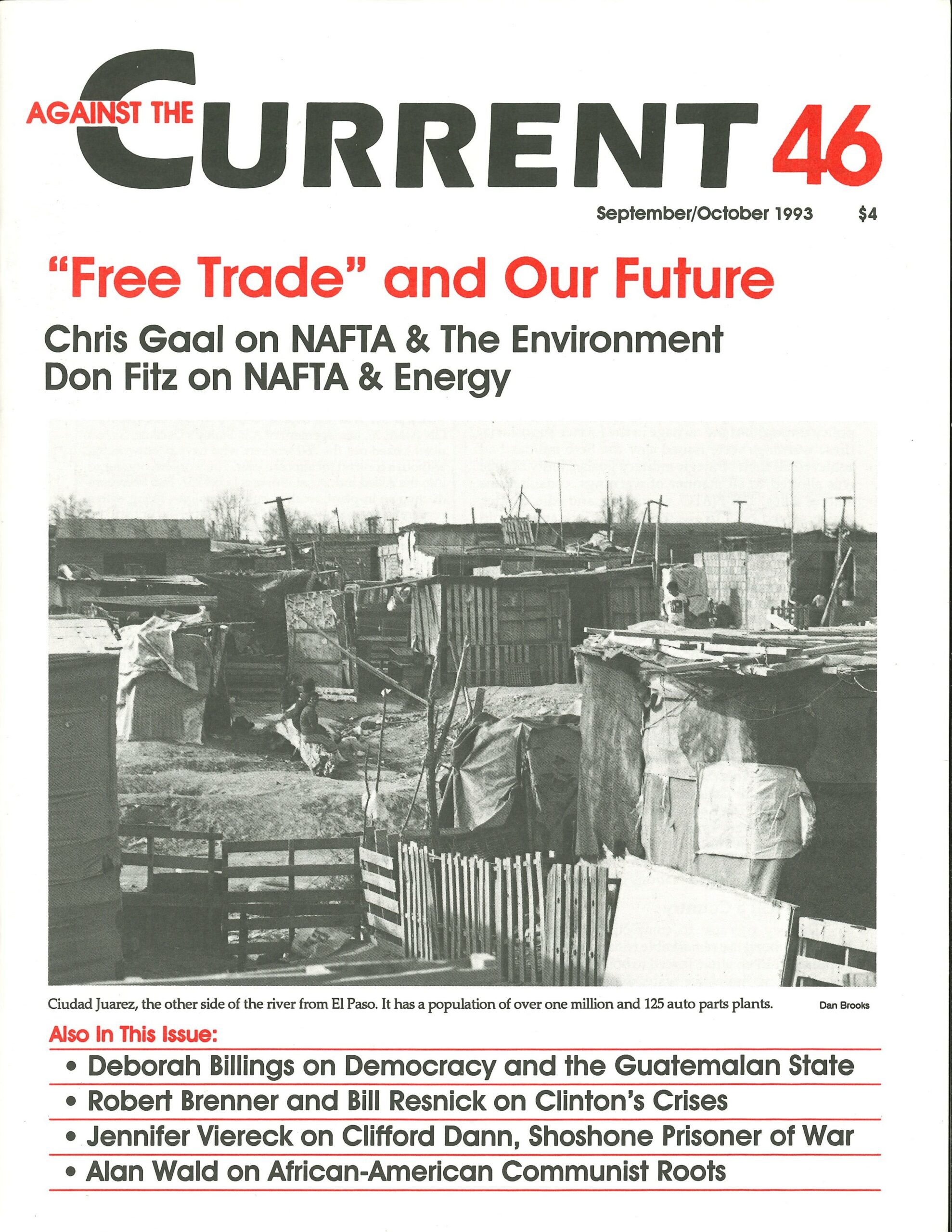 CLIFFORD DANN IS spending 1993 in a U.S. prison, for "assaulting a federal officer." According to his sister, Carrie Dann, a member of the Western Shoshone National Council, he is a prisoner of war.
On the surface, Dann, 59, appears a simple, humorous, quiet man. He has spent his life outdoors under the wide desert skies near Crescent Valley, Nevada, doing much of the maintenance and heavy labor on the horse and cattle ranch that supports several generations of his Western Shoshone family. He has never seen the ocean. He's not far from it now, in the Lompoc prison in California.
"My brother is not a political prisoner like some people say. He is a prisoner of war!" Carrie told an emotional crowd outside the Federal Court in Reno, NV, following Dann's sentencing on May 17th. "When the BLM came in with helicopters and forty armed officers, they were invading Western Shoshone lands. We have a right to defend our lands and our livelihood," she continued. "The U.S. is breaking its own laws, when it breaks the treaty it signed with the Western Shoshone people. They didn't take our lands.
The Nation's Fight for Survival
Mary and Carrie Dann, Clifford's elder sisters, have been battling the U.S. government in court since 1973, for the basic right to continue to support their family in the way they know best, cattle ranching on Western Shoshone range lands. Although Native Americans are the most impoverished minority in the United States, with a thirty-five percent unemployment rate, the federal government seems determined to drive this hard-working and self-sufficient rural family from their home.
During the Civil War, starved for gold from California to support the Union Army and with no thought of future use for the Great Basin's and lands, President Grant signed a treaty with the Western Shoshone in 1863. It left the Shoshone sole owners of clearly defined traditional lands, in exchange for right of way for the railroad and certain trade concessions Called the Treaty of Ruby Valley, it is a straight-forward document, primarily outlining a relationship of "Peace and Friendship" between the two parties. Before the ink was dry, the railroad received land grants for twenty miles on either side of the tracks, which it proceeded to sell to settlers and development interests.
The Shoshine are the most bombed nation on earth. Six major military installations, including the Nevada Test Site and Nevada Air Force Gunnery Range, have been built on their land. Numerous foreign mining interests have also created untold destruction; both communities and ranches have been built on treaty lands. But of the 24.5 million acres of Newe Segobia (People of Mother Earth), as Shoshone call their homeland, 16 million acres did not have a single non-Native resident by the late 1970s.
In 1946, a small group of Western Shoshone was persuaded by attorney Ernest Wilkerson to sue for damages based on environmental degradation and gradual white settlement in their area before the newly created Indian Claims Commission. (Wilkerson drafted the legislation that created the commission, including the ten percent fee for attorneys.) The commission's stated purpose was to resolve land disputes between Native nations and Washington, but its only function was tot money for land already deemed taken.
Clarence Blossom, one of elders who signed the contract with Wilkerson, said:
"The land claim was never explained to the people. The old people do not even understand English. Lt was years later that I read that once you accept money, you lose your land. The government pulled the wool over our eyes. If I had known what was going on, I never would have accepted the attorney contract."
Although the majority of Shoshone, once made aware, objected completely, and the original claimants eventually fired Wilkerson, the U. S. government ground on, in a hideous parody of justice. Ultimately, in 1972, the government set the "date of taking" as July l, 1872 and placed $26 million in a trust account and called it a done deal. 1972 land prices would have been about $40 billion, not including any use fees or tariffs in intervening years for billions that Washington received in gold mining, etc. No Shoshone has ever picked up the check.
Attorney John O'Connell, who has represented the Danns, says, "What they said is, we're going to pretend this transaction took place and pay them now as if it took place in 1872. On July 1, 1872, in Nevada, nothing happened. It was a hot day, the crickets chirped and there wasn't a white man within 100 miles of Crescent Valley. It's silly to base land values on that date?
Edward McDonough, also an attorney, wrote in the Salt Lake Tribune about the enforced transaction, "…never mind that a guardian or trustee in any other context cannot legally, or ethically, indulge in such "self-dealing" as selling himself his ward's property at bargain prices." (11/29/92) In addition, the attorneys lied to their clients, and actually represented the opposition's interests.
Out of the Courts; Defending the Land
In 1973, Mary and Carrie Darin were charged with trespassing on the newly designated "public lands," for grazing their livestock without a Bureau of Land Management (BLM) permit Another nineteen years of legal battles ensued, with (surprise, surprise) Washington coming out the winner. Legal remedies exhausted, the sisters, both in their sixties, have had to resort to nonviolent resistance to the confiscation of their herd.
In Spring, 1992, Carrie Darin foiled a BLM seizure of around forty cattle by climbing into the loading shute, despite painful physical restraint of her arm. She eloquently spoke of the treaty and Shoshone history to the roundup crew, most of them ranchers themselves. The cattle were released.
Clifford Dann was arrested on November 19, 1992. Native and non-Native support had been strong throughout 1992. Several protests at the Nevada Test Site and proposed Yucca Mt Nuclear Waste dump (both illegally built on Shoshone Treaty lands), a ten-day Forum, Walk to the Test Site and Healing Ceremony around October 12th, and other events brought people from around the world. Alter the last event on Veterans Day, the weather turned cold and folks went home. About a week later the BLM moved in.
Eyewitness Rebecca Solnit wrote, "In force and animosity, the siege seemed comparable to that against the Branch Davidians in Waco, Texas … though the Western Shoshone Council has clearly articulated a policy of nonviolence, and the Darins themselves, questioning the legitimacy of BLM intervention on unsurrendered treaty land, have done nothing more dangerous than refusing to pay grazing fees."
The sisters were at the ranch, preparing for Thanksgiving dinner. Clifford, faced with a formidable force of vehicles and armed officers and stalling for time, parked his pickup across the road, stood in the back and poured gasoline over his chest and shoulders. The standoff continued until the more experienced Carrie arrived. When Clifford left the truck, he was sprayed repeatedly in the face with fire extinguishers, thrown to the snowy ground, and seriously injured.
On May 1761, in a courtroom overflowing with supporters, Darin was sentenced to nine months in jail, $5,000 in fines and two years' probation. The prosecution was asking for over four years.
The BLM alleges that it removed 269 horses and killed two others during the November 1992 raid. Around forty were wearing a Shoshone brand; the rest were wild horses supposedly protected from seizure under the BLM's own laws. Minimal estimated cost to the taxpayers: $47,000 in hired helicopters alone, and according to the BLM, $16,000 in salaries and $32,226 for the contractor hired to conduct the roundup.
Cold Mines: The Newest Player
Sixty percent of all U.S. gold is mined in Nevada, eleven percent of the entire world market, according to Heidi Blackeye of Citizen Alert's Native American Project in Reno. No mine in Nevada is U.S. owned. Cold mining produces more income than any other industry, including gambling. Of the four new mines proposed in 1993, all are within or bordering Newe Segobia.
Visible from the Dann ranch is the Cortex Cold Mine, jointly owned by Placer Dome Inc. (60%) and Kennecott (40%). In February, 1993, a new gold discovery was announced, the "Pipeline Deposit," roughly in the Dann's backyard. A feasibility study was recently completed. Construction is planned for January 1994, with startup production in May of 1995. Mining is expected to continue for twelve years.
Project Manager Quayle Lusty (I'm serious) says the mine pit will eventually be more than 3,000 feet across and 1,000 feet deep. About 270 million tons of the desert will be blasted and tailings will cover 650 acres. In an area where water is an issue of grave concern, the mine anticipates pumping up to 30,000 gallons of water a minute once the pit goes below 250 feet, which could drastically lower the depth of nearby Humbolt River. A milling plant will also be built, to handle around 4,600 tons a day. Anticipated ore reserves are 19.6 million tons millable ore, 14.3 million tons suitable for cyanide heap leach extraction, and 1.4 tons going to the master at Cortex mine. In April, an additional mine for 10 million tons was announced, called the "South Pipeline," another half mile closer to the Darns.
Many Native American communities are already familiar with the toxic effects of gold mining using the cyanide extraction method: hair loss, lead poisoning, cancer and deformed and still born babies. Additionally lead, arsenic and mercury can be released into ground water.
With this method, entire mountains are reduced to rubble through blasting and piled on a "leeching pad. A cyanide solution is sprayed over the rock separating the gold from the ore. Very low-grade ore can be mined this way, with as little as three or four ounces of gold per fifty-ton truckload.
Cyanide contaminated water is contained in ponds to break down, which causes wholesale slaughter of wildlife and birds. Other cyanide leach mines in Nevada are averaging about one spill a week Cyanide can remain a threat up to forty years after entering ground water.
In June, test drilling was being conducted as close as 200 yards from the ranch. A May delegation from the European Council issued a statement to the Clinton administration, supporting the Western Shoshone National Council's demand that all mining on treaty lands cease until full treaty rights have been implemented.
The Fight Drags On
A standing camp of supporters remains on hand; ready to intervene with any future roundups, under the direction of the Western Shoshone Defense Project. A recent campaign was implemented to send 50,000 letters to U.S. President Clinton, demanding Clifford Darin's release, on the grounds that the U.S. had no jurisdiction to try him. With volunteer help, the hay is getting harvested and life goes on. Daily patrols keep an eye on the herd and the BLM. Clifford sits in Lompoc, in his little cement box. He is waiting.
Funds are always needed, as well as help in the office and on the range. For more information, contact the Western Shoshone Defense Project, General Delivery, Crescent Valley NV 89821.702468-0230; fax 702-468-0237.
September-October 2016, ATC 46