Against the Current, No. 40, September/October 1992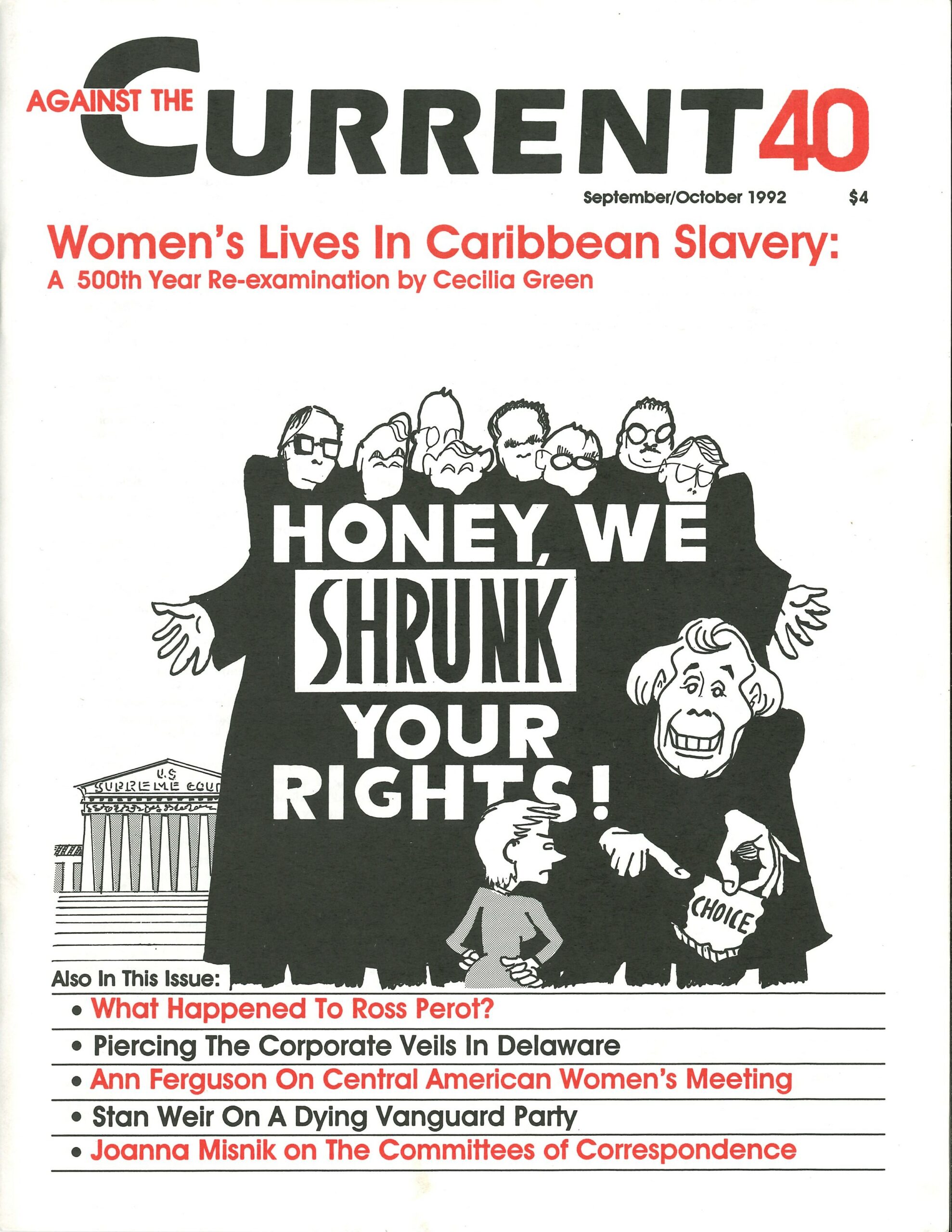 WITNESSES IN PANAMA say that the protests during George Bush's visit to Panama on June 11, during which he was tear-gassed and rushed off the stage of Panama City's Parque Porras, involved an estimated 1,000 to 2,000 Panamanians from various walks of life, equaling the number of Bush supporters.
This contradicts official reports that only a small group of "leftists" accounted for the disruption. In addition, 100 Panamanians were arrested during the demonstrations, and some Panamanian human rights workers and opposition leaders have been threatened or forced into hiding to avoid arrest and political persecution.
These include Isabel Corro, a leading advocate for the victims of the 1989 U.S. invasion, during which her fatther was killed. She heads the group "Familias de los Caidos del 20 de Diciembre" ("Families of the Dead of December 20th," which, among other things, has led the fight for the exhumation of mass graves.
Corro was forced into hiding after two arrest orders were issued against her. Witnesses say she is being blamed for instigating the protests. Corro reportedly has filed a criminal suit in Panama against George Bush in connection with the invasion, and some media reports say that Corro had called for Bush to be held for trial, and for his arrest.
Corro was featured in a 1990 60 Minutes segment which revealed evidence that official U.S. casualty figures as a result of the invasion were blatantly underestimated.
Balbina de Peri&ntildean, former mayor of San Miguelito and now a legislator in Panama, recently announced to the Panamanian legislature that she has received death threats. She is now rumored to be in hiding. Since the invasion, she and her family have been frequently harassed and threatened.
According to Barbara Trent, director of the soon-to-be-released feature-length documentary film, The Panama Deception (which features Corro and Peri&ntildean), "Isabel Corro and Balbina de Peri&ntildean are extraordinary, courageous individuals who have been trying to force the U.S. government to take responsibility for the death and destruction caused by the invasion. Thousands of Panamanians were killed during the invasion and countless bodies were buried in mass graves. Fourteen of these graves have already been identified. Corro has been leading the fight to fund their exhumation. So far, only three have been exhumed.
"Since the invasion, hundreds of individuals have been forced underground to escape arrest and political persecution. What has happened to Isabel Corro and Balbina de Peri&ntildean is indicative of the oppression and human rights violations which continue in Panama as a result of the U.S. military invasion, and which have been furthered by U.S. government policies," Trent said.
According to Raul Leis, Panamanian author and publisher of the magazine, Este Pais:
* Anti-Bush protestors on June 11 represented a wide variety of groups, including labor unions, the homeless and unemployed, students and members of groups advocating for the invasion victims like "Familias de los Caidos del 20 de Diciembre." They were congregated on different blocks and corners, with a huge group gathered in front of Don Bosco Church, including hundreds of students.
* The Bush supporters inside the park were there by invitation only. Each was given a T-shirt that read "Encuentro de Dos Amigos" ("Meeting of Two Friends"), as well as both Panamanian and U.S. flags to wave.
* The 100 demonstrators arrested were let go by two district judges, who were immediately fired from their jobs.
* The home of a national legislator in Panama, a member of Noriega's former party, was ransacked on June 16 by U.S. soldiers and Panamanian police.
* A Hummer vehicle containing two U.S. soldiers dressed in full military gear was seen parked in front of the Marriott Hotel in Panama City, which is a clear treaty violation. The soldiers left when members of the media started questioning their presence there.
September-October 1992, ATC 40