Against the Current, No. 38, May/June 1992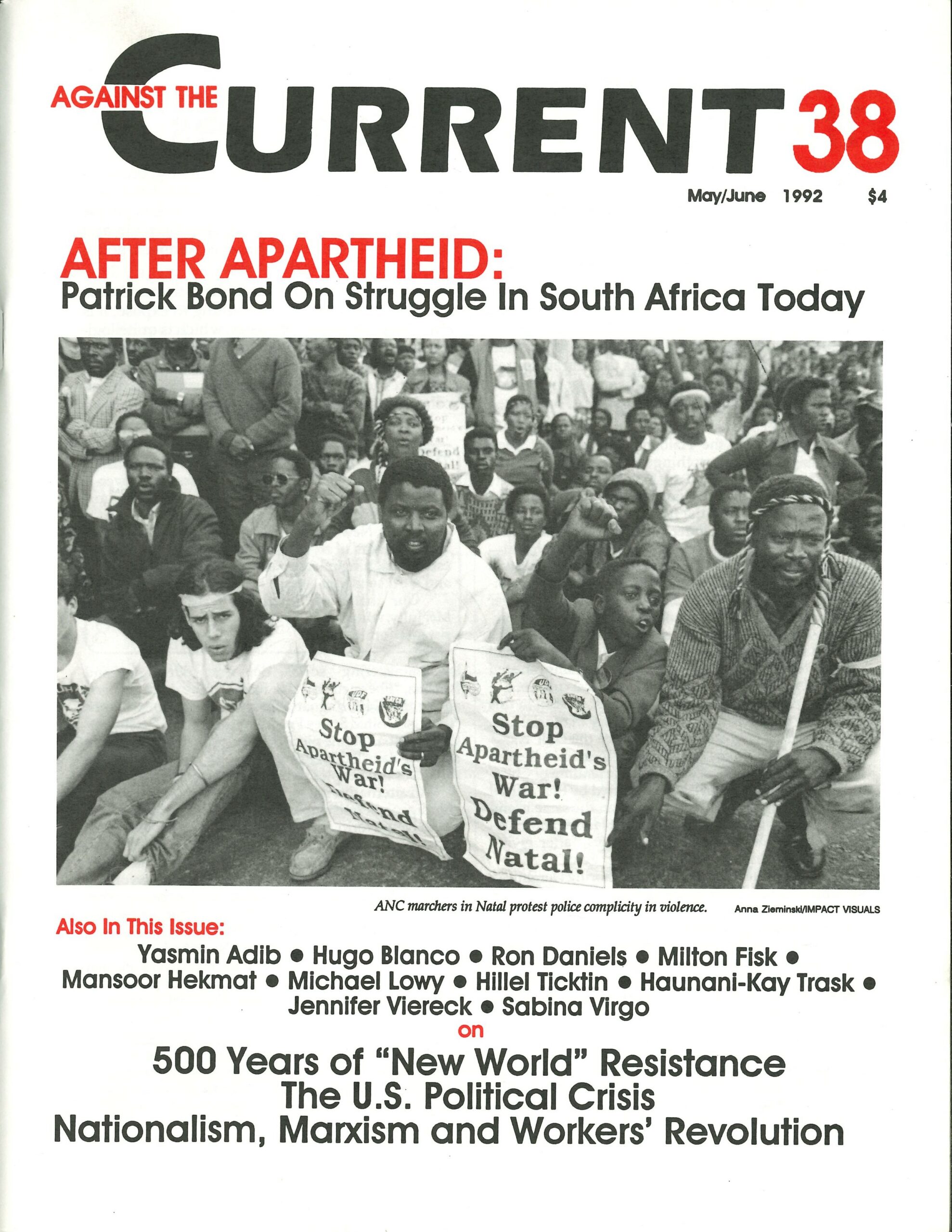 Since the much touted 1985 elections which ostensibly signalled Guatemala's transition to democracy, popular sectors have actively organized, seeking to regain the political space that this moment of political liberalization offered. Women were in the forefront of this movement. Indigenous and ladino women organized and participated in class-based associations as they had in earlier periods of popular mobilization. In contrast to the prior periods of popular organizing, women's groups–including women's unions, organizations of widows, feminist intellectuals and women's political auxiliaries–have come together not only to discuss and organize around class issues, but also to discuss and pursue issues that particularly affect women.
In Guatemala, popular movements have historically articulated a class-based agenda, calling for an end to the economic exploitation and political violence that the military and oligarchy have inflicted on their communities. In the past five years, older organizations have walked side by side with increasingly strong and vocal women both within these movements and within more recently founded women's organizations. One of these, CONAVIGUA, the Comite; Nacional de Viudas Guatemaltecas (National Committee of Guatemalan Widows), has organized a wide network of widows whose husbands were killed by the political violence engineered by the military. They have struggled for daily survival for themselves, their families and their communities; this struggle is particularly salient given that there are over 46,000 widows due to repression in a country of only nine million people. Some reports state that about fifty-six percent of rural women are widowed.
The women of CONAVIGUA celebrate their lives as women, indians, mothers, activists and campesinas. They have seen their struggle, however, not just as one peculiar to Guatemala but one with international resonance. In 1990, CONAVIGUA organized two days of celebration to commemorate International Women's Day. It was an historic two days as indigenous women and their children converged, many who had travelled five to seven hours, to declare and celebrate their unending commitment to struggle for change, and to denounce the ongoing political and economic violence against women and their families. It was the first time that these women had publicly gathered together, just a stone's throw from army barracks, to celebrate International Women's Day and to remember the struggles of their sisters in Chicago and throughout the world. Representatives from other campesino groups arrived to show their solidarity with the women's struggles and to enjoy the festivities.
This public celebration by widows was paralleled by a celebration in Guatemala City which brought together the different women's groups, ladino and indigenous, that had emerged over the previous few years. Participation by women workers was particularly high as unions played an active role in organizing this event. These women's groups shared a commitment to combat, simultaneously, the economic oppression that steals away their right to eat a balanced and adequate diet, the social oppression of racism and sexism which penetrates their daily lives, and the political violence of the past thirty years.
But the emergence of so called "democracy" and the space that it created for reorganization of women and men alike, has been met with a persistent, pervasive and brutal repression. As El Salvador appears to move toward a real and viable political opening, Guatemala remains entrenched in a thirty-year-old civil war with one of the most repressive militaries in the hemisphere.
Many people who, in the early 1980s, fled their communities to escape the political violence have not returned to their original homes, fearful of the persecution that continues. Over the past decade, these people have formed living cooperatives which are called Communities of People in Resistance (CPRs). The CPRs were formed by thousands of civilians both indigenous and ladino, who fled from the military massacres. After years of living in fear, these communities organized a form of participatory democracy in which all citizens, women and men, young and old, representatives from eight ethnic groups, are active and respected members.
Women are active at all levels in the CPRs. They are elected representatives of the communities, take part in the collective self-defense against the military which continues to bomb their communities and train as health educators and teachers. Additionally, women have formed their own organization within the CPRs to exchange personal experiences, create greater solidarity amongst themselves as women, to develop leadership and to provide an official channel for their demands.
These women, who have sought to provide a new political, social and economic vision, continue to suffer. The military still bombs the areas around the CPRs, compelling the communities to prepare to resettle at a moment's notice. And, like other women in Guatemala, they lack many basic health services and suffer anemia and malnutrition resulting from multiple pregnancies and frequent prolonged breast feedings.
Now more than ever, solidarity is needed in all possible forms, including material aid, educational campaigns, human rights advocacy. As Central American support networks dwindle in strength we have to find other means to support struggles that are far from over. We need to maintain the international links that acknowledge those struggles, North and South. One way to sustain ties and to provide mutual support is to organize along sectoral lines such as women to women and/or labor to labor.
All women's groups in Guatemala are sorely in need of international solidarity. A new national campaign which merits special attention is Women For Guatemala in which women in the United States are organizing to support the women in the CPRs. Its objectives resonate with that of International Women's Day and the Quincentennial insofar as it hopes to promote organizing efforts by women for social change and calls for a new political and social vision in contrast to the past 500 years of repression.
For more information about how to become involved in WOMEN FOR GUATEMALA, and/or other women's groups, contact: The Guatemala News and Information Bureau; P.O. Box 28594; Oakland, CA 94604; TEL: (510) 835-0810; or Women for Guatemala-Weavers Project; 529 South Wabash Room 404; hicago, 60605; Tel: 312-431-1165.
May-June 1992, ATC 38