Against the Current, No. 37, March/April 1992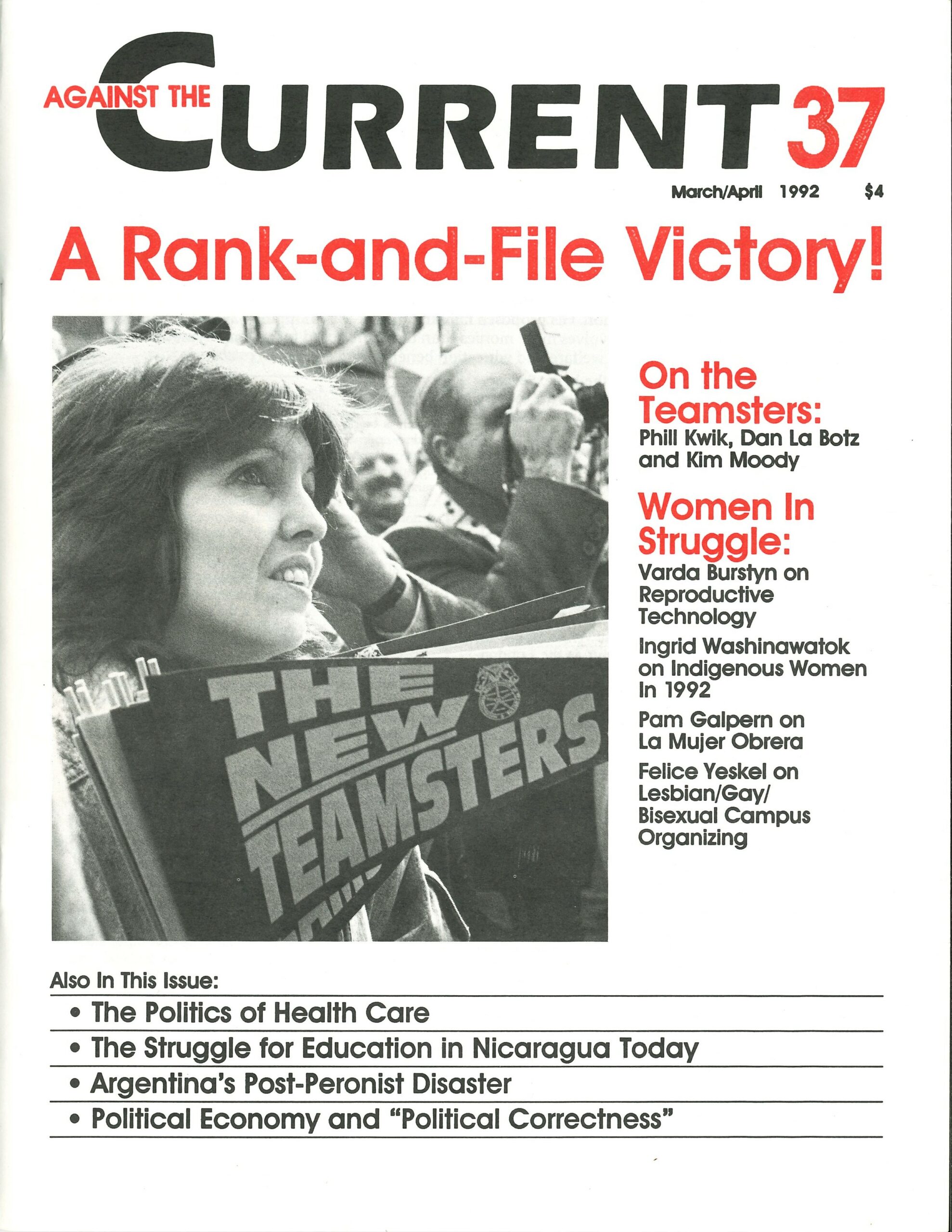 IN EARLY JANUARY, the Food and Drug Administration (FDA) called for a moratorium on the sale and use of silicone breast implants while new data on their safety is reviewed. The FDA move comes in response to thousands of complaints made by women who have the implants, and to newly published internal memos from the country's largest manufacturer of silicone gel implants, Dow Corning Wright, which raise concerns about their safety.
Until now the implants have not been regulated by the FDA. Now evidence is mounting that a variety of health risks may be associated with the implants. The FDA has received over 3000 complaints so far,
Reports from rheumatologists submitted to the FDA indicate that increasing numbers of women with the silicone implants are experiencing autoimmune disorders, which may be caused when the gel leaks and migrates to other parts of the body.
Women with implants have also complained of inflammatory reactions, pain and hardening of the gel. Furthermore, some physicians worry that implants may obscure suspicious masses on mammographic X-rays.
Throughout the moratorium, Dow Corning officials have dismissed the data as "unscientific," maintaining that the implants are perfectly safe. But some scientists within the company have been calling for safety studies for more than ten years.
Thomas Talcott, an engineer who quit Dow Corning in 1976 in protest of its lack of safety studies, was quoted in a recent Oregonian article as stating that "Dow Corning and the plastic surgeons have conducted a massive experiment on women, under the guise of selling a commercial product."
Of the 150,000 women per year who receive implants, most choose silicone gel as opposed to saline-filled implants, which may be safer. Eighty percent of all breast implant surgeries are performed on women who are seeking enlargement of their breasts; the other twenty percent are reconstructive surgeries for women who have had mastectomies.
Aside from health and safety issues, the marketing of implants to women, cancer patients or not, is one of the many ways in which the pressures on women to look certain ways are exploited by the joint efforts of medicine and big business. Silicone implants run from $2500 to $3000.
I am sympathetic to women who choose implants after mastectomies. In my work with cancer patients, I have learned that "normalizing" one's life after being diagnosed with cancer, facing one's own mortality and going through surgery is often therapeutic.
But as Audre Lorde says in The Cancer Journals, written after her own mastectomy and decision not to choose prosthesis, the "emphasis upon the cosmetic after surgery reinforces this society's stereotype of women, that we are only what we look or appear, so this is the only aspect of our existence we need to address … But we are allowed no psychic time or space to examine what our true feelings are, to make them our own. With quick cosmetic reassurance, we are told that our feelings are not important, our appearance is all, the sum total of self."
Lorde's words speak also to the women who undergo breast enlargement in hopes of finding happiness in a brutally sexist society that values their looks above all else.
A recent quote from a New York plastic surgeon in American Medical News illuminates the crossfire in which women find themselves. In response to the moratorium, Dr. Robert Soley states:
"My breast implant practice begins every April when women first try on their bathing suits. I'm hoping this will all be cleared up by then."
March-April 1992, ATC 37