Against the Current, No. 31, March/April 1991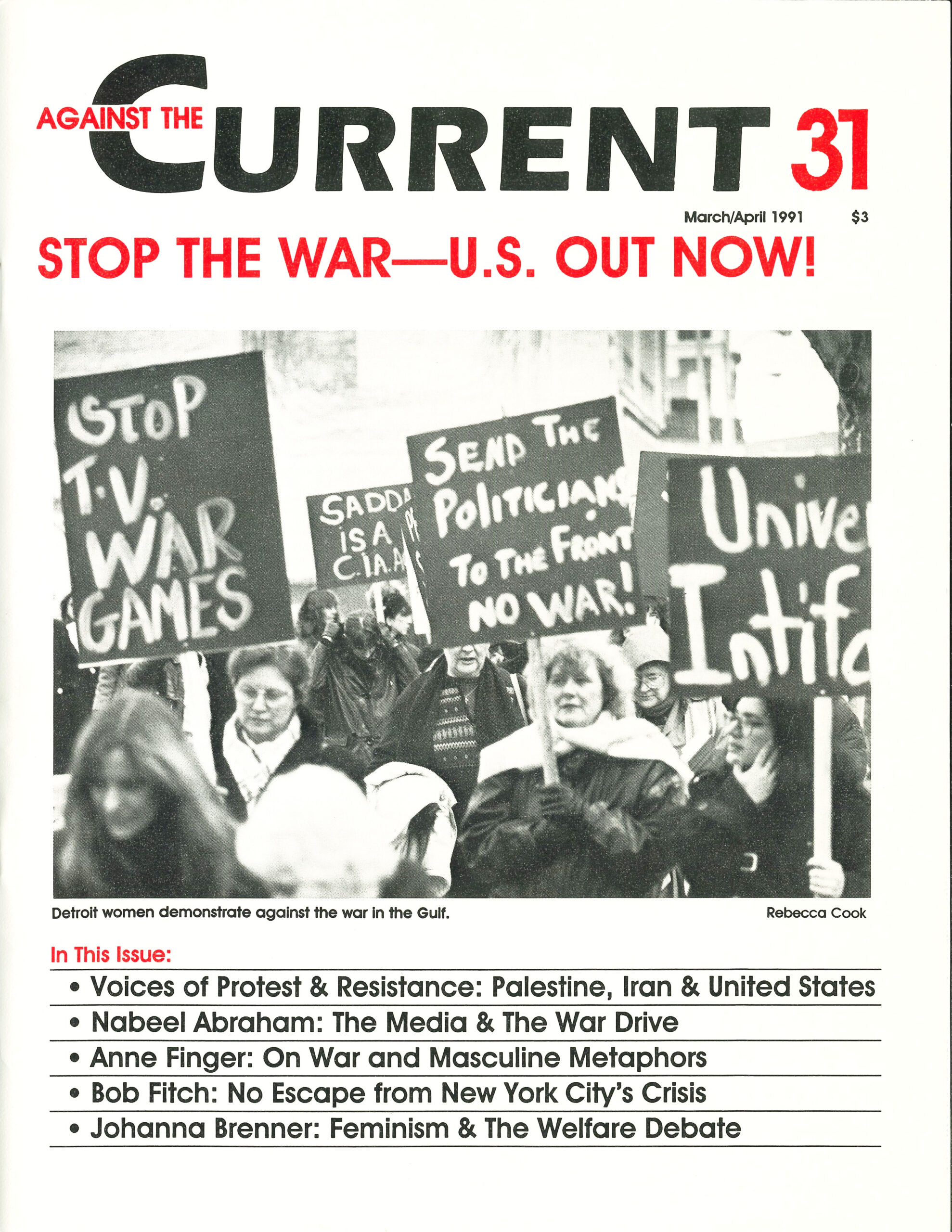 Jessica Daher is a regional staff person for the American-Arab Anti-Discrimination Committee (ADCJ in Detroit. She was interviewed during the first week of the war.
ATC: What's been the feeling in the Arab community locally, and nationally so far as you can get information about it, since January 16?
Jessica Daher. Fear–a tremendous amount of fear. We've been getting lots of phone calls to our office, but people also report incidents to the police and the press gels information from police sources.
What's been reported so far are not wholesale attacks on the community, but instances of violence and threatening phone calls. But I expect that the ground war when it comes would make thingsmuch more difficult for the community.
There are people who are afraid to go out of their homes, especially women who wear head scarves. This includes not only recent immigrants, but people who have been here for a long time, because they are afraid they will be targets.
Yesterday I found out about a young student, getting his car filled at a gas station on the east side of Detroit, who was beaten up by four guys. I think there's real fear about what has happened and the potential for what may happen, because of a culture pre-disposed to anti-Arab hatred.
ATC: What's the situation with the FBI coming to interview residents of the Arab communfty about their political views?
J.D.: The FBI thing is interesting. Our position is that their "program" is ridiculous, to announce that they will talk to community leaders about their own security and about terrorism. It's insulting, demoralizing—they have no business asking Arab- Americans about their political feelings.
To talk to people about specific criminal investigations is one thing. But the idea that people in the community are going to know about terrorism is absurd. There is no history of Arab terrorism in this country, by the FBI's own reports.
We've told people that if the FBI knocks on your door, you don't have to talk to them. If you want to talk to them, you do it at their office with your lawyer present.
On the other hand, the FBI has been attentive to our security concerns; their Civil Rights division is on top of the situation in that respect.
ATC: So in a way, the FBI's concern for the safety of Arab Americans serves as the opening wedge for political snooping on the community itself?
J.D.: Yes, it's true, they've been using that method. But what's interesting is that in those very areas that were identified by the federal government as "high-risk areas" for terrorism, ADC has received the fewest reports of interrogation. I think that all the stink (about the FBI interrogation program), including the possibility of Congressional hearings, caused them to back off.
Regarding this threat of harassment, the Detroit and national American Jewish Committee actually made a very good statement (in mid-January), as well as many other organizations.
ATC: If people are being threatened or harassed, what do you recommend that they do?
J.D.: It depends on the nature of the incident. If there is an immediate physical threat, they should call the police and our office to report it Every incident goes into a log. If it doesn't feel like an immediate threat, just a crank call for example, then can our office to report it (The national office for the American-Arab Anti-Discrimination Committee can be reached at 202-244-2990. The Detroit office is 313-965-7680. Check the phone book for your local office.)
I must say that we've gotten support from many quarters–United Auto Workers, Vietnam veterans, schools and churches. I don't think this would have happened ten or fifteen years ago.
On the one hand it's a demoralizing situation. On the other hand, it's wonderful when a disabled Vietnam veteran, who's not an Arab-American or a member of any organization, calls to express his concern about what's happening to our community. That happened the other day, and it means a lot.
There's a lot of basic decency at the roots of this society, a fact that needs to be noted.
March-April 1991, ATC 31