Against the Current No. 19, March/April 1989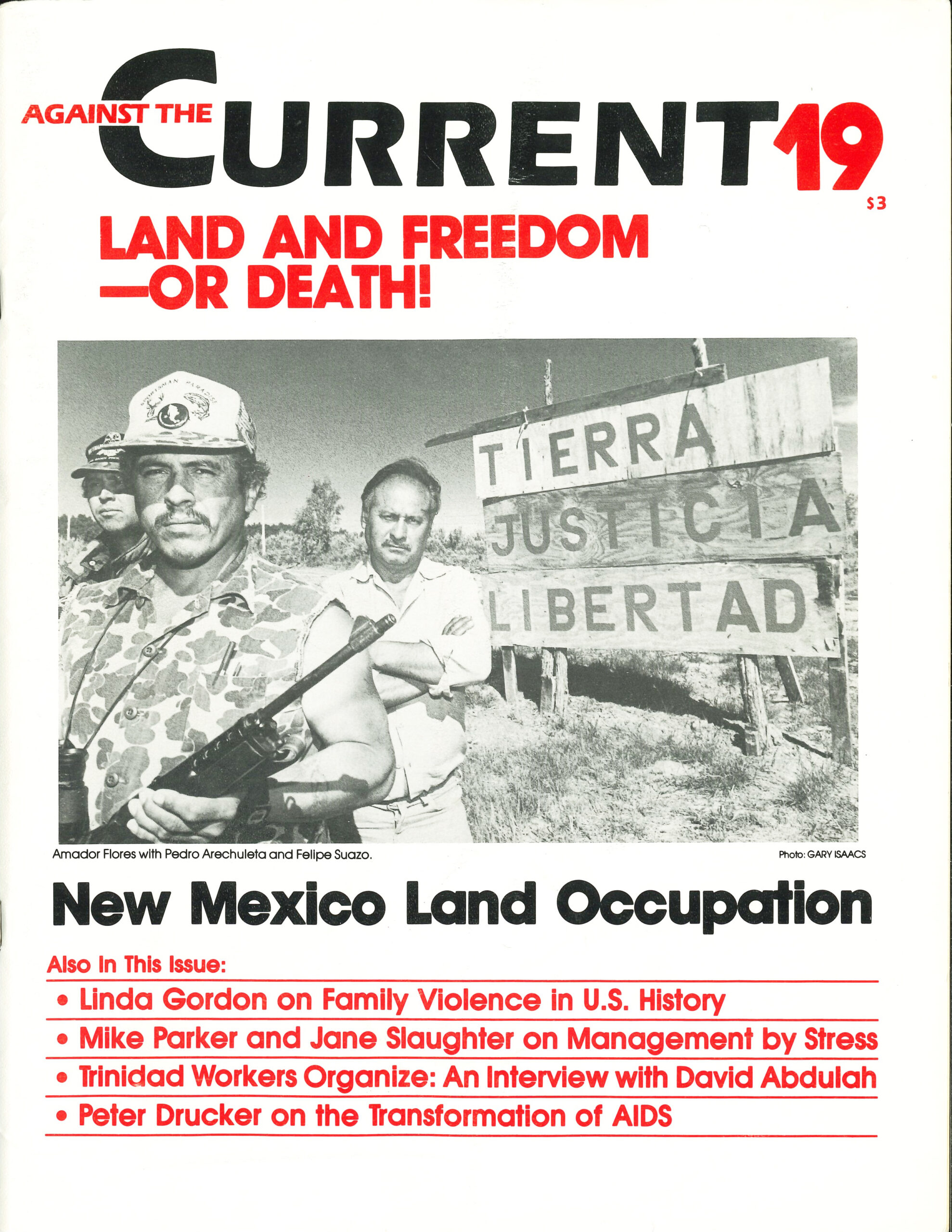 IN APRIL 1988, Tierra Amarilla, a village of 300-400 people in northern New Mexico, became the site of a militant political struggle of national significance. At that time, the community of mostly impoverished Mexican-Americans(1) rose up to defend Amador Flores, his family and a small group of political supporters who decided to defend by armed force 500 acres of land that a real-estate company was plotting to steal.
Presently, Flores, who served a jail sentence for "contempt of court" last summer, is banned from the occupation site. But armed supporters have remained on the land throughout a brutal winter, with temperatures often thirty degrees below zero and with two feet of snow. The two legal cases are in progress in state and federal courts.
Only a minuscule amount of news about these events has so far reached the general public, and much of this has been subject to the racist and class-biased distortions that usually occur in coverage of the struggles of people of color in the United States. Such prejudice is evident in the public statements of Richard Donaldson, the Columbia Falls, Montana, investor who claims that he is the original owner of the land on which the Flores family has been living and which it has been improving for twenty-one years.
When trying to persuade a newspaper reporter that he legitimately sold this land to the Vista Del Brazos real estate partnership in 1981, Donaldson gave the following characterization of Flores: "He's an immoral person. He had a bunch of monkeys on that land with him and they'd plowed up the ground and they were living like pigs in a hovel. Amador Flores is just an illiterate militant squatter with no personal hygiene whatsoever."(2)
What is actually occurring in Tierra Amarilla is the continuation of a 150- year-old struggle against the theft of communal land by wealthy outside corporations. Amador Flores is not the first, no will he be the last, to participate in a resistance movement that deserves the support of all those opposed to racism and who are partisans of political and economic justice.
While an examination of the political aspects of the case can provide a basic education in the history of oppression of Mexican-Americans, the legal aspects demonstrate the corruption of the justice system through the intervention of wealth and power. According to attorney Philip Davis, chair of the New Mexico American Civil Liberties Union (ACLU), "When the people find out how this all happened, they are going to be outraged at the manipulation of the System and they are not going to like that."(3)
Background to the Occupation
The roots of the land struggle in New Mexico go back to the United States 1848 invasion and conquest of the territory, which was originally part of northern Mexico. Under Mexican rule, the area now called northern New Mexico was economically organized around subsistence agriculture and the raising of sheep.(4) Typically a homestead and land for farming would be owned privately, while land for grazing and other use, as well as water rights, were owned "communally" (in common) and assigned by community councils.
When this territory came under the rule of the United States, the Treaty of Guadaloupe Hidalgo was signed. An accompanying Statement of Protocol specifically declared that "The American government … [does] not in any way intend to annul the grants of land made by Mexico in the ceded territories."(5)
Nevertheless, the treaty was systematically violated — not only in regard to land grants but in just about every other possible way — by the new conquerors. Following the violent suppression of the resistance movements of the indigenous population, the invaders turned over much of the communal property to the Forest Service or illegally sold to wealthy Anglo outside private developers.
However, corporate plans to develop the former communal property never went very smoothly due to the return of a pattern of militant resistance on the part of the local population. For forty years around the tum of the century, Mexican-American groups such as Las Gorras Blancos and La Mano Negra "had burned buildings, torn down fences, and committed other such terrorist acts to protest the seizure of their land."(6)
In the1960s, Reies Lopez Tijerina, the son of a poor Texas sharecropper, organized the Alianza Federal de Mercedes (the Federal Land Grant Alliance) to occupy a section of the Carson National Forest that had once been part of the land grant of San Joaquin del Rio de Chama. With mass popular support, the group declared a republic and subsequently attacked the local courthouse in an attempt to make a citizen's arrest of the district attorney for interfering with the people's rights.(7)
Many developers who claim to own land that was originally communal property have been foiled in attempts to develop the land in potentially profitable ways. John Nichols' 1978 novel, The Milagros Beanfield War, which was later made into a movie, brought many aspects of the resistance of the Mexican-American population to a broader public.
The Tierra Amarilla Struggle
Following the U.S. conquest of northern Mexico, there were 60,000 acres in the original Tierra Amarilla Land Grant of 1832, and two million acres in all New Mexico, that were considered to be community property to be shared for grazing, firewood and hunting, but never to be owned individually. However, according to research presented in Malcolm Ebright's The Tierra Amarilla Land Grant: A History of Chicanery (Santa Fe, NM: Center for Land Grant Studies, 1985), the land was simply stolen from the 600 settlers who were at that time living on the grant.
First, in 1860, the U.S. Congress declared that a man named Manuel Martinez had a private claim to the grant. For a while Martinez behaved ambiguously, handing out deeds to families settling the land, but also selling portions to the U.S. Attorney General for New Mexico, Thomas Catron, a leading member of the "Sante Fe Ring" of corrupt speculators. By the 1880s Catron managed to obtain most of the land, and New Mexico and U.S. Federal Courts declared earlier deeds to be illegitimate.
In the 1920s Kenneth Heron surveyed most of the Tierra Amarilla Land Grant for himself, selling 30,000 acres of it to the Spill Brothers Ranch. When the Spill brothers tried to use the land, however, two homes that they built were burned to the ground while other Anglo developers found cattle killed and fences cut.
In 1961, the Spill Brothers sold 1,800 acres to Richard Donaldson, who wanted it mainly as an investment. In 1981, Vista Del Brazos, a Phoenix, Arizona, Real Estate Company headed by Jack Halland, purchased this land from Donaldson. Halland obtained a title insurance policy from Lawyers Title Insurance Company and claims that he began paying taxes on the land. At present, Halland plans to sell the land to a developer who will build condos on it, which would be particularly lucrative if the rest of Tierra Amarilla is turned into a ski resort for wealthy Anglos.(8)
To the wealthy and powerful, the communal land issue is dead. However, Amador Flores comes from a family and community tradition of refusing to capitulate to this great land theft For example, in the 1930s, his father discovered an abandoned coal mine five miles outside of the town of Tierra Amarilla Following the advice of other resisters, he simply started working the mine, registered it in his own name and paid taxes on it A few efforts to take the mine back from him failed, and the Flores family, including young Amador, worked the mine until it played out in 1955.
In the meantime, back in 1946, the Flores family came into a deed of about 75-80 acres in Tierra Amarilla, and this was ceded to Amador by his sister. In 1966, when Amador and Fedelina Flores were married, under community property laws of New Mexico she obtained one-half interest in any land owned by her husband. This remained the case in 1968, when Flores, in the tradition of his father and the Mexican-American community, fenced in an unused 500 adjoining acres in order to graze stock, haul wood, grow crops and use for recreational purposes.
Flores subsequently wrote out a deed for this property and the couple paid taxes and made improvements. Since that time they have had exclusive possession and use, even though the 500 acres are part of the 1,800 that Halland claims to own and on which he claims also to have been paying taxes.
In 1985, Lawyers Title hired attorney Peter Holzem to represent Halland and Vista del Brazos in an "Quiet Title Action" (which would give Vista del Brazos exclusive ownership of the five hundred acres) against Flores. A suit was filed and the case was assigned to New Mexico District Court Judge Bruce Kaufman.
The assignment to Kaufman is itself a revelatory act in terms of the relation of the court system to the Mexican-American community. As a district attorney in Santa Fe, Kaufman unsuccessfully tried to prosecute Mexican-American survivors of a police raid on Escuela Tonantzinin in the early 1970s. Kaufman has also been accused of helping Nicaraguan dictator Anastazio Somoza purchase New Mexican land for possible relocation of his family following the Sandinista revolution.(9) Moreover, he was investigated for having attempted to run down in his car demonstrators protesting a party that he held for Somoza at his home.(10)
Thus it should be no surprise that Kaufman didn't bat an eye when the August1986 Quiet Title complaint falsely stated that Vista de! Brazos was in exclusive possession of all 1,800 acres — even though the Flores family was in possession of five hundred acres and Vista del Brazos never had been. Upon learning of the suit, Amador Flores filed an answer denying these allegations. In November of 1986, Holzem requested a pre-trial statement of Flores as to the status of Vista del Brazos, but the Floreses never received a copy of the request.
Then, on January 12, 1987, after two months of one-sided conversations between Holzem and Kaufman (interactions that are considered wholly unacceptable behavior according to the ethical standards of lawyers), Holzem filed a motion for a summary judgment (a judgment granted without formal trial on the grounds that there is no genuine issue of fact) against Fedelina Flores, since he believed he had disposed of Amador. He claimed that her failure to file a response to the Requests for Admission (which they never received and for which there exists no certificate of service, usually documenting that material has actually been sent out) constituted the basis for an order granting summary judgment in favor of Vista del Brazos.
On the same day, Kaufman entered an order granting the summary judgment of sole ownership on behalf of Holzem and against the Floreses. The Floreses did receive a copy of this order but they were without counsel and unaware of its consequences, and so did not appeal within the legal period.
On April 6, 1987, another judge voided the August 1986 decision against Amador Flores, so that in October 1987, Holzem had to file another motion for Summary Judgment on the Quiet Title claim, which he combined with a Request for Permanent Injunction against the Flores family to keep them off the land. At that time Vista del Brazos did not present any proof of title or deed, and, since the law is that determination of Quiet Title is based on the strength of plaintiffs title (not on weakness of the defendant's), Holzem's motion should have been denied out of hand.
Incredibly, in a repeat performance of the land theft of the nineteenth century, on March 25, 1988, Kaufman entered an order granting the Motion for Summary judgment and hand in ownership of the land exclusively over to Vista del Brazos. Then, on March 31 or April 1, following further one-sided discussions between Holzem and Kaufman, Holzem prepared a Notice of Hearing for Monday, April 4, at 1:30 p.m. in Tierra Amarilla, to be certain that Flores, who had no counsel would receive hardly any notice prior to the hearing. But following the earlier pattern, Flores never received the notice at all. On April 4, Kaufman signed an injunction ordering Flores, his family and friends to leave the land, even though no evidence was presented showing that other means of ejectment had been exhausted (probably because that would have been a jury trial). On April 11, Flores received a copy.
By this time word had gone out to the Tierra Amarilla community, and support for the Flores family was mobilized. Among the most articulate spokespersons on behalf of Flores was Pedro Arechuleta, a well-known political activist in northern New Mexico. Also prominent in defense of the property were Felipe Suazo, a Vietnam veteran who volunteered to train friends of Flores, and Daniel Aguilar, a member of a council of elders and former National Guardsman.
A fourth-generation resident of Tierra Amarilla, Arechuleta was previously active in the 1960s "Poor People's March on Washington" and in a local agricultural cooperative and health clinic. After touring China with a 1972 delegation sponsored by the Guardian newspaper, Arechuleta became a member of the National Committee of Hispanic Affairs, funded by the Episcopal Church.
When Arechuleta refused to cooperate in a Federal Grand Jury investigation into activities of the Puerto Rican left, he served eleven months in prison in New York. At that time he became a socialist and joined a group that became the National Liberation Movement of New Mexico. Their program calls for the reunification of territory conquered by the United States (Texas, New Mexico, California, Nevada, Utah, Arizona and Colorado) with a socialist Mexico.(11)
In addition to Arechuleta and the group who joined the Flores family on the land in early April, widespread community support was evidenced through fund raisers in Chama. Neighbors and friends were also bringing food to the occupation site.
In this atmosphere of rebellion, Holzem was unable to convince law-enforcement agencies to evict Flores. Consequently Holzem filed a motion with Kaufman to hold Flores in contempt for failing to comply with the injunction. Soon after, Kaufman was removed from the Flores case, but Holzem and Kaufman successfully managed to have the case transferred back to him. As a result, on June 17 Kaufman was able to grant the motion. Thirty law-enforcement officers were present in the courtroom, with possibly another hundred, including snipers on rooftops, outside the building. Flores was immediately arrested and jailed on contempt.
During the summer of 1988, Kaufman kept insisting that the condition of release must be for Flores to agree to force everyone off the land. But he was over­ ruled by a Court of Appeals, which changed the condition to that of Flores agreeing to persuade only those he could control to stay off the land. Feeling the press of family hardships, Flores agreed to this and was released.
Two important legal cases are now in progress. First, although Amador Flores' motions for the trial court to reconsider what happened were denied, the denial is still subject to appeal. At present, Flores is awaiting a decision on this and, if the appeal is granted, the case would probably go back to anew judge in light of the evidence of a conspiracy between Kaufman and Vista del Brazos.
Moreover, if Flores can prove that it is he who has the right of "adverse possession" he may win court sanction to retain ownership of the land. In this case, he is being represented, without lawyers' fees, by attorneys Richard Rosenstock and Michael Vigil of Chama, and the ACLU of New Mexico is amicus curiae (that is, the ACLU will make an argument on behalf of Flores even though it is not directly a party in the case).
In addition, both Rosenstock and Philip Davis are representing Fedelina Flores in a case against Jack Halland, Peter Holzem, and Lawyers Title Insurance Company, charging that they subverted and impeded her access to the courts by falsifying facts, failing to provide her with copies of critical pleadings, obtaining orders without evidence, and in other ways. Moreover, Fedelina is charging that the two men acted in concert with a state official(Kaufman) to subvert her right to effectively participate in the state proceeding, thereby denying her constitutional right to access to the courts.(12)
At the moment funds are urgently needed for transcripts and depositions in these two cases. Checks should be made out to "Amador Flores Defense Fund" and sent to Michael Vigil, P.O. Box 2328, Santa Fe, New Mexico 87501.
Beyond the two cases there still re­ mains the general issue of land theft. So far, the only legal proceeding in this regard is that initiated by New Mexico Congressman Bill Richardson, who introduced a bill directing the U.S. attorney general to study the land-grant issue and report to Congress regarding the chain of title for lands in New Mexico. The bill is currently before the House Judiciary Committee.(13)
However, Roberto Mondragon, former lieutenant governor of New Mexico and today a well-known political activist in the northern part of the state, has pointed out that ability to "study" is hardly adequate. Action is needed at once in terms of reconstituting the two million acres of communal land either directly or, if this is not possible due to the use to which stolen land has now been put, through the making available of alternative land of equal quality via the Park Service.(14)
Finally, the 500 acres of Flores' land still remains occupied by Pedro Arechuleta and other supporters. Since Flores now says that he only needs one hundred of the acres for himself, and that the other 400 were taken for the community, his supporters are in the process of organizing brigades to build a cultural center and library on it that will preserve the authentic history of the region and be an organizing center for future resistance activities. Of course, the occupation site remains under threat of an attack by the police, and sympathizers of the struggle must be prepared to vigorously protest any moves of aggression.
History from the "Bottom Up"
The continuous recycling through the U.S. educational system and the news media of a national mythology involving noble "founding fathers," savage "redskins," and Alamo "martyrs'" usually obscures public understanding of the formation of the United States through a brutal process of European invasion and conquest of people of color. Yet precisely such an understanding is the precondition for a political analysis and strategy that can begin to eradicate racism, ethnocentrism, sexism and class exploitation from our country and culture.
The celebration of various national holidays and the textbooks used in our school system are key components in the perpetuation of a vision of U.S. history that deludes and disempowers those who do not control the levers of economic and political power. But occasionally aspects of the authentic history of the social formation resurface in newspaper headlines about dramatic acts of militant resistance by the intended victims of these political, economic and cultural dominations.
The occupation of land by Amador Flores and his supporters in New Mexico is precisely such a case. By their dramatic actions these ordinary people are telling a story that our cultural institutions have done everything possible to suppress from our consciousness.
In recent years left-wing professors such as Howard Zinn, author of the 1980 A People's History of the United States, have made efforts to tell the history of the United States not from the viewpoint of the wealthy rulers but "from the bottom up." Today, committed fighters for liberation such as those involved in the Tierra Amarilla land occupation are teaching that history through their courageous actions. We must all be their students.
Notes
March-April 1989, ATC 19