Against the Current, No. 11, November-December 1987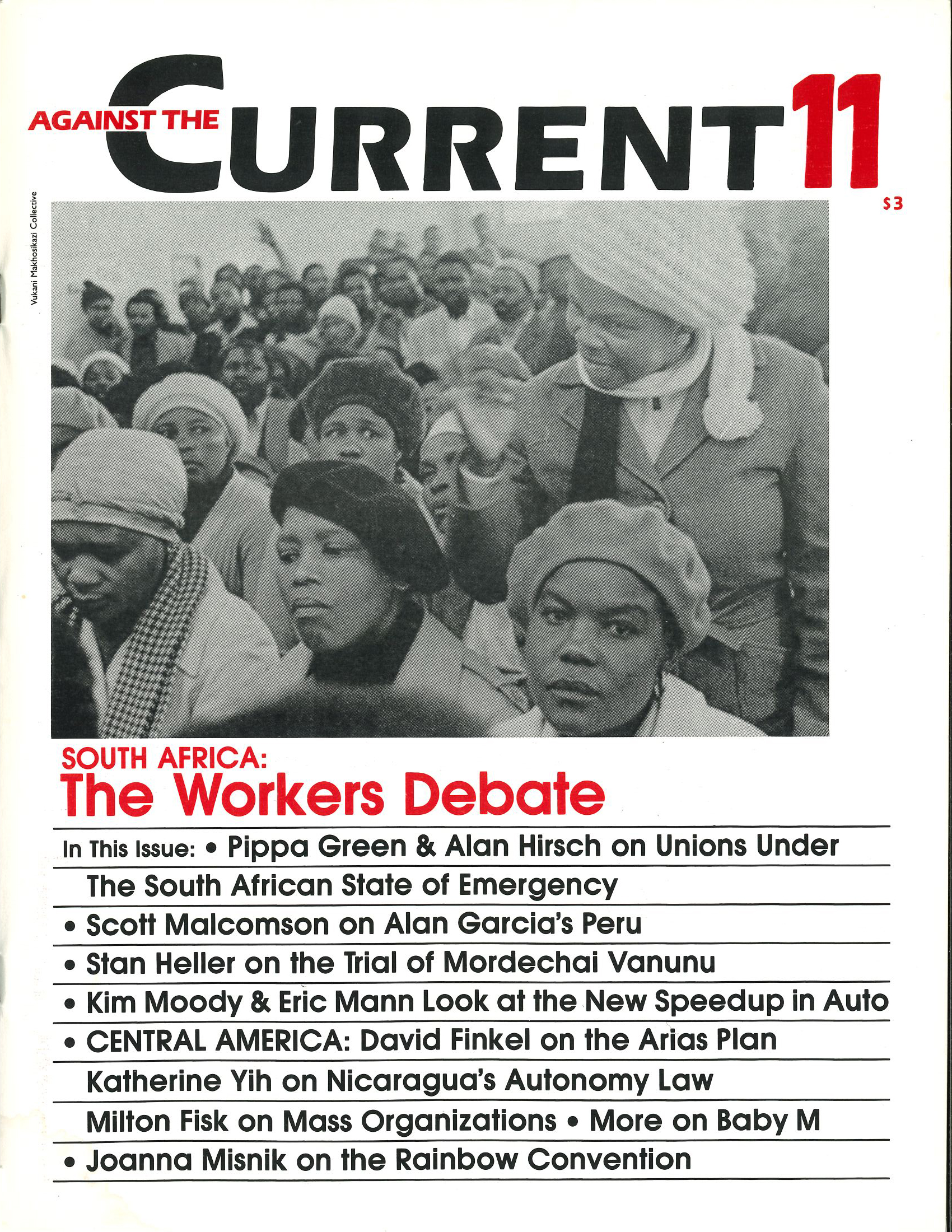 FROM THE MOMENT he was discovered by the international press, Peruvian President Alan Garcia Perez was considered either a hero or a dangerous maverick. According to Business Week, by September 1985 his name had "taken on a new meaning: Bad Boy."
The attention centered on Garcia's policy, declared in his inauguration speech on July 28, 1985, of refusing to pay more than 10% of Peru's export earning toward servicing the nation's foreign debt. Garcia has powerfully characterized foreign debt repayments as "a barefaced mechanism for the transference and extraction of resources."
This firm stand was a high point in macho politics — Garcia was young, strong, and intelligent, standing up to the International Monetary Fund (IMF) and baldly labelling it as an agent of foreign imperialism (though his actual payments since the inauguration have been higher than his predecessor's). He even urged other Latin nations to join him in a united front, intentionally needling the international banks by calling for debtor solidarity.
Domestically, Garcia's right-wing opponents could only object that he was alienating foreign capital-a feeble charge indeed given the disastrous failure of the Chicago-school government that preceded his. Garcia's left opponents — Izquierda Unida (United Left) — a much stronger electoral threat, could only complain that he wasn't openly defaulting. The far-left insurgency known as Sendero Luminoso (Shining Path) charged that the anti-IMF stand was essentially smoke-and-mirrors. The 10% policy is by now old news. Argentina's Raul Alfonsin and other Latin statesmen listened to Garcia's proposal for a debtors' cartel, then calmly ignored him. In Peru, the anti-IMF stand is no longer a blazing call to arms; it's a political ground rule.
The domestic debate focuses much more on the possible strategies for development and the political competition between Garcia's APRA party,(1) the United Left coalition, and the right wing (split into several parties and fractions), with constant reminders of Peru's other political drama, the struggle between the armed forces, Garcia, and the Shining Path.
These aspects of Peru receive little international attention since there is no obvious connection to the industrialized countries' political economy, or to East­West political gamemanship. Owing to the portrayal of Shining Path as completely lunatic, even Peru's far-left insurgency is incapable of stirring interest.
A Test Case
Nevertheless, the Garcia administration is of more than parochial importance. It at least presents itself as further to the left than any other South American government.
Alan Garcia has undertaken a political project that is often revolutionary in its rhetoric, and sometimes innovative in its programs. It is destined to be used as a test case for Latin social democracy-or at least bourgeois nationalism-and of the possibilities for "left-centrist" change in a context of extreme economic crisis. Garcia's decision this July to nationalize the banks, inconceivable two years ago, will define the debate over whether Latin social democracy can succeed without turning into socialism.
Immediately after his victory Garcia sought the counsel of Argentinian advisers, and his initial program was modeled on that nation's austral plan. (In a disturbing coincidence, it was to a great extent Argentinian advisers who modeled Peru's brutal counterinsurgency program against Shining Path.)
Once the 10% strategy was laid down, Garcia imposed a blanket of controls: on prices, salaries, wages, foreign exchange, bank-reserve requirements, and interest rates. Peru's old currency, the sol, was devalued by 10.7% and renamed the inti, with 1000 soles equaling one inti.
Many of these initial measures were billed as emergency steps, though most have continued with occasional alteration — for instance, price freezes were replaced in December 1986 by a looser regimen of controls. The government has yet to work out a coherent long-term plan, a failure that has inspired the derogatory term cortoplacista ("short" term-ist").
In many ways Garcia's most important measures were the establishment of firm exchange rates coupled with a freezing of foreign exchange assets in banks, mainly certificates of deposit. After some tentativeness, the government increased the percentage of foreign-currency assets that Peru's banks were required to keep in the Central Reserve — and, rather boldly, outbid the street market for dollars. That most of these dollars originated in narcotics trafficking was a moral curiosity rarely commented upon at the time.
The interest that the Central Reserve then started paying to banks for their funds — dollars and intis — was so high that most banks kept more in the Reserve than was required, thereby avoiding the risks involved in lending. This confiscation of funds, from which the banks made tidy profits, gave the government considerable control over credit.
Speculation as Monetary Policy
These early moves are particularly significant because, during the Belaunde regime (1980-85) that preceded Garcia's, the possible engines of legal capital accumulation had been virtually replaced by a single piston —
speculation in dollars, that is, speculation against the national currency.
The Belaunde economic program had been classic IMF lunacy: elephantine investment projects, sacrosanct military budgets (the largest per capita in Latin America), austerity for the poor, emphasis on exports with as little value added as possible, and devaluations so constant they began to seem like a force of nature. Real wages declined, and Peru's already miserable living standards worsened. The results for the poor were harrowing; for example, in 1983 between eight and nine out of every ten children admitted to Lima's Children's Hospital were malnourished, while in 1971 the number had been five.
Given this desperate economic context, the dollar, in its role as undertaker currency, was an excellent investment. The conjuncture of inflation and devaluation meant that holding dollars was the same as making money — capital redistribution and concentration in perhaps its purest form.
Meanwhile, having a savings account in soles amounted to a negative investment. At then prevailing real interest rates, it was impossible to do anything with soles except lose money. Obviously, those Peruians who didn't have any leftover soles to put in the bank and earn interest were hit even harder by inflation and devaluation.
Apart from obtaining dollars, the main methods for making money during the Belaunde years were: the drug trade, to this day Peru's largest source of both foreign exchange and export revenue(2); petroleum; graft gained within the bureaucracy, particularly through big­ticket state development projects; urban real estate; and the various black markets. The combination of foreign-exchange speculation and dependence on dollar-denominated foreign loans was eventually given the name dolarizacion, a term which became a kind of code word for the compromise of Peru's national sovereignty.
Belaunde's administration was rightly seen as a U.S. client and a hostage to foreign banks. Such a popular perception didn't require difficult wordplay, Marxist or otherwise, to be explained. It was abundantly evident that the rich were getting richer and the poor poorer, and that dolarizacion was the principal mechanism for this redistribution. The repressive reflexes of Belaunde's administration and the military only exacerbated the impression of a sharp class division.
Garcia's Monetary Policy
Garcia's freezing of the dollar and firm line on debt service — both of which were explicitly articulated as anti-dolarizacion, pro-sovereignty measures — thus answered a fundamental nationalist need. "Nationalist," that is, in the sense of aiding the majority, since the elites who profited from speculating against the sol was losing their gravy train. Certainly those same elites had not considered dolarizacion anti-nationalist, since it benefitted them and they were, in their own eyes, the most patriotic of Peruvians.
By the end of 1984 freezing the dollar assets accounted for more than half of the total bank liquidity. This measure-along with others-effectively ended dolarizacion. Not by chance it also gave the government unprecedented control over what foreign currency there was within the banking system.
Naturally, currency that had been shifted abroad prior to July 1985 and drug-related revenues that weren't put into the banks remained free from government intervention. But even within these limits, the government's dollar- and inti-hoarding policy had substantial effects.
The Peruvian Central Bank estimates that within two months the government's aggressive dollar buying had removed $40 million from the street market. Off the street, in the accounts of finance capital, one official estimated that Garcia's program in its first five months would remove some $600 million worth of intis from the private sector.
By comparison, government reserves prior to Garcia's inauguration were only about $1.5 billion. Given that Garcia was making himself a pariah to the international banking community, he was going to need all the foreign currency and inti reserves he could get.
Once the Garcia administration confiscated money, it had to decide what to do with it. The general program adopted was quite a bit less radical than the initial bold moves on foreign currency and debt. At their heart, Garcia's economic policies turned on the necessity of convincing private capital to invest in ways that the government believed would most benefit all Peruvians. This wooing of capital was generally articulated in terms of a Grand Project, a sort of national mobilization that was necessarily vague as to whom it was- mobilizing against (apart from the IMF).
After all, many of the people who profited from dolarizacion were now among those urged to become-against their nature-socially conscientious, bootstrapping entrepreneurs. This helps to explain why Garcia's revolutionary language is so often vague. There's quite a gap between patriotic fervor and a pattern of investment. The Grand Project's rhetorical élan didn't really bridge it.
The Role of the Peruvian State
The young technocrats responsible for the Grand Project came from a peculiar class subgroup. With the collapse of raw materials markets in the 20th century, Peru's post-colonial, landowning oligarchy, never much given to entrepreneurial vigor, slowly unraveled.
At the same time several urban centers grew along with their respective industries, spawning white- and blue-collar groups with varying degrees of organization. The oligarchy attempted to preserve its status politically through variations on liberal-democratic authoritarianism.
This paved the way to a frail parliamentary reformism only in 1963, with Fernando Belaunde Terry's first administration. Belaunde's timid reforms were jarringly replaced by a thorough-going state capitalism when moderate and/or radical (the correct label is tirelessly debated) military officers overthrew him in 1968. Peru's first large-scale land reform was enacted, breaking up some of the remaining large estates.
The government nationalized most of the foreign or oligarchic enterprises; the state's share of total production went from about ten percent in 1968 to twenty-one percent by 1975. This period, which some Peruvian leftists refer to as "the revolution," was definitively ended when a more conservative military clique took over in 1975 and reversed many of the earlier policies.
One policy that wasn't reversed was state control over key parts of the industrial economy, particularly mining, distributional infrastructure, and some finance. These state sectors provided crucial patronage, and helped create an alternative ruling class to take on the shroud left by the oligarchy. Young men, who had received university degrees in the 1960s and early '70s — a boom period for public education — found employment in the military regimes.
The new technocratic class hibernated to some extent during the second Belaunde administration (1980-85). After all, it was the military government that had thrown him out of office in 1968. But in a poor country of 16 million there are only so many college graduates.
Not many of the 1970s technocrats had to suffer the hardships of unemployment under Belaunde. His team of economic advisers, misnamed the equipo dynamo, were largely young men who had received their neoclassical training in U.S. schools.
This technocrat class has come into its own with the Garcia administration. Garcia himself was thirty-six when he took office. The son of a politically active accountant, he was educated in Lima, Paris and Madrid. He is tall and handsome and married the blonde daughter of a wealthy Argentinian. Garcia had a very rapid rise within the APRA party, owing to consistent ambition, a remarkable talent for political organization, his father's influence, and his attractiveness as a candidate.
Garcia also possesses an ideological flexibility that could be called opportunism. Between 1977 and 1985, first as organizational secretary and then general secretary, he managed to "support" every faction within APRA, from the right-wing Andres Townsend to Townsend's (relatively) left-wing nemesis, Armando Villanueva.
During his renovation of the moribund APRA, Garcia filled important party positions with men from his generation. Garcia's campaign assurances that he wouldn't run a patronage government like his predecessors are now merely electoral history: the regional development corporations and banks are being systematically apristizado. Garcia's opportunism is packaged as technocratic open-mindedness, the refreshing optimism of a non­dogmatic generation.
The administration's personnel come from a generation and class whose prosperity is based on state contracts and bureaucratic salary-juggling, but they have adopted an ideology of thrusting young-entrepreneurism. They are essentially a club of well-off sons who want to make the system work: Peruvian yuppies.
Garcia's Plan to Expand the Economy
With a faith more characteristically North American, Garcia and his team spoke confidently at the outset of increasing domestic demand and consumption as a stimulus to growth.(3) Corporate taxes were cut, and some wages and salaries were raised. The greatest advance was in top-level salaries; the other important increases within the administration's first nine months were in the minimum wage for unorganized workers and in wages for teachers and doctors. These, combined with the anticipated post-dolarizacion price stability, were meant to lead wealth­generating expansion.
And in fact Garcia's first seventeen months were distinguished by a drop in inflation (from the low three digits to 62.9% in 1986) and a dramatic increase of 9.2 % in the gross domestic product during 1986.
But increasing demand in a poor country is problematic, and increasing it with some semblance of democracy is a Promethean challenge.
Apart from more affluent consumers, increase in demand has been very slow, and much of what has occurred (for example, in housing construction) is directly linked to state intervention, not some improvement in the equity of the free market. Moreover, again with the exception of higher-paid groups, remuneration has not grown that much. Taking July 1985, when Garcia was inaugurated, as a base, collectively bargained wages had declined 14.2% by January 1986; salaries increased by 7.9 %, leaving an overall real decline of 10.6%.
The trend was "reversed" in 1986, when real average wages in the commercial sector, for example, increased by 7.8%-still 1.4% less than the gross domestic product (GDP). But the real wages of unionized workers over this period dropped 12.7% — and those unionized workers account for roughly seventy percent of the GDP, since big industry is highly organized. The spectacular GDP growth of 1986, then, was being achieved on the backs of organized labor.
Who's On Top in the Social Pyramid?
The key to making wage decline look like populism lies in splitting organized and unorganized workers. Although the gap between the two groups' earnings widened slightly in Garcia's first months, it narrowed during 1986.
Garcia has from the beginning tried to split organized and unorganized workers, positing the unions as selfish defenders of their own living standard, to the detriment of their erstwhile brothers and sisters.
In his inaugural speech Garcia referred, in an imaginative populist maneuver, to "those that are on top of the social pyramid, in administration or industry, or the capitalists or trade-union members." This anti-union posture has not been consistent. In 1984 Garcia vocally supported strike actions, and courted certain unions prior to the 1985 election. He signed, as did his United Left presidential opponent Alfonso Barrantes, a National Agricultural Plan hammered out by the independent Concejo Unitario Nacional Agrario, an umbrella group of agricultural unions. The plan and Garcia's commitment to implement it have since fallen into obscurity.
Most of Peru's major unions are controlled by United Left sympathizers. Both before and, increasingly, since the election, APRA has tried to promote its own unions and thus split the labor movement. At the same time, major union actions since Garcia's election-notably by miners, teachers and doctors-have met violent repression, a harshness that Garcia has done little to mediate.
Given Peruvian living standards and declining union wages, Garcia's labor aristocracy argument is spurious at best. The average union worker's wage in January 1986 was about $81 a month. One can hardly accuse Peru's organized miners of posh living: according to 1983 statistics every four days a miner dies in a work­ related accident.
Still, the splitting of labor into an unorganized mass, to which Garcia appeals, and an organized and privileged class of workers has proven politically effective-as APRA's overwhelming success in the 1986 regional elections bears out. At the same time it provides a way to talk of increasing demand by helping "the most poor," while nonetheless restraining wages overall. The bottom line remains — real wages are stagnant, consistently lagging behind GDP growth. What little improvement there has been is almost entirely due to government spending.
The simplest way to describe Garcia's demand-side problem is that he wants workers to spend money they don't have, and which, moreover, he is incapable of giving them. Government policies to encourage investment face a similar contradiction, though here the situation is more complex.
On the one hand, Garcia's team declared early on their intention to reduce businesses' financial costs, encourage the hiring of new workers, and cut corporate taxes. And, somewhat less explicitly, the government demonstrated its eagerness to diminish the power of labor. It even provided temporary, minimally paid workers for some projects through a state employment scheme.
With some exasperation, Garcia's industry minister said in the spring of 1986 that Peruvian investors and businessmen "have received incentives such as no former government has given them."(4) This is an extraordinary claim since so many Peruvian governments have been merely stalking horses for the elite. In July 1986, belying the asperity of Garcia's minister, the administration embarked on a new round of concessions to big business.
On July 28, the government created the strangely named Emergency Employment Program (Programa Ocupacional de Emergencia, or PROEM), making it possible for employers to hire temporary workers independent of whether their jobs were of a permanent or temporary nature. It also permitted the suspension for two years of workers' right to stable employment. According to the constitution, this right can only be suspended in a state of siege-"in case of invasion, external war or civil war, or when there is imminent danger of such a situation." No state of siege has been declared.
What has been declared is a siege-like state of mind within the government and Peru's elites. As a document circulated at the 1986 annual conference of businessmen put it, "There can't be the same sort of labor legislation in times of expansion as in times of crisis."
The siege of Peruvian capital, from July 1986 to the spring of this year, led to an unprecedented intimacy between the government and Peruvian big business. The idea of a Peruvian oligarchy, which had all but disappeared in the social-democratic fervor of Garcia's first two years, was reborn, along with a new phrase, "the twelve apostles." The Grand Project was boiled down into these twelve men, the biggest of Peru's (legal) capitalists, with whom Garcia held in camera conferences, hoping to convince them to invest in their country. Heretofore secretive capitalists made public statements supporting the government; 1987 was designated the "year of investment."
A mysterious business-and-government group called the National Investments Council was launched in January 1987, and in April the state announced a new fund for Investment and Employment, through which businessmen would be given control of state funds to aid investment.
Despite all these incentives, investment has been very sluggish-and for good reasons. First, the government's capturing the foreign exchange assets and raising of reserve requirements shrank the pool of available private credit.
Second, the fixed exchange-rate schedule harmed exporters. Relative rates of inflation — Peru's is running around 70% annually, the industrial countries' run around 3%-led to an overvalued inti. This is in a context of miserable prices for Peruvian exports (except cocaine paste and some black market goods).
Third, despite government efforts, the trade unions are not yet cowed.
Fourth, leftist insurgent groups (Shining Path, Movimiento Revolucionario Tupac Amaru) continue to harm the business climate through both selective assassinations and general terror.
Fifth, the loss of the dolarizacion gravy train remains deeply felt. This combines with a logical expectation of eventual devaluation, and even the fond hope that dollar assets will one day be unfrozen and some variation on the old game can be played. Since late 1986, when the government began more or less regular devaluations, speculation against the inti has resurged.
Sixth, more than 30% of the existing industrial plants are idle.
Finally, for austerity reasons some pork-barrel spending has been cut back, which is discouraging when you're used to state largesse and lucrative partnership deals.
Thus investment remains scarce. Capital flight has been a persistent problem through 1986 and into 1987. Recent statistics show imports increasing (partly in reaction to affluent consumption) and export income decreasing. The public sector deficit is running about the same as under Belaunde (8% of GDP), in part because of higher public-sector salaries. Real GDP per capita is the same as twenty years ago.
One month after Garcia's inauguration, a poll was taken of executives, who were asked, "If you had the power of decision in a business with an opportunity to expand your activities or start new businesses, would you invest?" 55% said no; more than half explained they didn't have faith in the future of either the country or the economy. One year later, a similar poll showed slight improvement-47% said they would invest as much or less than they did in 1986.
The Next Step: Nationalize(5)
Despite epic bouts of hand-holding thgovernment attempted with the corporate world in 1986 and early 1987, the investment pattern remained constant. Garcia had been betrayed.
So last July 28 Garcia announced his intention to nationalize the banks. Legislation took effect on September 29. The affected banks represent 39.5% of the capital and reserves of the banking system; financial corporations set for nationalization currently control 45.6% of the capital and reserves of the non-banking financial system.
The great white hope of Latin social democracy didn't have much choice. There is very little to suggest that Garcia's program has been successful in its own terms, despite the encouraging figures of 1986. Statistics for the first trimester of 1987 brought bad news: international reserves slipped dramatically, and the GDP growth rate plummeted from a spectacular 21.5 % in the second trimester of 1986 (it had been low or negative in the other three trimesters} to -7.5% in the first trimester of 1987.
With the lonely exception of agro­industry, all economic sectors declined, led by fishing (-20%) and manufacturing (-13.2%). But then, Garcia's own terms were extremely difficult to meet. He was promising a radical break with Peru's past, even a revolution. It is always worth remembering that 2% of Peruvians receive some 30% of the national income. This fundamental symptom of economic inequity shows little sign of changing.
Garcia's revolution — at least, up to the nationalization — was dependent on the invigoration of Peruvian capitalists: their faith in the future, their eagerness to "create" and then share the wealth. The administration's technocrats were supposed to be the master mechanics for this growth machine. Garcia was supposed to be the object of popular faith.
An Alternate Plan of Nationalization
In its Government Plan, published as a book prior to the 1985 elections, the United Left opposition laid out its strategy for development. It called for nationalization of both the Banco de Credito — Peru's largest private bank, with 17.6% of the banking system's capital and reserves, as well as the main legal conduit for capital flight via its Cayman Islands subsidiary — and the Southern Peru Copper Corporation, one of the largest remaining outposts of American multinational capital.
The Plan outlined how Peruvian industry would be restructured to increase employment and reduce the domination of foreign capital. Among many other features, the Plan contained programs for decentralizing government, improving health and diet, and promoting grassroots agricultural reform.
The United Left's Governmental Plan was impressive in its thoroughness and sophistication. It also fundamentally threatened the Peruvian bourgeoisie, for whom the Banco de Credito serves as a flagship.
Fears of a coup d'état, in the event of a United Left victory, were traceable to this threat of socialism. Though playing on such fears obviously served Garcia's electoral purposes, they were not unfounded. The nationalization of the banks certainly takes the wind out of the left's sails. Garcia appears to have become as leftist as the opposition. In the first two years of his administration, Garcia tried to make a bargain with the devil; but by the spring of 1987, it was clear that the devil's check had bounced.
Nevertheless, it strains credibility to say that Garcia has changed his spots and become a Peruvian Allende. First of all, the history of his administration, and behind it the history of his APRA party, show consistent hostility to the left and consistent partnership, if often uneasy, with the Peruvian elite.
Secondly, since the nationalization Garcia has hardly been opening his arms to Peruvian leftists. Garcia and APRA seem determined to go it alone. Except that in politics, no one ever walks alone.
Where Are APRA's Allies?
Who will walk with Alan Garcia? The right wing is mobilizing against him. Writer and Wall Street Journal hero Mario Vargas Llosa is leading a putatively petit­bourgois movement called Libertad, charging Garcia with creeping communism. The twelve apostles are hiring lawyers to take the government into court and fight the nationalization law.
Far-right mouthpiece and former general Jorge Cisneros has floated the idea of a coup, although the military consensus is probably less eager than Cisneros; the military's relations with Garcia have been cordial, on the whole.
The moderate left, personified by United Left head Alfonso Barrantes, has always been friendly toward Garcia; but the moderates' political power is not great, and the more popular, harder left segments of Izquierda Unida are hardly on good terms with Garcia.
The largest non-moderate IU party, Partido Unificado Mariateguista, has revolutionary rather than democratic-reformist aspirations. Shining Path and the Movimiento Revolucionario Tupac Amaru presumably are happy to see the sharpening of contradictions and will let Garcia be hoisted by his own petard.
One clue to the future lies in APRA's extraordinary consolidation of bureaucratic power, and its decentralization of government-diffusion of government offices, strengthening of regional governments and banks, the creation of semi-independent development zones. APRA is very similar to Mexico's Partido Revolucionario Institucional (PRI) in its dependence on an extensive network of party loyalists who believe they to be the guardians of the vital center and democracy.
APRA functionaries — like those of the PRI — can be harsh in their administration of democracy; the term bufalo in Peru carries the very specific meaning of "APRA thug," and conjures a long history of partisan violence. It's not hard to imagine APRA turning into the kudzu-like growth that the PRI has become, administering what could be called an authoritarian­capitalist subsistence economy.
But APRA doesn't have the decades of power behind it that the PRI does. And when history in its slowness doesn't grant power, guns come into play. State repression will likely increase as Garcia struggles to defend his position upon a dwindling political base. He hasn't hesitated before in turning his tanks on unions and leftist politicians, and his strategy against Shining Path, while less sanguinary than Belaunde's, has had its massacres too.
The armed forces are ever ready to encourage the government in extending repression, as the massacres of Shining Path prisoners last June, and the arrest of hundreds of university students in February of this year, clearly show.
Garcia's campaign promises to rein in the military have evaporated into the thin Andean air. Bankers have also, for the first time in Peruvian history, had to face the implacable gaze of rumbling tanks. Such acute polarization is likely to contort the calm face of democracy until it is unrecognizable.
Revolution on the right, revolution on the left, and Garcia in the middle with a pistol in his belt. Garcia's telegenic populism and centrist brio was the key to his political power. With the nationalization, he is no longer centrist-unless, of course, he strikes some super-corporatist deal with big capitalists, who still control productive capital even though they've lost their financial dominance.
Barring such collusion, Garcia is left to stand on a shrinking raft. His popularity with the general population remains formidable, if declining. Generals, capitalists, and revolutionaries, however, rarely form their political opinions on the basis of TV spots and presidential addresses.
Notes
November-December 1987, ATC 11