Against the Current, No. 10, September/October 1987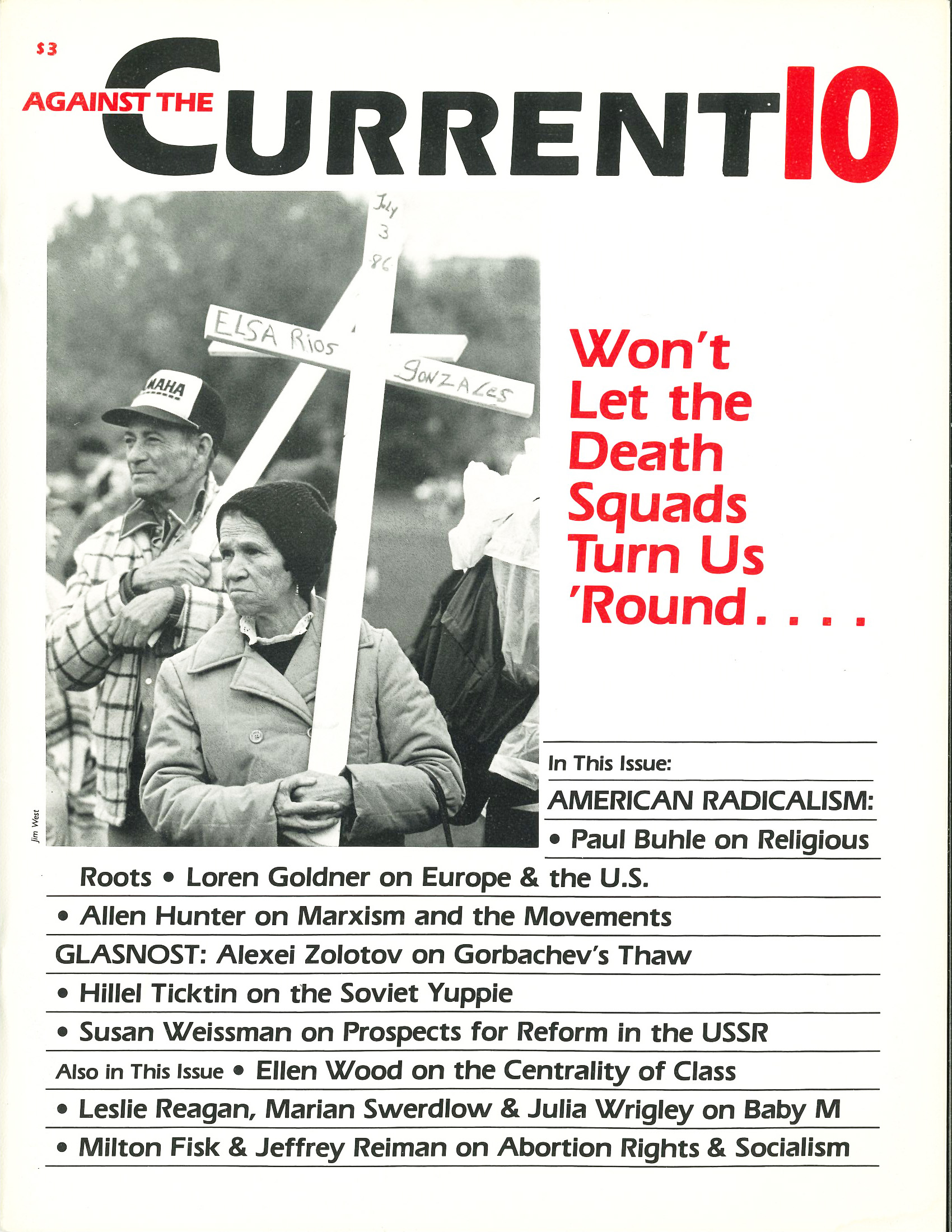 THE CENTRAL AMERICAN community in Los Angeles has been attacked, and threatened with further attacks, by what seems to be the Salvadoran death squad. The violence in Los Angeles coincides with the escalation of military and paramilitary death-squad terrorist activities in El Salvador.
On July 7 a Salvadoran woman, Yanira Corea, was abducted by three men who forced her at knifepoint into the van in which they drove around for five hours interrogating, torturing and raping her. Yanira is a 24-year-old refugee from El Salvador who has been politically active in Los Angeles in the fight against current U.S. policy in Central America.
Two of the abductors spoke with distinctly Salvadoran accents; the other was from either Honduras or Guatemala. They repeatedly raped her with a stick, slit her hands between her fingers with a knife, and burned her with cigarettes as they questioned her about her political activities and pressed her for information about her co-workers. One of the abductors suggested they should kill her but was dissuaded by the prospect of sending her back into her community to warn others, presumably to halt their activities.
Marta Alicia Rivera, a Salvadoran refugee who had been kidnapped and tortured in El Salvador in 1979, received a note which said: "For Marta Alicia and her terrorist companions for being a traitor to the country you will die together with your companions. You saved yourself in El Salvador …. Here with us you will not succeed." The note included a list of the names of those targeted "companions." Fifteen are Central Americans; the other four are leading members of Central American support groups in Los Angeles. Ana Maria Lopez, a Guatemalan woman, also was kidnapped. While waiting for a bus, she was abducted by two armed men wearing plastic face masks and interrogated for hours. She was released unharmed. But the process of intimidation continues daily with phone calls threatening: "Te vamos a matar, comunista, te vamos a matar." ["We are going to kill you, communist, we are going to kill you!"] and with the smashing of the targeted victim's automobiles.
Finally, Father Luis Olivares, pastor of Our Lady Queen of Angels Church, which in 1985 declared itself a sanctuary for those fleeing from violence in Central America, received a note with the capital letters "E.M." upon it. The initials stand for "Escuadron de la Muerte" or "Death Squad." This convinced the FBI to undertake an investigation in conjunction with the Los Angeles Police Department.
Strong Response
It is most important that the perpetrators of these crimes realize that the Central Americans in Los Angeles are not isolated. These tactics of intimidation are clearly intended to dissuade political activity among refugees. Counting on the fear of deportation, the death squads expected to condemn their victims to silence.
But the response of the North American community has been to join in solidarity with the Central Americans in delivering an unequivocal message to the death squads that their actions will not be tolerated. Safehouses have been set up around the city, a Refugee Emergency Assistance Fund has been established, and on July 29 a demonstration of close to 1000 expressed outrage over the death-squad activities.
At a press conference, Mayor Tom Bradley promised a $10,000 reward for information leading to the arrest and conviction of anyone involved in these "acts of violence and terrorism." He assured refugees that they could report such information without being subject to deportation; police and FBI records will not be made available to the Immigration and Naturalization Service.
Mercedes Salgado, also on the terrorists' list, urged citizens of the United States to put pressure on Congress to stop sending aid [some $500 million a year] to the war in El Salvador. "One million refugees," she proclaimed "would like to return to their country-but in peace, not in war."
Activists speaking out in opposition to the Salvadorian government have suffered brutal atrocities since the acute crisis in El Salvador began in 1979, but the apparent exportation of death squads to the United States places such brutality in a different light.
Central American refugees fleeing oppression in their homelands have not only received sanctuary in the United States, but have also counted upon the guaranteed right to freedom of speech and protest. Many of the refugees have continued to oppose a military solution to the problems in Central America.
But now, with the advent of terrorist violence here, they feel there is nowhere to go; the consequences of U.S. support for the militaristic regimes of Jose Napoleon Duarte in El Salvador and Vinicio Cerezo in Guatemala have been brought home.
For the past two years, under pressure from international human rights groups, the military of El Salvador has redirected its attacks by focusing upon the leaders of popular movements rather than the masses of members themselves. In effect, this reduced the number of human rights violations, but it signified only a change of strategy, not of policy.
Organized popular protest has, nonetheless, continued undaunted. In response to this, Salvadoran military leaders recently declared that they were sick of mass movements, protests and demonstrations and that the time would come when they would do anything to stop them. This has meant a return to old terrorist tactics.
On May 31, during a peaceful demonstration outside Mariana prison in San Salvador, Julio Portillo, the leader and executive committee member of UNTS (National Unity of Salvadoran Workers-the strongest mass organization in El Salvador) and ANDES (National Association of Salvadoran Educators), was shot and seriously wounded by government forces. Rather than undermining political activism, this attempted assassination galvanized the opposition movement.
On July 8 the National Guard opened fire on a rally of Social Security Institute workers, wounding at least fifteen people. The UNTS called on all Salvadoran workers to strengthen their organizations, to show solidarity with those involved in labor conflicts and to denounce both the massacre and the attempt on Julio Portillo's life.
Only a week later, the UNTS held a demonstration during which shots were again fired into the crowd and five people were wounded. At least fifteen people were beaten as they tried to flee violence. It may be frighteningly easy for United States citizens to ignore such "distant" activities, but the extension of the Salvadoran death squad apparatus to North American territory will bring the issues of repression and U.S. intervention in El Salvador much closer to home.
Tax deductible contributions should be made payable to "SCITCA Refugee Emergency Assistance Fund" and sent to SCITCA, 1010 S. Flower, Los Angeles, CA 90015.
September-October 1987, ATC 10