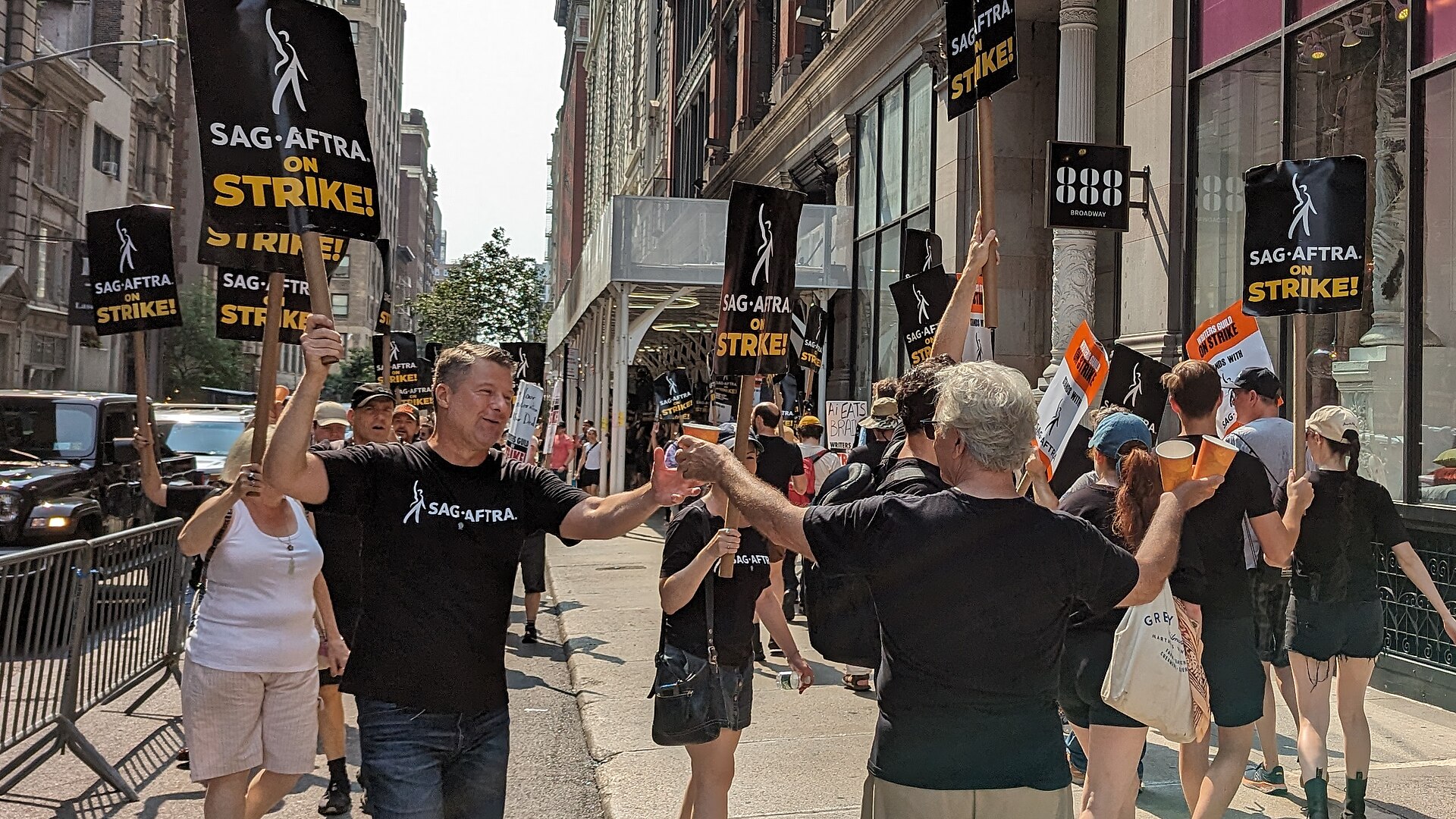 AFTER A 118-DAY strike, the Screen Actors Guild-American Federation of Television and Radio Artists–SAG-AFSTRA–reached a tentative agreement with the major studios. On November 8 union negotiators agreed unanimously to a three-year tentative agreement.
In a message to their 60,000 members, the Guild's television and theatrical negotiation committee announced, "We have arrived at a contract that will enable SAG-AFTRA members from every category to build sustainable careers," the. "Many thousands of performers now and into the future will benefit from this work."
The union said the strike — their longest — officially ended at 12:01 a.m. Thursday, November 9. The following day the SAG-AFSTRA national board accepted the settlement by an 86% vote and announced the results at a press conference later that afternoon. SAG-AFTRA Fran Drescher, national executive director Duncan Crabtree-Ireland and members of the union's contract negotiating committee were all present. "This victory is everyone's victory," said Crabtree-Ireland at the start of the conference.
Over the next few weeks SAG-AFSTRA members' will be voting on the agreement.
Victory for Labor
The proposed contract boosts minimum pay for members, increases residual payments for shows streamed online and bolsters contributions to the union's health and pension plans. It also establishes new rules for the use of artificial intelligence (AI), a major source of concern for actors. SAG-AFTRA said it won "unprecedented provisions for consent and compensation that will protect members from the threat of AI."
The union said the contract, valued at over $1 billion, includes "above-pattern" minimum compensation increases with a 7% general wage hike that "breaks the industry pattern." Background actors (those who perform in a non-speaking role) will receive immediate pay increases of 11%.
Those minimum wages will increase by another 4% in 2024 and by another 3.5% in 2025.
There will also be "unprecedented" provisions when it comes to protections surrounding the use of artificial intelligence (AI). According to the Guild, members will receive "informed consent and fair compensation" for the creation and use of "digital replicas of members."
"If we didn't get [AI protections], then what are we doing?" said SAG-AFTRA president Fran Drescher. "We're not really able to protect our members in the way that they needed to be protected. …If we didn't get those barricades, what would it be in three years?"
What's not clear in the TA, however, is the limits to extensive use of synthetic actors and other objects. That's what AI is all about — replacing live beings and the need for support staff and auxiliary support workers in the broader entertainment industry. The TA does not clearly say, full stop, that only human beings can be in and to create movies, not synthetic objects, artificial characters, based on a compilation of actors' performances from the past.
Justine Bateman, a filmmaker and AI adviser, told MSNBC's Ali Velshi, the new deal does not stop the use of AI, which is what was needed to protect the film making industry and jobs.
There is a lot of social media discussion about the limits of the TA, including the lack of transparency about the TA, too little boost to minimum salaries, too that it is too lax on AI.
For the first time, there will be a roughly $40 million per year streaming residual bonus for actors on shows that reach a certain level of success. Pension and health caps were also "substantially raised."
Other highlights include a 200% increase to improvements to relocation allowances, added terms for hair and makeup that protect diverse communities, increases to benefit plans for episodic work, requirements to engage intimacy coordinators for nudity and simulated sex, and more.
In a statement, the studio's bargaining Alliance, hailed the agreement as a "new paradigm," saying it gives SAG-AFTRA "the biggest contract-on-contract gains in the history of the union, including the largest increase in minimum wages in the last forty years; a brand new residual for streaming programs; extensive consent and compensation protections in the use of artificial intelligence; and sizable contract increases on items across the board."
President Biden hailed the union and the settlement as good for workers and the industry.
Los Angeles Mayor Karen Bass said in a statement that she was grateful that a "fair agreement" had been reached.
"Today's tentative agreement is going to impact nearly every part of our economy," Bass said. "Now, we must lean in on local production to ensure that our entertainment industry rebounds stronger than ever, and our economy is able to get back on its feet."
Tense Final Days of Negotiations
According to The Los Angeles Times, "The final days of bargaining were filled with drama. Studio chiefs on Friday presented what they called their 'last, best and final' offer, which the executives said addressed the guild's demands. The two sides met Saturday to go over the proposal, and company representatives stressed that they needed movement from SAG-AFTRA to be able to salvage the current television season.
"SAG-AFTRA's negotiating committee then spent four days scrutinizing and debating the proposals.
"On Wednesday, after another marathon day of internal discussions among negotiating committee members, studio chiefs gave the union a 5 p.m. Wednesday deadline to deliver an answer. The guild announced its decision 23 minutes before the deadline."
"We did it!!!!" SAG-AFTRA President Fran Drescher wrote Wednesday night in an Instagram post. "The Billion+ $ Deal! … [Thank you] sag AFTRA members for hanging in and holding out for this historic deal. [and] Our sister unions for their unrelenting support!"
As reported in The Hollywood Reporter, "Duncan Crabtree-Ireland, the union's national executive director and chief negotiator, knows the process to get to this point was lengthy and brutal — but he says it was necessary to gain the terms that SAG-AFTRA members needed, especially on artificial intelligence.
"'It took a long time for us to get the industry to be willing to put the necessary protections in place," he said.
He added that it was a good deal for journeyman actors.
Unprecedented Solidarity
SAG-AFTRA's bargaining position was strengthened by historic, unprecedented solidarity. Throughout the summer and fall, actors and striking WGA (Writers Guild of America) members were joined on picket lines by nurses, county workers, Teamsters and members of the International Alliance of Theatrical Stage Employees, which represents film set workers. IATSE's contract with the studios is up next year.
"The workers had more bargaining power during these negotiations, so it took time for the companies to realize that they needed to yield more and meet the union's demands," Eunice Han, a University of Utah economics professor specializing in labor, said in an interview.
A high-profile warning by A-list actors helped set the stage for the work stoppage.
In late June, actors including Meryl Streep, Jennifer Lawrence and Amy Schumer signed a letter encouraging SAG-AFTRA leaders not to settle for anything less than a "transformative deal." The letter, delivered at a time when SAG-AFTRA's negotiating committee was struggling for traction in the talks, added pressure on Drescher and Crabtree-Ireland to hold out for considerable gains.
SAG-AFTRA's contract expired June 30, but the group extended the deadline to July 12. That date came and went without a deal.
After two-and-a-half months of workers on picket lines and a virtual work stoppage for scripted television and movies, the AMPTP invited SAG-AFTRA back to the table on October 2.
A-list actors, including George Clooney, Ben Affleck and Scarlett Johansson, also approached SAG-AFTRA leaders to discuss ways to resolve the strike. The move prompted a separate group of actors to encourage the negotiating committee to stand firm.
Negotiations resumed after the actors marked 100 days on strike.
The SAG-AFTRA members walked out July 14, joining striking Writers Guild of America members and launching the industry's first twin strikes since 1960. Writers spent nearly five months on picket lines before reaching a new contract in late September with the Alliance of Motion Picture and Television Producers.
"After sealing that deal, the studios were motivated to resolve the actors' standoff in an effort to salvage the current television season and next year's theatrical film slate, explained the LA Times.
Four top corporate executives — Walt Disney Co. Chief Executive Bob Iger, Netflix co-CEO Ted Sarandos, NBC Universal Studio Group Chair Donna Langley and Warner Bros. Discovery chief David Zaslav — joined AMPTP President Carol Lombardini to hammer out a deal with Drescher and the guild's chief negotiator, Duncan Crabtree-Ireland.
"The shift to streaming has disrupted the industry's decades-old economic model," said the LA Times. "Netflix and other streaming services typically pay performers upfront, minimizing the residuals that working actors have relied on to sustain themselves between jobs. Union leaders entered the strike hoping to claw back some relief for working actors as the industry moves away from the 22-episode season that network TV orders in favor of six- to 13-episode seasons, which are more the norm for streamers."
The industry also saw their sales suffer during the strike.
The U.S. Bureau of Labor Statistics reported that since last spring, more than 45,000 jobs were erased from payrolls in the entertainment and sound recording industries. The dual strikes have caused an estimated $7 billion in economic damage, according to Todd Holmes, associate professor of entertainment media management at Cal State Northridge.
The actors and writers victories show the power of a strong union leadership and rank-and-file, and the solidarity won from the public. It inspires other working people to stand up and fight for what they deserve.